This weekend we took a trip to the Beefeater at Castle Marina in Nottingham for Sunday lunch.  It was a first time for all of us and being a family who likes to eat out we were really looking forward to giving it a try.
First brownie point is it has it's own car park.  This makes life so much easier when you're travelling with the family and it helps that there's no extra multistorey charges, bumping the price of your meal up by a good few quid.  It's still in a fairly central location too.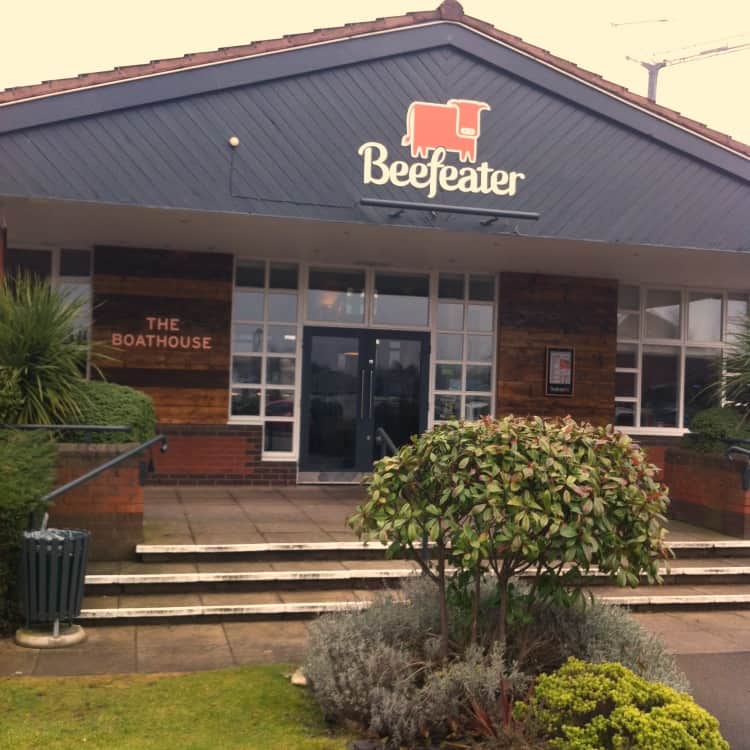 The staff greeted us on arrival by opening the doors, which was a huge help with the toddler and pushchair in tow.  Noticing we had our hands full was a nice touch and made us feel welcome straight away.
We were seated quickly and the table was ready with highchair and balloons. We were introduced to our server, Stephen who gave us a little card with his and the chefs name on.  This was really helpful, especially for me and my three second memory and helped us out when we needed to ask questions or add to our order.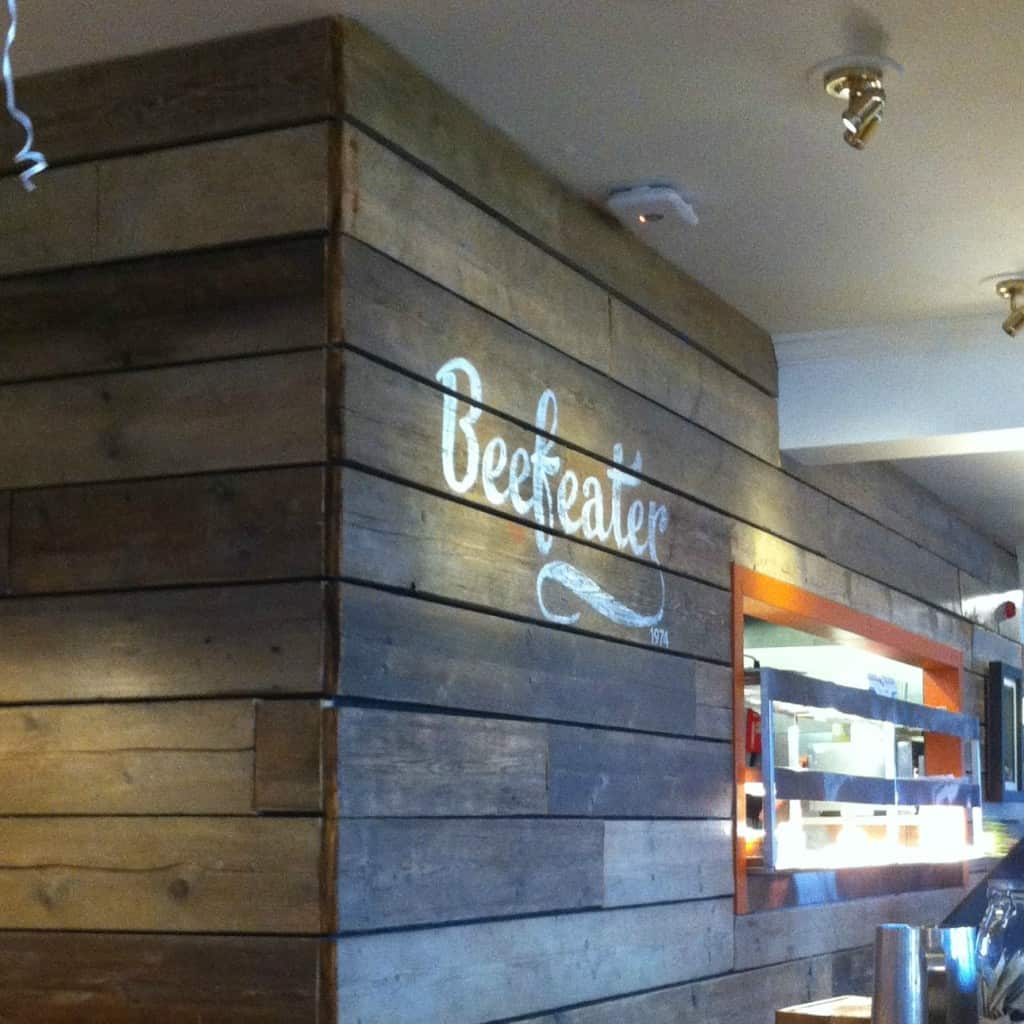 We liked the look and feel of the restaurant.  It was bright, but rustic and had character too.  Our table was comfortable and spacious, and the highchair was suitable for a baby.
Bad high chairs in restaurants is a personal gripe of mine, I've seen so many high chairs that just aren't suitable for smaller babies and you end up having to surround them with padding so they can use them safely.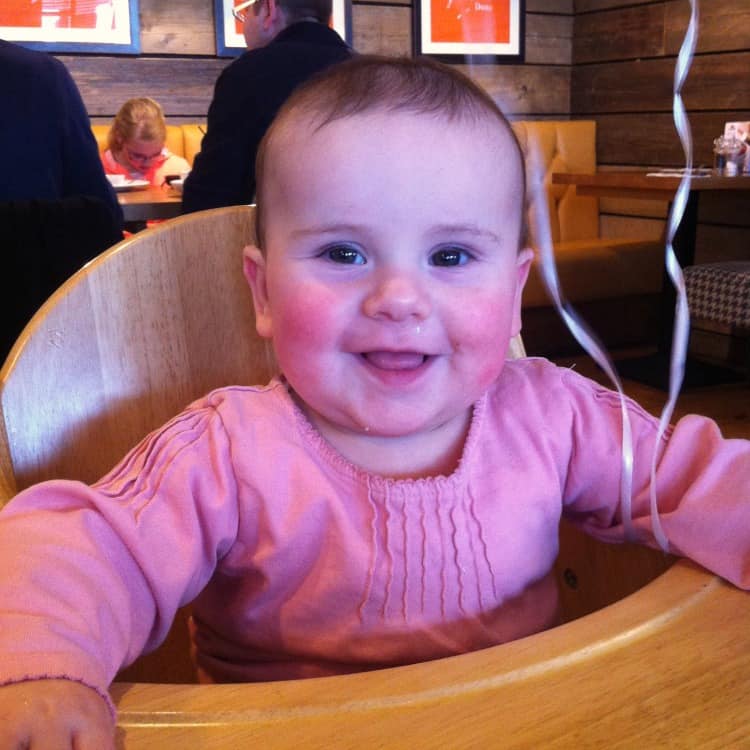 Princess got stuck right in with the Mr Men activity book and crayons.  There was plenty in the 16 page book to keep a young child entertained, this was a lovely touch and was far more appealing than the colouring sheets you normally get at most restaurants.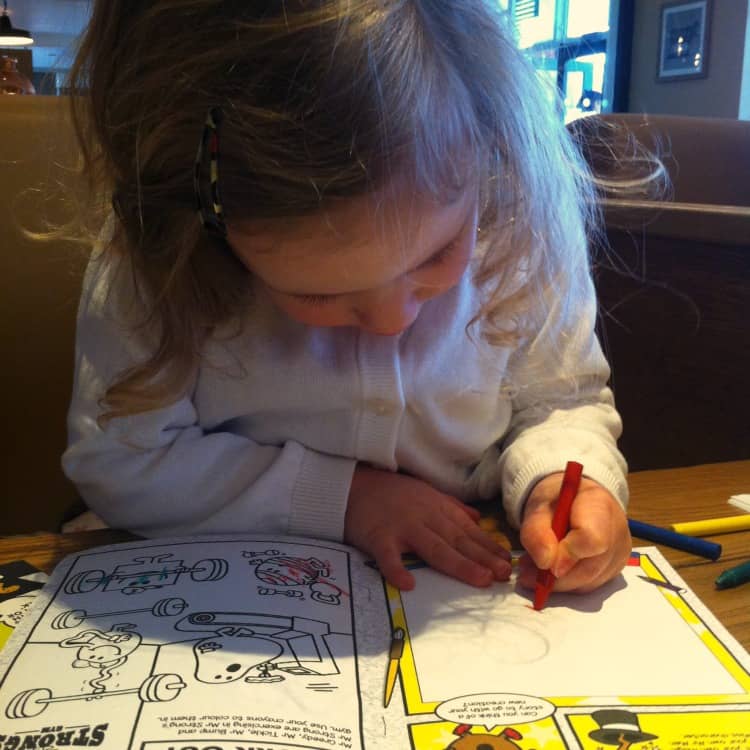 We started off with the grilled flat bread.  This plateful of garlicky herby buttery yumminess was a hit with everyone, even the baby had a little nibble.  It was the perfect tasty starter to start the meal off with and at just £3.99 was good value too.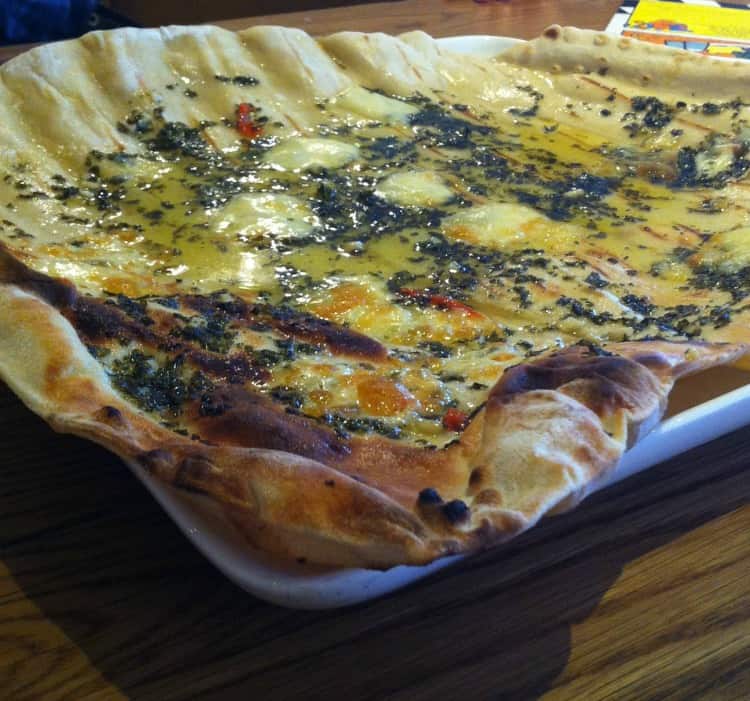 We really liked the child's menu.  There was lots of choice and combinations starting at £4.49.  Every kids meal includes a drink too, so with Princess set on sausages, fries and beans with a glass of orange she was taken care of.
Her meal didn't disappoint either, it was more than enough food for her and she was more than happy with it.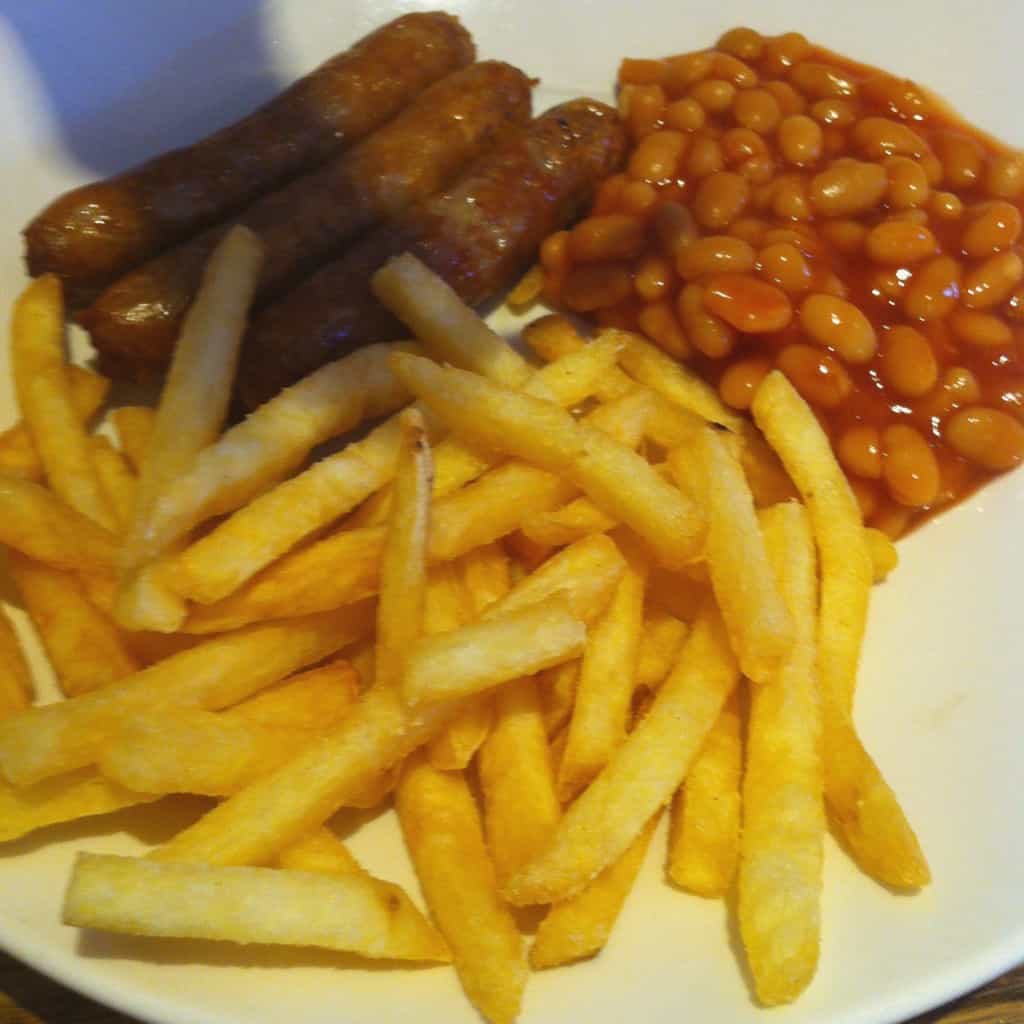 Daddy and I both opted for the roast beef, and I added a side of cauliflower cheese to mine.  The beef was a little on the chewy side, but it was tasty.  I enjoyed my main, which came with a jug of gravy on the side.
My cauliflower cheese had to go back as it was a little on the cold side, but the issue was soon fixed without any fuss and we weren't charged for the side dish.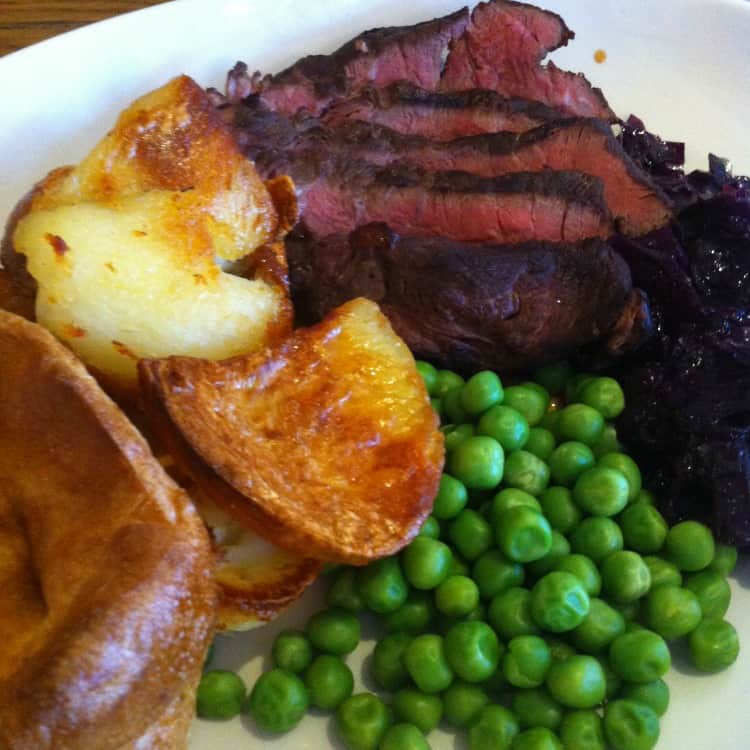 Sunday dinner isn't complete with out a pudding now is it?  I opted for the bread and butter variety with custard, while Daddy went for the crumble.  Princess went for the jelly, but then what kid wouldn't!
My madeira style dessert was scrummy!  It was a monster portion, that more than hit the spot.  I'd definitely order it again.  Daddy enjoyed his apple and cherry crumble, with ice cream on the side, and Princess polished of her portion of jelly.  Our only complaint was that it took a little too long getting to the table.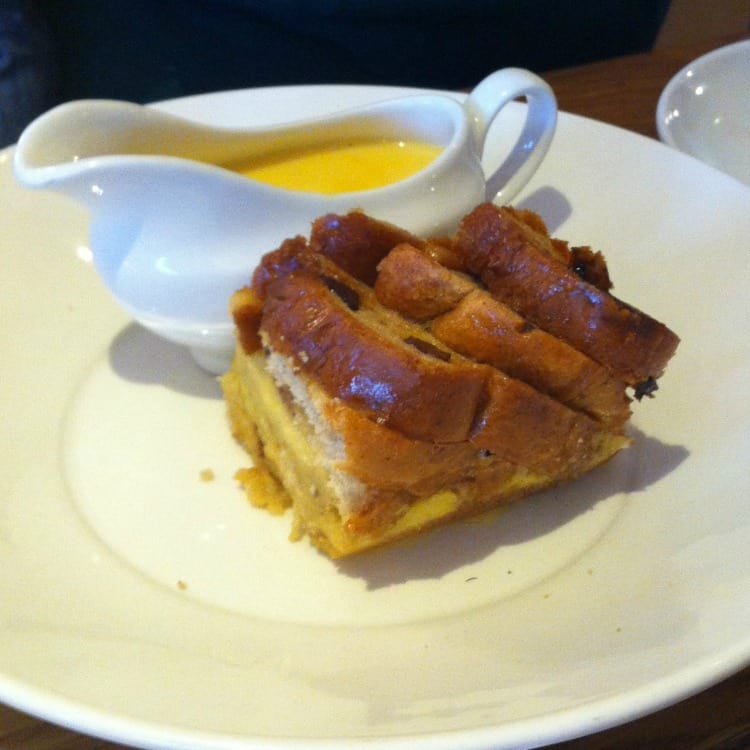 The service we received from front of house was excellent.  Our waiter was so helpful, making sure any issues were fixed quickly and that we were happy.  He was really friendly and explained everything we needed to know and made recommendations throughout the meal.
My overall impression of the Beefeater was that it was a great option for family dining.  The menu had plenty of choice to cater for everyone and it's certainly somewhere we'd consider going back to.
You can check out the latest menus and offers from Beefeater here.
Disclaimer: We were provided with vouchers for a meal in exchange for this review.