Our holiday in Menorca left a big impression on us to be honest.  The main reason was because it gave us the perfect balance of fun, sight seeing and the option to visit some great local restaurants in Son Bou.
We loved our stay at Royal Son Bou Family Club and we also enjoyed visiting different places in Menorca.  Because we were staying half board at Royal Son Bou Family Club, we were also able to enjoy eating out as well as at the hotel.  We found having the option to experience different places to eat worked really well for our family holiday.
Son Bou has a few supermarkets and a good choice of places to eat well worth visiting.  If you are staying in self catering, half board or breakfast only accommodation you'll be pleased to know there are some lovely places to eat in Son Bou when you want a break from the cooking.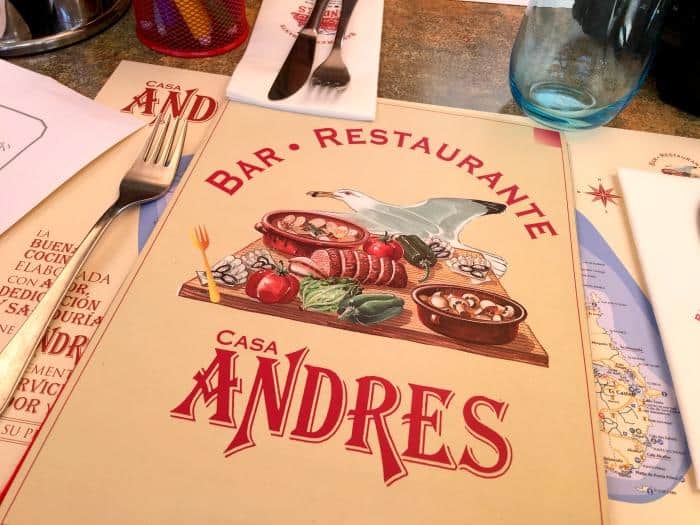 As a family with young kids, we did find the self service nature of the Royal Son Bou Family Club restaurants a bit of a challenge, but no because of the food or service.  Our daughters are quite demanding sometimes, and often in contrasting ways.  Our 5 year old can't bear to be separated from us for a minute so as soon as Daddy or I got up to get food, she wanted to come with us too.
Our youngest daughter will take off at the drop of a hat, and would head for the self service ice cream, whether you were going with her or not.  It wouldn't necessarily have been a problem but as she wasn't quite 3 when we went to Menorca, so we couldn't just leave her to her own devices.  I certainly ate a few meals either cold or luke warm because I was running around after the kids in the hotel restaurant.
Best Restaurants in Son Bou Menorca
We love to visit local restaurants when we travel.  It's a great way to experience local specialities and culture.  We also appreciate going to a restaurant, sitting down together and having our food put in front of  us.  It meant the girls stayed still for the whole meal and there were no cakes and ice creams on display to tempt them away from the table at a moments notice.  It made for a more stress free meal for us during our holiday.  It also helped that the food we had was delicious too.
If you are searching for restaurants in Son Bou, I thought I'd share the places we ate so you know what to expect:
Casa Andrés Restaurant, Son Bou, Menorca
Casa Andrés is a two minute walk from the Royal Son Bou Family Club and was probably our favourite restaurant in Son Bou.  We visited here twice because the food was so good and the service was friendly and efficient.  The girls were provided with pens and colouring pages of the local ruins to keep them busy during the meal.  It also helped that the food was lovely on both our visits.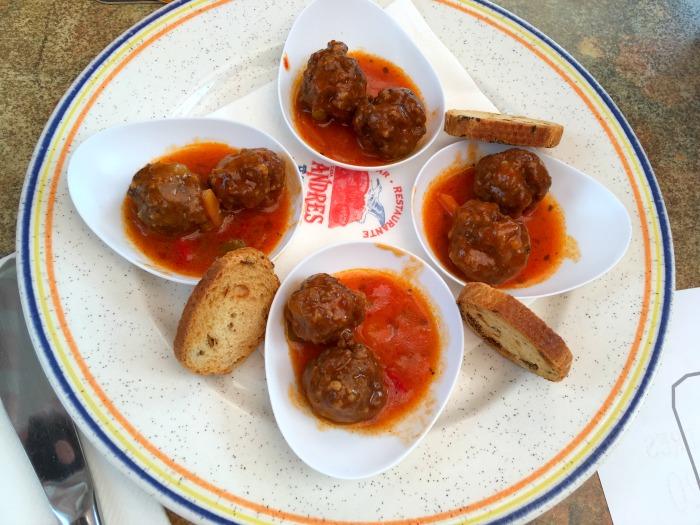 The children's meals were around 6 Euros and our mains were around 10 Euros.  Before our meals arrived, we were given some tapas to wet our appetites, which were delicious.  Our favourite meal was the seafood pasta dish, which both daddy and I tried at the restaurant.
We found the food here to be perfectly cooked and delicious.  It seemed like a popular restaurant with the locals too which is always a good sign you are in for a treat.
Price ££-£££
Cuisine Spanish, Mediterranean, International, Seafood, European,
Arthur Restaurant & Snack Bar, Son Bou
The first restaurant we tried was called Arthur and is about 5 minutes walk from the hotel.  Everything on the children's menu is 4 Euros and they offer the usual array of kid friendly options with fries.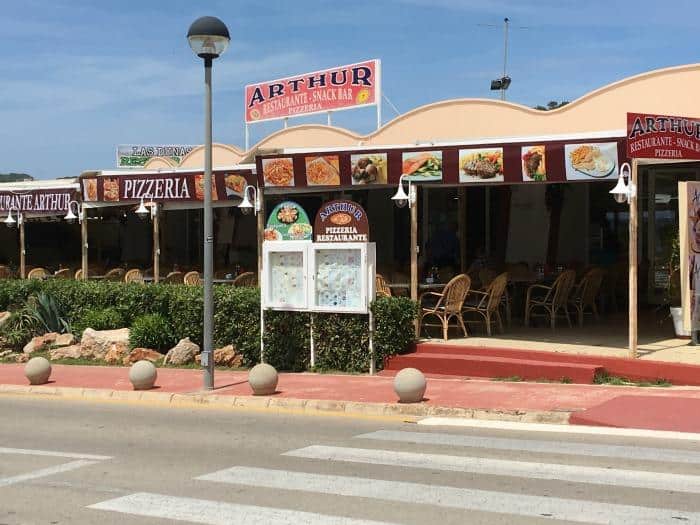 Daddy and I went for the paella, as no visit to Spain is complete without a traditional paella now is it.  Unfortunately I forgot to take a picture of the food before we had eaten it, but I can assure you it was very nice and something I would definitely eat again given the chance.
I'd describe Restaurant Arthur as a budget friendly place to eat in Son Bou with something for everyone including pizza which is always a family friendly option.
Price ££ – £££
Cuisine Pizza, Spanish, Mediterranean, European,
Atalis Bar & Restaurant, Son Bou
Across the road from Arthur is Atalis bar & restaurant and here they serve the most amazing homemade beef burgers made from local Menorcan meat.  It was delicious and something I would be happy to eat again when I find myself back in Menorca.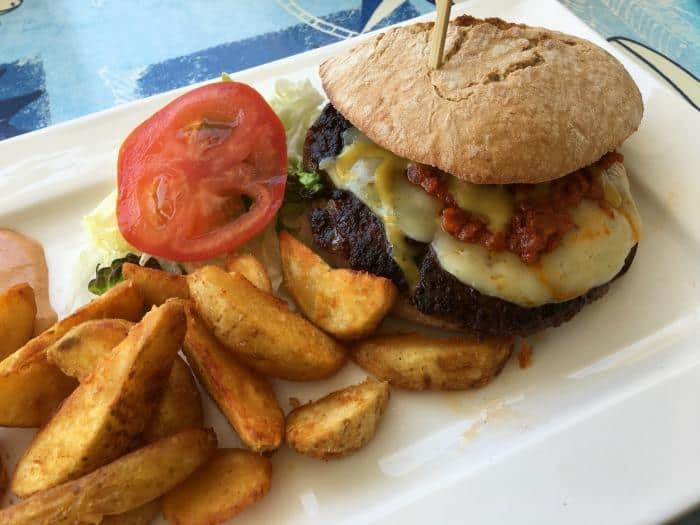 They also offered the children's menu for 4 Euros and were happy to make my 3 year old daughter an omelette as it's her favourite food.  This wasn't on the menu, so we really appreciated that they were happy to cook her something specific.  If we had of tried to give her anything else to eat it probably would have gone to waste, given how much she wanted an omelette at the time.
Price ££-£££
Cuisine  Pizza, Mediterranean, Mexican, American, European, Spanish
Alessandro's Italian Restaurant, Son Bou
This Italian restaurant in Son Bou was a real treat when it came to eating out as a family.  The service here was excellent.  When my drink got spilled on the table they replaced it without question.
My mushroom risotto was nearly perfect, but they added tomatoes to it which I didn't expect.  It was delicious but I'm just not a tomato fan I'm afraid. I can cope with them in a sauce, but I'm a bit fussy about anything else so I would have just preferred it without them.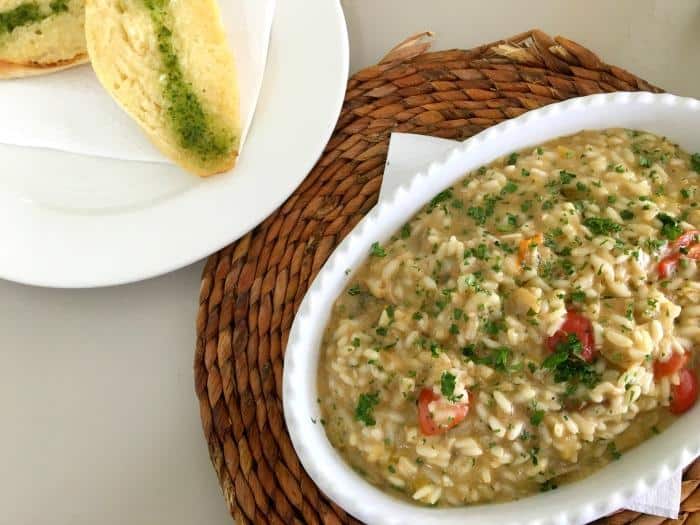 Daddy went with the seafood pasta again, and it looked amazing.  I was struck with a touch of food envy at this point, and wish I'd have ordered it too.  The children enjoyed their food, and my youngest got to have omelette and chips again, despite it not being on the menu.  It's lovely when a restaurant goes out of their way to make customers happy like this.
Price ££-£££
Cuisine Italian, Pizza, Mediterranean
Our visit to these restaurants in Son Bou was in May, and they were far from busy as the holiday season had only just started.  This may have affected our experience as I'm aware things don't always go so well when a restaurant is very busy during the summer.  It's also worth mentioning that we paid for all our meals and at no point were these restaurants in Son Bou aware that I would be writing a review of our visit.
CLICK HERE
Where would you recommend eating in Menorca?  Have you visited any of these restaurants in Son Bou? Please share your experiences in the comments below, I'd love to hear what you thought about your visit.
Pin for later