This guest post is from Becky Goddard-Hill, who blogs at A Beautiful Space and Bukit (her brand new travel blog) Becky  is the co-author of Create Your Own Happy, a happiness boosting book for kids age 7-11. Create Your Own Happy is full of activities to teaching kids how to make themselves happier other people happier and the world a happier place.
Todays she is sharing her tips on how to help children be happy travellers, and I just know you are going to love it!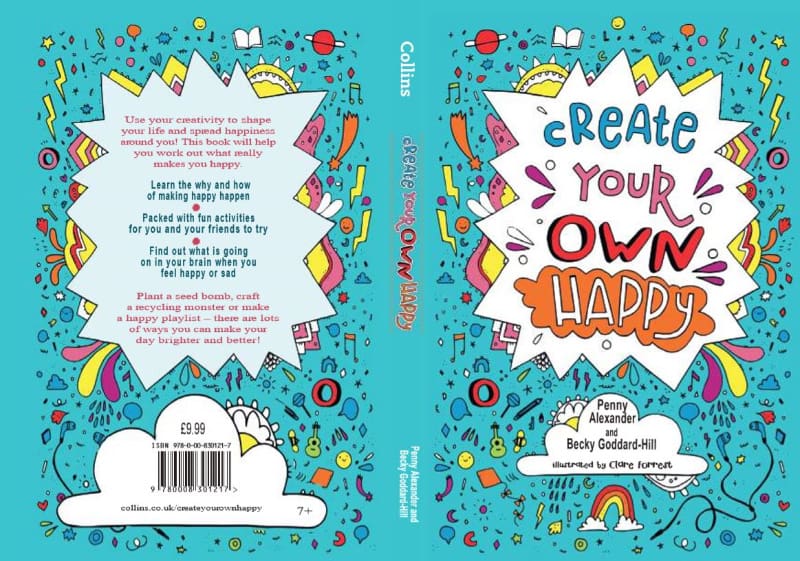 Children are not always happy travellers. It's not that they are ungrateful for the wonderful holiday you have arranged, it's just that a lot of the things about travelling are tricky for kids.  Let's have a look at some of the areas they may well struggle with and see what we can come up with to make travelling a lot easier for them and a much happier experience for everyone as a result.
Pre- trip
Problem:

 

Anxiety
Excited as they may be about a trip, kids can also feel really nervous about what lies ahead.
What helps?
Sometimes when we plan trips we forget to share what we know with the people travelling with us. If you can be sure to tell the kids all about the travel arrangements, describe the accommodation you will be staying in and show them pictures and tell them all about the location – then they will be much more prepared (and far less nervous) about what lies ahead. If you talk them through the kind of food they will eat, what the weather will be like and some of the activities you will be doing they will feel a lot more secure and excited about their trip.
On the way
Problem:

 

Boredom
Children can often struggle with being inactive for long periods of time and travel often necessitates that. Whether stuck in a car, on a ferry or a plane, they can easily feel irritable, bored  and trapped. Feeling this way not only causes them distress but can have a really stressful impact on everyone around them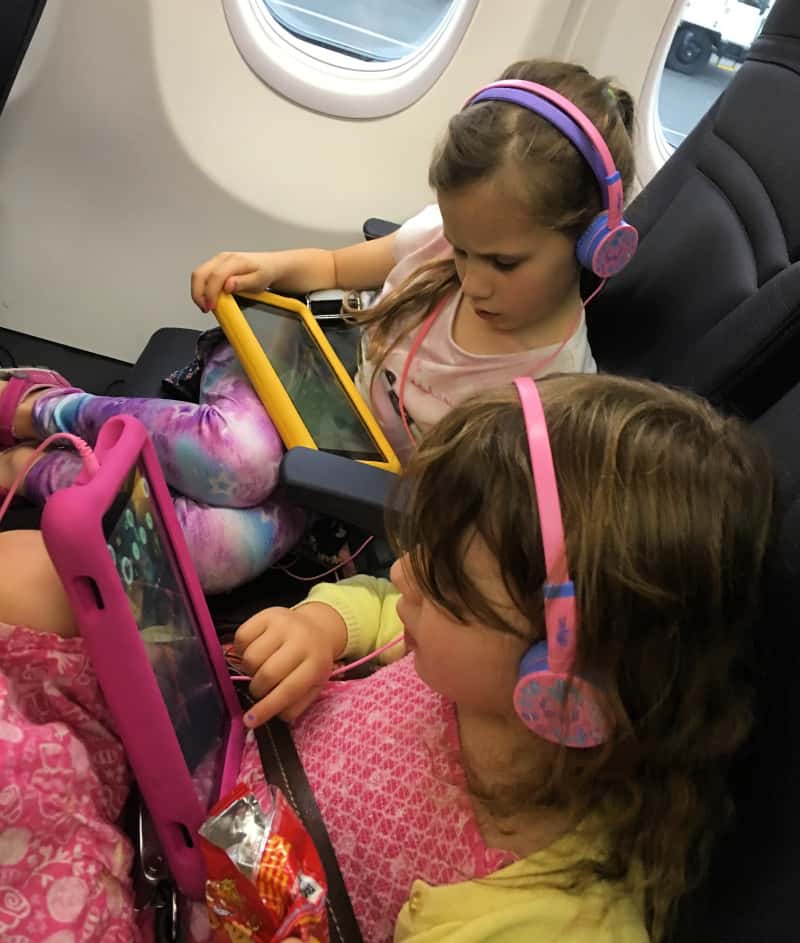 What helps?
Keeping boredom at bay is also very handy. Audiobooks that last for AGES and are a great distraction. They can really help a child relax over a long period of time too.  Movies on an iPad that they have chosen themselves are also a good distraction.
I like to spend travel time playing spotting games with my kids and will often draw them up a list of things to watch out for that they get to tick off e.g. a yellow car, sheep or mummy sleeping. Having a puzzle book in a back pack, book to read, a pack of cards for the plane journey and some music can also help.  I find packing a bag with my child for travelling filled with things for them to do ( as well as a range of snacks) gives them some control over their journey and something to look forward to.
Problem:

 

Sitting still
Sitting still can be hard over long periods and can lead to fidgety kids who are also a bit grumpy!
What helps?
Getting in a walk/run around whenever you can really help. If you know there is a long flight ahead  do get in a good walk at the airport. Kids do need to stretch their legs.  Likewise if you are travelling by car do stop to give them chance to run around and ideally have them  fill up on fresh air and exercise before you leave for your trip  If at all possible arranging travel times when they would normally be sleeping can hugely help.  If they can snooze away a large part of their journey it will go so much faster.
Problem: Delays
On each and every journey there can be delays/traffic jams/long queues /misplaced tickets and a million other irritating things go wrong. Kids can easily feel stressed – especially if you do.
What helps?
When it comes to travel, as in all aspects of life, kids take their cues from you. If you are positive and jolly they will pick upon that.  If you are bad tempered, impatient and complaining they will pick up on that. Be how you want them to be and model patience and a light heart.
When you get there
Problem:

 

A change of routine
As adults a change of routine is often one of the things we like BEST about travelling. For a child routine brings security and the change of routine that travelling brings can make them feel anxious and insecure. This can impact their eating, sleeping and their mood.
What helps? 
Keeping some familiar elements of home routine in place really helps kids. So, doing certain things in the same order as usual: such as brushing teeth before having a story, switching on a familiar night light or being tucked into their usual blankie – these things all help. Keeping to regular bedtimes isn't always easy on holiday but this can often help too. Overtired kids struggle to sleep and happiness eludes us all when we are over tired and feeling out or sorts.
Problem: The weather
The change in weather can cause kids to feel really irritable, especially if they get too hot. Over-heating is just no fun.
What helps?
Lots of hydration, keeping out the midday sun, a big hat and siestas all really help. Avoiding burning at all costs and lots of cool showers are also key to keeping kids cool. Regular breaks from the sunshine are essential no matter how much fun they are having. Being strict about this really will help a child feel happier.
Problem: Food
Kids can be fussy about food (as can we all) and this can be problematic when you are away from home and can make eating out difficult.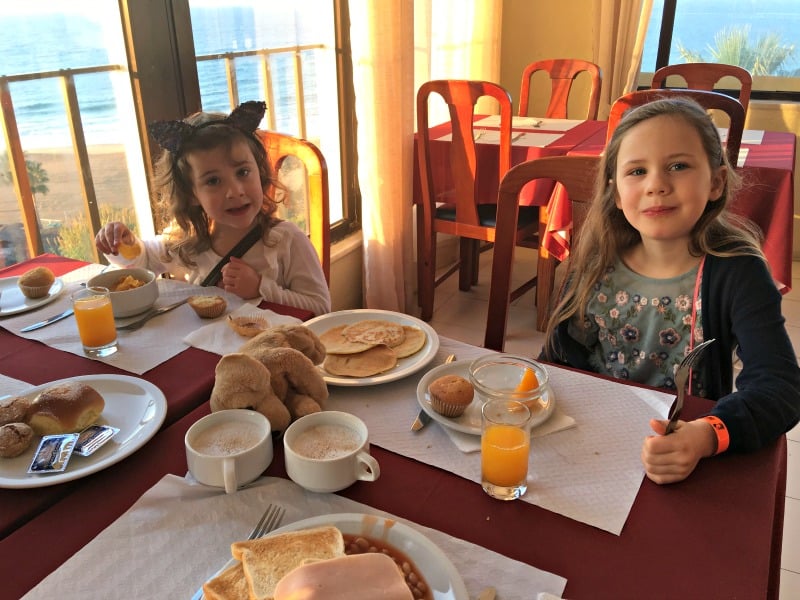 What helps?
As with all new experiences, preparation is key. Before you even go on holiday with your child talk to them about how the food might be different and where possible introduce some of the new foods t them. Start to wean them off everything having to be exactly the same too. For example, if they only ever eat one kind of pizza then bring in a few  new styles/types in to get then ready for pizza abroad.  Similarly ween them off the just one type of yogurt before you go. Otherwise even getting them to eat the basics away from home could be hard.
If you make food an adventure it can be a really exciting part of their trip. Perhaps before you go you could have a celebratory meal filled with foods from where you are going e.g a Mexican feast or Spanish Tapas. Food is a lovely way to introduce new cultures and countries to your kids. Perhaps they could help prepare it too?
CLICK HERE
It is important to remember that sometimes kids will just want foods they are used to  when they are away. It can be a comfort to eat what you are familiar with when everything else seems strange and new. It really won't hurt for them just to have bowl of chips and bread or yet another apple and yogurt every once in a while.
Problem: Over excitement
Holidays really can just be over-exciting- so much to do and see and everything new. Whilst this is of course, brilliant fun it can also be tiring , over-stimulating and just too much. Meltdowns can swiftly follow.
What helps?
Do try and make sure you have breaks in your holiday excitement and schedule in some quiet time each day. Time to watch a movie or read or just chill in your apartment is key to recalibrating. A rough daily timetable helps kids know what is coming and can help you schedule in breaks.
Home time
Problem: Coming Home
Coming home from a fab holiday can make everyone feel flat and fed up.
What helps?
Get the kids focussed on some fun things happening when they come back, You could even begin planning your next trip away. Their feelings are natural – feeling a little sad just means the trip was a HUGE success.
Happy travels everyone!