We were gifted this Maru Swimwear in exchange for this review 
Having 2 girls who love swimming, we have been through our fair share of swim suits already.  As I'm sure you can imagine, being 5 and 7 years old, they don't want dull practical girls swimsuits for going to swimming lessons or visiting the beach.  They want bright colourful girls swimming costumes that are fun to wear and express their lively personalities.  Well, that's exactly where Maru Swimwear come in and we've been testing their kids swimsuits out on our recent holiday to Genoa on Italy.
We were very kindly gifted the Maru South Beach Sparkle swimsuits and they arrived just in time for our trip.  I packed our swimming bag ready in our suitcase as I knew we would be heading straight to the beach when we arrived in Italy.  In Genoa, they also have swimming pools on the beach which is perfect for kids.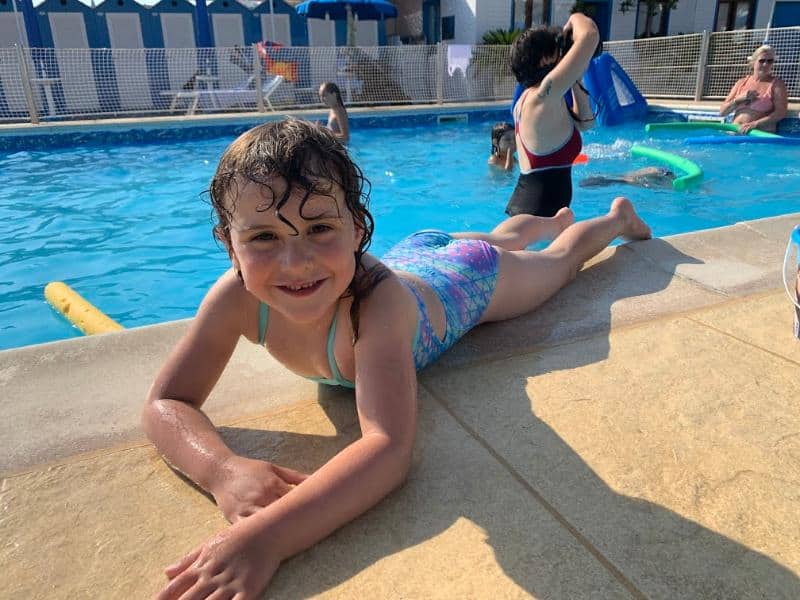 Brook fell in love with the gorgeous bright colours of her new Maru Swimwear straight away.  The South Beach Sparkle swimsuits in particular are great colours for girls right now.  Think unicorns and glitter and you would be right on track.  It's not just the girls swimming costumes that are bright and colourful though.  Maru Swimwear make swimming costumes and leg suits for men, women and kids and they believe their costumes should have character as well as quality.
Brook had so much fun in her swimming costume playing in the pool.  She certainly looked confident and the new girls swimming costume was a great fit for her.  We had met up with some other children we were going to be spending time with on holiday and she had the best time playing with them in the pool and getting to know them better.  From that point on, these 3 girls in particular, became the best of friends while they were in Italy, despite being from different countries and speaking different languages.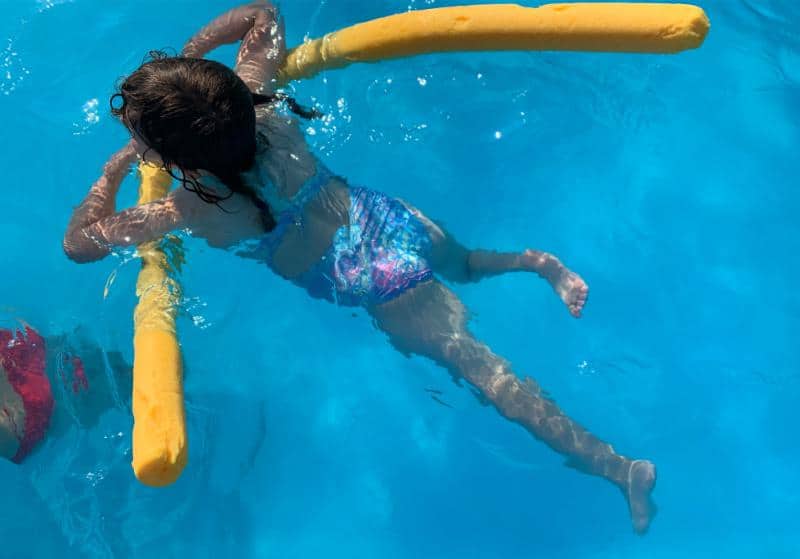 There was lots of jumping in the water, playing games and generally having fun in the pool.  Having bright, colourful swimwear was perfect for the occasion too.  Brook was so happy and you never would have guessed that she had been awake from 4am that morning and had travelled all the way to Italy that very day.
We weren't just happy to test out the Maru Swimwear for girls because of the bright colours and sparkly features.  As a Mum, I want to know that the girls swimwear is practical and going to last.  Maru Swimwear have been making great swimsuits for 30 years, and pride themselves on being a British brand.  I love that they originated in Nottingham, but they are now based in Hemel Hempstead.
They use Xtra Life Lycra in their 100% chlorine resistant Pacer fabric and you will also be very pleased to hear that their fabrics are contain 50+ ultra violet protection.  The other great things about Maru Swimwear are they are super quick drying and piling resistant.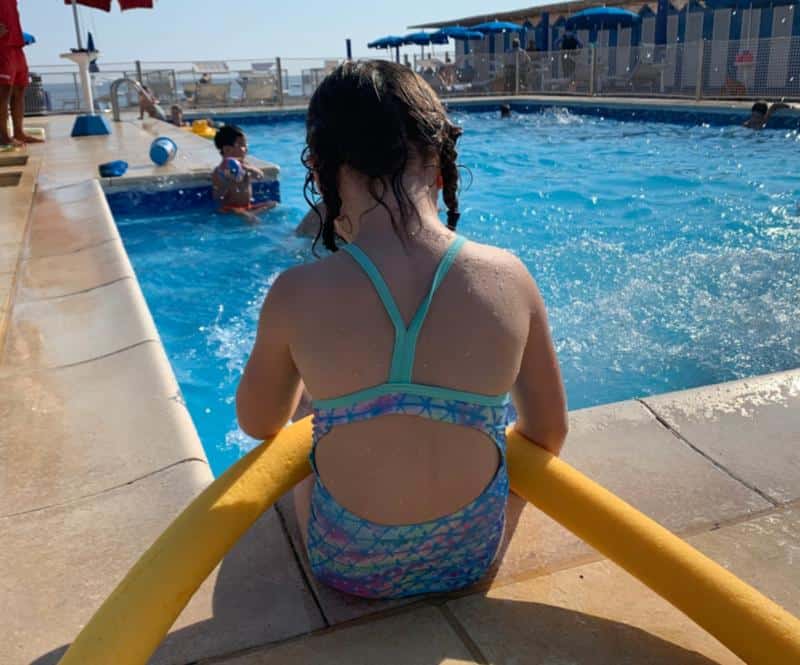 Maru Swimwear is also a brand that really cares about the environment and they have a sustainable 'Black Pack' range made entirely from 100% regenerated nylon fibre from pre and post-consumer waste.  Maru Swimwear have also pledged to donate 100% of all their profits from this range to  The SEA LIFE Trust charity to help tackle ocean plastic in a bid to protect the earth's precious marine wildlife.
With so many reasons to love Maru Swimwear, we'd be happy to recommend this brand if you are looking for a new girls swimsuit, or for anyone else in your family for that matter.  With great colours, quality and ethics Maru will be our go to swimwear brand from this point on. Maru Swimwear for kids is available in from aged 3 years old up to 16 years old, which means great designs for lots of kids, even when they get older.
We were gifted some Maru Swimwear in exchange for this review, but all thoughts and opinions are our own.