Contains affiliate links
Are you seeking the best neck pillow for travelling? The right neck support travel pillow can make so much difference, especially on a long journey. It can mean you're comfortable enough to fall asleep on a plane or in the back of the car, refreshed and ready to go when you reach your destination. 
>> Click here to see the overall best pillow for travel <<
This guide will take you through all the best pillows for travel, to support your neck so you can sit – or even snatch some sleep – in complete comfort. Read on to find the best pillow for travelling to suit your budget and requirements.
| | | | | | |
| --- | --- | --- | --- | --- | --- |
| Brand | Type | Dimensions | Weight | Key features | Price |
| Metene | Inflatable | 30 x 28 x 14 cm | 109g | Auto inflation | Click here |
| Jӧkel | Inflatable | 12.4 x 7.6 x 7.6 cm | 120g | Adjustable inflation | Click here |
| Huzi | Scarf | 25.4 x 16.5 x 16.5 cm | 454g | Scarf style support | Click here |
| Lofter | Memory foam | 16 x 15.8 x 11.8 cm | 360g | 3D design | Click here |
| Ostrich | Memory foam | 26.7 x 24.1 x 15.2 cm | 420g | All-round support | Click here |
How to Choose the Best Travel Neck Pillow
There are various factors to consider when selecting the best pillow for travel. These include the type, the material and the level of support offered. Here's a little more about each of these features.
Type
There are 2 main types featured in this guide – inflatable or memory foam neck pillows. In a nutshell, inflatable ones pack down smallest, but memory foam products may offer an improved level of support and comfort.
Materials
What is your memory foam or inflatable travel neck pillow's cover made from? This could affect how soft and cosy it feels – as well as whether or not it's washable. Particularly important, perhaps, if you travel with kids.
Level of Support
A couple of the best pillows for travel featured here offer all-round, 360° support. This means you should stay comfortable, no matter what position your neck is in as you relax or sleep. Adjustable support is also very useful, as the pillow can be inflated to just the right level for each wearer.
The Best Travel Neck Pillow Products
An inflatable neck pillow for travel is a great bet, as it takes up so little space when you're not using it. You can simply deflate it and leave it in its stuff bag within your carry-on for next time, or pop it into a drawer for when you want to use it at home. As this one inflates at the touch of a button, it's even easier to use.
This Metene neck travel pillow is designed to hold your head in the correct position, improving your posture. In turn, this increases your comfort level. The super soft velvety cover is washable, placing this firmly among the best pillow for airplane journeys with kids options. You can also use it at home when watching a movie or reading a book.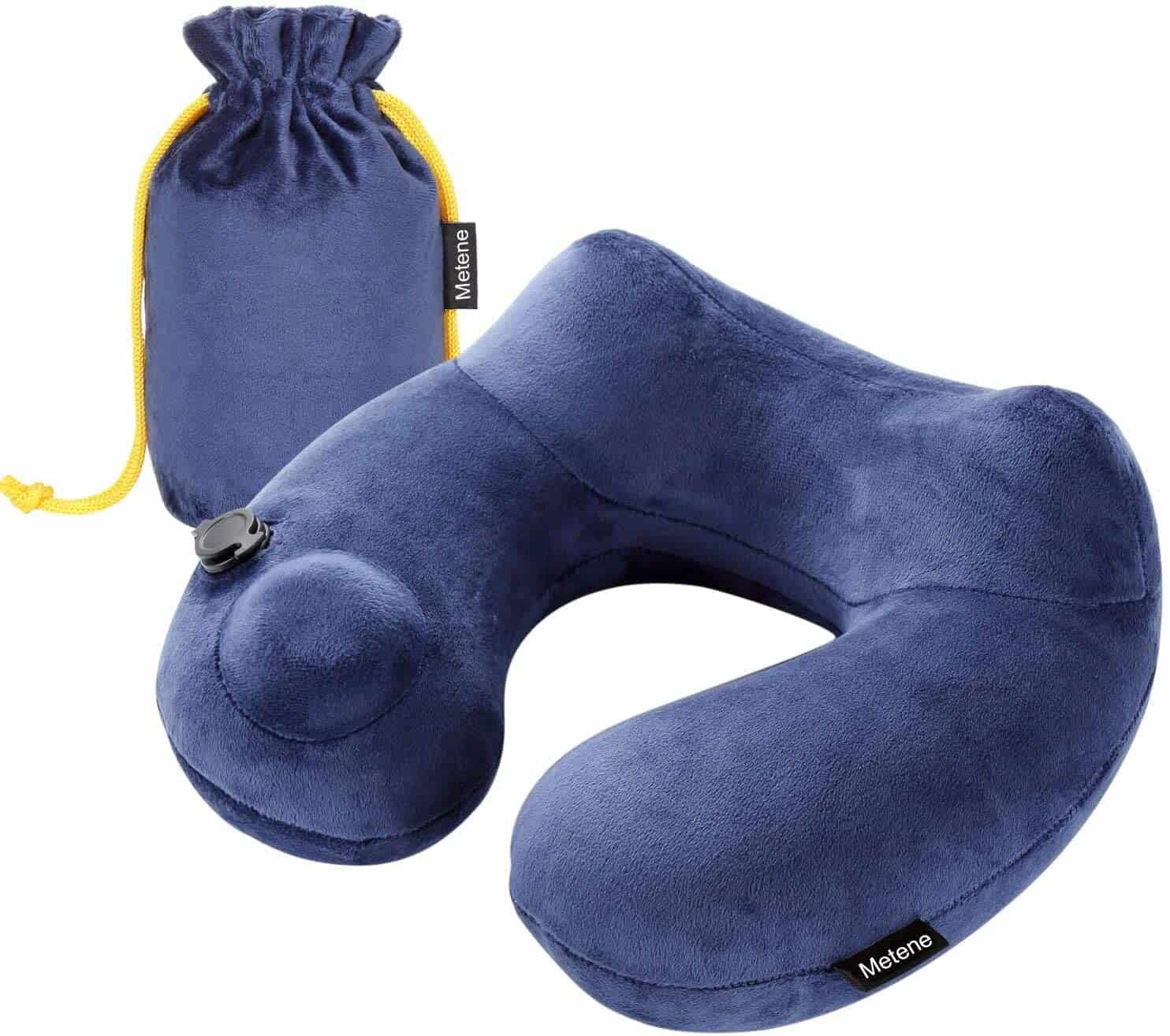 Pros:
Automatic inflation via built-in button
Soft, washable cover
Great value
Cons:
>> Click here to see this travel pillow with neck support <<
This Swedish company also makes great blow-up travel neck pillows, which come complete with their own handy little stuff bag and carabiner. It's ideal for all sorts of uses, including camping, backpacking, hiking as well as family holidays and long car journeys. When the kids are older, they can also take it to a festival with them.
This is a top quality travel pillow with a soft grey fabric cover. It's ultra lightweight and portable, yet is ergonomically designed to provide great neck support. You can easily adjust the size and firmness of this by adjusting the level of inflation.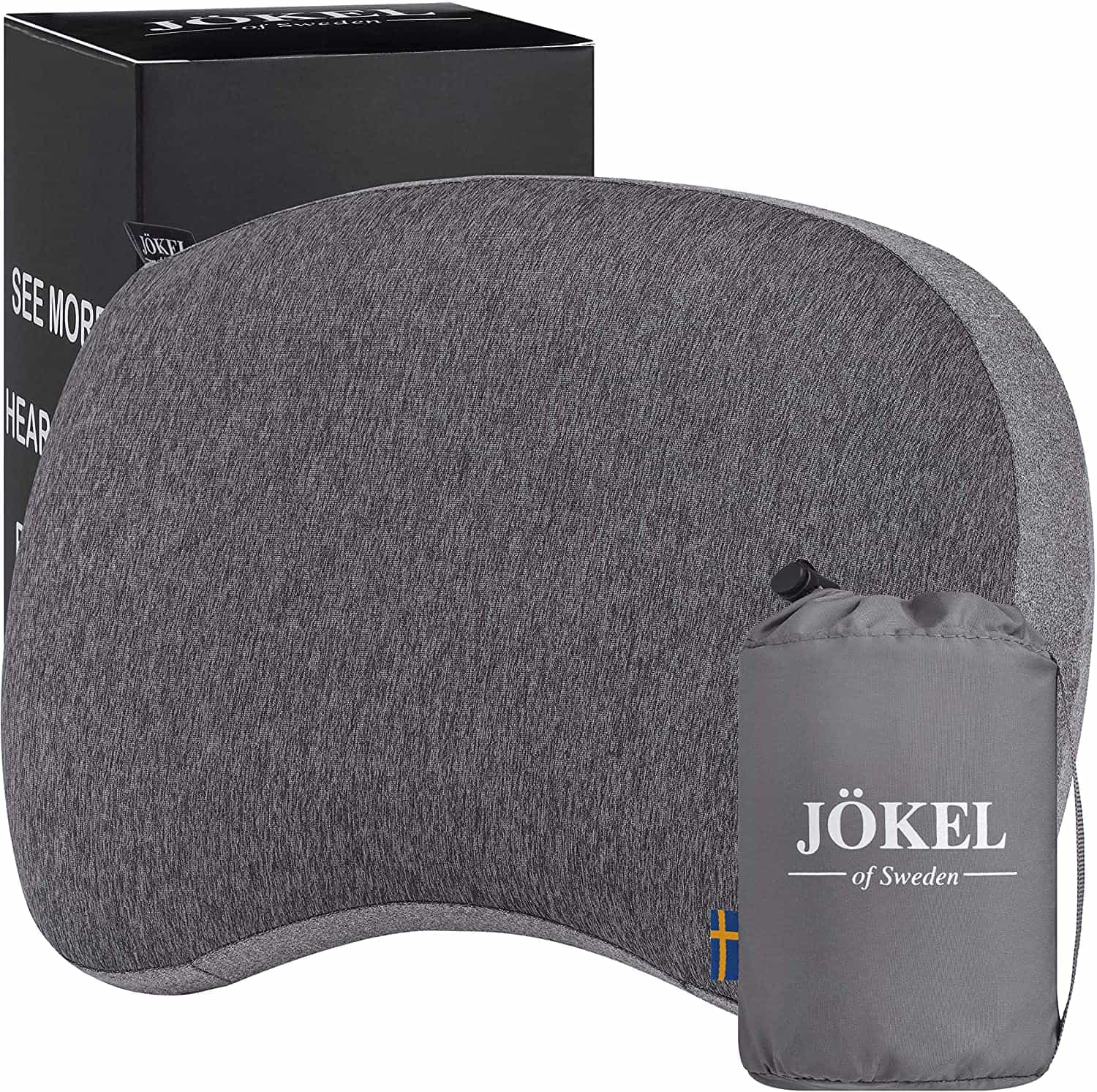 Pros:
Adjustable, multi-functional inflation valve
Lightweight and portable
Cover is washable
Cons:
>> Click here to see these neck pillows for travel <<
The Huzi Infinity looks a little different to other travel pillows for airplanes and other journeys. This one wraps around the neck like a scarf, making the wearer feel cosy and snug as well as supported. 
Purchasers can choose between grey and blue, and this pillow offers great breathability and comfort as well as all-round support. It is also highly adjustable for the perfect fit. The innovative design means this one can also be used as lumbar support when required. It's machine washable and the fabric is made with bamboo as well as microfibre.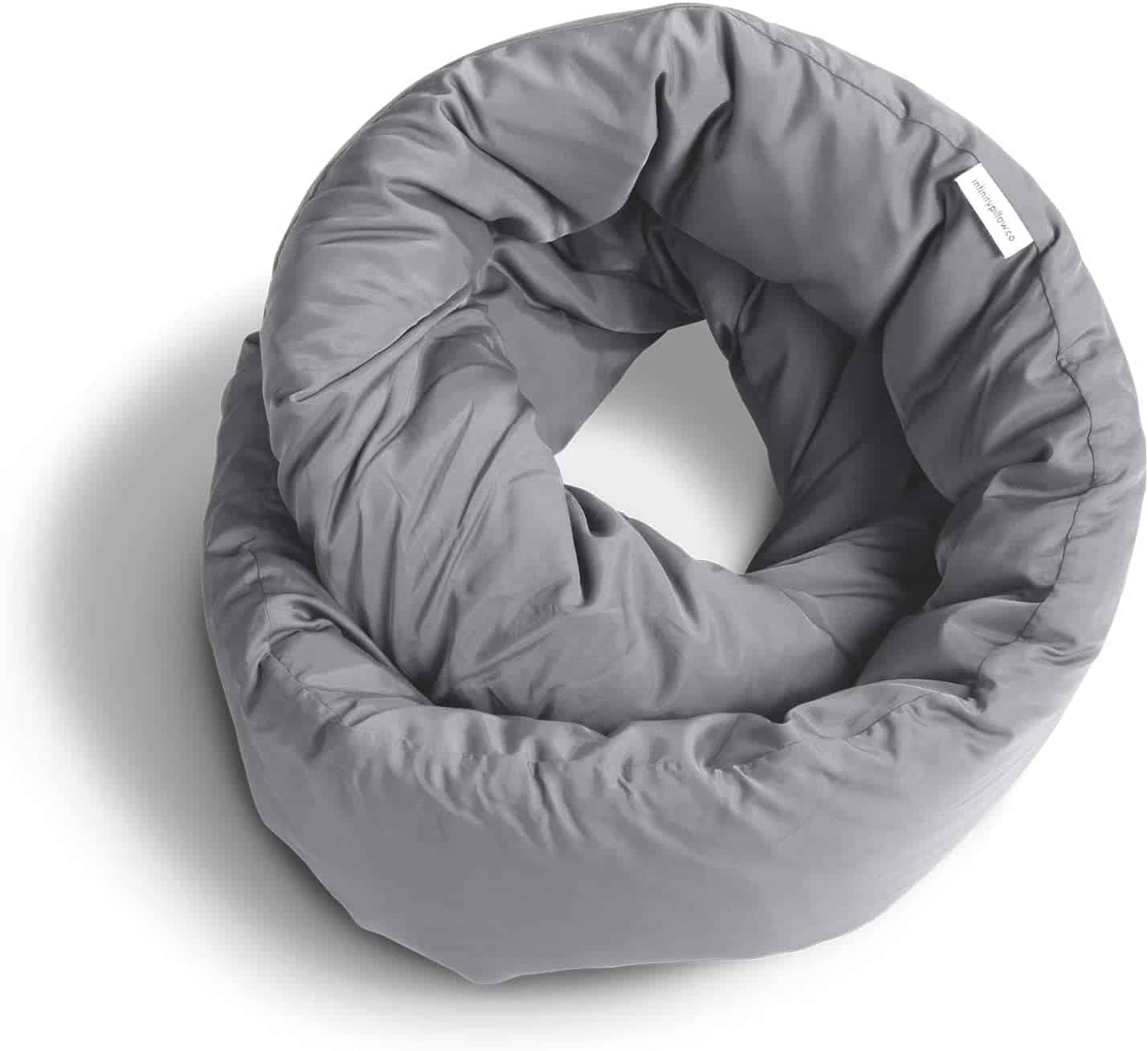 Pros:
Innovative, wrap-around scarf design
Adjustable, breathable and comfortable
Doubles up as lumbar support
Cons:
>> Click here to see this pillow for traveling <<
A memory foam travel pillow option is offered in the form of this ergonomically designed Lofter product. These small pillows for travel come in a choice of grey, black or blue, and the modest price tag even includes an eye mask and earplugs plus a stuff bag.
If you tend to relax or sleep with your neck tilted to one side, then this might well be the best pillow for airplane travel for you. The clever 3D design lets you rest your head at an angle, while staying supported to avoid neck and shoulder strain and pain.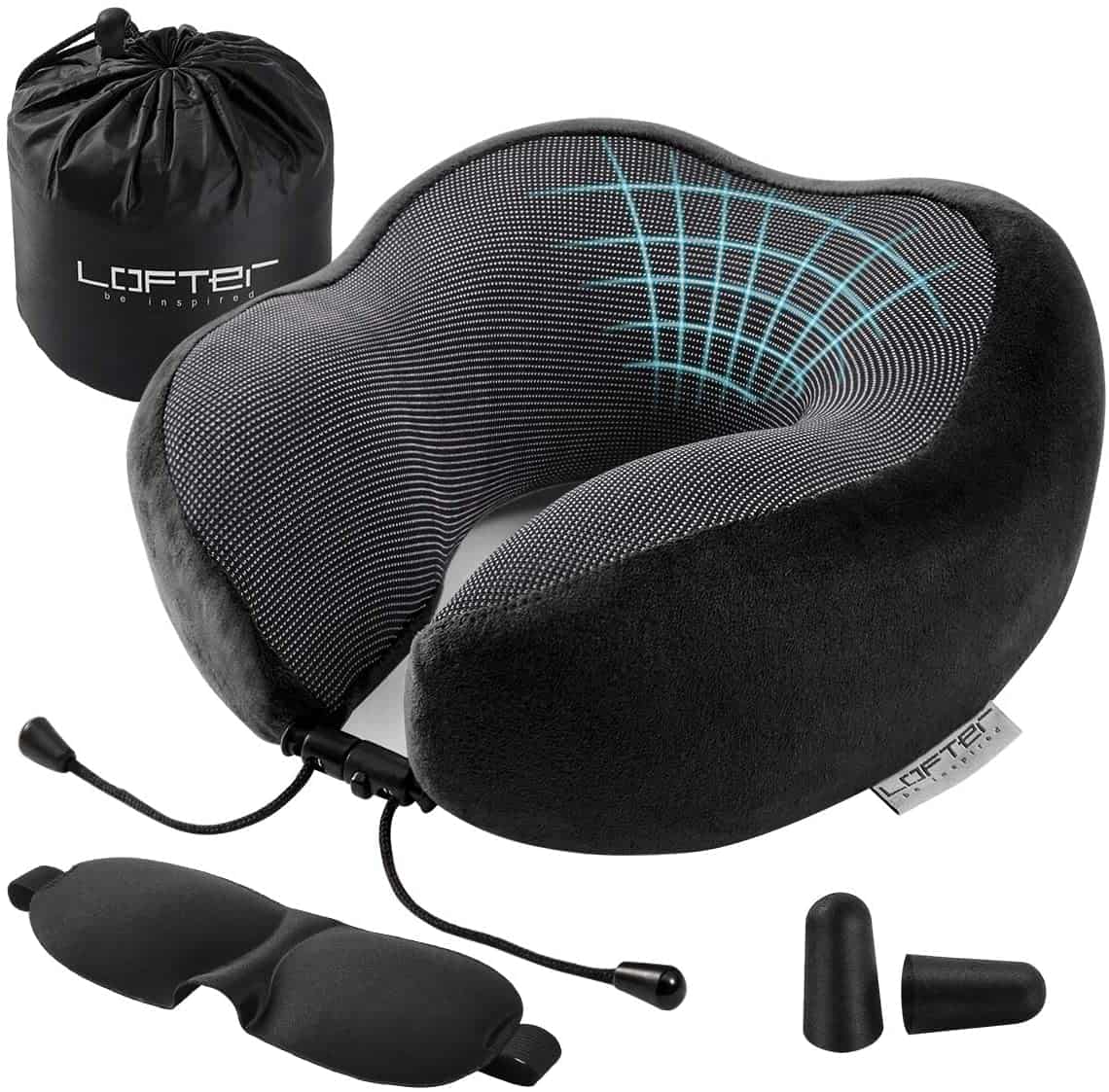 Pros:
Rebound memory foam core
Ergonomic, 360° neck support
Includes eye mask and ear plugs
Cons:
>> Click here to see this travel neck pillow for long flights <<
These Ostrich products are not only among the best travel pillows for airplanes – they also look great. With a very stylish design, this pillow comes in your choice of neutral grey or an attractive turquoise shade.
This dreamy memory foam pillow has a fully machine washable cover, secured with a hidden velcro strap. Although it's not quite as compact as an inflatable pillow, once in its stuff bag it takes up half the space. The Ostrich neck pillows for airplanes are a premium product offering 360° support and a soft, breathable cover.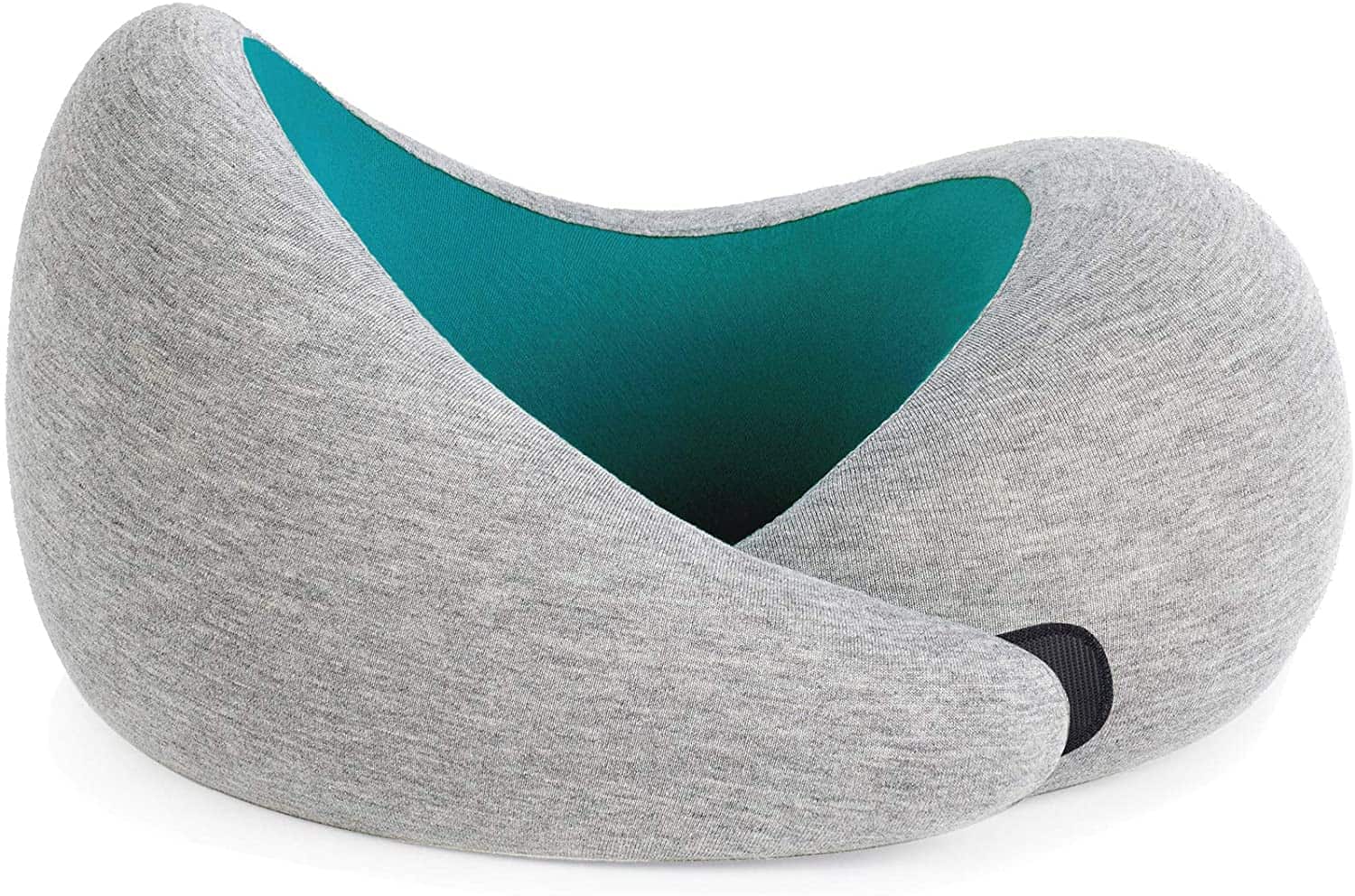 Pros:
Stylish design in 2 colour options
All-round ergonomic neck support
Packs down to half the size
Cons:
>> Click here to see these neck pillows for airplane travel <<
Which is the best travel neck pillow for you?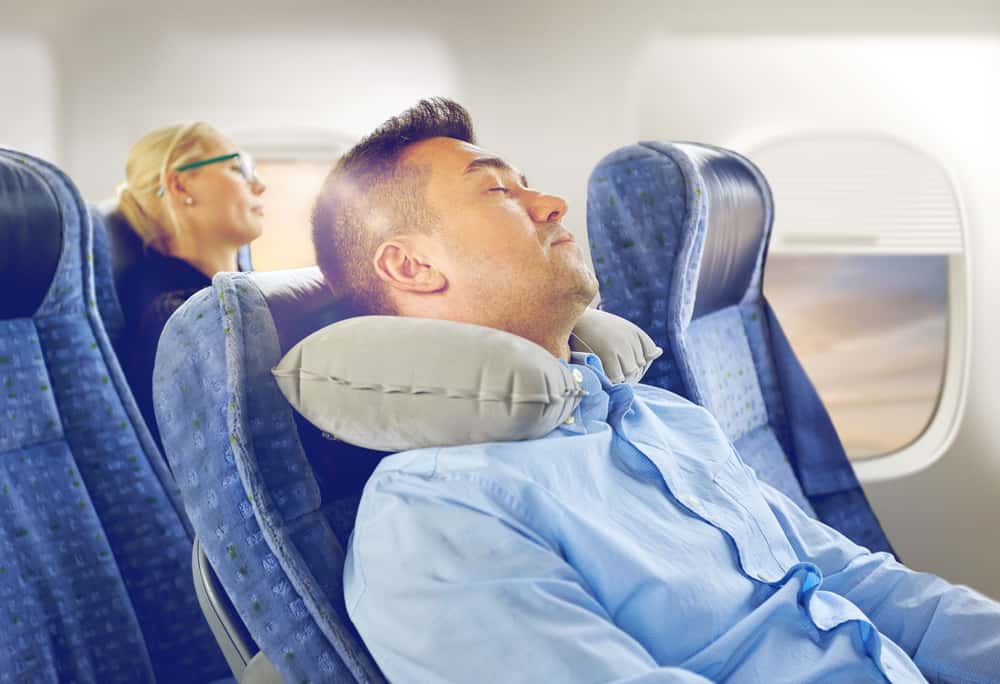 We hope this guide helps you find the best neck pillow for travelling to suit what you want to spend – as well as how you travel. Having the best pillow for travel can make so much difference to every long trip that you take.