Well something really quite unexpected has taken place this evening, and it has made me come down stairs and take straight to my blog to share it with you straight away. You may already know that we are a co-sleeping family if you have been following my blog for a while, but just maybe that is about to change.
A little while back I was struggling with it as bedtime had become very much hard work, and led me to write a post about some things that parents may wish to avoid at bedtime if they wanted an easier life than mine.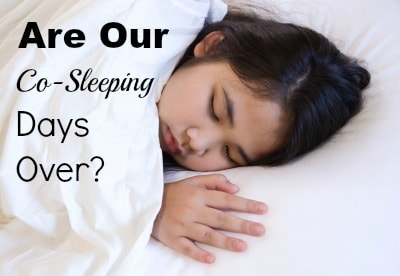 Princess has been in our room more or less since birth.  She took a short holiday to her bedroom at about 10 months, but came back after Daddy decided her room was too cold.
She had been fine in her cot too.  From 12 weeks old she found her thumb, and would self soothe herself to sleep and was quite happy in her own little bed.  We hit trouble when she was able to pull herself up.  As soon as she was able to stand in her cot she refused to self settle.
All this hit around the time my son was preparing for his GCSE's, so we did what we had to do for him not to be disturbed which resulted in our co-sleeping journey. Before Little Pudding was born we tried, with some gentle encouragement, to get Princess into her own room.  She would lay in her bed eyes fixed on either me or Daddy, whoever was staying with her, and made it quite clear she was not going to go to sleep until she was back in her 'big' bed as she called it.
So we resigned ourselves to more co-sleeping, which was fine.  I knew she wouldn't want to stay in there forever, but she was showing no signs of giving up her coveted spot anytime soon, until tonight that is.
So everyone is ready for bed as usual for about 7pm, and we all head upstairs to begin the challenge of getting everyone settled down.  Before we made it to the bedroom, Princess announces she is going to sleep in her own room in her own bed.  To say we were shocked by the announcement was an understatement, and it took a few moments for me to find my 'praise good behaviour' head.  My snoring has finally driven her out!  I knew it would eventually 😉
She climbed into her train duvet cover, and snuggled down.  She didn't want the door shut of course, and the safety gate could not be closed, but she was in her own bed.   There was a little to-ing and fro-ing as she decided she needed another wee and had to have the teddy she'd left down stairs (despite there being 3 tubs full of them in her room), but she did it.
She knew we were close by if she needed us, and she got herself off to sleep all by herself.  This was nothing short of a miracle I can tell you.  It might only be the first night, but it's a huge step for our little girl.  Now we just have Little Pudding to sort out, but the fact that there definitely is light at the end of the tunnel is a huge relief.
Do you co-sleep?  When did your children decide it was time to take to their own bed? I'd love to hear about it in the comments and if you think your followers would find this post helpful, please do share it with them.