I always find myself apologising if the issue of Princess's sleeping arrangements arises with anyone, friends, other parents and even family. You can never be quite sure how it's going to be received. I find myself apologising for being such a bad parent. I had one of these very conversations just the other day with a friend and she told me that she was the youngest child in her family and her parents co-slept with her for several years. She is confident and ambitious and achieved a lot for her years. She described the amazing bond she shared with her family and that she did not feel in the slightest bit needy or damaged by not sleeping independently.
This conversation has made me think very differently about co-sleeping. I'm starting to ask myself if it's really a problem. I've read a few blogs now about sleep issues where toddlers really want to be in the comfort of their parents bed as they drift of to sleep. I can completely understand why some parents want their own space, especially having had a few headbuts and kicks over the last year. I don't worry that it will be forever. I know that when Princess is ready she'll get fed up with my snoring and will be hightailing it into her own bed for a quiet night's sleep herself. Maybe we can entice her back to her own bed with a new mattress suited for her? We will need to do as much research as possible to get it right, like Are John Lewis Mattresses Value for Money? Will it support someone young? Is there an age restriction with some mattresses? As long as we get this right, we may cut this co-sleeping thing down.
My teen never really co-slept. He was what you would call an easy child. He'd read all the 'How to Be a Perfect Baby' books in the comfort of the womb and popped out following all the rules. He has always been very self reliant and didn't really crave lots of hugs and kisses. He was definitely showered with them but would often rebuff Mummy's advances. He's never been particularly boisterous either, he's very much a sensitive soul who values his own thoughts and company. He doesn't have any trouble showing affection. He has oodles of it for his little sister, just not for me!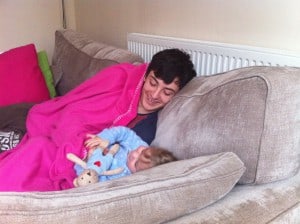 Princess is very different though. We didn't start off with cosleeping in mind, but she did sleep on my chest a lot. She had a lot of colic and was quite an unsettled newborn. She did spend time sleeping in her crib too. We hit co-sleeping proper at around 1 year old. When she could stand in her cot she protested significantly at being confined by those bars. She did not want to be alone, she wanted to lay with Mummy and Daddy.
Princess is not a child who protests quietly either. She cries until she is hysterical, red faced and snotty and it takes her ages to calm back down. Being conscious of her very big brother and where he is at in terms of schooling etc letting her 'cry it out' just wasn't an option in our family. He's in his final GCSE year.
When it comes to where our children sleep, if they are not in their own room at 6 months comments like 'making a rod for your own back' start being banded around without thought. It all got me thinking about how us grown ups prefer company during our slumber and it's not a rod for our backs is it? There's loads of information on the web about how sleeping with others is good for our general well being.
Human contact helps us show compassion and relieve others suffering, something that strikes me as particularly relevant to this parenting business we're in. Some children often need comfort during the night so is co-sleeping right for them? Princess is a very confident and independent child, this is more than apparent when we drop her off at nursery and she barely looks at us. When she is home there are times when she just wants love and hugs from Mummy and Daddy. Her favourite time is definitely bedtime. If she is disturbed during the night, she rolls to Mummy or Daddy for comfort and is straight back off to sleep again. If she was on her own it would be a very different story, speaks the voice of experience!
I've talked about Harlow's Monkeys before but it's also worth mentioning that Monkeys, Apes and many other animals besides co-sleep with their babies all the time. Co-sleeping is practised in many non-western cultures throughout the world with no one batting an eyelid. So, is it such a crime to co-sleep and allow easy access to cuddles during the night. Why would we not continue meeting the child's emotional needs at night if it made them feel happier. We all know how a cuddle can make our children feel safe and secure in a heartbeat.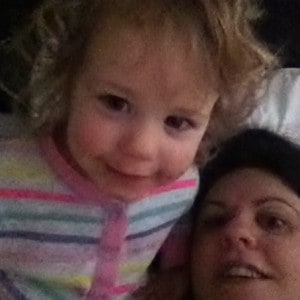 For me, co-sleeping wasn't a deliberate parenting choice. My choice as a parent is to meet my child's needs, and co-sleeping works for Princess and our family. I'm going to stop apologising for it from now on. I wouldn't change waking up to 'Hello Mummy!' with that cheeky little grin of her's for the world. I would, however happily live without the incidents of projectile vomit and the significant bed changes that are required. For every pro there's a con.
Whatever your sleeping choices for you and your child, make sure you're happy with them. If you don't have a problem with them, then they aren't a problem. If you co-sleep it is important to read how to to it safely. Here's some information from NCT that might help you out but there are plenty of sources across the web for you to find out more.
It would be great to here your comments on your experiences of co-sleeping or any sleeping arrangements that work for your family.