ROOM is in cinemas from Friday 15th January and could be one of the best films you see this year.  I know us parents don't get out much for treats like going to the cinema, but this one is most certainly worth getting a babysitter for, especially if Star Wars isn't you thing!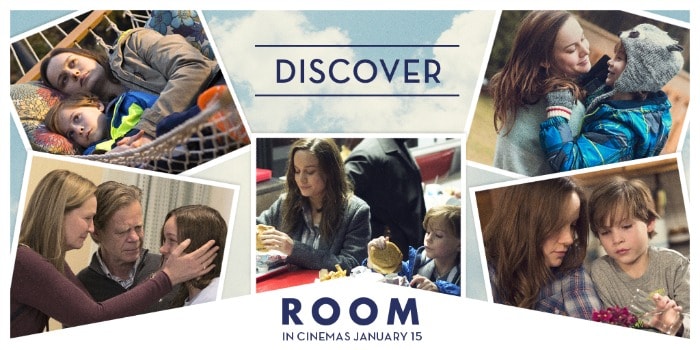 I was lucky enough to be treated to a special screening of this film before it's release.  The trailer had really peeked my interest so when the opportunity arose to watch this incredible story I couldn't say no.
I will confess that I have not read the book by Emma Donoghue, so I can't give you any comparisons but what I will say is this film is incredible in it's own right.  Ma (played by Brie Larson) was obducted by Old Nic and has spent 7 years in ROOM.  Despite being hardened by her captivity and abuse, her maternal instincts are overwhelming and she protects Jack (played by Jacob Tremblay) by creating a universe in the shed they are held captive in.
The bond between Ma and Jack gets them through this terrible ordeal, and the film explores the many layers of family relationships when life throws the most awful challenges at you.
Jack struggles with being exposed to the outside world and watching him adjust is fascinating.  It's a process of being born again and bonding with real people (and a dog) that he never knew existed.  Ma carries many scars and guilt about the situation they have been in for so long, but it is her son that always pulls her through.
It's an emotional story, bound to touch any parent, but it is also one of immense hope and courage.  It's well acted and has already received 4 Oscar nominations.  If I were you, I would get in touch with your cinema friend and make a date to catch up with this movie.  It deals with the issues of abuse and abduction sensitively by giving you a sense of what life is like inside ROOM but really comes into it's own when Jack and Ma are freed from their captor and learn what life is like on the outside again.  It really is an amazing piece of cinema.