My daughter loves Princess's, she's also quite a fan of mermaids so when the Disney Princess Ariel Bath styling head arrived for her to test she was really excited.  The first thing that we both loved about the doll was the bright red hair, finished with a cute blue streak.  She's got a lot of hair, which is perfect for little girls to style.  The cute blue streak also changes colour when wet.
As well as the blue hair, the eyes and lips also change colour but the water has to be icy cold.  We had fun trying to get them to change during our video, but I don't think the water was quite cold enough.  You can see more of the toy in action right here:
Disney Princess Ariel Bath Styling Head YouTube Review
The Disney Princess Ariel styling head comes with a brush, comb, clips and a shell cup for busy girls to use on her hair whether it's to make pony tails, practise plaits or whatever creation you like.  There's plenty of inspiration to get you started on the box.
The Disney Princess Ariel styling head also has suckers so it can be attached to the side of the bath, which are really helpful.  There are also slots for you to store your brushes and clips, but we thought the toy could have done with a little more room for these as they didn't all fit.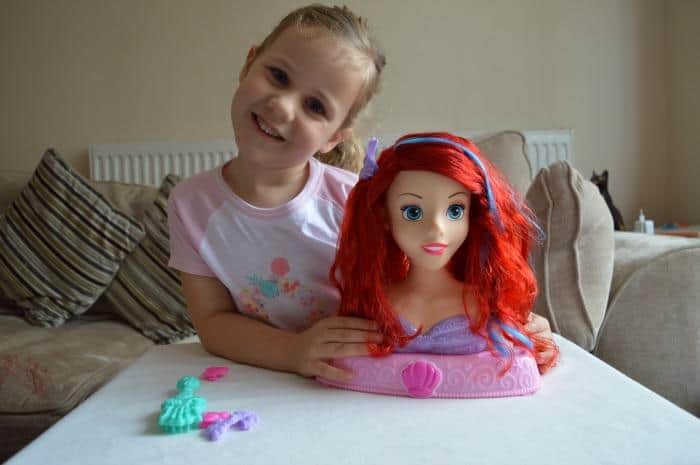 Overall, my 4 year old daughter loved playing with the Ariel styling head, and really enjoyed having fun with her at bath time.  If you are looking for a styling head doll with a difference, then I would definitely recommend you consider this one as there is as much fun to be had in the bath or when it is dry.
We were sent the Disney Princess Ariel Bath Styling Head for the purposes of this review but all thoughts and opinions are our own.  The Disney Princess Ariel Bath Styling Head is available from Flair PLC and costs £24.99.