Las Iguanas invited us to their restaurant in Nottingham this week to check out the new menus, including what's on offer for kids.  Las Iguanas is a South American restaurant & bar that I used to visit before having the girls.  I hadn't really thought about it being a family friendly restaurant to take kids to eat in until our visit on Sunday.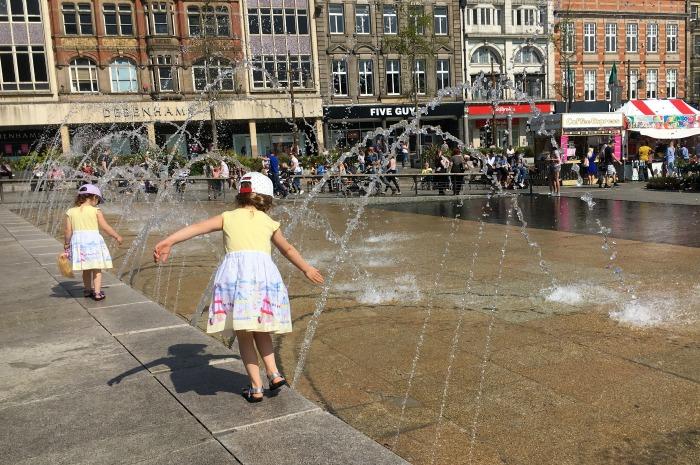 The sun was shining and everyone was in a good mood so we took the girls into town.  We did a bit of shopping and played in the fountains in the Market Square before heading to Chapel Bar to find the restaurant.  The kids had made it known to us that they were feeling hungry, so we were a little bit early for a table, but Las Iguanas didn't mind at all and made us feel very welcome.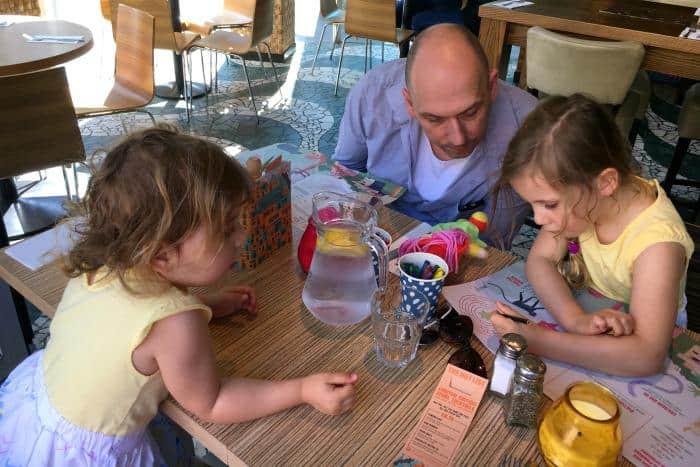 There was lots of fun kids activities already out on the table and we were able to sit by the windows that opened onto the street.  This made for a very relaxed experience and set the scene perfectly for trying one of their happy hour 2 for 1 cocktails.  I tried the new Berri Mule from the Hot List menu, and oh my was it good!  It went down perfectly with all the chilled out Sunday afternoon vibes we were already experiencing.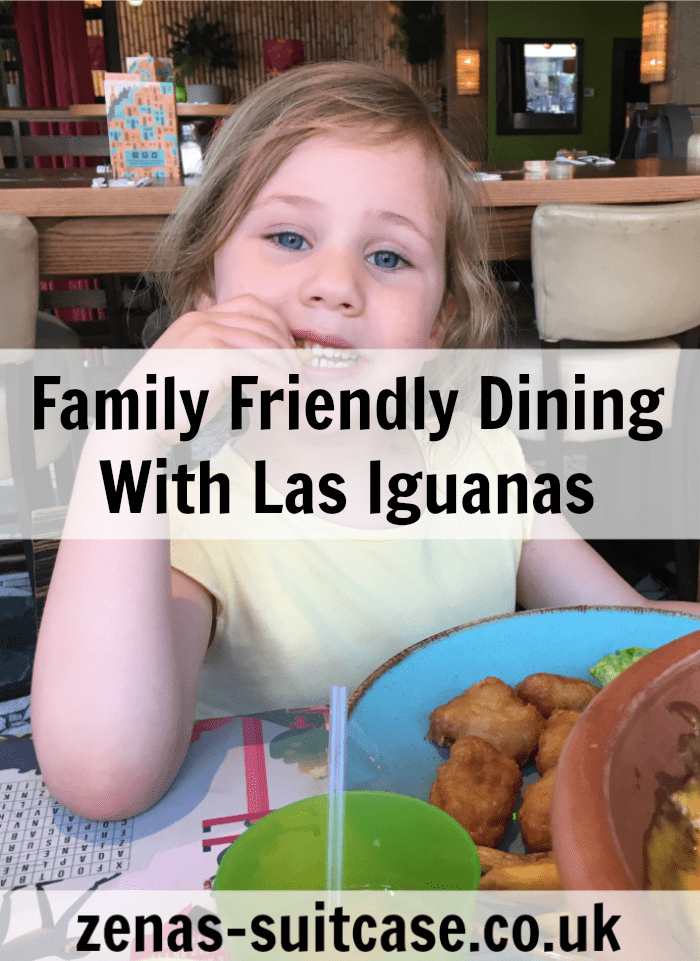 The new kids menu at Las Iguanas is very impressive, offering young visitors lots of choice and a familiar list of foods if they aren't feeling the Latin love. Kid friendly tacos and quesadilla are available, but you can also get pizza, cod bites and burgers, so that everyone is happy.  If your children enjoy South American food, then you can also get smaller portions off the main menu for half price or less.
The children's menu is suitable for 12 years and under.  We felt they were good sized portions and there was plenty to feed our kids who are 3 and 5 years old.  The children's menu costs £5.90, and includes a main, dessert and a drink.  That's awesome value isn't it?  At the moment, to celebrate the Easter holidays, Las Iguanas are offering a 'kids eat free' deal, which is available until 23rd April.  This offer and others are available throughout the year, so check out the website for more information and to book.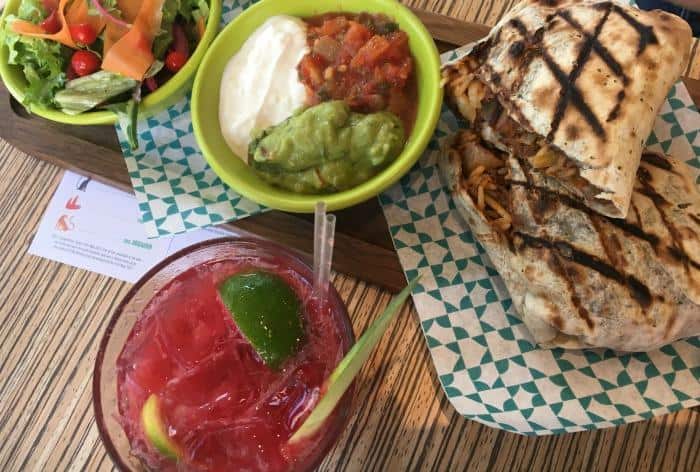 We all tucked in when our food arrived, with the girls going for the pizza and cod bites.  Daddy ordered the burritos with shredded beef braised in chipotle and I went for the Ximxin. This is a classic recipe from North Brazil and a must try for curry fans and first time visitors to Las Iguanas.
The girls were really happy when their food was placed in front of them.  Their meals were served with a side of fresh salad, which is always a big hit with them.  The quality and presentation was excellent, making sure that they enjoyed their meals as much as we did.  Happy kids always makes for happy parents, doesn't it?
Daddy enjoyed his burritos A LOT, and to be honest he's a really tough critic to please.  If he wrote a blog of restaurant reviews, he'd be so harsh.  On this occasion though, he gave Las Iguanas a massive thumbs up.  His food was tasty and super filling, so he was a really happy bunny.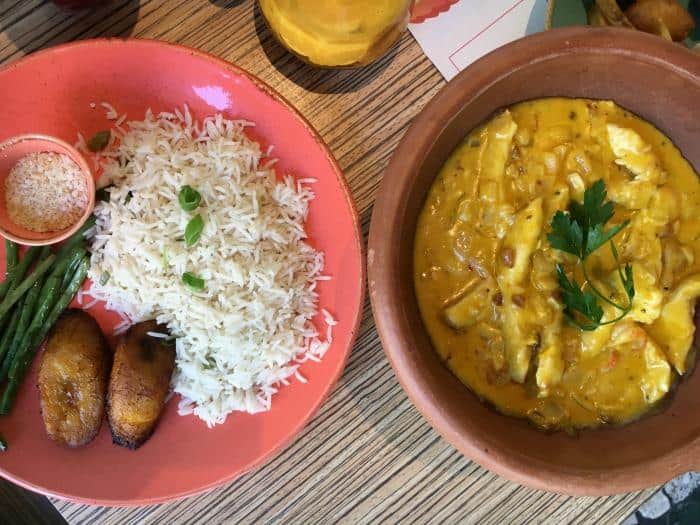 My Ximxin was just amazing.  It had all the flavours I love, including coconut and lime.  The chicken and crayfish was beautifully cooked, and went perfectly with the creamy peanut sauce.  It is a dish I would definitely have again.
Daddy threw the towel in before we got to dessert, but in the interests of providing you with a full restaurant review the girls and I soldiered on.  They had jelly and ice cream, which when your 5 and 3 is the mother of all desserts.  They ate the lot!
After much deliberation, I decided to try the Dulce De Leche Macadamia Cheesecake.  It's a tough job, but someone has to do it!  Just take a look at this!  Did it taste as good as it looks?  Absolutely!  It was perfect.  It was rich, but light which I think is a difficult combination to master when it comes to cheesecake.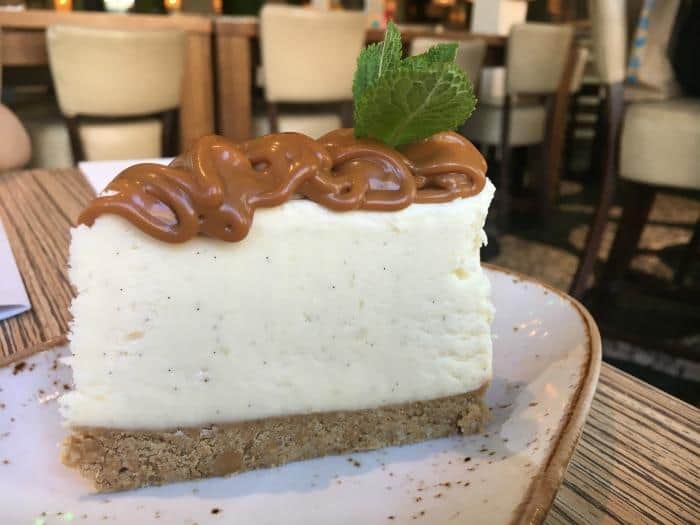 The biscuit base was crisp, the cheesecake was flavoured perfectly with fresh vanilla, and the dulce de leche topping complimented the rest of the dessert a treat.  In short, it was delicious and went perfectly with this rather delightful chocolate cortado.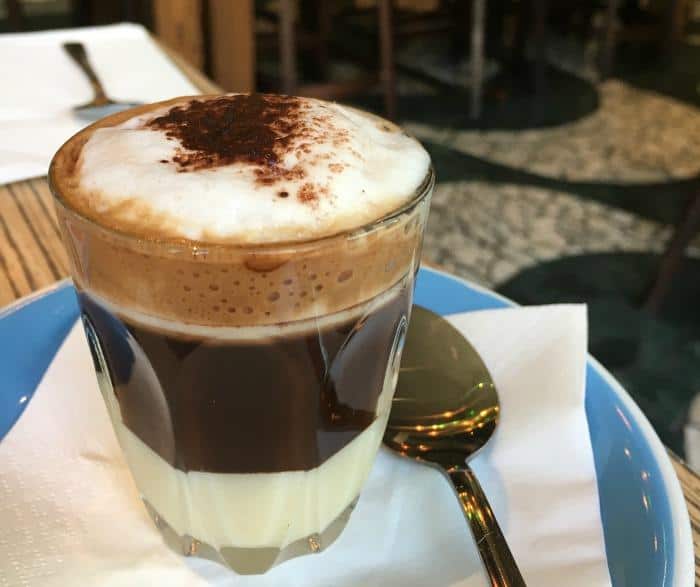 I felt quite sad when it was time to leave.  We had had such a lovely experience, the food had been amazing, the staff were great and it all went so perfectly with a relaxed sunny Sunday afternoon in town.  Unfortunately, small children get tired and are best taken home, but I could quite happily have whiled the afternoon away testing a few more of those 2 for 1 cocktails.
Las Iguanas has made it onto our list of family friendly restaurants to visit in Nottingham, or anywhere else for that matter.  If you haven't visited with your kids yet, I would strongly recommend popping in.  I really don't think you will be disappointed.
We were provided with a complimentary meal at Las Iguanas restaurant in Nottingham in exchange for an honest review, but all thoughts and opinions are our own.  I would be more than happy to recommend this restaurant to friends or family looking for a place to eat with children in Nottingham, and very much look forward to going back soon myself.