The UK is an amazing place to visit for a holiday as it's brimming with culture, natural beauty and more historic sites than you can poke Harry Potter's wand at.  A fun packed itinerary could include a tour of London, a visit to explore it's viking roots in beautiful York and a road trip  along it's wonderful coast lines.  Despite popular belief we also have a lot to offer on the culinary front as well, we have moved on a lot from fish and chips and host amazing cuisines and talented chefs from all over the world.  If you are after something typically British though, I would strongly recommend an afternoon tea, as it's quite an occasion in itself.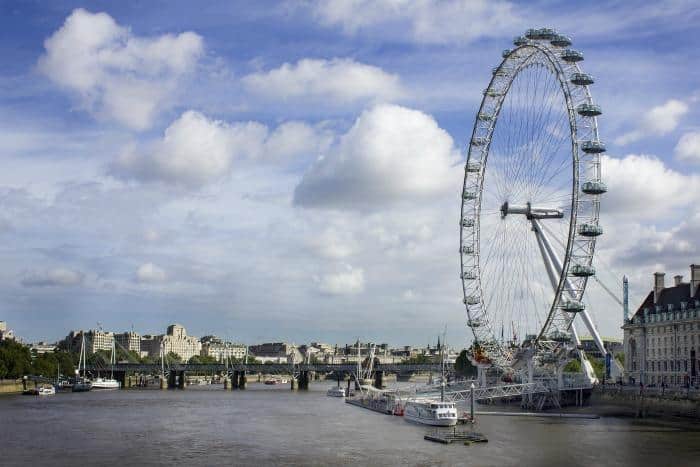 The one thing we cannot offer visitors to the UK is predictable weather, and if you are going to be on holiday in England, Scotland, Wales or Northern Ireland this year, I strongly recommend that you pack for all eventualities.  It can be glorious sunshine one day and then raining cats and dogs the next.  We do suffer with the elements being an island in the Atlantic Ocean and I wouldn't want you to get caught out.  Even if the weather lets you down slightly, there is still plenty to do in the UK and if you have packed for all seasons, it definitely won't spoil your holiday.
What To Pack For The UK
A compact travel umbrella is pretty much essential all year round, and this one in Tiffany blue also acts as a anti UV parasol for when the sun decides to make an appearance.  It's also windproof and waterproof because of it's durable nature and will fit into your hand luggage or carry on easily.
Do not leave home without a raincoat even if you are visiting the UK in July and August.  If you are visiting the coast, the weather can change very quickly and go from sunny and warm to showers in no time at all.  Even if you are more inland, the showers can still make themselves known.  We don't suffer from an ongoing rain season as such, but even us locals can get caught out by it.  This light weight ladies rain mac will see you through all eventualities while still looking stylish.
We do experience sunny days and perfect walking weather a lot, and you want to be ready to make the most of it.  We can experience warmer weather from March through to September and hopefully you'll get to catch some it.  These Dunlop trekking sandals will stand you in good stead for all that exploring your going to be doing.
Dunlop Trekking Sandals £17.49
For days when you need something more on your feet, then I would definitely recommend having a comfortable pair of trainers or walking shoes.  These grey lightweight trainers will look after your feet during a day of sightseeing in any of the UK's cities and will also look great with a casual pair of jeans.
Lightweight Comfort Trainers £19.98
A comfortable pair of jeans or two is essential for a city break or if you are planning something more rural in our beautiful countryside.  These Levi's shaping straight cut jeans are going to work well, both day and night and for a range of days out and activities. Style and comfort work so well together with these jeans and you'll be able to dress them up or down depending on what you've got planned.
Levi's Women's Shaping Jeans £42.00
Don't forget to pack a couple of cute t-shirts or tops for your visit to the UK.  Even when it isn't sunny, it can still be warm and a little on the muggy side.  Layers are the way forward so you can put on or take off as many clothes as you need to.  This fun Flying Rabbit t-shirt which comes in pink or reds will be a good staple for your trip.  The loose fitting style will ensure comfort as well as temperature control when the sun makes one of it's famous appearances.
Flying Rabbit Colourful T Shirt £8.99
If you cannot leave home without a dress, then I would say pick a cute mini style that will work well for day or night.  This flattering summer dress has some lovely detail and won't look out of place while visiting the beach or popping to the local pub for drinks on a summer's evening.  Don't get too upset though if it doesn't see the light of day during your trip.  Always check the weather forecast for the places you plan on visiting in the UK to give you an idea of whether it's worth packing a dress for your trip.
Printed Summer Dress Various Colours Available £11.55

If cute sandals are more your thing, then these Zicac Rhinestone Sandals are going to suit you down to the ground.  The deliver the comfort you need for a days sightseeing and look great with either a pair of jeans or a cute summer dress.  The heel strap will also give you a lovely secure feel, especially if you come across some of our cobbled streets.
Zicac Rhinestone Sandals £19.99


I cannot recommend strongly enough that you need to pack a warm cardigan for any type of UK holiday you might be having this year.  Even if it is dry and warm when you visit, the evenings can soon get chilly and you will want to have something like this buttonless chunky cardigan to hand to wrap up in.  It will work well if you are wearing jeans or something a little less casual.  The textured knit gives the cardigan a little more detail than most I've seen.
Buttonless Chunky Cardigan £16.49
Are you struggling to know what to pack for your UK holiday?  Our unpredictable weather can be a challenge but if you follow these suggestions, you can't go far wrong.
This post contains affiliate links, so if you decide you like any of my suggestions and you do a little holiday shopping then I might receive a few extra pennies.