Is it possible to feel like you have had a proper getaway by just spending 24 hours at a hotel?  We visited the Belfry Hotel & Resort in Birmingham for an overnight stay in the summer to find out if it could be done and here's how we got on.
Myself and all three kids packed into the car and took the 50 minute drive from Nottingham to Sutton Coldfield on the outskirts of Birmingham where The Belfry is located.  This was going to be the only holiday we took with teen this year, so I had everything crossed for a great mini family getaway.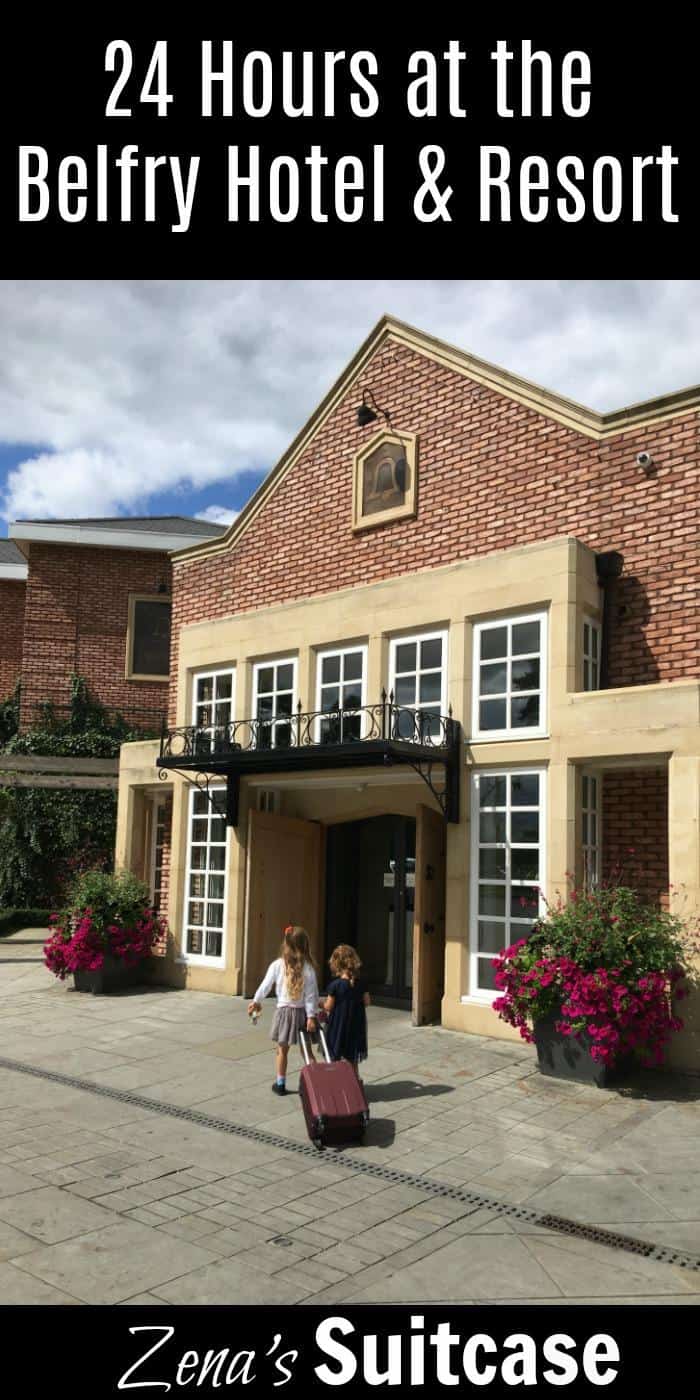 We arrived at the Belfry Hotel & Resort just before 3pm keen to get checked in.  As we walked into the main reception, we were completely blown away by the ambience and decor.  Lets not forget this is a luxury hotel, and on first impressions, it certainly delivers.
The chandelier that is suspended from the glass ceiling is made completely of golf clubs.  It was one of those show pieces that required a double take, as no one expects a light fitting to be made of golf clubs, but it was the perfect arrangement for this particular hotel lobby.
If you didn't already know, The Belfry has a rather impressive golf course, and has hosted the Ryder Cup 4 times.  This is more times then any other venue in the world. If you follow me on Instagram, you might have heard me mention this a few times 😉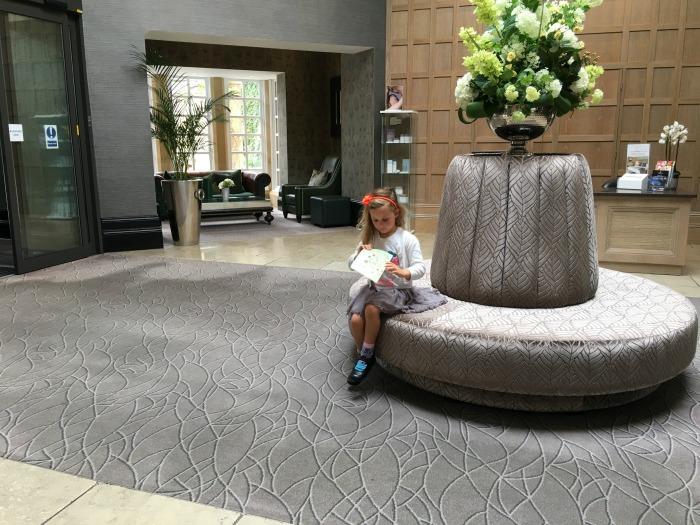 After our friendly and welcoming check in, we were taken to our family room by the concierge.  I'm so pleased we were shown where to go as The Belfry is a large hotel and we probably would have got lost the first time around.
Our Family Room at the Belfry Hotel & Resort
We were very impressed with our family room and the girls wasted no time at all looking at the story books that were left for them and the activity books and crayons they found.
We enjoyed 2 large adjoining double rooms, both fitted with flat screen TV's and desks and chairs.  The bathroom was also large, and my only niggle was that there was no bath.  I think baths work so much better for families if I'm honest. Apart from that it was modern and spacious, the towels were large and fluffy and we were provided with some gorgeous ESPA toiletries.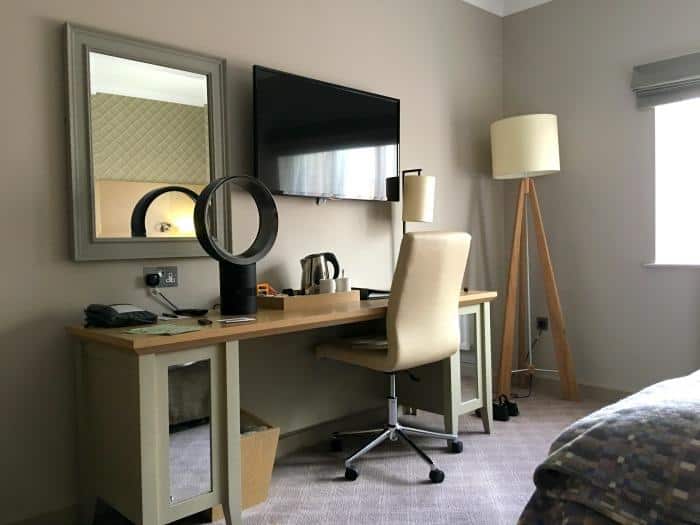 After a quick rest from the drive, we decided to head out to make the most of the good weather we were being blessed with.  We headed down to the golf shop and arranged for a family game of mini golf.
Family Activities at The Belfry
We aren't golfers per se, but we do enjoy some good old fashioned family fun.  The girls were very excited about playing mini golf, and their big brother got stuck straight in trying to explain how to play.
Trying to get them not to pick up the ball and put it wherever they liked was the biggest challenge.  Despite not entirely following the rules, we had a lot of fun and it was great to see all the kids enjoying this activity together.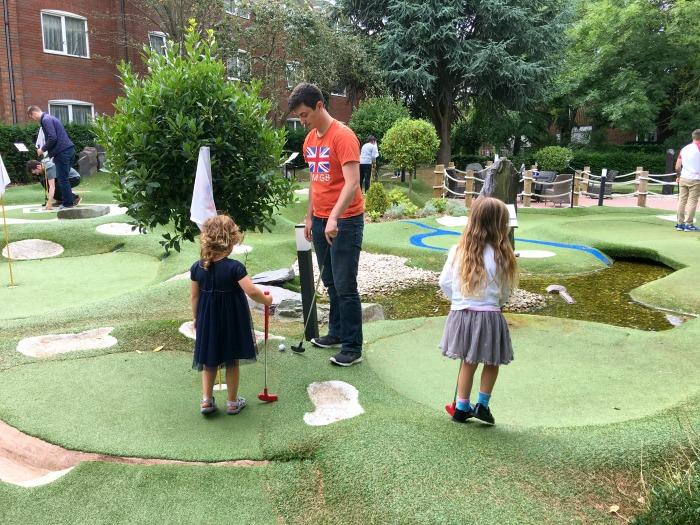 Our next stop was the Woodland Walk.  When we arrived at the hotel we were provided with a map and the girls were keen to go and explore this nature trail.  Along the Woodland Walk we found bug houses, den building and an adult fitness trail.  The 2km trail is a great place for families to explore and enjoy the outdoors together.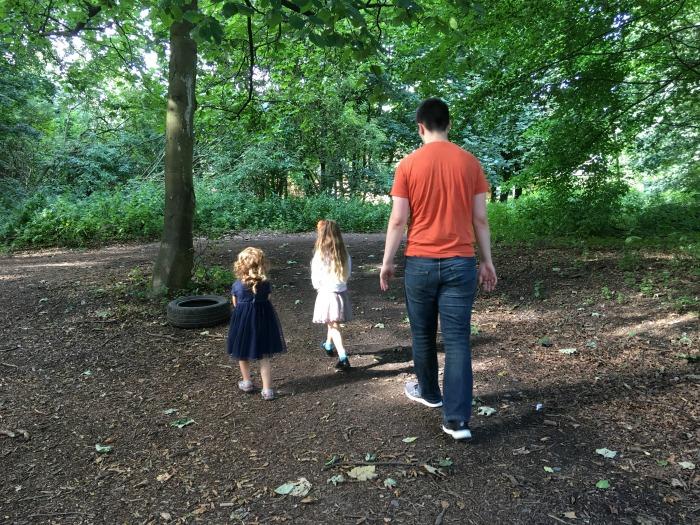 Right outside the Woodland Walk is a fantastic children's adventure playground.  There are swings, the obligatory slide and a huge climbing obstacle course to keep active kids busy.  We called in for a play with the girls before heading inside for drinks.  I had a feeling we might be back here again before we left too.
Bars & Restaurants
The Belfry has a pretty impressive bar called the Brabazon Bar, near the main reception.  The chairs are green leather and the light comes from a spectacular class doomed roof over looking the bar.  We decided that some refreshments were in order after our busy afternoon, so we spent some time enjoying this incredible space before dinner.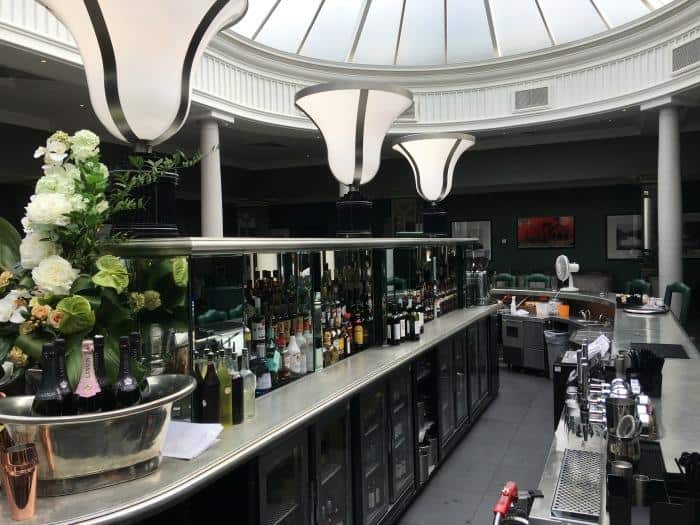 Feeling refreshed, we headed to our room to get ready for dinner.  We were going to be dining at Rocco's Pizza Pasta restaurant which is a family friendly Italian restaurant where hotel guests can enjoy some quality time together.
We loved the fun mod-style decor and we were equally impressed with the quality of the food.  Pizza and pasta are such winners with all my kids and it's great to go somewhere and know they are going to be happy with the food.  Indie predictably went for the spaghetti bolognese while her little sister went with her favourite, Margherita pizza.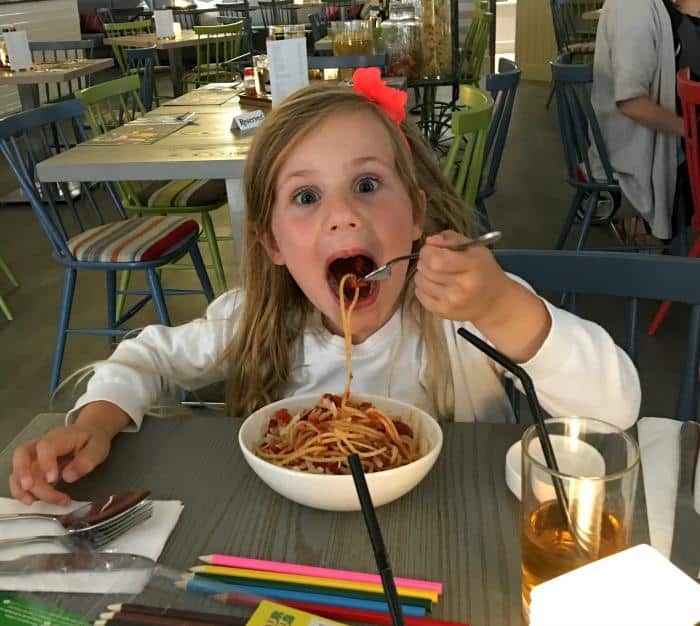 Rocco's make sure that the parents are also happy, and the quality of the food we experienced was exceptional from the starters, straight through to the dessert, which of course was tiramisu!
After a thoroughly enjoyable meal, we decided it was time to take the girls to bed.  The girls, however had other ideas and decided they wanted to play.  It took us a while to settle them down, but once we did, they enjoyed a great night's sleep and teen and I had chance to recharge our batteries.  We love the girls dearly, but they definitely have their moments.
I was really looking forward to our hotel breakfast, and was delighted to find out it was going to be served in the Ryder Grill restaurant.  The cooked breakfast was lovely, with a wide selection available.  Teen airs on the side of vegetarian, so we weren't sure he would enjoy it so much.  Fortunately he discovered they did provide vegetarian sausages, which he teamed up with beans and hash browns, so he was a happy bunny.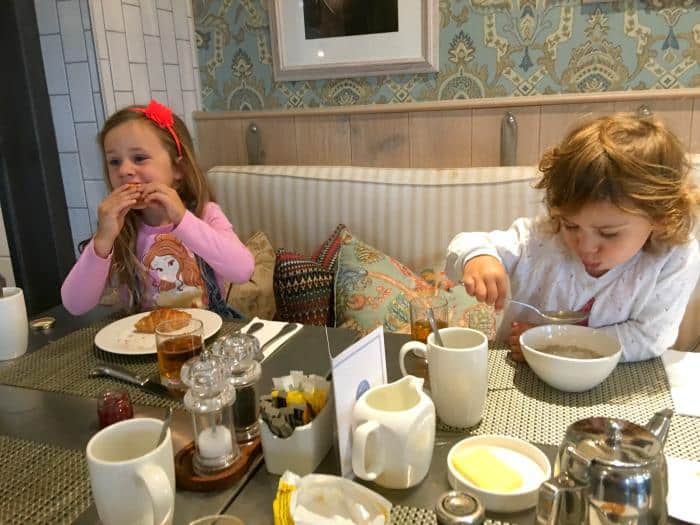 The girls ploughed their way through plenty of breakfast muffins and fruit juice and were suitably charged up for the day ahead, possible a little bit too much!
Time For a Swim
As we needed to burn off some of that energy (and sugar), we headed to the Belfry's swimming pool to catch a swim.  They have family changing rooms with lockers which the girls and I used to get ready.  The pool has a small children's area for them to splash in as well as the main pool which is attached.  The water was warm and comfortable and we spent a good hour here trying to burn off some calories from breakfast.
I would have loved the chance to pop into the sauna or steam room, but the girls really did have other ideas.  Teen thought about sneaking off to the gym, but the girls really did require 2 pairs of hands this trip.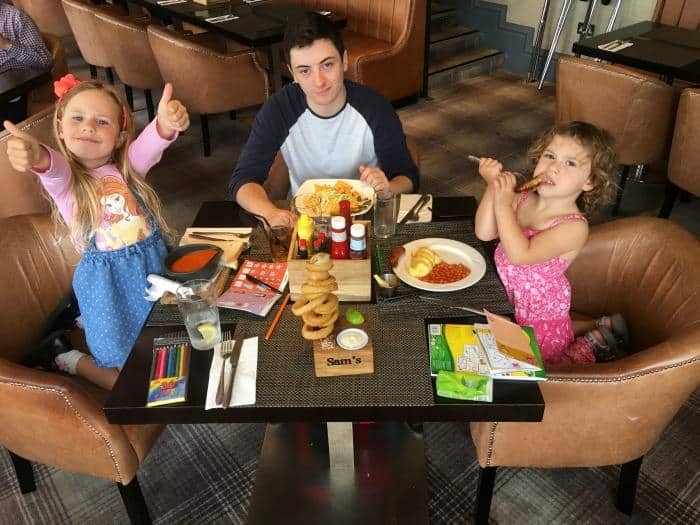 It was getting towards lunch time and I thought it would be nice to visit Sam's Diner for a bite to eat before we left.  This is a good place to enjoy the views over the golf course, and is perfect for family dining at the Belfry during the day.
Bar or waiter service is available, and we opted for the later in an attempt to keep the girls in one place.  We enjoyed nachos and onion rings while the girls picked tomato soup and sausage and mash from the children's menu.  It was a lovely relaxed lunch, and just what we needed after our swim.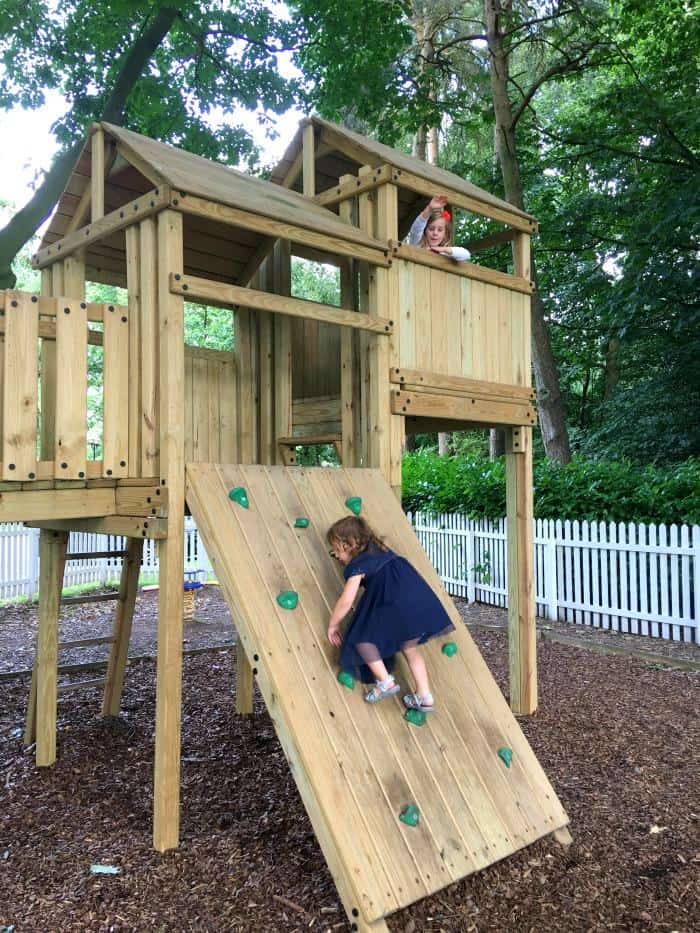 Before heading home, the girls wanted to play on the adventure playground one last time, which was probably wise before getting in the car.  Our stay at the Belfry Hotel & Resort had sadly come to an end, but we all felt like we had had a lovely family getaway together.
I was surprised at how much we had managed to pack into such a short space of time, and we loved the quality of the room, restaurants and hotel overall.  It's definitely somewhere we would consider staying again as a family.  Perhaps next time we will squeeze in use of the gym and the spa facilities too.
Have you read the Ultimate Guide to Making Family Travel Easier yet? It's awesome! 
Useful Information
The Belfry Hotel & Resort
Lichfield Road,
Wishaw, Sutton Coldfield,
West Midlands,
B76 9PR, United Kingdom
Enquires:
Attractions Nearby
Cadbury World
The NEC Birmingham
Conkers plus more
We were provided with a complimentary stay at the Belfry Hotel & Resort in exchange for this post but all thoughts and opinions are our own.