Hello readers! Thanks so much for coming back to find out how we've been getting along with our Western Digital (WD) My Cloud Home and our latest family tradition, Screening Sunday.  If you've not read my first post, you can find out all about my experience of online digital storage here.  Did you join in with Screening Sunday?  If not I'm sure you will be having a go with your family after you've read this post 🙂
My Cloud Home Review
When the My Cloud Home arrived in our house, my husbands eye's lit up straight away.  He loves technology and he was impressed that this online storage device offered the ability to sync all our family content and that we could stream it to different devices also.
When I went to plug in the drive, the My Cloud Home had mysteriously disappeared!  It looked like my husband had already laid claim to it so I asked him if he was going to be providing the review for Zena's Suitcase readers?  He reluctantly handed it back to me so I could get it up and running to bring you this post.
He thought I would need help with it, but My Cloud Home is so simple to set up I managed it all by myself.  If you aren't confident with gadgets or technology, the My Cloud Home could be the answer you are looking for.
Let me tell you the steps I followed to get it up and running..
How To Set Up My Cloud Home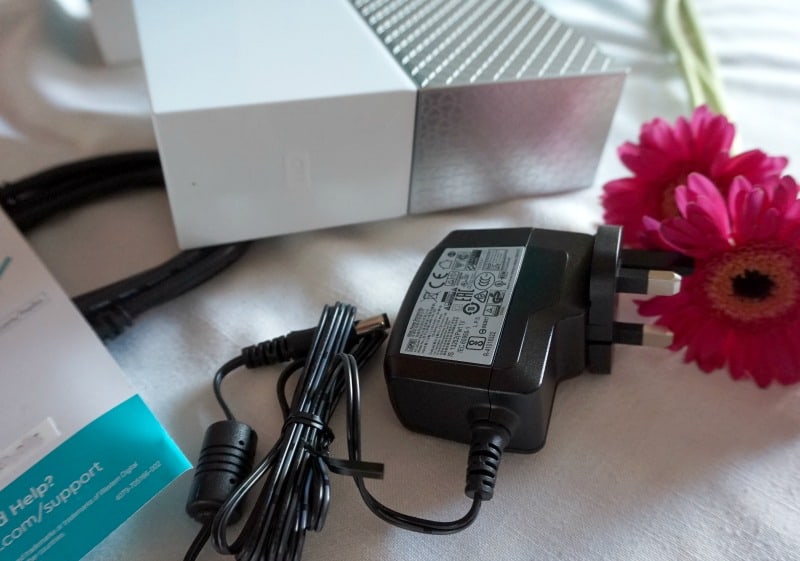 I used the cable provided to connect the My Cloud Home into our WiFi Router (it's easy to work out which sockets to use from the cable provided with the drive.)
Then I plugged it in using the power cable supplied.
To get started with saving all my photos and videos to one place, I downloaded the My Cloud Home app to my phone.
Once that was sorted, I entered the code I was given with the My Cloud Home device into the app.
The simple set up wizard walked me through the next steps.
The My Cloud Home was literally set up in minutes and already working hard to upload and store my photos in one handy place.  It really was very simple to get everything underway.
As well as being able to back up my photos and videos from my phone and computer, I was able to sync photos from my other cloud services.  I really loved this feature as I realised I had photos I'd long forgotten stored in Dropbox, Google Drive and Google Photos.
I've tried a few cloud services over the years and for one reason or another I just haven't managed to get along with them.  The user interface just hasn't worked for me from the get go, or I've simply not understood how it works and some photos have been stored, and then I've never gone back to it.  Is this something you ever do with your pics?
Well, My Cloud Home sorted all this out for me…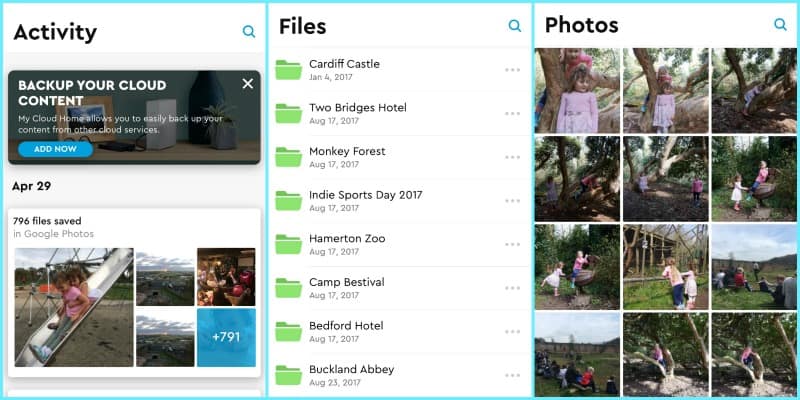 It was so easy to connect my Dropbox account and the several Google Drive accounts I've managed to acquire and sync them directly into My Cloud Home.  It turns out my wedding photos were hiding in one of these online services, and I was so relieved to be reunited with them and have them on My Cloud Home, which I was finding much easier to use already.
As well as these cloud accounts, My Cloud Home will also back up and sync your photos from Facebook,  OneDrive and box.
Once I was up and running with My Cloud Home, I sent an invite to my husband to join so he could save his photos.  He's got his own private area to store personal content, but the file that is most useful to us is the shared Family Folder.
It's already created on the My Cloud Home app, and it's a place where you can all put your photos for everyone to appreciate and enjoy.  We love this shared space as we all get to see the pictures we've taken and we can share them with other family members who love having access to photos of the girl's adventures.
Our Screening Sunday
We didn't really make a thing of sitting down to look through our old photos using the My Cloud Home.  I just popped some pictures up on the screen and wanted to see if they caught the girl's attention.
When they started to see pictures of themselves, they soon became interested in what was going on.  'That's me and Brook', Indie said with a smile beaming from ear to ear, so I asked her if she knew where it was taken.  'It was on holiday', she said!  I was hoping for something a little more specific but I knew what she was getting at.  We clearly need to work on her geography.
I had popped some photos in a Disneyland Paris file from our visit last year, as I think this was one of the girl's favourite trips.  Their eyes didn't leave the screen as we talked about how we surprised them with visiting the park that morning and left our hotel immediately to go and enjoy all things Disneyland Paris.
We relived every little detail, like going on the 'It's a Wonderful World' boat ride, exploring the Princess castle and seeing the famous parade before we left.  It was like a a forgotten chapter of their lives had been opened and they could enjoy all those colourful happy memories once again.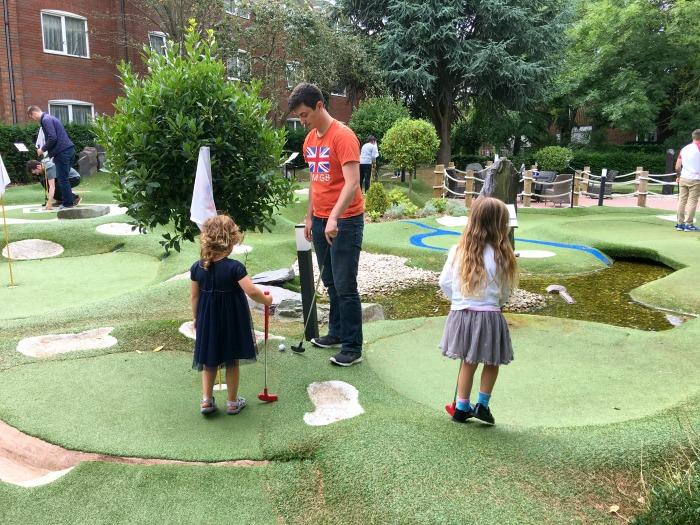 The one moment that really struck me though was when they saw photos of themselves with Teen, their big brother who lives away from home while he's at university.  The sheer joy on their faces when they got to see themselves playing mini golf with him, in photos they probably had no idea existed until now.
Their brother is so important to them, and being able to see these memories now he isn't at home all the time was so special.  It's made me aware that when he is around, we need to get lots of photos of them together and we also need to look back on them regularly.  They love their connection with their big brother, and seeing the photos bought it to the front of their mind and reminded them that even though he's not here, their bond is still very real.
Our Screening Sunday turned out to be probably the happiest 20 minutes or so that we had had that day.  Not that the rest of the day was particularly unhappy, but this special time took us to lots of places, thinking about where we had visited or the people in our lives we don't see regulary, without even having to leave the sofa.  It was family quality time at it's best with everyone sharing, smiling and talking about the wonderful memories we have as a family.
Screening Sunday will definitely be becoming apart of our routine after this first experience.  I can also see it becoming a regular family tradition that helps our family grow and stay connected as the kids grow older.
Have you tried Screening Sunday yet?  If it's something you'd like to get involved with share your experiences on your favourite social media accounts using #SreeningSunday to let us know how you get on.
Would you like to know more about My Cloud Home?  Why don't you come along to the Twitter chat hosted by BritMums on 10th May 2018 at 13:00, and join the conversation about bring back the family album. I'll look forward to seeing you there.
I'm working in a paid relationship with My Cloud Home and BritMums on their Bring Back the Family Album campaign, encouraging families to share and experience their photos and video together.