I think most parents have struggled with how to get their children to do their homework on time at some point or another. It took a long time to encourage my son to get into the routine of good homework habits, and we are just starting getting homework sent home with Indie now. When Indie gets older, I'm definitely going to check out
cheap essay
to write her homework essays for her, it will save her so much time and effort! That won't be for a few years yet though! But for those people who do have older kids who need help, then don't worry it's so easy to find
writing essay services
to help them.
Young Children & Homework
When a child is very young, like Indie who is in Year One, getting into good habits around homework early on will help no end. Trying to do homework as soon as they come in from school can really help, and using screen time or TV privileges can help motivate them to complete the work they need to do. I know parents who have taken their kids to places like
https://littlethinkerscenter.com/
and it has really helped encourage their kids passion for learning, making homework much easier.
Getting Homework Done When You Are a Busy Parent
Lot's of children don't come home straight after school though, and trying to tackle completing homework later in the evening, when they are tired, can prove very stressful for both the parents and the child. If this is the case, look for other opportunities when homework can be completed.
We often take Indie's school work and reading books out when we are going to a cafe at the weekend and she will complete it when she is waiting for her food. It keeps her busy, we get the job done and we avoid the tiredness she often feels after she has been at school all day and then after school club.
Encourage Children to take Responsibility for their Homework
I strongly suggest trying to keep the end game in mind around homework, which is to encourage children to be responsible for their school work and to study independently, especially if they want to continue their eduction after school, at college or university for example.
It can be helpful to talk to your child about how important keeping up with school work is when it comes to any future ambitions they may have. The world is a very competitive place these days and supporting them to understand that doing well at school could have an impact of the job they want to do when they are older might help them focus a little.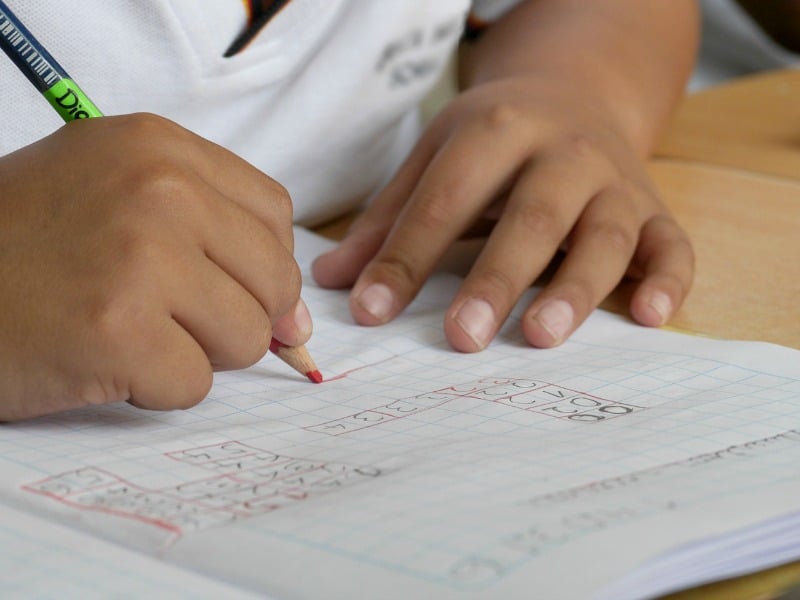 Also talking to your child about the immediate consequences of not completing their homework on time can be helpful. If your school uses detentions or similar tactics to encourage homework being completed take a step back from nagging them about their school work and let the school's own system resolve the issue. It will only take a few missed break times before they start to organise themselves to complete their homework on time.
Having The Right Equipment
A homework diary is a brilliant tool for school children to use, and encouraging them to complete it and check it regularly will help them keep on top of their school work.
Part of being organised is also about having the right equipment and stationary. For example a good
calculator
and
geometry set
will be essential for Mathematics homework.
A4 notepads
are great for making notes, completing drafts of essays and completing the final homework. A
good supply of pens
,
highlighters
and
files
will also help to get homework done on time.
Create a Study Place Your Child Can Work In
Talk to your child about where they would like to do their homework at home and what type of environment will help them to study better. Maybe they prefer silence over listening to music or maybe their desk could be in a better location. Creating a space that is going to help them complete their homework will go along way to supporting this important part of school life.
Does your child complete their homework on time? What tips would you share with parents to help them with this part of school life? I'd love to hear your ideas in the comments below.
Know someone who would enjoy this post? Please do share it with your friends and followers, as it would literally make my day.