We've been looking out for the best festival tent for families for a while now.  When Tiso found out we were going to Just So Festival they said they had a great festival tent for us.  They sent over the Vango Beta 450XL camping tent and asked us to share what we thought for a review.  I did my research, and it seemed like a great tent so of course I said yes.
We've had a few camping tents over the years, and not all of the have been lucky enough to make it home with us.  What we were really interested to see is would the Vango Beta 450XL festival tent handle the British weather.  I bet you'd like to know too, right?
About The Vango Beta 450XL
The Vango Beta 450XL is a 4 man tent, but there is also a Vango Beta 350XL which is the Vango 3 man tent from this range.  The Vango 450XL is a 3 pole tunnel tent with a bedroom and separate living space.  We were going to be camping in it for 3 days during Just So Festival and it was going to be myself, my 4 year old and 6 year old sleeping in the tent at night.  The bedroom is 210 * 250cm so ample space for a family or 3 or 4.
>> CLICK HERE TO CHECK THE LATEST PRICE FOR THE
How Easy Is The Vango Beta 450XL to Pitch
This festival tent was really easy to put up and my husband did most of it by himself while I sorted out the rest of the camping equipment.  With the flysheet and ground sheet attached it was just a case of rolling the Vango 450XL out, pegging it down and feeding the colour coded tent poles through to secure it in place.
The bedroom section was then hooked in place and the tent was pitched.  Inside the tent featured the Vango Tension Band system, which we could tighten to give the tent more strength if it became windy.  This feature provided us with a lot of peace of mind especially as we were camping with kids.
Other Features: Vango Beta 450XL
Once our Vango 4 man tent was pitched it soon became apparent there were lots of features that we loved it.  The Vango Beta 450XL is a great size for a short break or for a festival tent.  The bedroom was a really good size for the 3 of us, and we could have squeezed Daddy in too, but the kids are a bit wriggly.
The living space or porch was also a very generous size and provided us with lots of room for our camping equipment and food.  There are 2 doors on this Vango tent and also windows for extra light if you want it.  If you want the door open, but are concerned about the insects, there is also a second mesh door to keep the little beasties out.
Buy on the Vango Beta 450XL on Amazon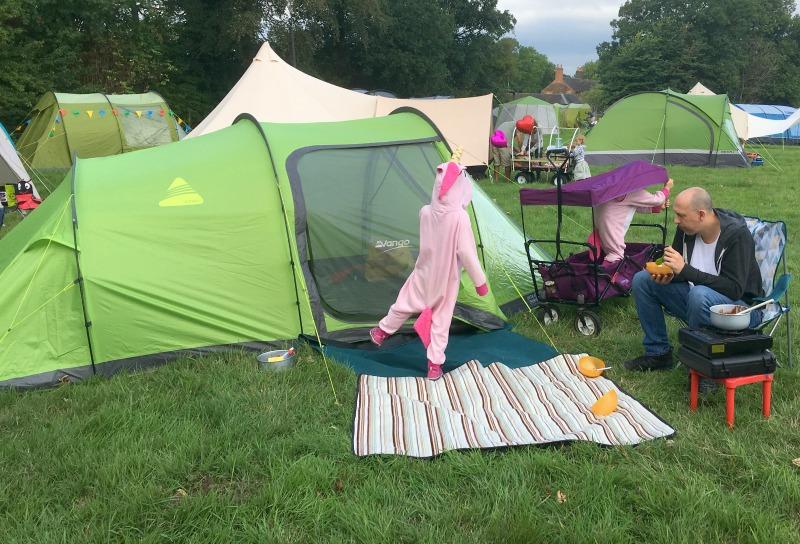 I really liked that the kids could stand up comfortably in the porch area and I was able to stand, if I bent slightly.  When you have a tent without a porch or living space getting dressed can be a challenge.  I'm not a huge fan of rolling around on an airbed trying to get my trousers on, so we really liked the space we had in the Vango 450XL for getting ready in the morning.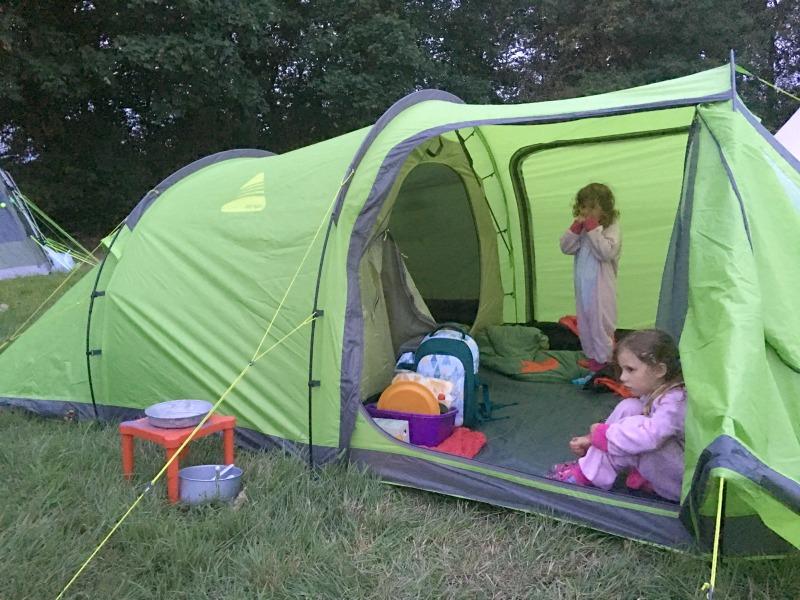 We found things like the pockets in the bedroom handy for storage and the lantern hanging points really useful.  There wasn't a great deal of lighting around our pitch so the high visibility guylines and reflective webbing was really helpful at night too.
It was also clear from the moment we pitched the Vango Beta 450XL that it was a very well made tent.  When it did start to rain at Just So Festival, we weren't in the slightest bit worried. The Vango Protex® 70 denier polyester flysheet which is highly waterproof did a great job of keeping us and all our equipment dry.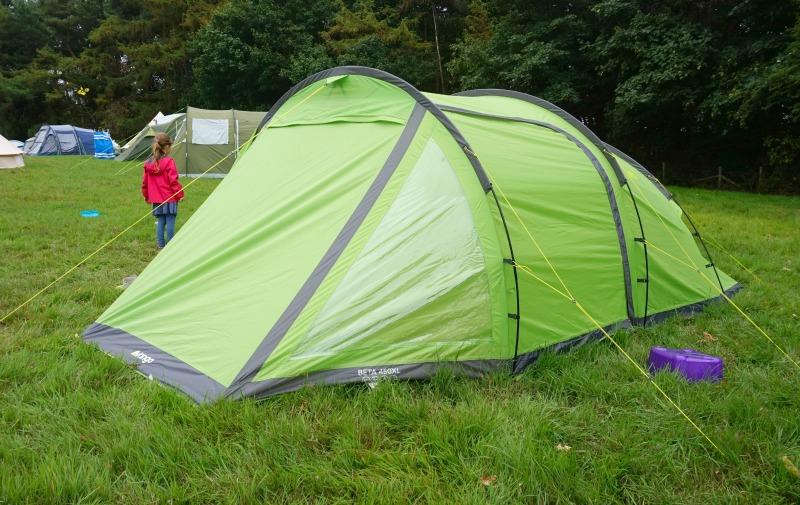 We also didn't wake up to that annoying condensation or stuffy feeling you get with some camping tents due to the breathable polyester inner layer the tent had.  The ground sheet was also very robust and did a great job of protecting us from the ground underneath.
We also found that the kids didn't wake up super early either due to the dark fabric used on the inner tent in the bedroom.  No one wants kids up at the crack of dawn when they are camping do they?
When it came to putting the Vango Beta 450XL tent down, my husband was really impressed.  It is really easy to put away with the fast pack tent bag.  There are also straps that allow you to tighten the tent bag and reduce the size even further.  This makes it really easy to pack in a car full of camping gear or squeeze into the camping trolley.
Our Final Thoughts on the Vango Beta 450XL Review
We really liked the Vango Beta 450XL and can safely say it's the best festival tent we've had so far.  I'm sure we will be using it again for our short camping trips and family festivals without a shadow of a doubt. The space it gave us for family camping was great and we thought is was a really robust design.  There was only a little wind and rain during Just So Festival, but it coped with it just fine.  I'm pretty sure this camping tent could cope with a more bad weather if it needed too.
If you are looking for places to pitch your tent in 2019, you will love our list of family friendly festivals!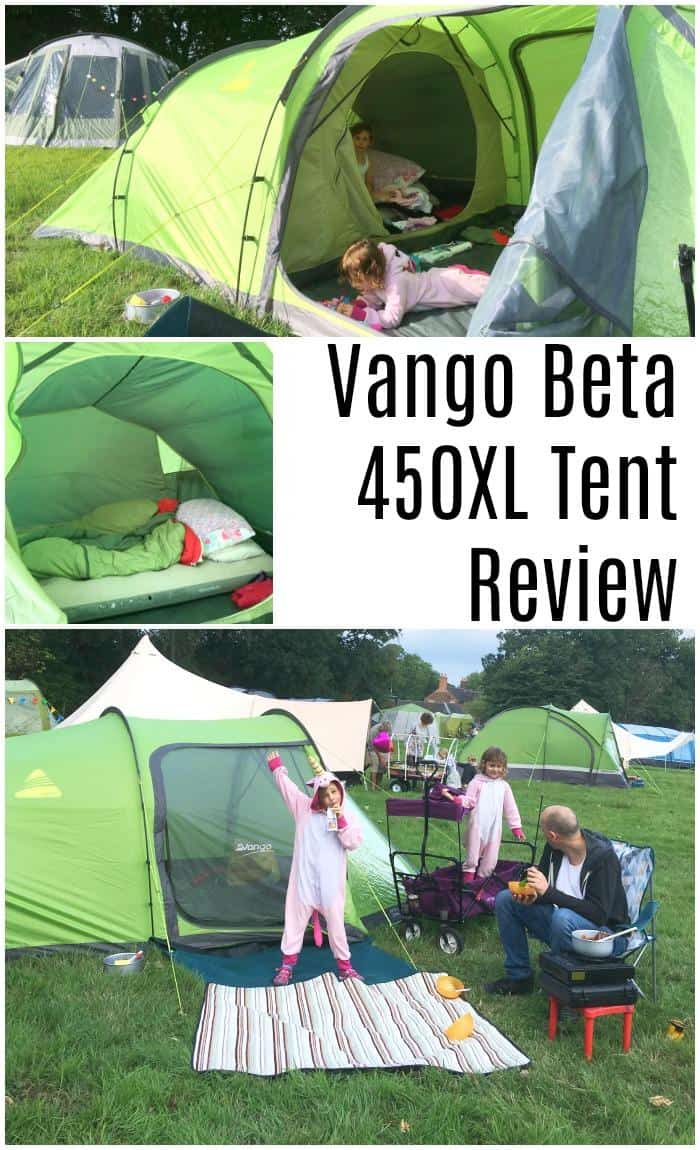 We would like to say a huge thank you to Tiso for providing us with the Vango Beta 450XL for the purposes of this review, but as always all thoughts and opinions are our own. 
Know someone who would enjoy this post?  Please do share it with your friends and followers, as it would literally make my day.
For the latest blog posts, offers and giveaways don't forget to subscribe to Zena's Suitcase. You can also follow the latest updates