Hello everyone.  I hope Monday is treating you well so far.  Did you read a post I wrote a few weeks ago about how I was feeling about my weight and the plus size movement in general.  I got some really lovely  helpful comments on that post which was awesome, so thanks so much for those of you who stopped by.
Writing that post was really cathartic for me and acted as a bit of a catalyst to some much needed change.  It made sense to come back to the blog and share what's been happening and how I've been moving forward.  It would be pretty silly of me to stay stuck in that particular rut now wouldn't it?
One thing that was a complete revelation to me was that the thing I needed to improve first was how I was feeling.  I know I'm not in the right frame of mind to tackle a diet like Slimming World for example, but I really need to improve my outlook.  From my personal experience I know that my mental wellbeing improves if I'm more active.  It will also help with some of those niggley aches and pains that come with excessive weight I hope too.
I don't feel ready to go to an exercise class just yet, and actually I think the lifestyle changes I need to make are much more fundamental than that.  I've started with increasing my steps.  It's recommended that you need to hit 10,000 steps a day.  When I have looked at the number of steps I've managed some days I am no where near that and this is something I really want to change.
Now the girls are at school I do have more time not only for work but for self care too.  There are a few things I know about myself already, and that is I'm much more motivated in the morning, which is something I need to harness.  Also, I'm someone who takes things to extremes.  If I sit at my desk and start work I will keep finding myself something to do until the day is gone and the opportunity to get my 10,000 steps in will be lost.
Working from home is one of the biggest challenges I face when it comes to increasing my activity levels so I've been playing a little trick on myself.  When I've dropped the girls at school I 'walk to work', which obviously is home, but it's been a great way to help me justify not rushing back and sitting at my desk all day.
These lovely autumnal mornings have been perfect for getting some fresh air and exercise and I've been sharing a few highlights from my morning strolls over on my Instagram stories. I've managed to work out a route that is around 10,000 and it's giving me such a boost at the start of the day.  I love getting home and starting work knowing that I've managed to achieve one of my new personal goals.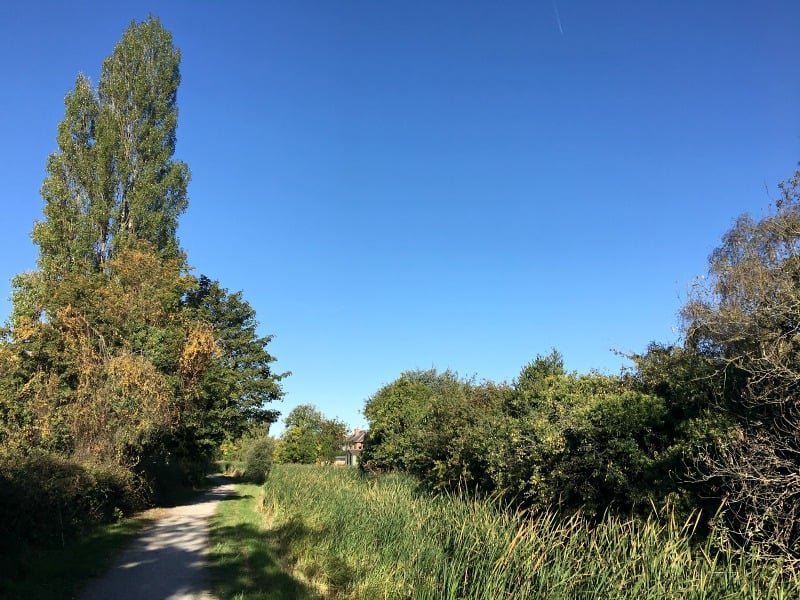 Walking 10,000 steps a day also makes me feel physically so much better, as well as mentally.  I'm not necessarily here to debate whether 10,000 steps a day will help you lose weight or is good for you, but for me it's a huge step in the right direction.  For someone whose activity levels had dropped considerably this feels like a good place to start.  I can download a podcast, make sometime away from my desk and just feel good that I've done something to improve my current situation.
It's helped to improve my mindset no end not just about how I was feeling about myself, but how I was feeling about my work and other aspects of my life.  That has got to be a win, right?
What I really learned over the last few weeks is that you really have to work out what is going to work for you if you want to improve your lifestyle in some way.  It dawned on me that while I was feeling low, I was more inclined to comfort eat.  This means that starting a diet would be pretty much doomed for failure.  Then I would feel worse about myself for failing and so the downward spiral would continue.
Focusing on my activity levels first really seems to be making me feel more positive.  It's probably the combination of the activity, getting outside and making a little time for me in the day as well but the it all  seems to be working.
One of my biggest challenges is knowing that if I experience stress it's easy to be thrown of course with any lifestyle change.  This year has been a bit of a challenge with one thing and another.  I let some things throw me of course and I know I need to embed some fundamental lifestyle changes into my routine to try and protect me from this happening again.
It does feel quite enlightening to learn that going on a diet maybe isn't the answer to my weight issues just yet.  It might be in time, but for now I think I need to work on my general wellbeing first.
Do you try and complete 10,000 steps a day?