When I had finished booking our holiday to Albufeira in Portugal the first thing I looked up was 'is there an Albufeira tourist train?'.  My kids love the land trains that you find a lot in Europe and they are often a fun activity for families that help with sightseeing too.   
It turns out there is an Albufeira tourist train but there's very little information on the internet about it. Even when I asked at our hotel, they didn't have any leaflets and didn't really know much about it which I thought was really strange given there was a stop very near to the hotel.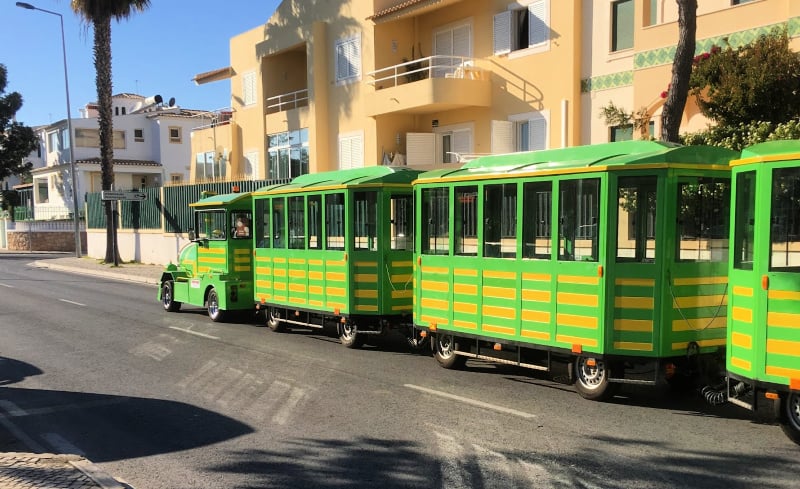 I know my kids love these little tourist land trains and we ended up taking it a couple of days in a row.
Albufeira Tourist Train Stops
We did figure out that there was a tourist train stop near the Monica Isabel Beach Club.  If you walk to the main road, turn right and head to the roundabout you will find the Albufeira tourist train stop.  This is stop number 2 and is known as the 'Forte S. Joao' train stop.  At this stop you will find numerous hotels and the beautiful Praia dos Alemães beach.
The tourist train takes a simple loop around Albufeira and makes 4 stops. 
We took the train to stop number 3 which is Fisherman Beach Train Stop on Fisherman Strand.  Here there are amazing panoramic views over Fisherman Beach and the Old Town so it's well worth getting off just for the scenery.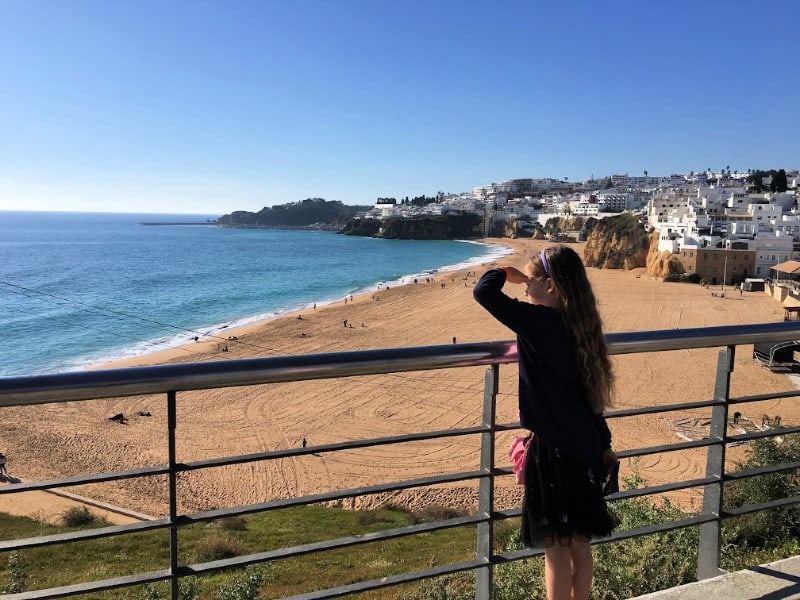 There are also 2 escalators here that will take you down to Fisherman's Beach and towards the Old Town.  On the first visit here we just stopped and enjoyed the views because we hadn't realised how easy it was to get to the Old Town.  The second time I managed to convince the girls we needed to explore a bit further.
With the promise of a Chupa Chup lolly en route they were more than happy to do a little sightseeing with me.
We walked down to the beach and took a short walk around Albufeira Old Town to the square. We passed a few market stalls and lots of cafes and restaurants serving reasonably priced food and drinks.  On our next visit to Albufeira I don't think we would go on an all inclusive holiday, instead we would make the most of the lovely restaurants with sea views around the town.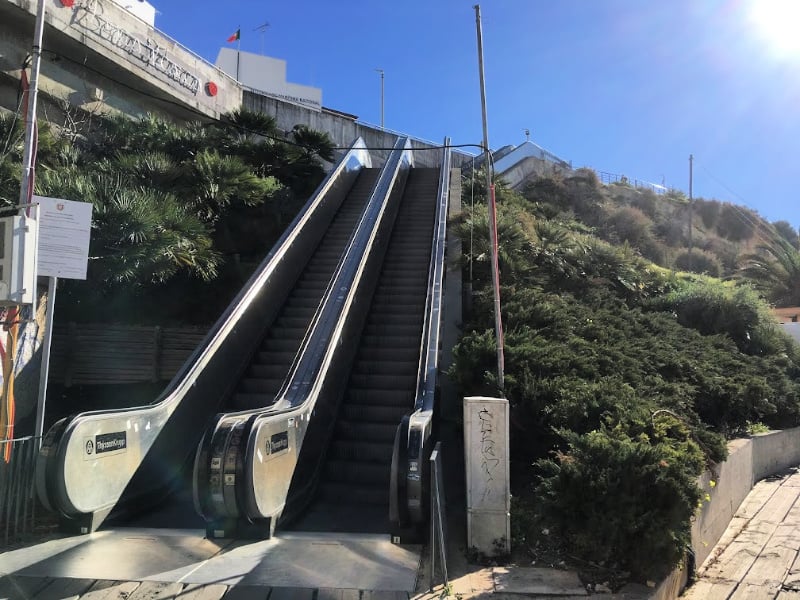 We stubbled across a Spar and I was able to fulfil my promise of giving the girls Chupa Chup lolly. I would buy them ice creams, but to be honest they prefer Chupa Chups! They had spotted some rings on the market stall, but the Spar had some that were perfect for kids and a fraction of the price too!  They came out with a lolly and a ring each, and more than happy with their new treasure!
After a little explore, we headed back up the escalators towards the tourist train stop.
Stop 4 is the main shopping area and is called the 'Town Hall' train stop. There is a big shopping centre here and a McDonald's if you are a fan.  This area didn't really appeal to us so we stayed on the train to the next stop.
Stop number 1 is at the top of 'The Strip'. We didn't get off here either but it was an interesting street to drive down. I can imaging that in the summer it's a very popular place to be if you like to party, but sadly those days are long gone for me.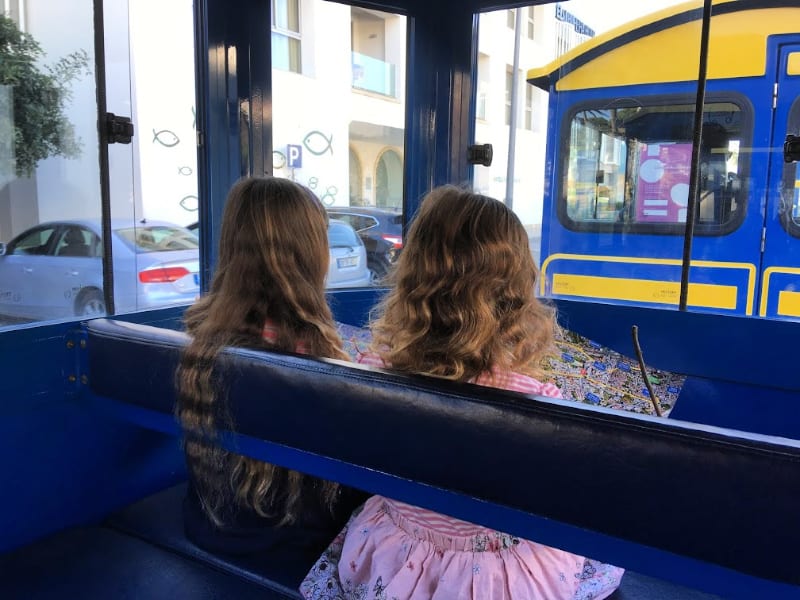 The next stop dropped us back near the hotels which was where we started. If you do the loop in one go it will take around 40 minutes in total.
The Albufeira tourist train will only stop at one of the 4 designated stops.  You cannot flag it down, which we did try to too.  Each stop has a train timetable and and a sign that says 'Comboio Turistico'.
Here's the tourist train Albufeira stops in order:
The Strip Train Stop
Forte S. Joao Train Stop
Fisherman Beach Train Stop
Town Hall Train Stop
The tourist train only has one route which it follows all day, but it will give you the opportunity to explore Albufeira in a fun way with kids.  We saw 2 trains doing the route during our stay.
Albufeira Tourist Train Timetable
The Albufeira tourist train stops at each stop every 20 minutes from 9am to 11pm between October and May.  Between June and September the Albufeira train runs until 1am.  All year round the train in Albufeira runs 7 days a week. 
The trains starts at Stop 1 at 9am, and there is a pick up every 20 mins until 22.20 or 00.20 depending on the time of year. The first train at stop 2 is at 9.10 am and then every 20 mins until the last pick up at 22.30 and so on. Stop 3 starts from 9.20 am in the morning and then every twenty minutes with the last train at 22.40.  
Here's a timetable from Stop 2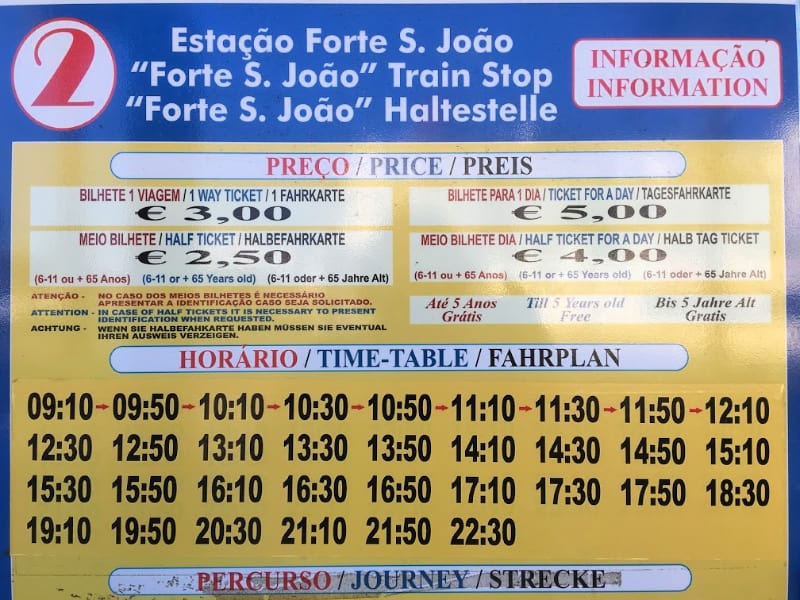 Here's a timetable from Stop 3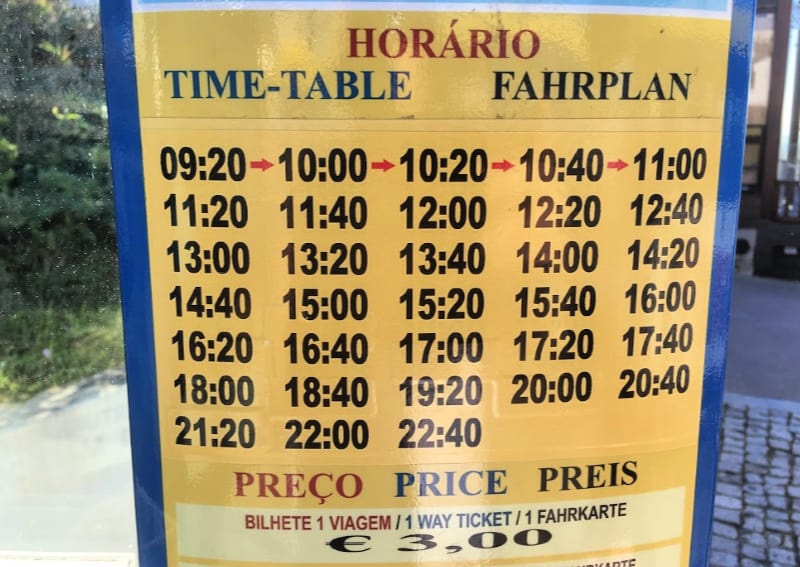 Albufeira Tourist Train Price
There are a few different ticket types available for the Albufeira tourist train. You buy your tourist train ticket directly from the driver at the front of the train.  You will need cash but they do give change.
Firstly, under 6's go free on the train which is great. for us it meant I only had to pay for Indie but Brook travelled free. 
You can buy a single trip which costs €3 for adults and €2 for 6-12 year olds or 65+ years.  If you get off the train before you have completed a loop your ticket will be invalid. 
You can also buy half day and full day hop on and off tickets.  This was our preferred option as it allowed us to get off and explore the town and get back on when we wanted to head back to the hotel. 
A full day ticket costs €5 for adults and €4 for 6 to 12 years or 65+ years.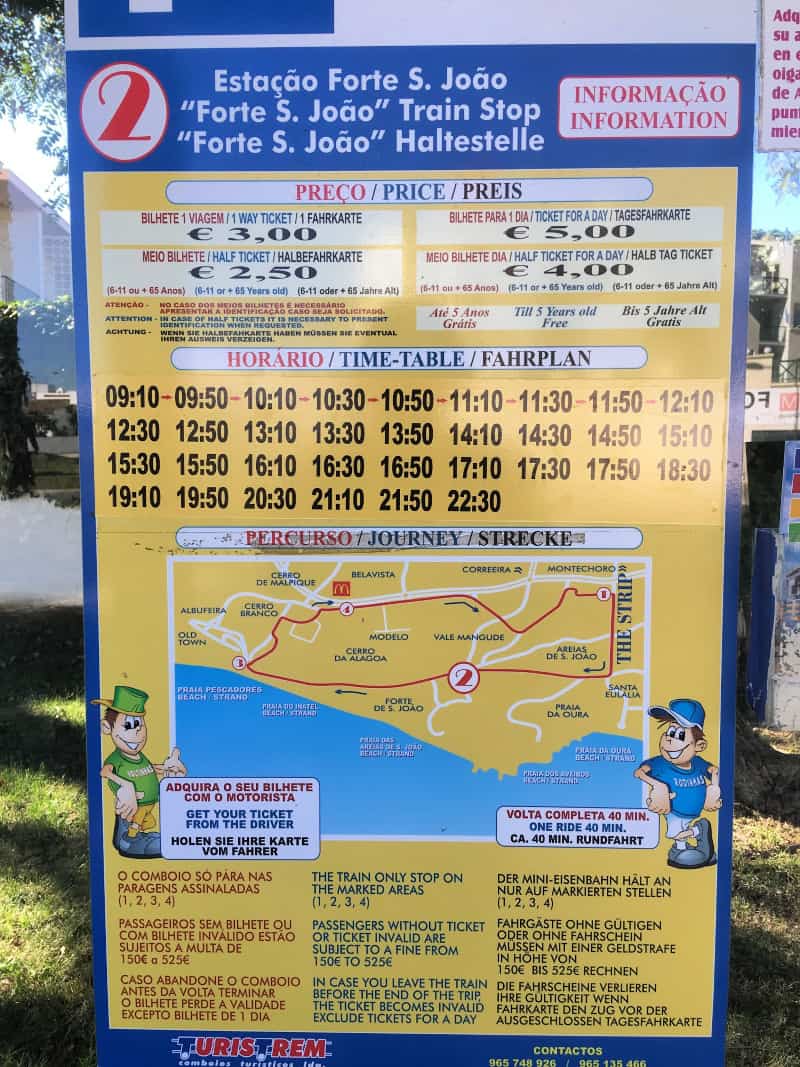 The best place to find information about the Albufeira tourist train is at the bus stops or when you buy a ticket.  We found leaflets at the tourist train stops and when you buy a ticket the driver will give you a leaflet which includes a Albufeira tourist train map. 
Further reading: