Things to do in Nottinghamshire is sponsored by Visit Newark, but all the fun and adventure we had is completely our own! 
Planning a family day out has definitely got more challenging recently. Despite the fact that Covid has overshadowed our lives for most of the year, it's doesn't mean we can't still have wonderful days out with the kids.  We are blessed in Nottinghamshire with beautiful country parks, historic locations and fun activities and we can still enjoy them in these challenging times. This week we've been finding out about the fantastic things to do in Nottinghamshire with kids to help you plan for this half term and beyond.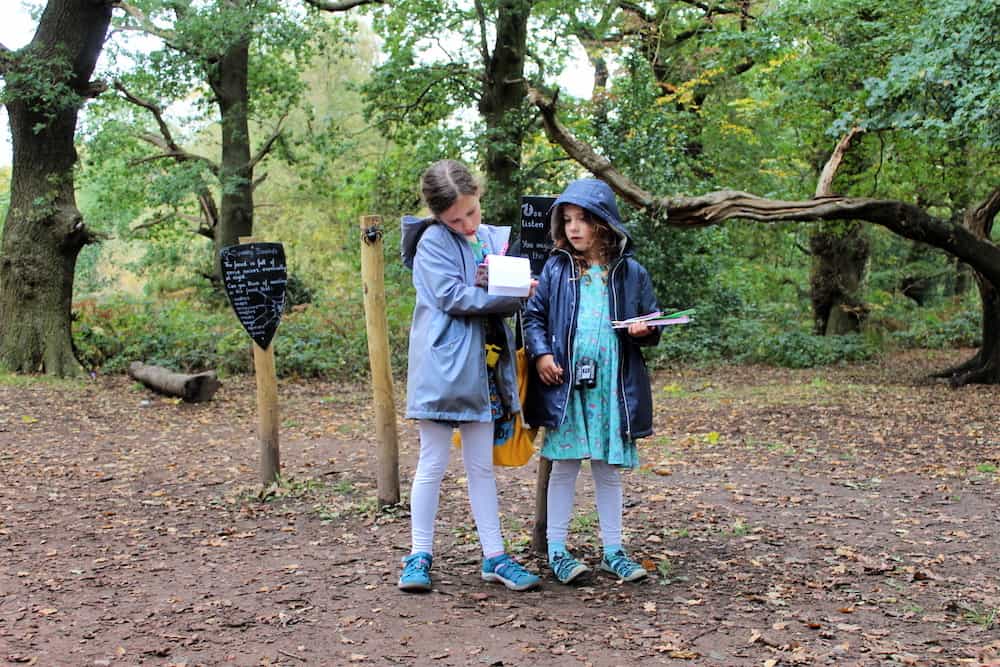 Whether you live in or near the county, we've found some fantastic places to visit that will  keep that sense of adventure alive and strong.  We also discovered that a change of scenery doesn't have to cost the earth and can be found in less than an hour's drive from our home.  Given the current situation, these are things we value more than ever.
With the beautiful countryside we have on our doorstep, the rich history and unique local culture available to us in Nottinghamshire, there's lots of adventure to be had without leaving the county.
Things to do in Nottinghamshire
Sherwood Forest
45 minutes from Nottingham
Parking £4
Getting outdoors and being more active has been a huge priority for us this year.  Sherwood Forest is the first on our list of things to do in Nottinghamshire because it ticks both of these boxes.  Indie has been learning all about Robin Hood at school this term so going to see the Major Oak and exploring Sherwood Forest was a must see.
I wouldn't say my kids jump for joy when we say we're going for a walk, but give them a clipboard, a pair of binoculars and some walkie talkies and they know adventure is afoot.  They also love the idea of doing the Halloween Trail, which was a steal at just £2!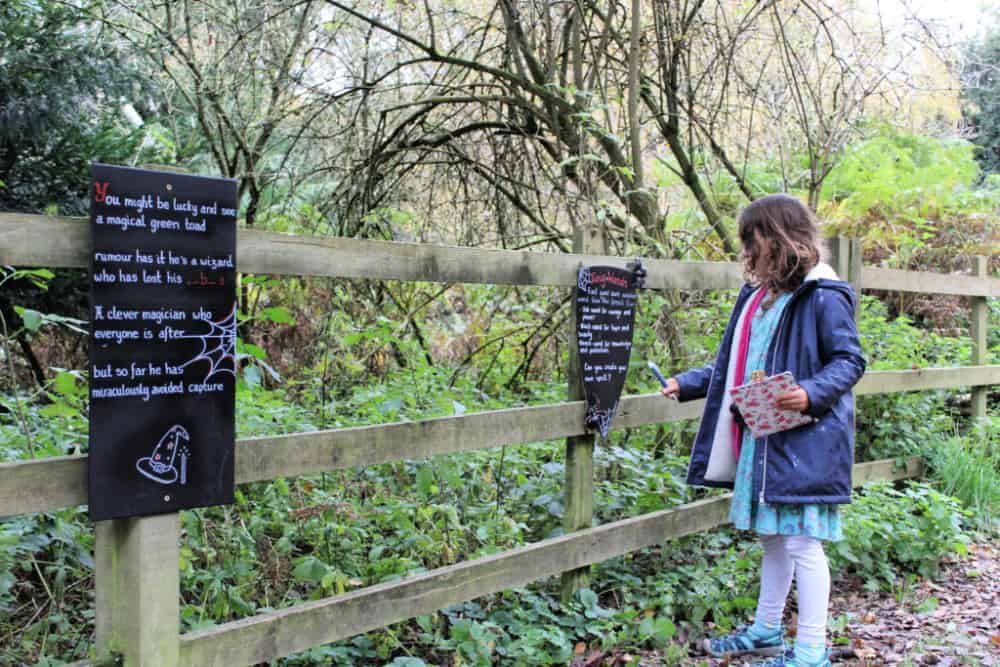 We picked up our Halloween Trail and set off to find the clues dotted around the Major Oak trail.  There's lots of space so social distancing isn't an issue.  This walk in particular is really accessible, so perfect for families.  There are longer walks if you are feeling a bit more ambitious though.
Indie and Brook enjoyed solving the clues (they didn't moan once about walking!) and we did a few of the activities as well.  Thinking about the types of noises we might hear in the forest and who or what might make them was a great talking point while we were exploring.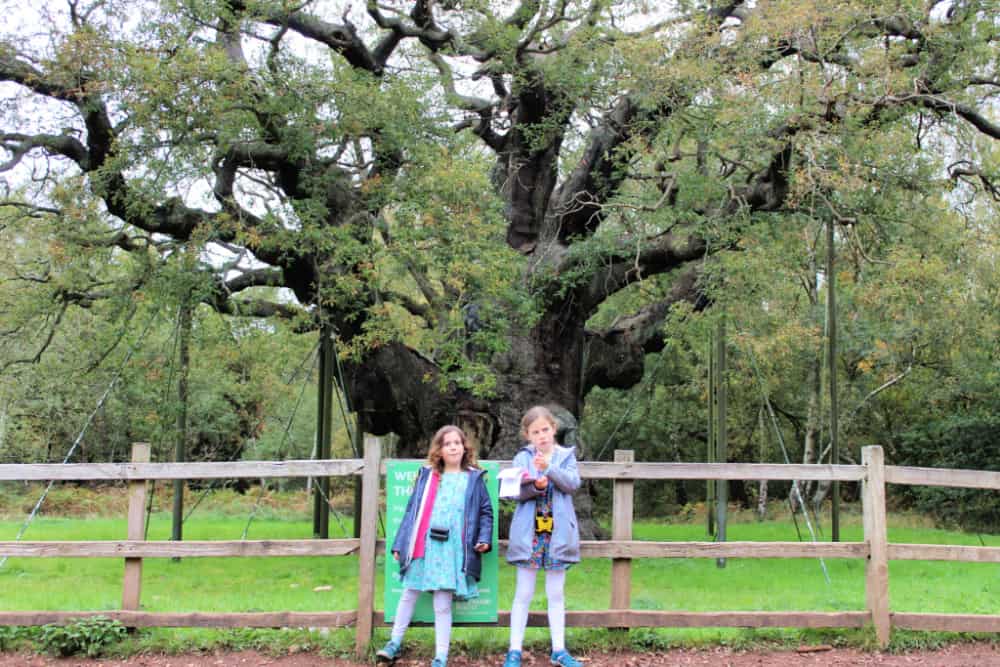 The Major Oak was a lovely pitstop.  We were armed with snacks, as the kids are ALWAYS hungry, but there's usually an ice cream van here if you fancy a treat.  Showing the kids the 1000 year old tree gave them a lot to think about!  Legend has it this is where Robin Hood and his Merry Men slept, if the story is to be believed, but what we can be sure of is it is the biggest oak tree in Britain and a magnificent natural local landmark.
We carried on our walk spotting birds, more incredible trees, and solving clues.  It was a lovely afternoon spent in the fresh air and I'm pleased to say everyone slept very well that night!
For more information about visiting Sherwood Forest visit https://www.visitsherwood.co.uk/
Sherwood Forest NNR
Edwinstowe
Nottinghamshire
NG21 9RN
Newark Air Museum
40 minutes from Nottingham 
Family Ticket £28.60 with Gift Aid
While I was planning our things to do in Nottinghamshire, Newark Air Museum caught my attention.  The thing about air museums is a lot of the aircraft are outside, which in the current climate makes for a great day out.  We had a lovely visit here, and I shared with Brook and Indie that their Great Grandad was in the RAF during World War II, which I don't think is something we've talked about before.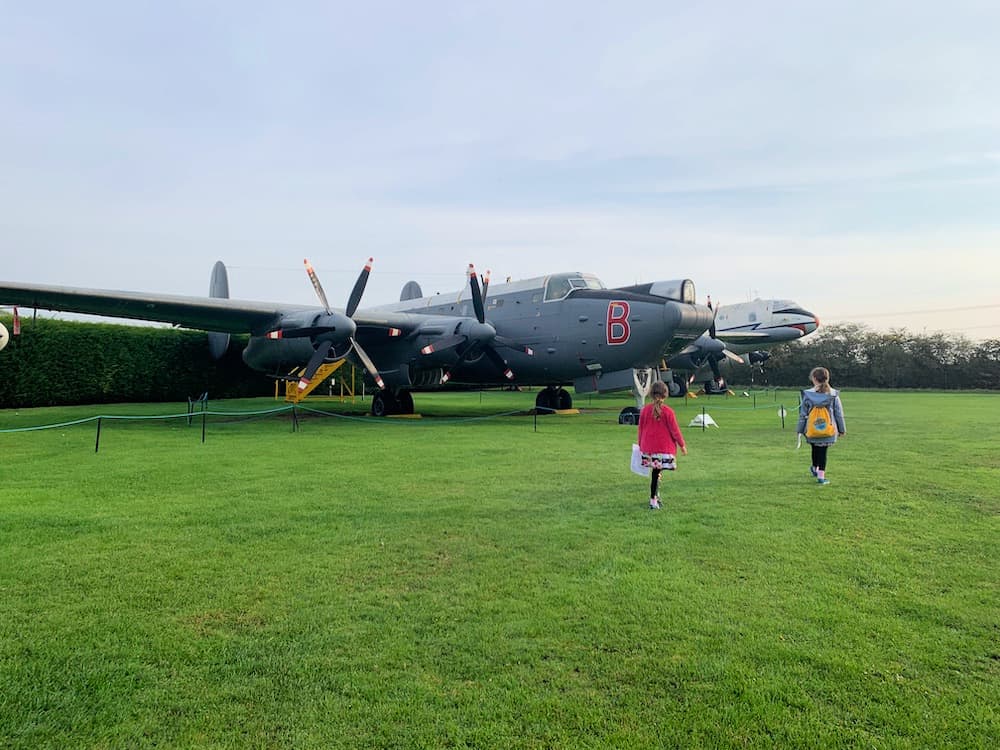 It struck me that this would make a fantastic place to visit with Dads and Grandads.  I could see Brook and Indie's Grandad loving the Westland Wessex HC Mk 2XV728, the Gnome 7 Omega and the Chinnock restoration currently underway at Newark Air Museum.  We also spotted one of the original flight simulators and a small air raid shelter, which made for another interesting talking point with the kids.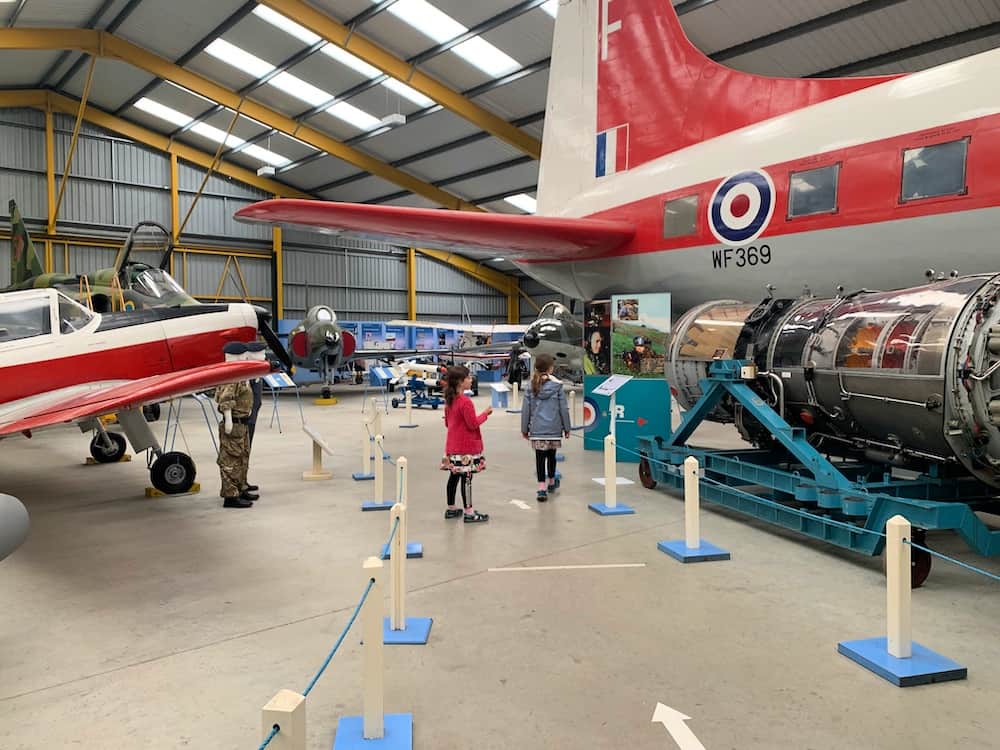 When we arrived we were given tokens for a drink at the cafe.  By the time we'd explored the 90 planes and other exhibits we were ready for a drink (and a snack of course) so we popped in to use our tokens.  There are good covid measures in place throughout Newark Air Museum including a one way system, hand sanitiser stations and social distancing reminders.  We arrived as soon as it opened so the museum was really quiet anyway.  If you're looking for a place to visit in Nottinghamshire with less crowds we'd highly recommend a visit to Newark Air Museum.
For more information about Newark Air Museum visit http://www.newarkairmuseum.org/
Newark [Notts & Lincs] Air Museum Ltd,
Drove Lane, Newark, Nottinghamshire,
NG24 2NY
After our visit to Newark Air Museum, which took about an hour and a half, we headed into Newark. It's a town I've visited a lot over the years but never really explored, so now was the perfect opportunity.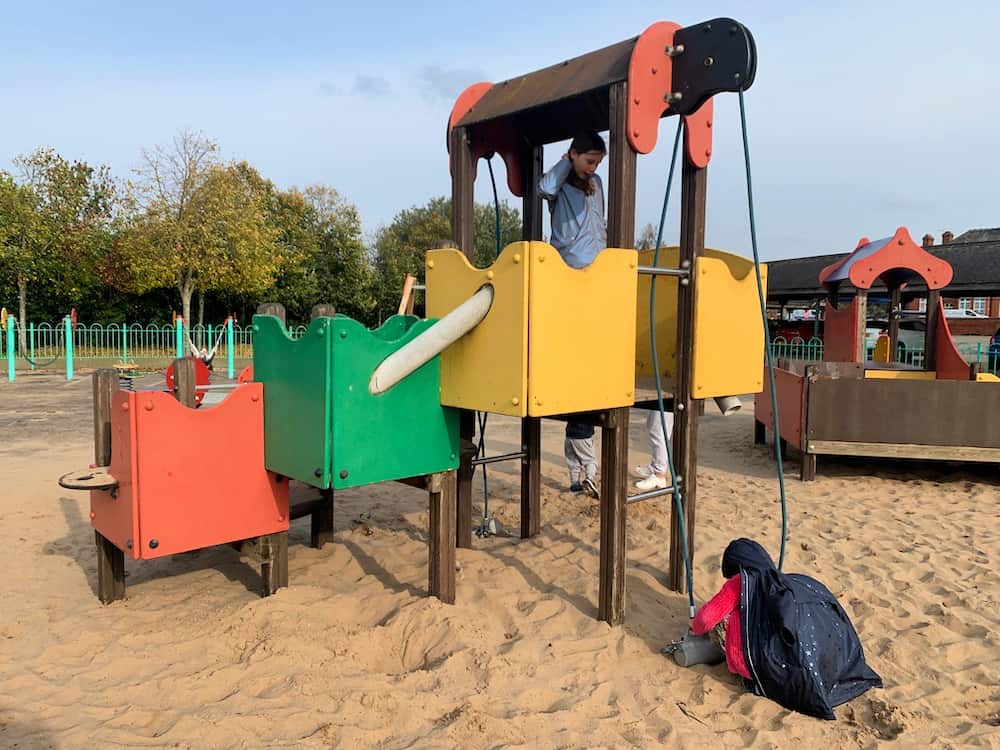 We parked at the Riverside Car Park for the princely sum of £2.50 for 5 hours.  Anyone who lives in a city will appreciate how cheap that is!  As the name suggests, it's right next to the River Trent and a great location for visiting Newark Castle.  There's also a fantastic play area right next to the car park. Indie and Brook spotted this immediately and insisted that we stopped here first. Given what a beautiful autumnal day it was, and the picturesque location with views of the castle, I was happy to oblige.
Newark Castle
Free to enter
30 minutes from Nottingham
Pay and display car park nearby
After some negotiation, we left the playground to visit Newark Castle and Gardens.  When the girls spotted the bronze model of Newark near the entrance they were fascinated.  This happened to be the first landmark on the Newark Curiosities Trail I had planned for us to do, but more on that later.  We wandered further into the castle grounds, which is free to enter, and the girls immediately embraced the freedom of the open space!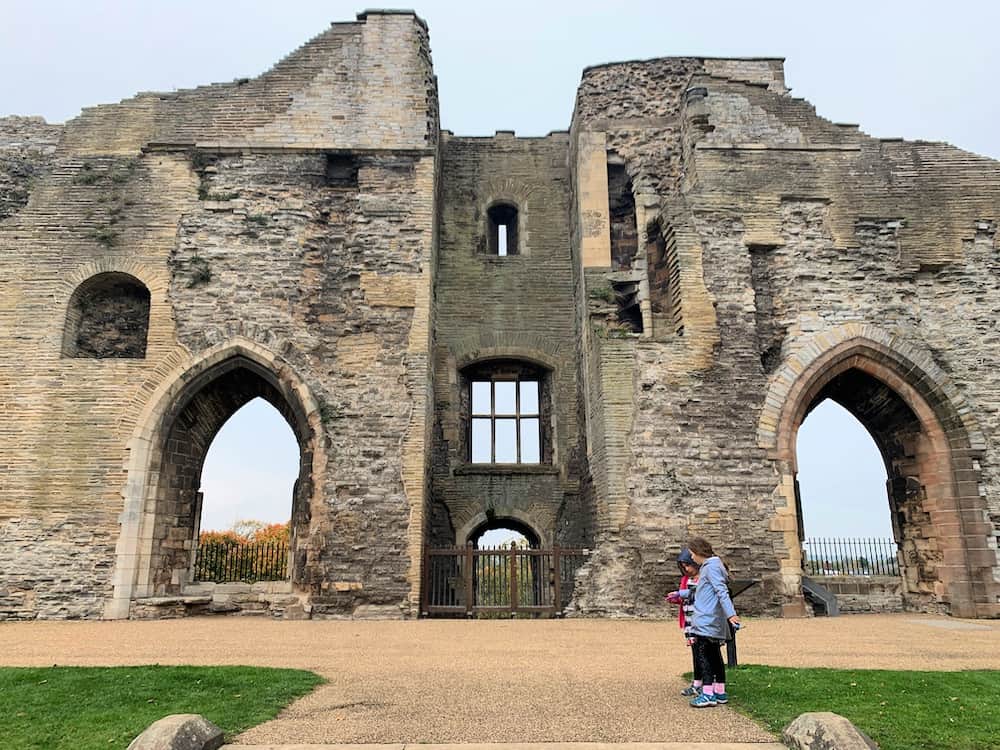 The binoculars and walkie talkies came in very hand again as the played inside the castle ruins.  They may not have entirely appreciated it's 900 year history but they still really enjoyed playing here.  The views across the River Trent and the Nottinghamshire countryside gave me something to appreciate too.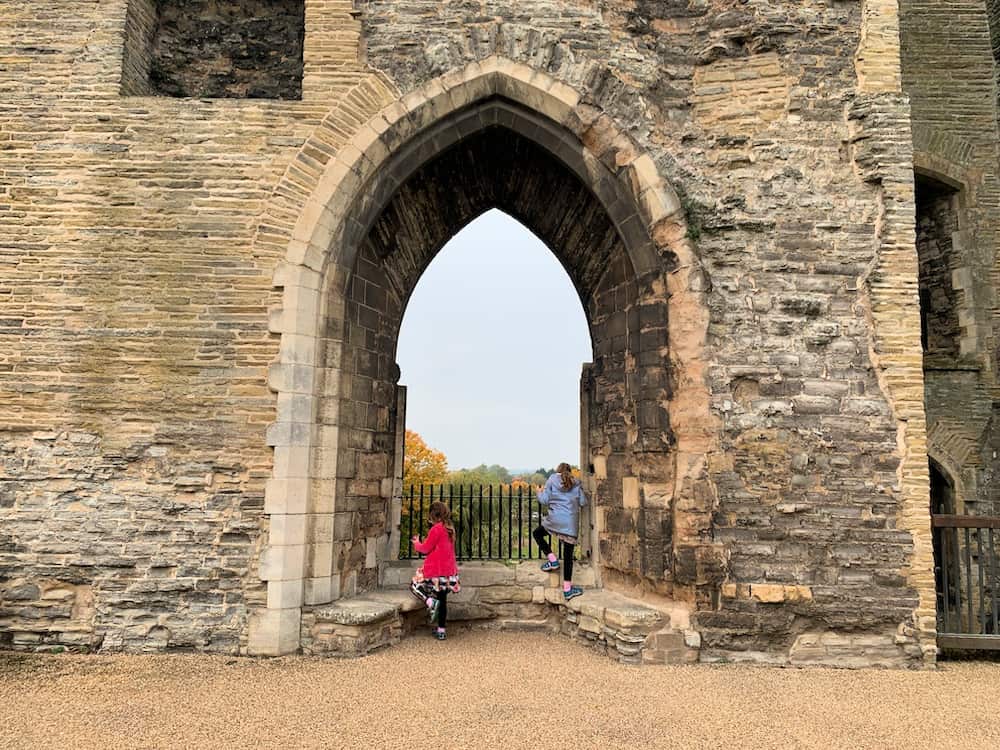 Newark Castle also provides some fantastic photo opportunities, as does the rest of Newark, so if like me you like taking your camera out with you, it's another great reason to explore the town.
Newark Walking Trails
We were super keen to learn more about Newark, and I also know that scavenger hunts like this go down really well with the kids.  There's a few town trails to choose from, all free to download, but we opted for the Newark Curiosities Trail.  There were lots of interesting things to find, and each location had an image so the kids could put there observation skills to good use too.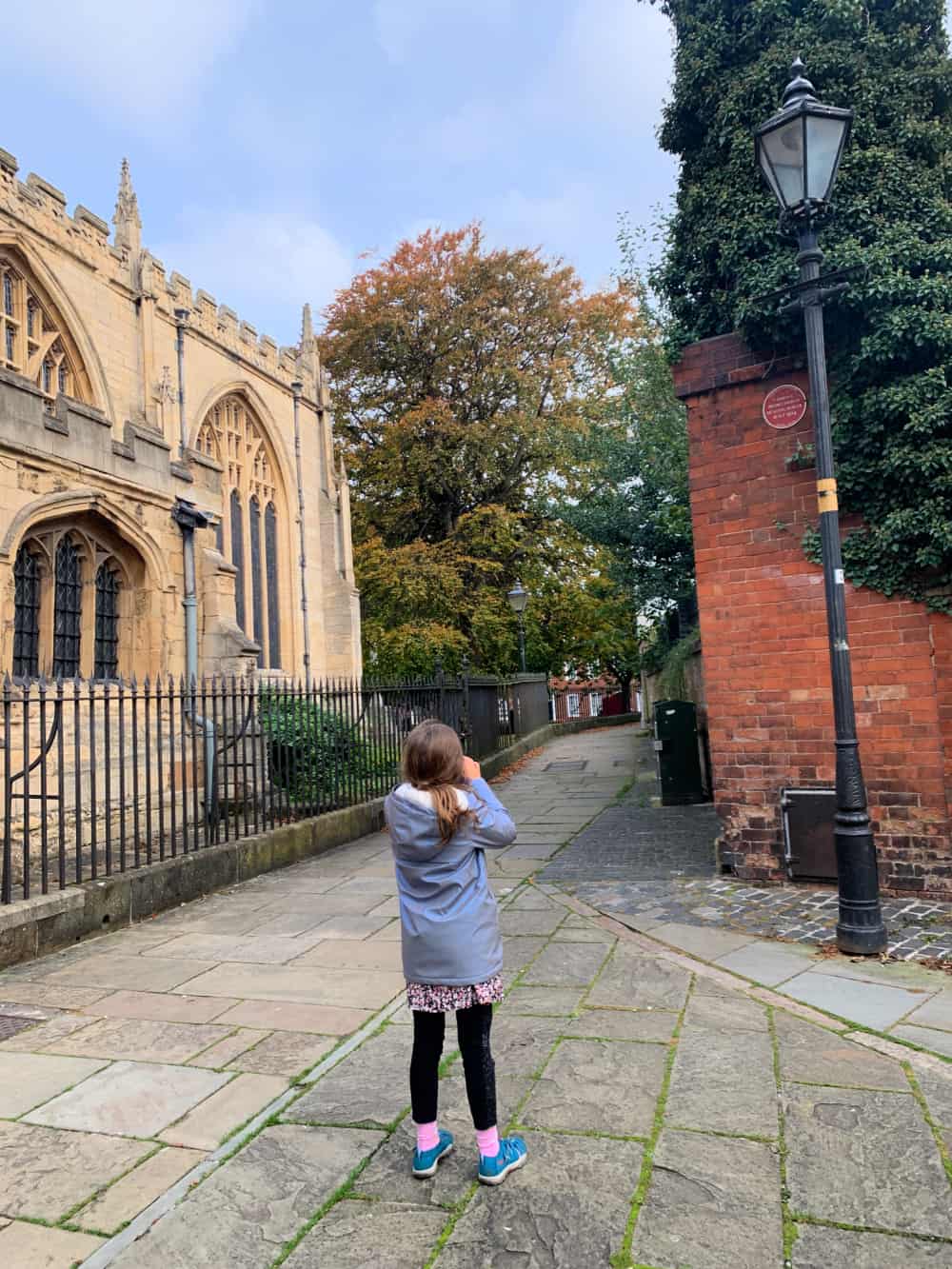 Walking is a great way to explore anywhere, but Newark is small enough that you can see quite a bit of it in just a couple of hours.  Indie and Brook (aged 6 and 8) managed the 2.2km trail easily. Spotting the landmarks and using the map kept them interested in the exploring the town too.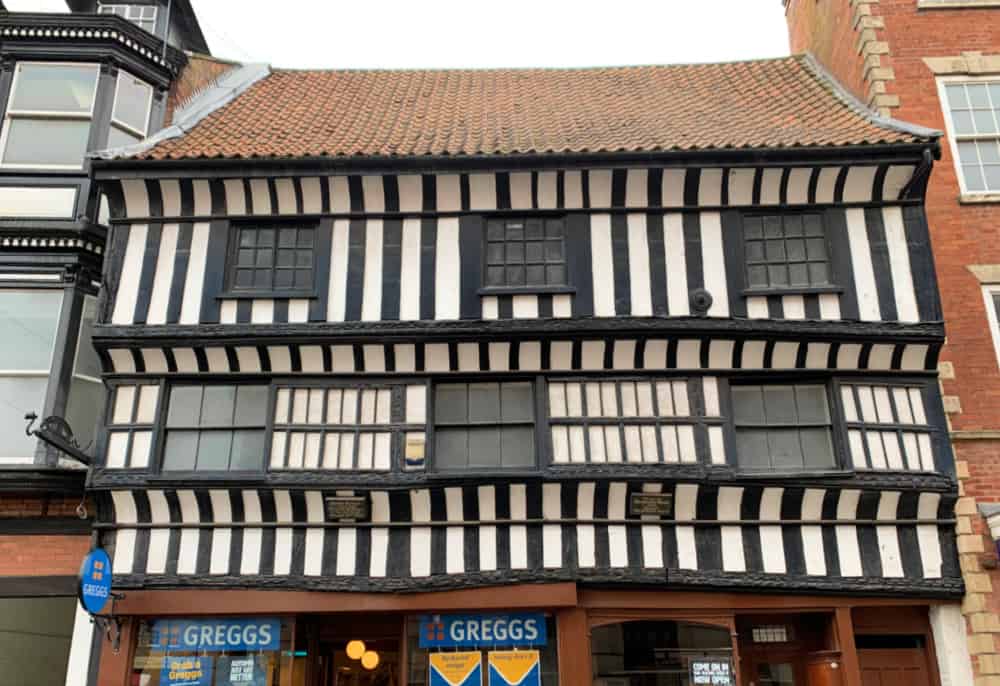 The trail helped us to really appreciate what a beautiful place Newark is and all the history it has to offer.  Our favourite finds were the chimney next to the church and the 'thinnest house' in Newark, but there are 25 different locations to find along this route.  Let us know which is your favourite if you do it!
Newark Civil War Centre
Sadly we didn't make it to the Newark Civic War Centre while we were exploring the town, but I wanted to mention it because it was highly recommended to us.  Not only does this nationally acclaimed museum bring to life the turbulent years of the Civil War in an interactive and accessible way, but they also have a fun 'Where's Wally' Halloween Trail for kids to do during October.
Visit the National Civil War Centre website to book your slot and find out about their latest covid procedures.
The Workhouse, Southwell
35 minutes from Nottingham
Free to National Trust Members
If you're a National Trust member, or even if you aren't, I'd highly recommend a visit to The Workhouse in Southwell.  Visits need to be booked in advance, but this Victorian workhouse is well worth the time slot and other covid measures in place.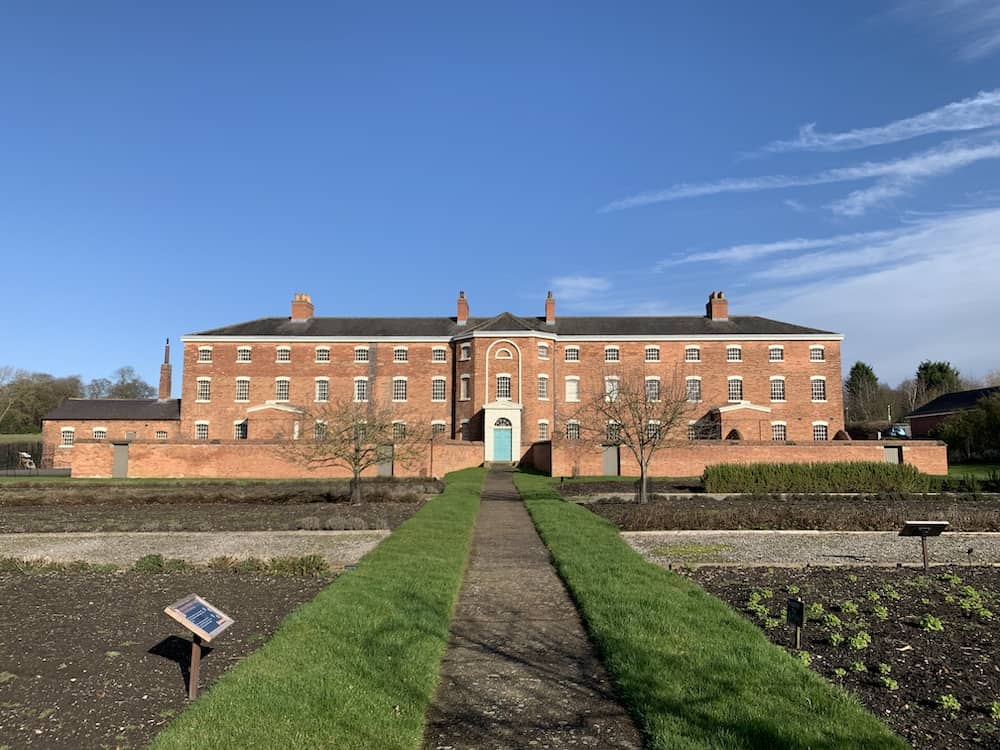 Workhouses played a significant role in British social history, and many memories of my own GCSE History came flooding back during my visit here.  It was interesting to see how the people who stayed here lived and learn about their daily routines through their own personal stories.
Rufford Abbey Country Park
35 minutes from Nottingham
Parking £4
Another example of Nottinghamshire's incredible outdoor spaces is Rufford Abbey Country Park.  This was the first time we'd visited in many years, and I honestly don't know why we left it so long.  We picked up the Halloween Trail and set about exploring the gardens.  Our navigation was a little amiss at first, but we quite enjoyed getting lost in the sculpture gardens, so it wasn't a complete disaster.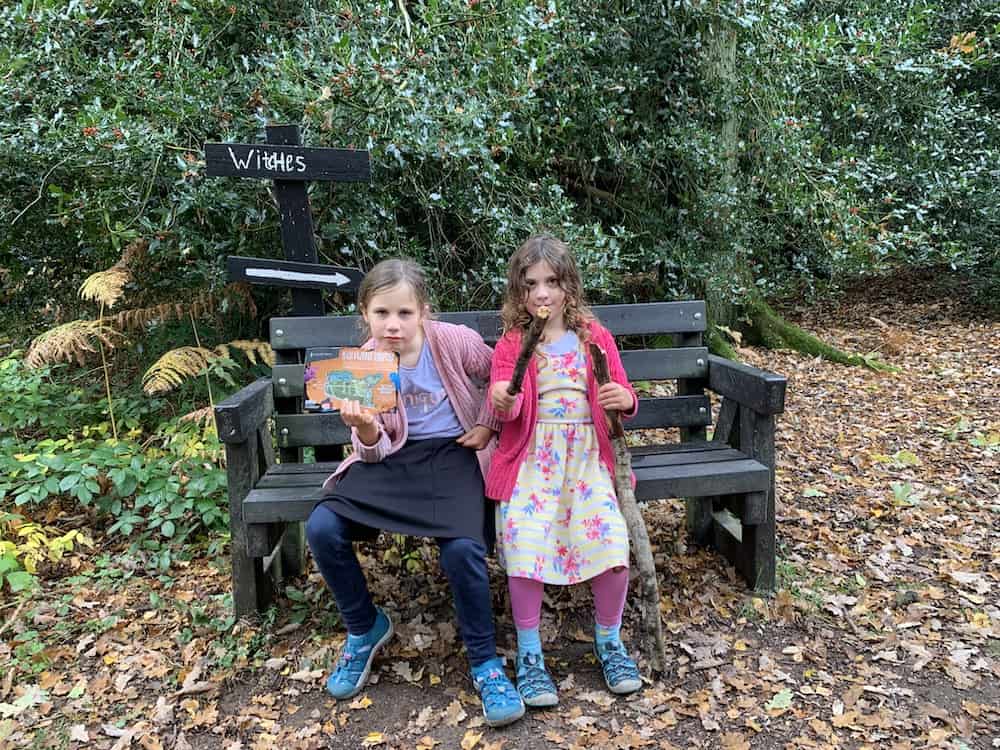 We stumbled across the adventure playground and Indie's eyes nearly popped out of her head as she declared, 'Now that's what I call a play area'.  I have to agree with her, it was very impressive, and one we will definitely be returning to in the near future.
We did manage to get our bearings and pick up the Halloween Trail, which was a lot of fun.  There were lots of spooky visitors hiding in the woodland for us to find. The cafe was open for snacks and drinks, but there's no seating available inside at the moment.  There is plenty of socially distanced seating outside, and we even spotted people still getting use out of their picnic blankets.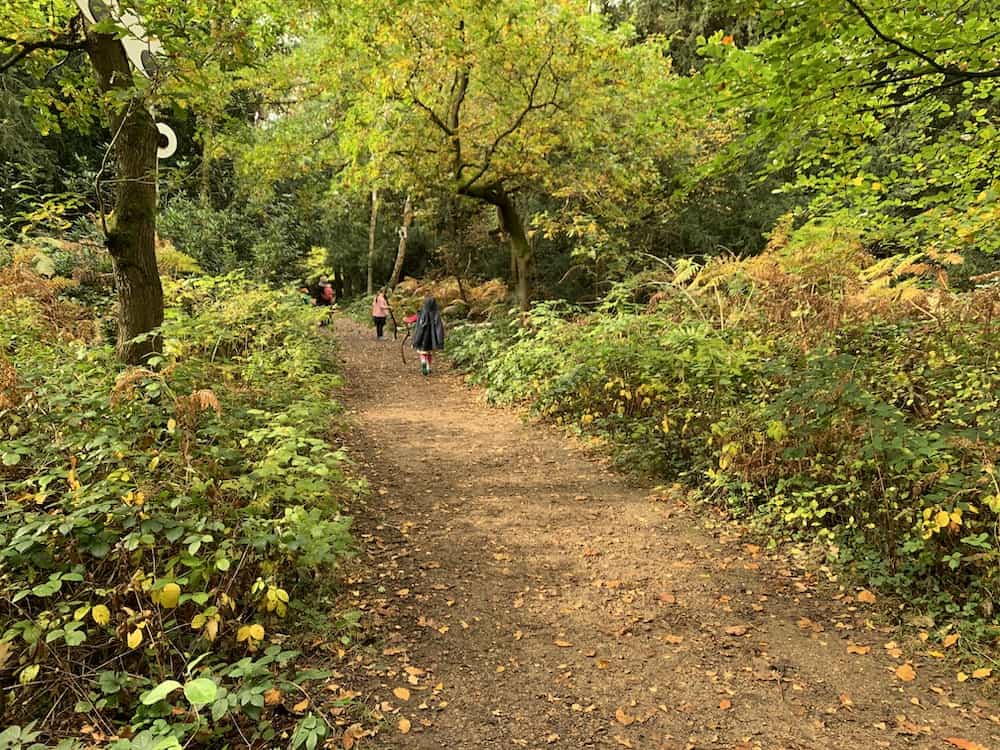 To plan your visit to Rufford Abbey Country Park in advance visit the website here https://www.parkwoodoutdoors.co.uk/centre/rufford-abbey
Sherwood Pines
Last, but by no means least, we'd also recommend adding Sherwood Pines to your list of things to do in Nottinghamshire if you like your family adventures a little more high adrenalin.  Sherwood Pines was the first place we visited when lockdown restrictions started to lift.
It was the change of scenery we all needed at the time.  The Gruffalo Trail was perfect for Brook and Indie, but there's bike trails and it's home to Nottinghamshire's Go Ape if you want to take your adventures into the trees.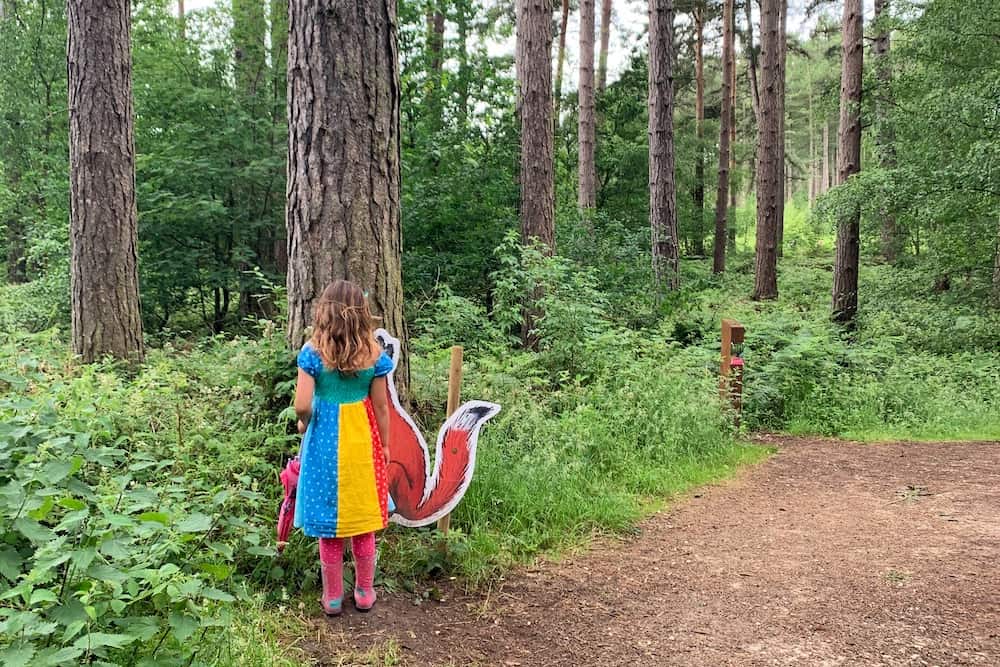 As you can see, you don't have to go far this October to have a fun family day out or even getaway in Nottinghamshire.  There's plenty to see and do right on our doorstep, and it's even possible to avoid crowded venues in places like Newark and Southwell.
Do check the latest government restrictions for your area before planning your day trip. We also recommend visiting the website of the place you want to visit to check their latest procedures about opening and booking in advance so that you can enjoy your day out in Nottinghamshire safely.
Despite the current situation, we hope you've found these ideas for things to do in Nottinghamshire inspiring.  Let us know where you plan to visit next or if we missed anything off the list in the comments below.
Save for later