For the last Bank Holiday myself, Teen, Indie and Brook made the 250 mile journey from Nottingham to South West Scotland, nothing like an easy life hey? With a small baby in tow it took us all day to get there and another full day to get back again, but we spent 3 lovely days in this scenic part of the country and it came flooding back to me just why this is one of the UK's great holiday destinations.  If you are planning a visit to the area soon, you need to put a visit to Cream 'o Galloway at the top of your list of things to do in South West Scotland because it's loads of fun and they make awesome ice cream!
We are regular visitors to Dumfries and Galloway as we have family in the area, but I think I am a little guilty of forgetting what South West Scotland has to offer an active family. Having just had Teen for a number of years, spending time in the great outdoors had unfortunately lost it's appeal as he craves technology and adrenalin packed theme packs these days.  Don't get me wrong, I do get him to go out and about but when there is grunting and resistance it feels like an uphill battle some days.
Now Indie is a fully fledged toddler she took me back to why Dumfries and Galloway is such a great place to visit when you have a young family.  My appreciation for it as a holiday destination has been reignited with its scenic views, amazing beaches and reasonably priced attractions.
During our 3 days in Scotland we were only able tofu in one family friendly day out, so it had to be our favourite place, Cream o' Galloway.  It's an amazing place to visit, and if your in the area I strongly recommend you pop along.  It combines the most amazing ice creams with the very best in outdoor fun for all the family.  You will not be disappointed, I promise.
Indoors they have a rustic play area, following a fun pirate theme which children of all ages will enjoy exploring.  There are two sections, with one being for younger children to enjoy.  The rustic play is based in the Burger Barn cafe, so parents can enjoy some delicious dairy ice cream while the wee children burn off some steam climbing and exploring.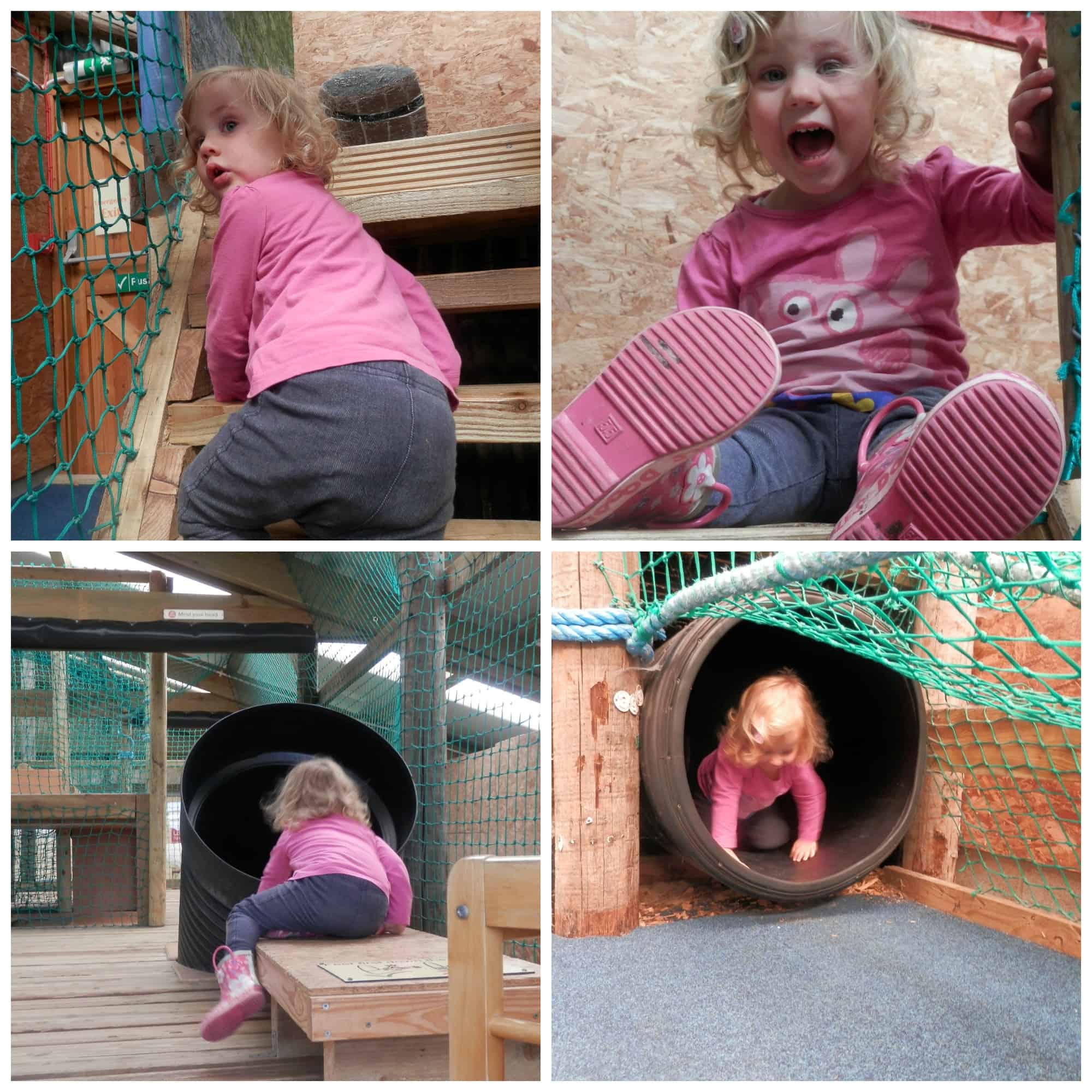 Outdoors is a whole different kettle of fish, and where the fun really begins.  There's something for all ages.  Teen hired a mountain bike for £2 and headed off on the bike tracks while Indie had a go on the tractors.  Older kids can enjoy taking the Karts out on the specially designed course too.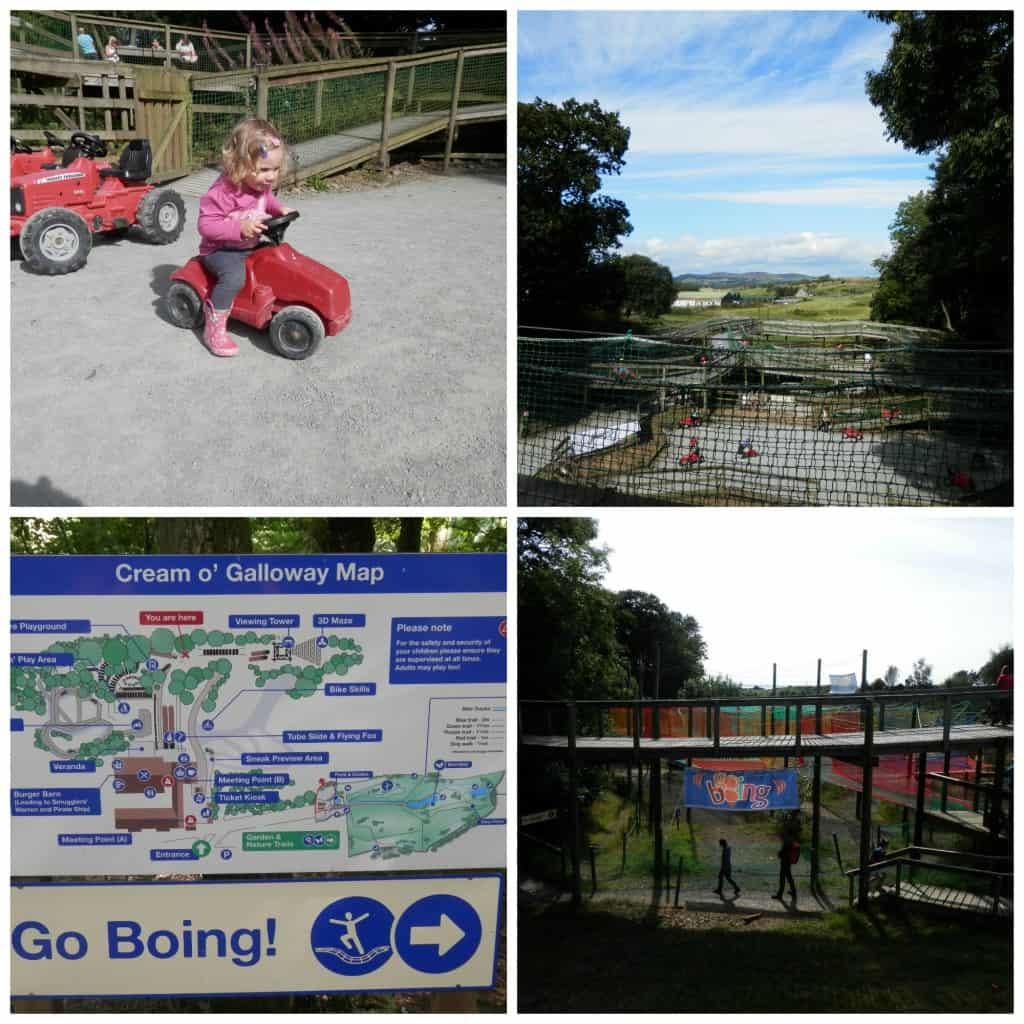 The pièce de résistance however has to be Go Boing!  Added only this year, this is the first of it's kind, creating an amazing suspended trampoline adventure amongst the trees that kids of all ages can enjoy.  You can see how much Indie enjoyed it here and yes, Granny got on there too!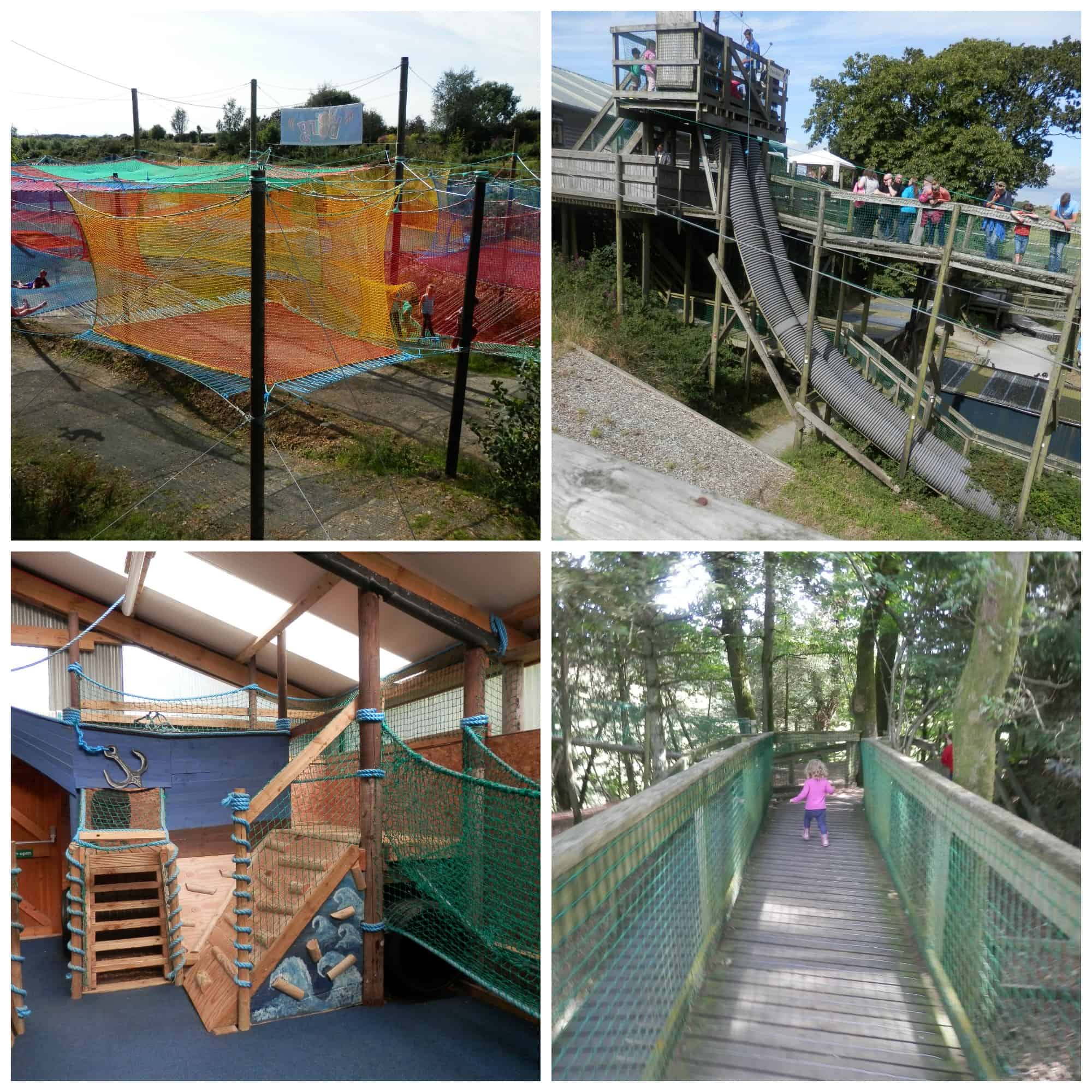 The whole place is a huge adventure playground that Indie loved exploring.  Set amongst the trees it really captures a sense of outdoor adventure with a huge 50ft viewing tower, the Flying Fox and the nerve racking tube slide, featured above.  It's a day out that will wear even the most active kids out!
What We Liked
Oh the ice cream! It's amazing, we had 2 helpings. Say no more!  The prices are great too, if your not going on any of the activities or you are under 3 years old it's free!  For 6-90 year olds it's £12.50 which includes the Adventure Playground, Go Boing, Indoor Rustic Play, the Viewing Tower and the 3D Maze.  The other attractions are on a pay as you go basis, so if your child is too small for the Flying Fox say, you haven't got to pay for it.
What We Didn't Like
Only one criticism really.  I had a pushchair with me, and the only place that I couldn't seem to access easily was the Go Boing area.  If it could be accessed, there needed to be some pushchair friendly signs as I spent a fair amount of time going up and down ramps to no avail.  It didn't spoil the fun though and we will definitely be going back again.
We loved our family day out at Cream 'o Galloway in South West Scotland, and we paid for visiting the attraction ourselves.  We have visited this tourist attraction in South West Scotland many times and can definitely recommend it as a great day out in Scotland. For more outdoor inspiration check out this awesome list of Scottish country parks.
Pin for Later