We couldn't let the bank holiday go by without a trip to our favourite theme park, Drayton Manor.  If you caught up with this post, you'll already know we squeezed in a trip to the beach.
We have visited the park a lot over the summer as we have Drayton Manor season passes and are very proud to be brand ambassadors for them.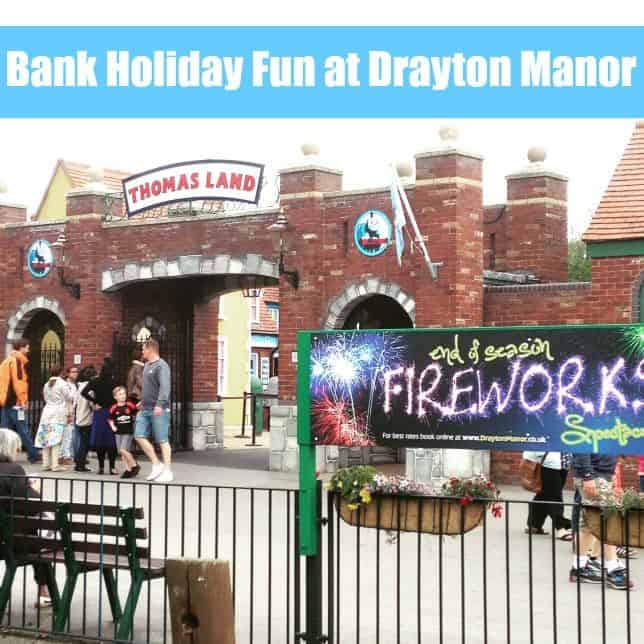 It's just over an hour away from where we live, so it isn't too far to take the family for a day out.  Having season passes also means that we don't feel we have to get there first thing, or stay all day to get the most out of our visit.  We can turn up as and when we feel like it, which really works when you have young children in the mix.  They don't always want to play ball when you're trying to get them out of the house do they?
We arrived around lunch time, and got stuck straight into our picnic before heading off to the rides.  Our first port of call today was the carousel.  Princess has taken a real shine to this ride recently.  I think it's because she likes to go on with her Daddy if I'm honest.  Mummy is always left watching the bags at this point.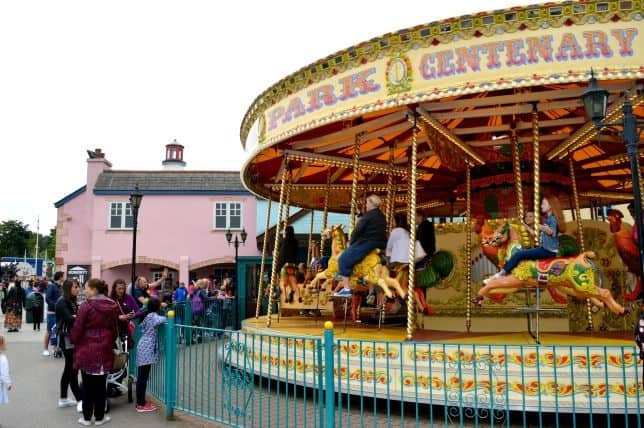 It's lovely to see the more traditional fair ground rides along side the rollercoasters and thrill packed rides.  They definitely still have a place for families and this was really popular when we visited.
Next door we were treated to a fun show to celebrate Drayton Manor's 65th Birthday.  We had to stop and watch for a while as both the kids were drawn in.  The Drayton Manor gang put on a great routine for the kids, and had them all dancing and joining in.  This was a new event for us, so added a some variety to our visit.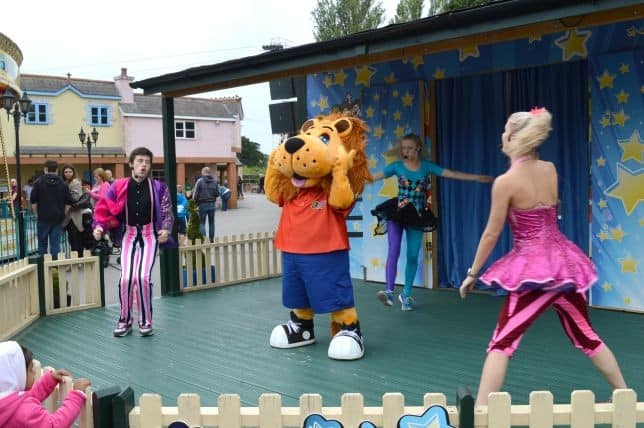 Of course, we spent most of our visit at Thomas Land because we can all go on the rides, even the 1 year old.  She loves the Blue Mountain Engine ride the most, and it always has her chuckling when she goes on it.  The 3 year old has to stop of at Jeremy's Jets first, so Little Pudding gets 2 rides on her favourite trains, one with her sister, and one without.  She's definitely not complaining though!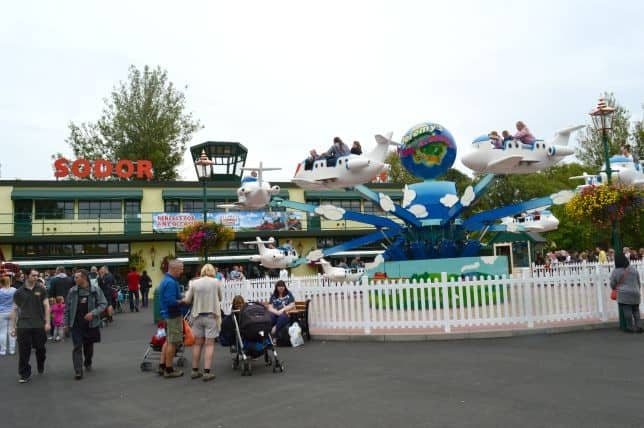 We also stopped off at the new Flynn's Fire Rescue.  Now, the first time we went on this ride my daughter left me to put out the fires all by myself.  She didn't fancy getting wet on the ladder, and took shelter in the cosy cabin below.  This time she was thwarted.  The cabin was locked.  I didn't tell her the attendant would probably open in for her as I didn't want to be left extinguishing fires without a small child in tow.
Despite a little protest, she soon came up with me and got into the fun of it.  My challenge was trying to keep dolly dry during the proceedings.  It was great fun though.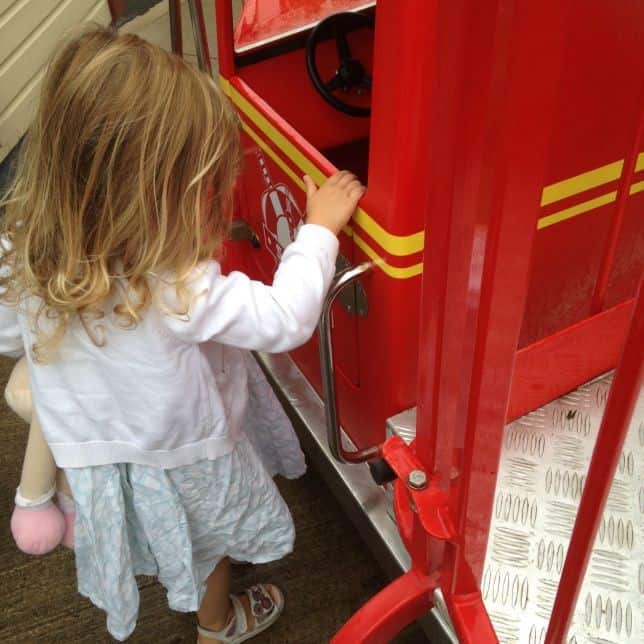 Thomas Land is such a magical place for small children.  It is packed with all their favourite characters from the island of Sodor and to me it's just like being there.  I haven't found a theme park yet that can match the number of rides and atmosphere it creates for small children.  You will always bump into the Fat Controller, maybe hear him burst into song or you can have your photo taken with him.  Then you can catch a ride on Thomas or Percy between Thomas Land and Knapford Station.
We always hop on after a visit to the Drayton Manor zoo and playing on Spencer's Activity Park.  We always find time for a quick hot chocolate stop before boarding our train.  It's definitely the right thing to do after a busy day at the park!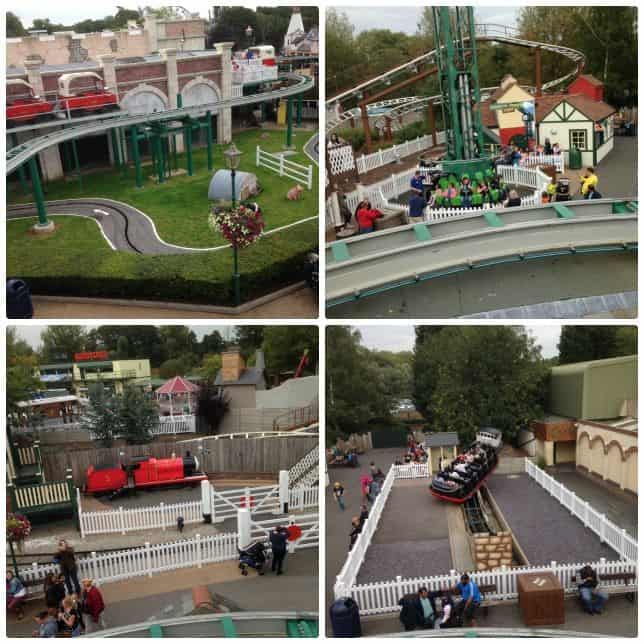 We headed back to Thomas Land for a few more rides before taking our very tired little girls home.  We love Harold's Helicopter Tours as you get to see right over Drayton Manor Theme Park and Thomas Land as the helicopters go round.  It's definitely my favourite ride by far.
We had a lovely day at Drayon Manor Theme Park and Thomas Land, even though it was quite busy we were never queuing to long for anything.  I love that they have really thought about what families want, and have worked hard to give it to them with opening the new expansion earlier this year.
If you haven't been yet, it really is worth a visit and there are plenty of days left in the season for you to pop down.  Drayton Manor have bought back the adult and toddler ticket, which gives families with little ones a huge discount on a great day out.  It's just £20 for a visit after 8th September.
We are really looking forward to the other events coming up at Drayton Manor later in the year and I'll be letting you know how we get on at the Fireworks Extravaganza featuring War Of The Worlds between 30th October and 1st November and also at Drayton's Magical Christmas between 27th November and 31st December.  These are new events for us, and I know the girls are going to be thrilled with all the magic and excitement.  Have you ever been to these events at Drayton Manor?  I'd love to hear how you got on?