We're Going On A Bear Hunt, the children's story by Michel Rosen and illustrated by Helen Oxenbury.  You've heard of the book right? Well, I have a confession to make. I think I might be the only parent of a small child who hadn't heard of this story, until our recent visit to Djanogly Theatre at Lakeside Arts.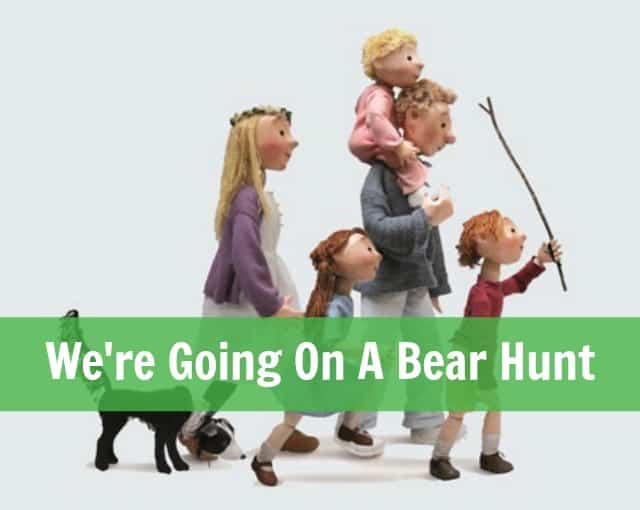 We're Going On A Bear Hunt
The Little Angel Theatre bought this delightful story to life for the young audience (and some unenlightened Mother's) with songs, puppets and a lovely playful energy.
Fortunately for my 3 year old daughter, she goes to nursery and they read 'We're Going On A Bear Hunt' a lot! I found out very quickly that Princess knew the story word for word. The rest of the young audience were also big fans, and there was a lot of excitement as the show started with a chorus of:
We're going on a bear hunt
We're going to catch a big one
What a beautiful day!
We're not scared
Little Angel Theatre
The Little Angel Theatre company did an amazing job of bringing the book to life with both great talent, and some exceptional guitar playing. The story was perfectly paced and the set changes were seamless and exciting. The puppets looked liked they had literally stepped out of the pages of the book, so the children could instantly connect with the characters from their favourite story.
The show was was laced with the right amount of jokes that could be appreciated by the whole audience as the daring family ventured through long wavy grass, squelchy mud and a swirling whirling snowstorm to find the bear.
We're Going On A Bear Hunt is now one of mine and my daughters favourite puppet shows. The Little Angel Theatre and Nottingham Lakeside Arts Theatre provided us with a fantastic family adventure that we will remember for many years to come.  It was real storytelling at its very best.
We were provided with complimentary tickets to We're Going On A Bear Hunt in exchange for this review but all thoughts and opinions are our own. I was so impressed with the show that I was compelled to buy a copy of the book on leaving the theatre.  Thanks so much to Nottingham Lakeside and Little Angel Theatre for introducing me to this amazing story, and bringing it to life for my daughter to enjoy.