Beefeater Grill is fast becoming a firm favourite for eating out with the family.  Last Sunday we were invited to enjoy another meal there, and because we've love it so much we really couldn't say no.  There is something on the menu for everyone,  it's a big hit with Daddy as well as the girls.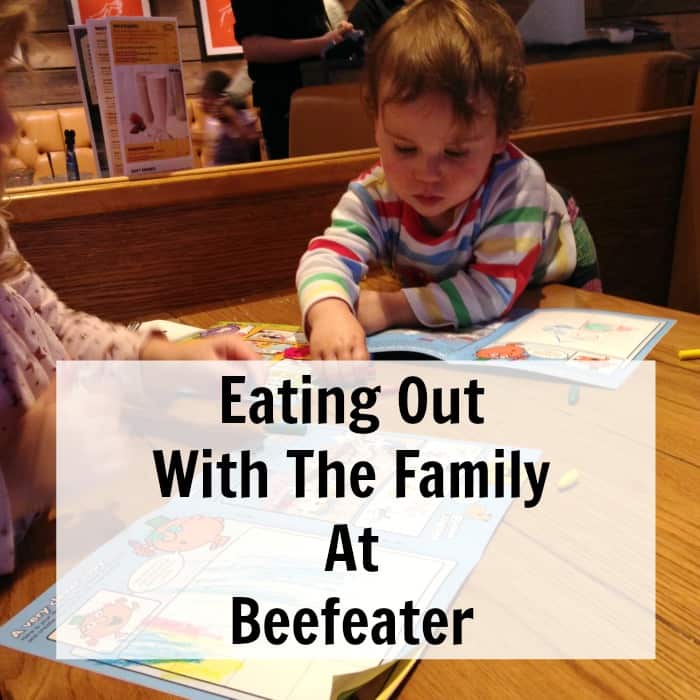 Eating Out With The Family
Eating out with the family is a really important thing for us to share together.  We want our children to grow up enjoying meals out with us as we feel it's an important part of quality family time.
We really enjoy Beefeater, and find that it caters well for families.  The service is always great, the menu is really good and the children's menu is flexible for kids too.  We really feel comfortable going there, even though we have a 1 year old and 3 year old who generally cause havoc and mayhem.  The staff go out of their way to make us feel valued as customers and welcome in their restaurant.
Starters
We are slowly working our way through the menu at Beefeater Grill and this time we kicked off with the BBQ Pulled Pork tear and share flat bread.  I have to admit this is now my favourite flat bread from Beefeater Grill.  The pulled pork was delicious and went perfectly with the sour cream and chive sauce.  We all enjoyed tucking in until our main course arrived.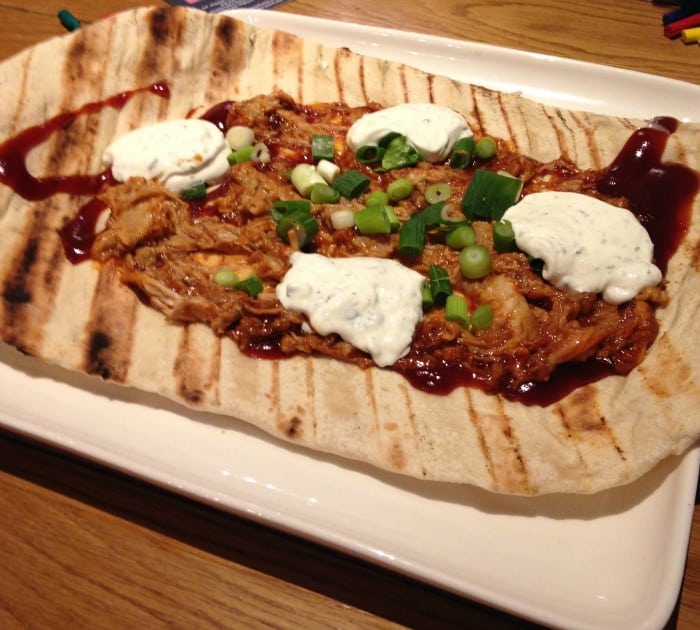 The girls were busy with their activity packs and a new game of throwing cutlery into the next booth which kept our waiter very busy.  They are proper little monkeys, but of course we love them.
Children's Meals
The children's menu starts at £4.49 and is great for fussy eaters.  You can change a meal round to suit your child's taste or have it just as it comes.  Princess went with the spaghetti bolognese with a side of vegetable sticks and garlic bread.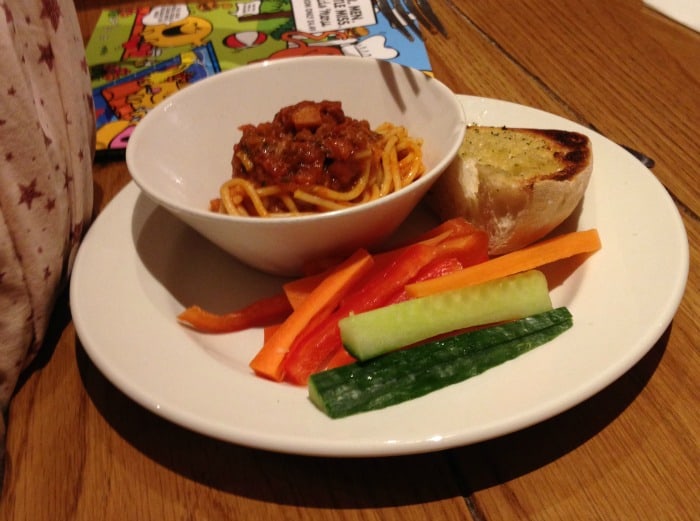 Little Pudding tucked into her old favourite sausage, mash and beans.  That went down a treat.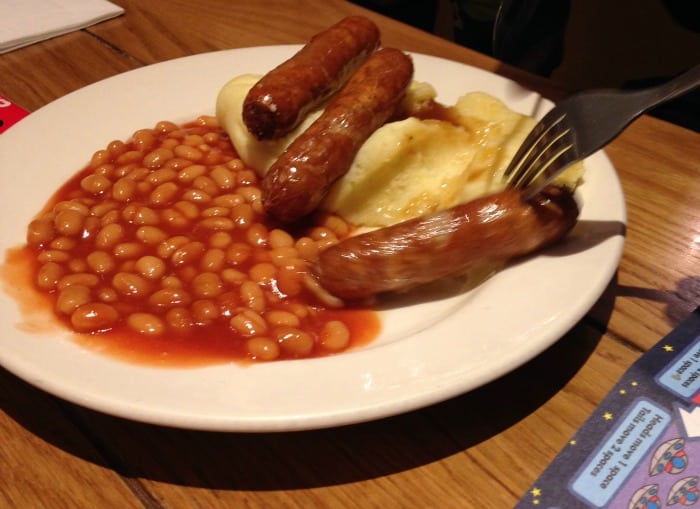 What Did Mummy and Daddy Have?
I was keen to try something new, and picked the BBQ Chicken 'n' Ribs from the grill menu.  I added the chunky chips with the chilli and lime seasoning to go with my crunchy coleslaw and corn on the cob.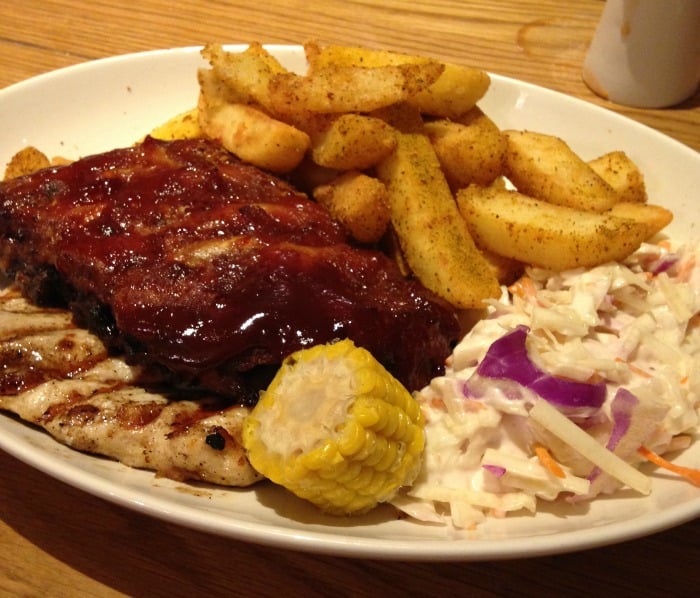 I think it is now my favourite meal from Beefeater, and I really thought the burgers would take some beating.  The pork ribs were perfectly cooked, meaty and full of flavour.  The chicken was also perfectly done, tasty and moist.  It all went perfectly with the fries and coleslaw.
Daddy went for the burger.  I was definitely worried when he picked this as I could see food envy creeping in.  It looked amazing and Daddy really enjoyed his Double Bacon and Cheese Steak Burger with skinny fries.  I actually think it got the better off him, as he couldn't finish all his fries and the girls ended up eating them.  It is a pretty mammoth burger!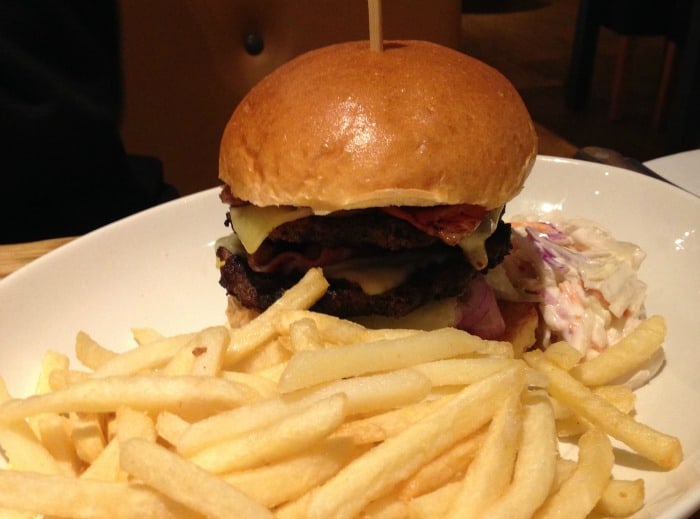 We were all thoroughly well fed and watered after our lovely meal at Beefeater Grill.  There was no room at all for pudding this time, and it's against our better judgement to give the girls pudding to late in the day.  They are quite a handful when eating out with the family without adding sugar into the mix, imagine what they are like after a chocolate brownie.
We were provided with a complimentary meal at Beefeater Grill but all thoughts and opinions are our own.