Aruba is one of the lesser known islands in the Caribbean just off the coast of Venezuela.  For some reason it's not quite as popular as it's neighbours in the Lesser Antilles such as Trinidad & Tobago or Antigua even though it's just as stunning as a holiday destination.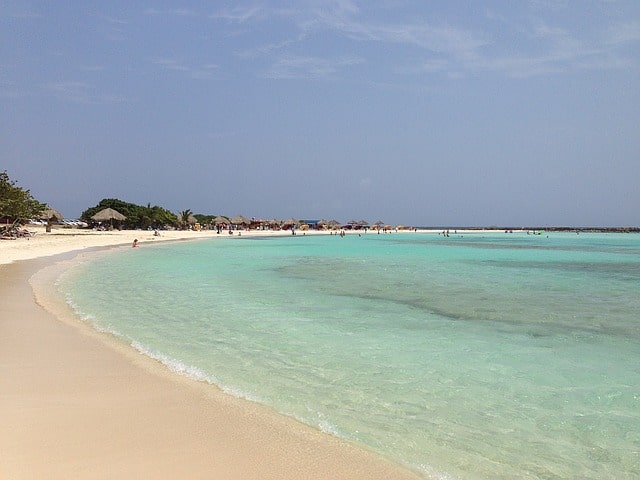 The island boasts a heady mix of 90 different nationalities making it a real melting pot in terms of culture and cuisine.  With such a mix of influences every visitor to the island really can feel at home.  It might surprise you to learn that Aruba is one of the four countries that makes up the Kingdom of the Netherlands along with Curacao, Siint Maarten and of course the Netherlands.  Europeans will spot the Dutch influences throughout the island, and might even recognise the famous Dutch biscuits called Speculaas.
Other European cultures also influence the islands cuisine, including Spanish and French and you'll find nods to their most traditional dishes in most restaurants.  But no Caribbean island would be with it's salt if it didn't have a penchant for hot sauce and some jerk chicken.
In a bid to liven up our weekly menu, and get my husband in the mood for visiting some exotic destinations I'm going to be cooking up a Caribbean classic that we are all familiar with.  After he's had some Jerk Chicken with rice and peas washed down with some authentic Caribbean lager, I don't think he will take much convincing that we need a trip to see the stunning blue waters and white sand beaches of Aruba.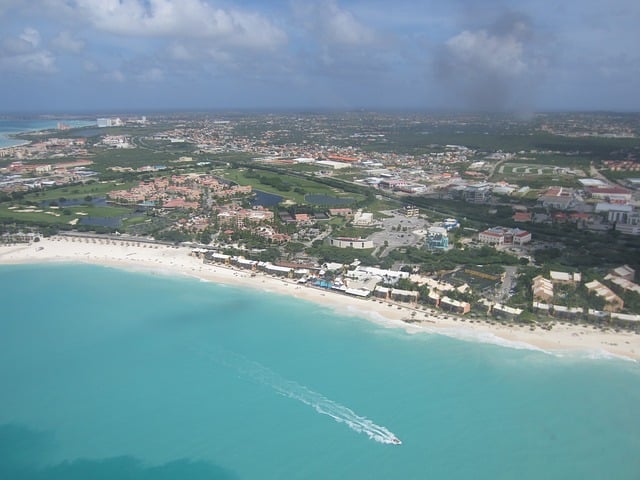 I'm looking forward to sharing with him some interesting facts about Aruba like it is the home to Antilla, the largest ship wreck in the South Caribbean.  The German Freight vessel was sunk by it's crew at the end of World War II rather than be confiscated by the allied forces and it's now a popular spot for diving, both day and night.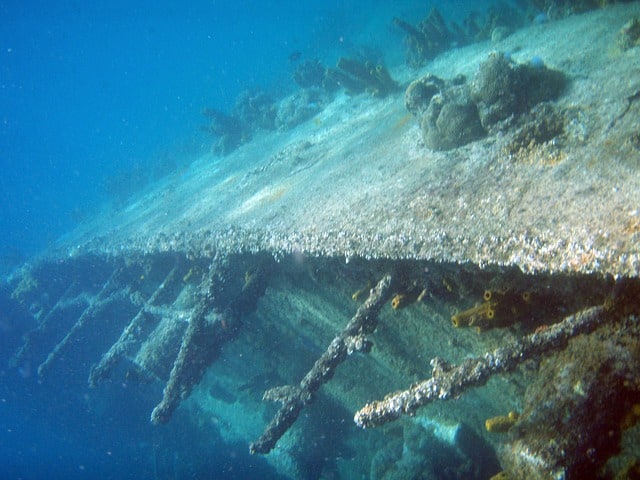 If he's not tempted by exploring what's under water I'm sure he'll be interested in visiting the Butterfly Farm or exploring the local museums to find out more about the islands eclectic history.
Easy Jerk Chicken with Rice and Peas Recipe
Ingredients
8 chicken thighs
Jerk Seasoning
4 Onions
Oil
1 cup Easy Cook Long Grain Rice
1 tin of Kidney beans
2 Garlic cloves
1 Tin of Coconut Milk
1 tsp Dried Thyme
1 cup of Water
Salt & Pepper
Method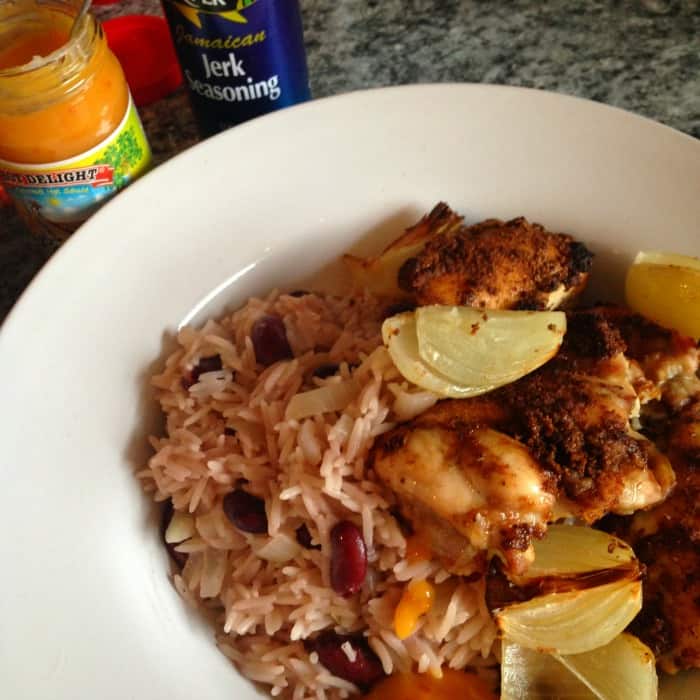 First coat the chicken thighs in a few tablespoons of Jerk seasoning and marinade over night or for at least 4 hours.
Shake of excess seasoning and place in a pan with some oil and 2 onions cut into quarters.
Cook for 45mins at 180c.
Whilst the chicken is cooking, heat a few tablespoons of oil in a pan and add the chopped garlic and 2 finely chopped onions.
Cook the onions and garlic for a few minutes until soft, then add the rice, the tin of kidney beans including the juice and the coconut milk. Add the cup of water and thyme also.
Cook for about 20 minutes or until all the liquid has been absorbed by the rice.
Serve with Caribbean Hot Sauce and authentic local beer and enjoy!
Win a Holiday to Aruba 
If you like the sound of visiting the gorgeous beaches and blue waters of the Caribbean or want to dive with exotic sea life in the wreckage of the Antilla I have a great competition for you to enter.
To celebrate Aruba's Eat Local – Restaurant Week in October the Aruba Tourism Authority UK are offering you the chance to win a week's holiday to their happy island. If you would like to stay at the Bucuti & Tara Beach Resort, the worlds most romantic hotel according to TripAdvisor, then head over to the Facebook page and tell them which restaurant you would like to eat in. Simple!