As you might already know, I'm a huge fan of the Eden Hall Spa Day.  When I was given the opportunity to go and find out what the Comfort Blanket treatment was all about, I literally couldn't refuse.  Doesn't it sound like the perfect way to fgive the mind and body a boost already?
My Eden Hall spa day was very well timed.  I had spent the previous weekend in Hamburg with my 3 year old daughter on a really fun city break.  We had a fantastic time, but I did spend most days pushing her around in the pushchair as we explored the city on foot.  It meant that my posture wasn't great and as a result my back suffered with a few aches and pains when we got home.  My feet also felt bit tired and were very much in need of some TLC.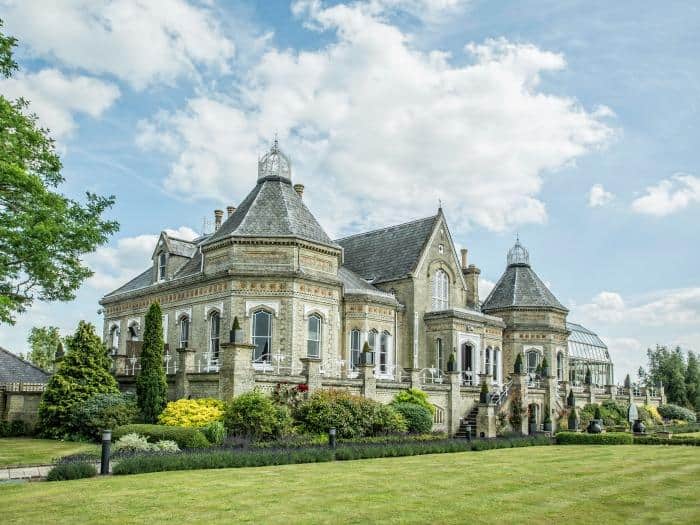 Eden Hall's comfort blanket body treatment seemed like the perfect remedy and I was counting down the days until my visit after getting home from Hamburg.  I arrived at Eden at around 9am as I love to make the most of my time there.  I packed my swimsuit, flip-flops and this time my gym kit even made it into the bag.  Exercise has become more of a priority for me this year, and I felt I should make use of the classes that are on offer in Eden Hall's gym.
One of my favourite places in Eden is the Herbal Caldarium.  It's a dry heat treatment room infused with lavender grown in Eden's gardens and it's such a relaxing experience.  I headed straight there and was able to enjoy a moment of solitary calm as my muscles literally soaked up the heat while the lavender worked on the mind.  This was definitely the therapy I needed to recover from our busy city break.
Going To A Fitness Class
Before visiting the outdoor hot tubs, I decided I would join the Legs Bums and Tums class (LBT).  Eden Hall has a full program of fitness and relaxation classes for all abilities and a well equipped gym that over looks the gardens.  Quite a few people joined the LBT class and Callum was a great instructor encouraging us to reach our full potential in those more challenging moments.  It was interval based training, and it felt like a really good 45 minute work out.  I'm definitely glad I went and it made popping into the hot tub after it so very worth it.
Lunch at Eden Hall Spa Day
I was so pleased I was booked in for an early lunch as the LBT class had really helped me to build up an appetite.  I love the lunch menu at the Eden Hall spa days and find that it's a real highlight to the experience.  For me, it feels like the food you would expereince on a cruise ship.  It's excellent quality and there's also plenty of it.  A 3 course lunch is provided with the Eden Hall spa day, and you also have unlimited access to the salad bar and buffet including fresh homemade bread.  Here's a peek at what I enjoyed:
A very tasty red mullet with salmon fritter starter.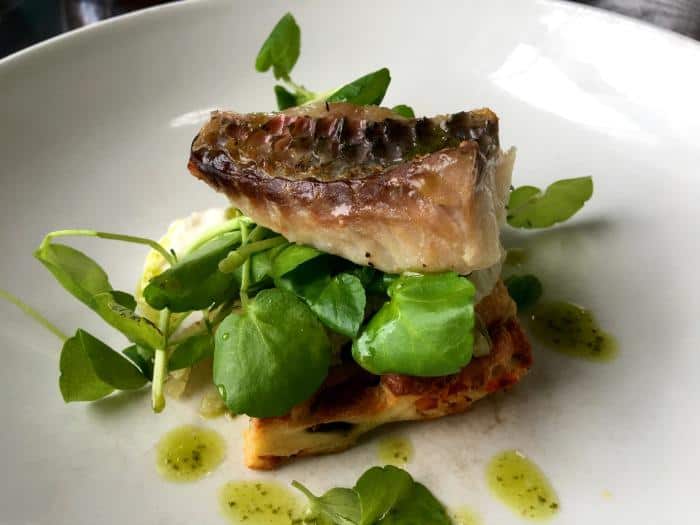 Braised beef that melted in the mouth with a gorgeous jus and sweet Chantilly carrots.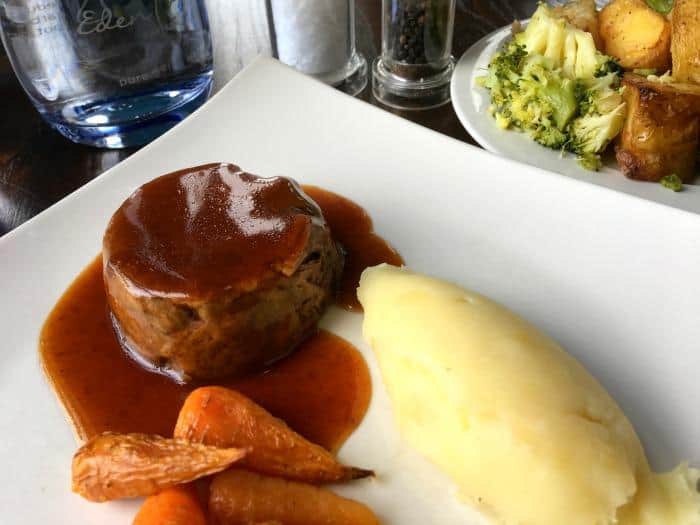 I finished with the lime cheesecake following a recommendation from my waitress, who was lovely by the way.  In fact, all the staff at Eden Hall are incredibly friendly and helpful and are dedicated to making sure that your day runs smoothly.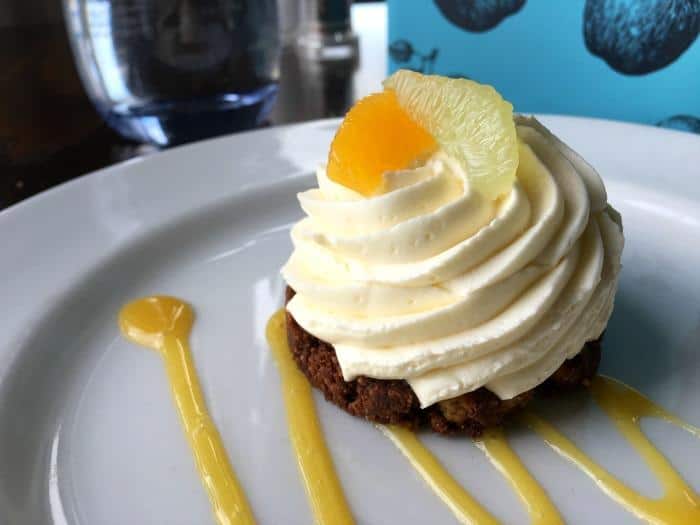 The Slumber Lounge is a Must
After what can only be described as a very filling and satisfying lunch, it was time to head to my favourite room at Eden Hall. I love the slumber lounge as it is so peaceful and the perfect place to enjoy a well earned nap after visiting the treatment rooms, the gym and the restaurant.  I firmly believe that everyone should spend at least an hour here during their visit to Eden, as it's just perfect for taking an already very relaxing day to another level.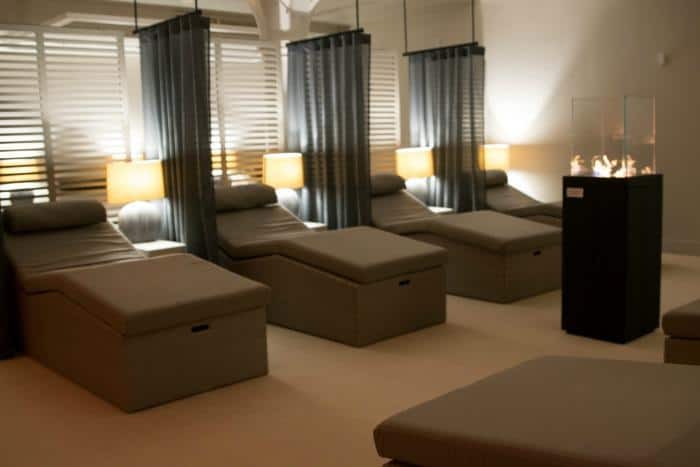 After my little rest in the slumber lounge, there was still time for me to visit the steam rooms before my comfort blanket body treatment at 4pm.  I love the salt inhalation room for clearing the sinuses and the rose infused steam room is perfect for releasing the impurities that build up on the skin and giving the circulation system a much needed boost.  I'm also a big fan of the water jets as these are a great way to give the body a massage if you prefer water over being touched.
Comfort Blanket Body Treatment
I felt a little bit excited when the time came round for my comfort blanket body treatment.  After a quick shower, I headed up to the reception area to wait for my therapist.  I spoke to a lady who was waiting to have the same treatment as me and learned she had travelled from Boston for her Eden Hall spa day. She had booked the comfort blanket spa package because it was such good value.
The comfort blanket spa day is available during November and December.  For a midweek visit, it's £125 including the 55 minute body treatment and during the weekend it is £135.   You also get to enjoy full access to the spa and it's facilities, a 3 course lunch and are provided with a robe and towels to use during the day.
What can I say about the comfort blanket body treatment?  Firstly, it's worth mentioning that this is a full body treatment, so if you are feeling a bit achy like me it is perfect for putting the body back to it's former glory.
My therapist started with my feet first, which definitely needed some attention.  She used the rose garden salt scrub to massage away the layers of dead skin that had built up with all that walking.  She then worked on the legs and back giving the whole body a salt scrub to reveal fresh glowing skin.
Once the skin was prepared, I was treated to a full back and leg massage with a gorgeous rose damascus honey gel.  I had spoke to Emily about my posture and issues I had with my back so she made sure she really focused on this area.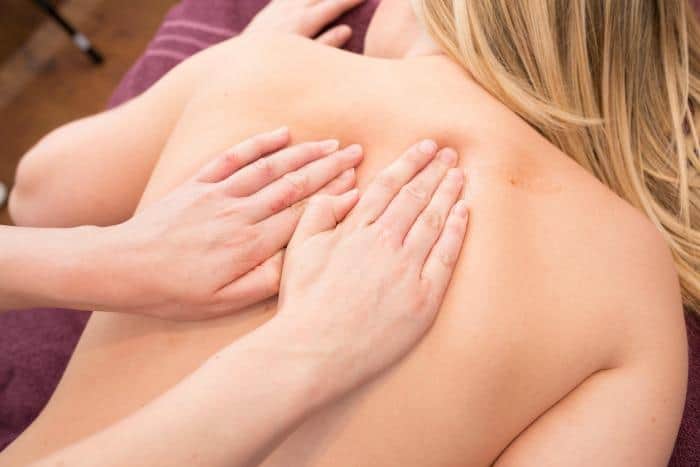 If that wasn't enough, I also enjoyed a scalp massage with frangipani oil so no part of the body felt left out.  It really was a lovely body treatment and I can see why it's called the comfort blanket body massage as it's so soothing and relaxing.
I actually felt a little bit sad when it finished, as I could feel how much good it had done working away all those aches and pains I had managed to pick up after our very busy city break.  Emily invited me to spend some time in the treatment relaxation area, which is the perfect way to end your day at Eden Hall.  I spent a few minutes just gathering my thoughts on the relaxation bed before getting ready to go home.  It's a great space, especially when it's dark outside as it's incredibly serene.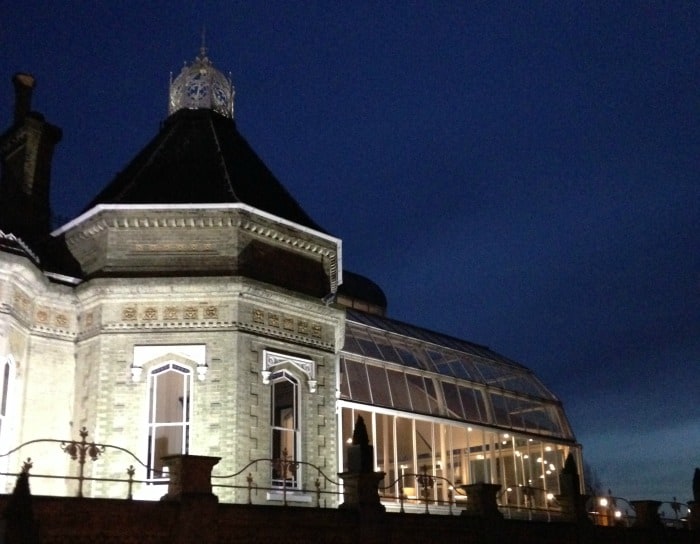 Unfortunately, my time in the treatment area was short as I had to head back home to get the girls from nursery, but if you don't have small children to get home for I can strongly recommend staying at Eden to enjoy the facilities until it closes at 8.30pm.  Next visit I might just make sure I can do this, as it's a place that I literally feel like I never want to leave.
If you are looking to enjoy an Eden Hall spa day before the end of the year, or are wanting to buy a present for someone I can strongly recommend booking the Comfort Blanket Spa Day or buying gift cards for an extra special present.  On both counts, I really don't think that you will be at all disappointed.
If you are interested in the Comfort Blanket Spa Day or any of the packages available at Eden Hall, here's all the information you need:
Useful Information
Lodge Lane
Elston
Newark
Nottinghamshire
NG23 5PG
Telephone for a reservation: 01636 525 555
Email: [email protected]
Spa Opening Times
9.00am to 8.30pm
7 days a week
Reservations are open:
Monday to Friday 8am to 8pm
Weekends 9am to 5pm
(Times may vary Bank Holidays, Christmas & New Year)
You might also enjoy reading Best of British Spa Day, Improving Your Self Care with Eden Hall or a Relaxing Spa Day At Eden Hall.
I was invited to Eden Hall and provided with the Comfort Blanket Spa Day Package in return for this post, but all thoughts and opinions are entirely my own.