I must admit, I do like to have carpets in the house. Even better than carpets, I like to have clean carpets, but when you have a young family this can be quite a challenge. Children spill things, it's just a part of life. Cups of orange juice get knocked over, jam on toast gets dropped on the floor and don't get me started on the number of times the kids have come running in the house with muddy feet without a care in the world. It is no wonder that people call in the cleaning professionals like Helping Hands Cleaning Services or someone closer to their location, carpets need to be cleaned and so does the rest of the home!
Sometimes the parents have been known to add to the carpet stains too. How many of us have knocked over a glass of vino, and the next minute we are googling 'how to get a red wine stain out of the carpet'. Putting a hot drink on the floor, if only for a second, can also be a fatal mistake and before you know it you are dealing with a dark brown coffee stain on the floor. None of us are perfect, right?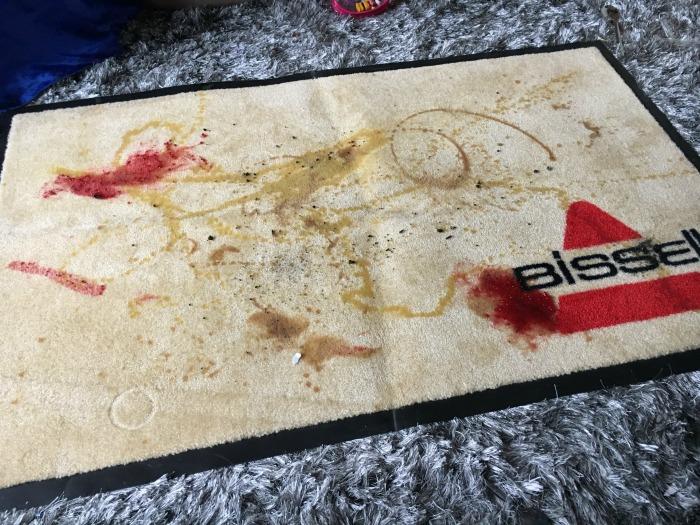 I think most parents will also empathise with the potty training journey. How many of us have had to scrub wee out of the carpet, in the hope of removing any lingering odour? I have lost count, between my 3 children how many times my carpets have been wee'd on. If I actually sat and thought about it for a minute I think I would actually be grossed out. Kids really are pretty disgusting in reality!
With all the wear and tear a family puts a household carpet through, wouldn't it be great to have a domestic carpet cleaner that matched up to the leading product on the rental market? Well, Bissell have pretty much nailed it with their PROHEAT 2X REVOLUTION Deep Cleaner and we've been lucky enough to get our hands on one to put it to the test.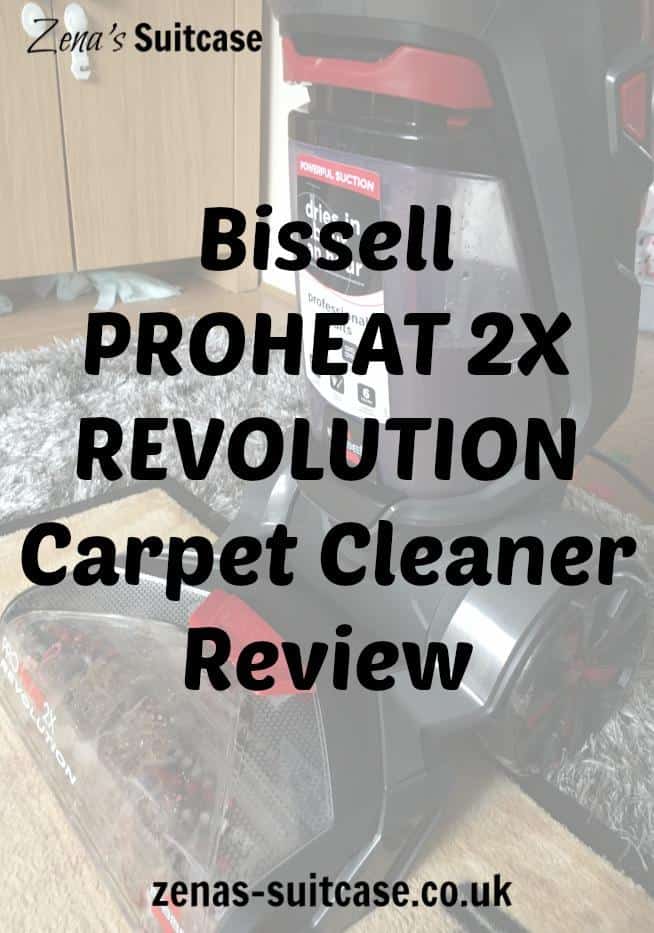 To show you exactly how powerful this carpet cleaner is, Bissell sent us a test rug in one of the worst carpet colours you could think of putting in a family home. My handy helpers set to work on making as much mess on the carpet as possible with jam, mud, gravy and orange juice. I also added a sprinkling of red wine just to make it realistic.
We enlisted Daddy's help in putting the Bissell PROHEAT 2X REVOLUTION carpet cleaner together, and it was ready to go in minutes. It just needed a handle adding to it and some minor assembly and we were ready to add the carpet cleaner. You can just use hot water from the tap to fill the clean water tank, and adding the cleaning solution is simple and mess-free. Now, if you've got quite a lot of carpet ground to cover and you don't have the time to use the cleaner (all of us go through that at one point), there is nothing wrong with contacting a carpet cleaning Brunswick service or a service in your local area so you are covered when you need it most. We all have days when we do not have the time to pick up any equipment ourselves and have to turn to the professionals.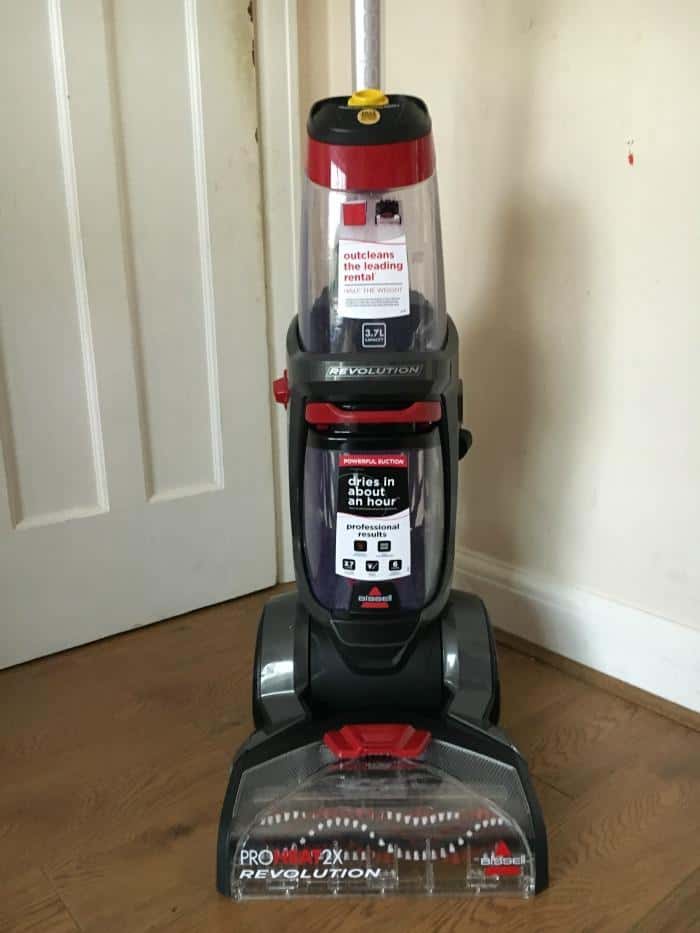 I definitely recommend spending a few minutes familiarising yourself with the instructions before using the carpet cleaner, to get the best out of it. The Bissell PROHEAT 2X REVOLUTION has two cleaning modes. For really dirty carpets there is the Deep Clean mode, and for lighter soiling you can use Express Clean mode. Both use a slightly different technique and combination of wet and dry passes. The wet pass is controlled by the trigger in the handle. When you are not using the trigger, the Bissell PROHEAT 2X REVOLUTION will perform a dry pass and suck up the dirty solution from the carpet. Once you get in the rhythm of it, it's pretty simple.
We thought the Bissell PROHEAT 2X REVOLUTION carpet cleaner was a great piece of cleaning equipment. It's really lightweight and easy to assemble. Even I could do it! It takes minutes to get it ready for the business of cleaning your carpet, and once it gets going it's pretty effective.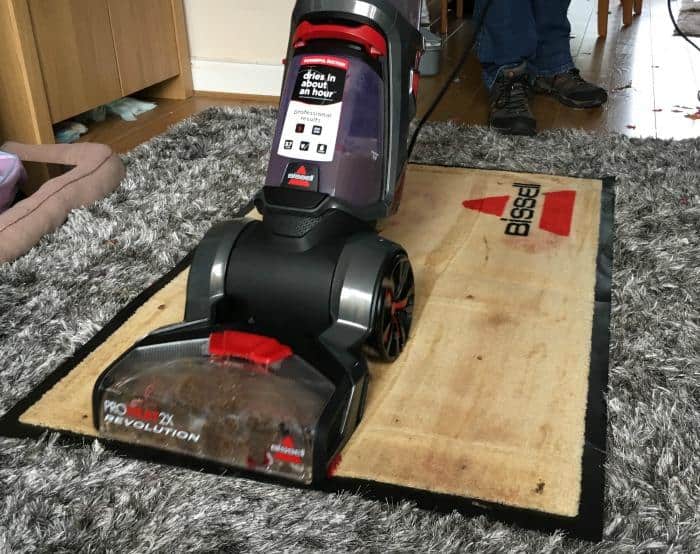 The dual power brushes work with the cleaning formula to get the stains and odours out of even the grubbiest of carpets, and there really is nothing better that having a fresh clean smell in the home is there? The Bissell PROHEAT 2X REVOLUTION carpet cleaner also comes with a hose and set of tools for you to use on awkward areas or other upholstered items in the house that require cleaning and stain removal.
We didn't think for a second it would get all the stains out of the beige rug we were sent to test it out on, but low and behold it did! We tried it on some of our own carpets and rugs too, and we were really pleased with the results. We just have to set it to work on the rest of the house now. I also suspect we will be getting a few requests to borrow it, once our friends and family have seen it in action.
Not only does the Bissell PROHEAT 2X REVOLUTION carpet cleaner provide you with incredibly clean carpets, regardless of what you have spilt on them, but they also provide you with a 6 year guarantee. That really speaks volumes to me in terms of the amount of confidence they have in this carpet cleaner staying on top of the stains in your home for many years to come. I used it on a selection of cheap grey carpets in my home and it was exactly what I needed.
The only thing we didn't experience was the quick drying carpets. I suspect this happens in Express mode on a nice warm day the you can have the windows open. Carrying out this review in the middle of January probably wasn't the best way to test this particular claim, but it didn't effect how we felt about using the carpet cleaner.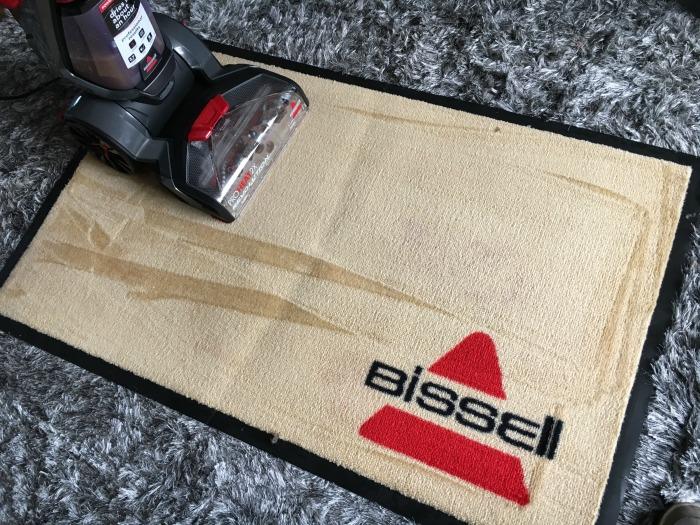 Bissell PROHEAT 2X REVOLUTION Carpet Cleaner Giveaway
I'm also delighted to announce that Zena's Suitcase has teamed up with Bissell to offer our followers the chance to win their very own PROHEAT 2X REVOLUTION carpet cleaner worth £329.99. If you need to clean your carpets because you've just been through potty training, perhaps you've just moved house and the carpets need a bit of a refresh or they are just due a deep clean from dealing with the dirt from every day life this is definitely the competition for you!
Just enter via the Rafflecopter below, and good luck to all who enter!
a Rafflecopter giveaway
Feeling lucky? Why not enter another great competition here!
We were provided with the Bissell PROHEAT 2X REVOLUTION Deep Cleaner for the purposes of this review, but all thoughts and opinions are our own. The Bissell PROHEAT 2X REVOLUTION Deep Cleaner is available from Bissell and most leading electrical stores priced £329.99.