Last week our youngest daughter, Brook, went to hospital for an operation to have ear grommets fitted.  If you have been following our story you'll know she has been suffering with Glue Ear and was going to hospital to grommet surgery as well as her adenoids removed.  It wasn't a day we were looking forward to, as you can expect.  We were all desperate to get to the other side of it and have our daughter's hearing restored.
Pre Operation Appointment
The week before the operation Brook and I went to the hospital to have her pre grommet surgery appointment with the paediatric nurse.  It went well and I was able to give a lot of information about Brook to help with the care she might need before and after the operation.
It was incredibly thorough, but where things fell down slightly was that the paediatric nurse who was taking the notes was not going to be the nurse looking after Brook on the day of the operation.  This was a shame as it was a great opportunity for Brook to get to know the staff who would be looking after her.
It was still good for Brook to go to the hospital and get used to the surroundings.  She was able to see the type of room she was going to be staying in and even test out the bed!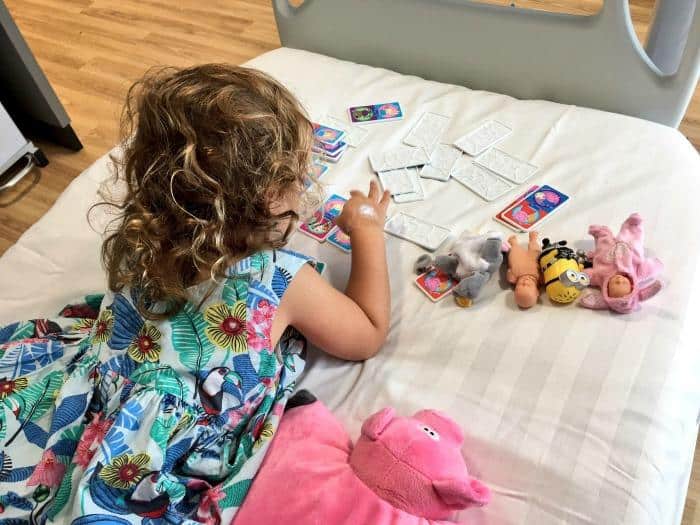 What We Told Her About Her Grommet Surgery
I deliberated a lot about what to tell Brook about her ear grommets operation before the day came.  She is only 3 1/2 years old so I didn't feel it was appropriate to go into great detail about it.  We decided to tell her, on the day that she was going to hospital, that she was going to see the doctor to have glue ear treatment so she could hear better.
She needed an explanation she could understand as it was clear that we were doing something out of the ordinary that day.
We continued this thread when she was asking for something to drink and telling us she was hungry while we were waiting for the grommet surgery.  As she was going to have a general aesthetic our instructions were not to give her any food after 2.30am and no drinks after 6.30am.  When she asked for drinks and food, we told her she had to wait until the doctor said she could have something.
I did question the length of time she had to go without a drink in particular as she didn't go for her operation until nearly noon.  Thats a long time for a small child not to have a drink or something to eat. She let the whole ward know she was hungry as she reached a point we couldn't take her mind off it any longer.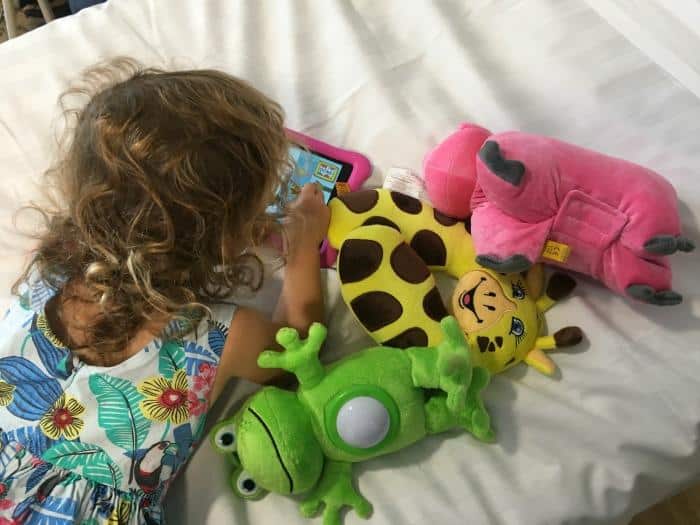 The Day Of The Operation
We arrived at the hospital at 8.30am. We waited in the reception until our nurse come to fetch us.  It's worth mentioning this was a private hospital and had only recently opened.
We were shown to our room and Brook's observations were taken.  A cream was applied to the backs of both hands so that the area would be numb when the cannula was fitted later.
We have found that through out the process if we ask Brook things like 'can someone look in your ears', or 'can we put cream on your hands', she is normally willing to cooperate.  She may become a little nervous, and sometimes you can see that she withdraws but she has always let the nurses and doctors do what they need to do.
We saw the consultant who was going to carry out the grommet surgery and signed the consent forms.  We asked him if the operation was going ahead at 10am, and his response was 'around then, yes'.
Unfortunately, at no point was it made clear that Brook was on a list and her operation could take place at any point during the morning.  Ten o'clock came and went and her toys and Amazon Fire were keeping her entertained to a point.  11 o'clock came and went and her tummy was telling her loud and clear that she was hungry.
We were walking around in the corridor and we saw the consultant who told us it would only be a few more minutes.  I learnt at this point that doctors clearly have a very different idea of time, and when we spoke to the nurse she advised me he was carrying out another procedure, but that we would be next.  With all the best will in the world, any operation of any kind takes longer than a few minutes.
Going For The Aesthetic
We were called for Brook's grommet insertion at around 12pm.  She knew something big was about to happen and she gathered all her soft toys to take with her.  The nurse talked to her all the way to the theatre as Daddy and I kept up the rear so to speak.  Daddy's crutches were slowing him down a bit to be honest. He had an accident the week before and came off his bike really badly.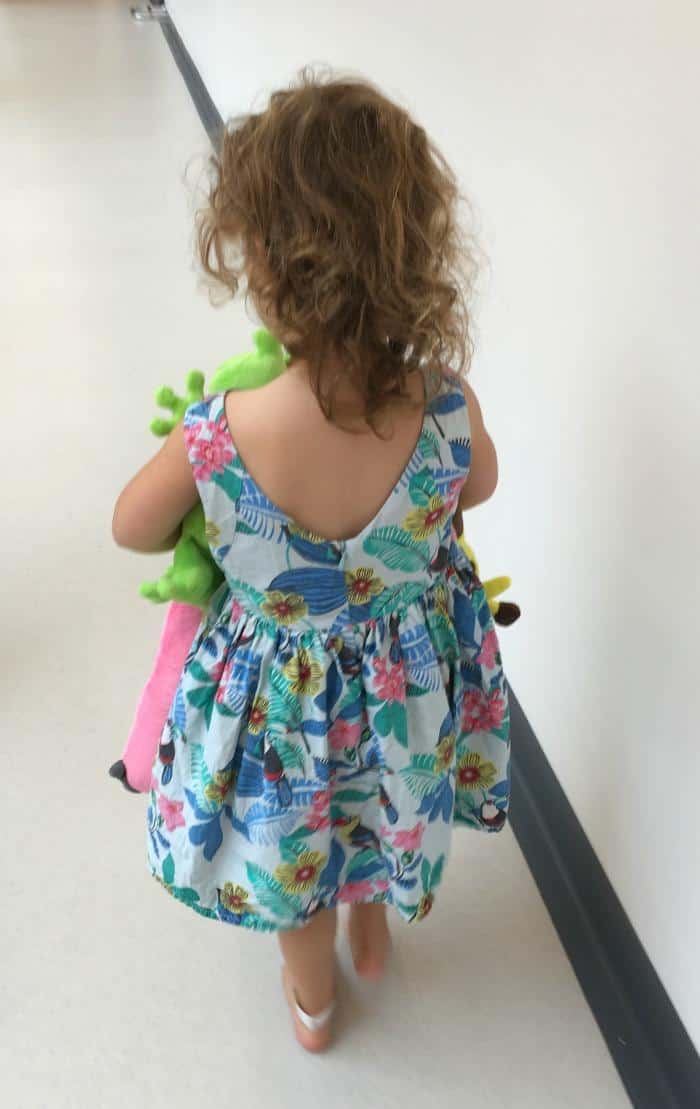 I had elected Daddy to go with Brook while she was put to sleep for the grommet surgery, but he couldn't do much with his crutches and Brook wanted me to be with her at this point.
Brook agreed to get on the bed and she had all her toys around her.  I answered some questions and confirmed that I had signed the consent form earlier.  The nurse was reading Brook a Peppa Pig story while her cannula was fitted and general anaesthetic were given.
A mask was put over her face and off she went to sleep.  I gave her a kiss good bye and then the tears came.  All of a sudden my precious little baby was being taken into theatre and it was all completely out of my control.   We walked back to the room and waited.  The nurse very kindly got us some coffee and toast, as nobody had eaten or had anything to drink that morning.  It didn't seem right with Brook having to wait.
Coming Out Of Theatre
The grommet surgery and removing adenoids doesn't actually take that long, and a member of the recovery team came to get us when Brook had woken up.  The bit we weren't prepared for was that we wouldn't be with her when she woke up, and we hadn't prepared Brook for this either.
When we got to the recovery room she was very upset.  Her cry sounded particularly laboured, which I think was as a result of having the tube in her airway during the grommet insertion.  She also had some blood around her nostril, which didn't look particularly pleasant.  Queue tears from Mummy again.
The nurse was showing her Peppa Pig videos when we arrived to try and distract her, but they were only achieving so much.  When she saw us come into the recovery room it was clear what she wanted.  I picked her up off the bed and we sat for a few minutes having a big cuddle while the nurse finished her observations.
Back To The Ward
We were soon heading back to the ward as Brook was recovering well from the operation and aesthetic, even though she was clearly a bit groggy.  She was quite happy to get on her hospital bed and watch Cbeebies on the flat screen TV in her room.
She was keen to start eating and drinking, as she had breakfast, snacks and lunch to catch up on.  She went through an omelette, cheese sandwiches, Daddy's crisps and Mummy's biscuits.  She literally didn't stop.
Within an hour of having the grommet surgery you would not have known she had had an operation that day.  The only thing we were waiting for was a wee.  She was far to comfy in the bed, and we really had to convince her that she needed to go.
Once she had had a wee, we were free to come home and we left the hospital at about 3.30pm.  We were given advice about giving her Calpol and Ibuprofen to mange the pain and discomfort, but to be fair she only needed it for a few days.  The operation doesn't seem to have been that painful for her at all.
After Care
Our biggest issue now is that she can't go to nursery or play group for about two weeks as catching a cold could put her at risk of infection.  We also have to put cotton wool in her ears with some vaseline on to stop soapy water going in her ears when she has a bath.  She can swim, but isn't supposed to dive into the water.
The grommets will remain in her ears for anything between 6 and 18 months and fingers crossed it's the only pair she needs.  Having the adenoids removed helps not having to need having more ear grommets fitted.
Even just a few days after the operation we are seeing a huge improvement in Brook's hearing and speech.  She is much more responsive to us and her sister which is helping them get along better too.  Her confidence to speak has greatly improved and with that is coming clearer words and longer sentences.
Even though it wasn't the easiest day in the world, we have no regrets about Brook having grommet surgery.  I have talked to the hospital directly about how the experience we had could be improved and I hope it helps other children experiencing any kind of procedure while under their care.