We hadn't even reached the reception at Darwin Forest Country Park near Matlock in Derbyshire, before my husband was planning a visit to one of their luxury holiday lodges without us.  Don't get me wrong, he loves our family holidays, but he doesn't get to experience many child free breaks these days.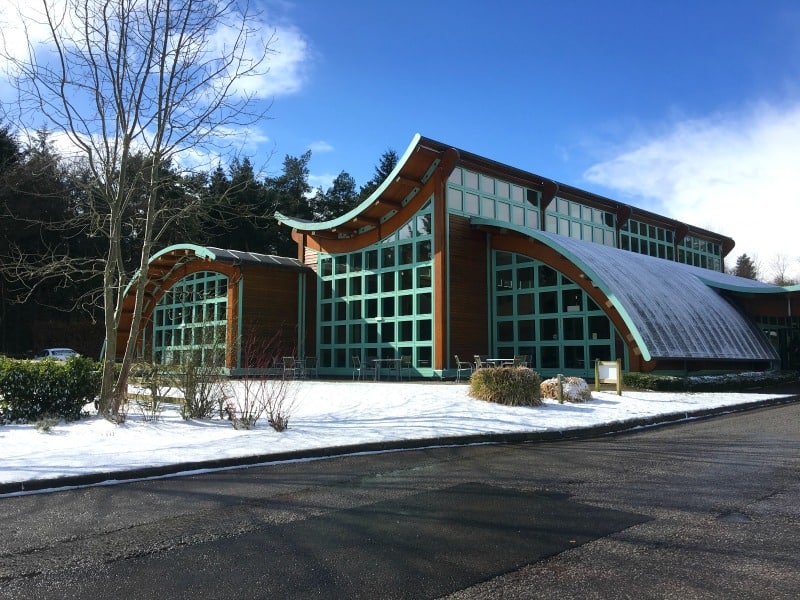 He was really impressed with the quiet holiday location, especially as it was only 1 hour from Nottingham, and on first impressions, the facilities at Darwin Forest looked impressive.  I parked us up and went to the reception to check in.  The kids were excited to get their Derbyshire holiday started, so it was a good job that the check in process was quick and super friendly.
Luxury Self Catering Accommodation in Derbyshire
It was great news that we could park the car at the luxury lodge, which isn't always the case when you are on a UK holiday park.  We found our luxury holiday lodge in no time, and the girls were keen to get inside and start exploring.  They love checking out our new holiday accommodation but excitement was also running high because it was Indie's 6th birthday the day we arrived.  There was presents to be opened and cake to be had, and all before bedtime.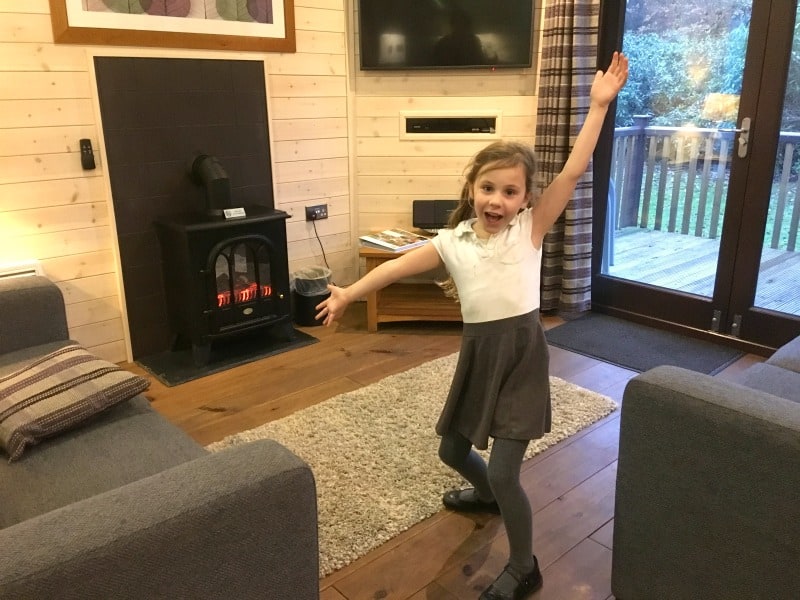 The Darwin Forest holiday lodges are pretty impressive to say the least, and if you are looking for hot tub breaks in Derbyshire then a visit here will literally be perfect for you. Our self catering holiday lodge was such a great size for a family of four.  We had planned to have a family meal in the lodge that evening seeing as we wanted to get the birthday celebrations underway quickly.
The kitchen area was excellent, with a fridge, freezer and dishwasher all available for our use.  The kitchen island added to the work surface space, and the kitchen was well equipped with pots, pans, cutlery and crockery so that we could get the family birthday meal under way.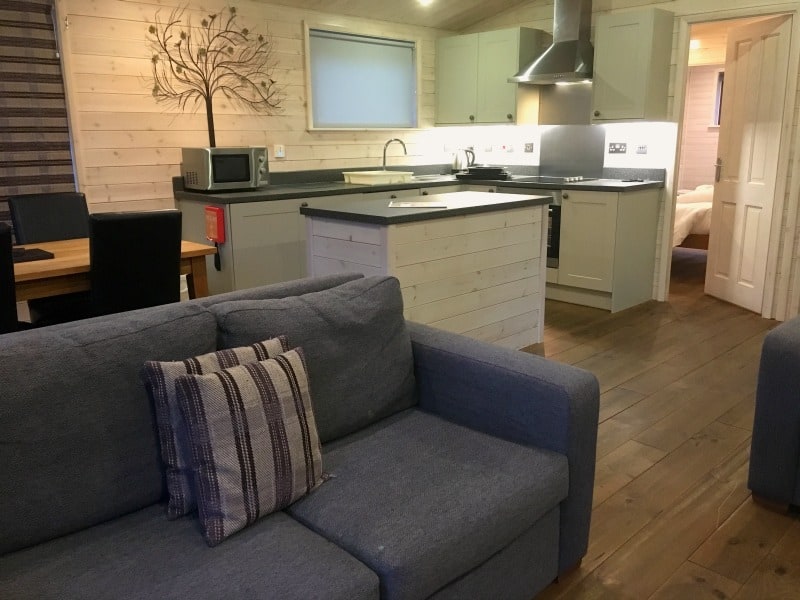 The 2 bedrooms in our luxury holiday cabin were really impressive.  The double room was well equipped with excellent storage space and an ensuite shower and toilet at the far end.  The twin room was a similar size but with a full ensuite bathroom, which as you already know by know, I think is much better for families with small children.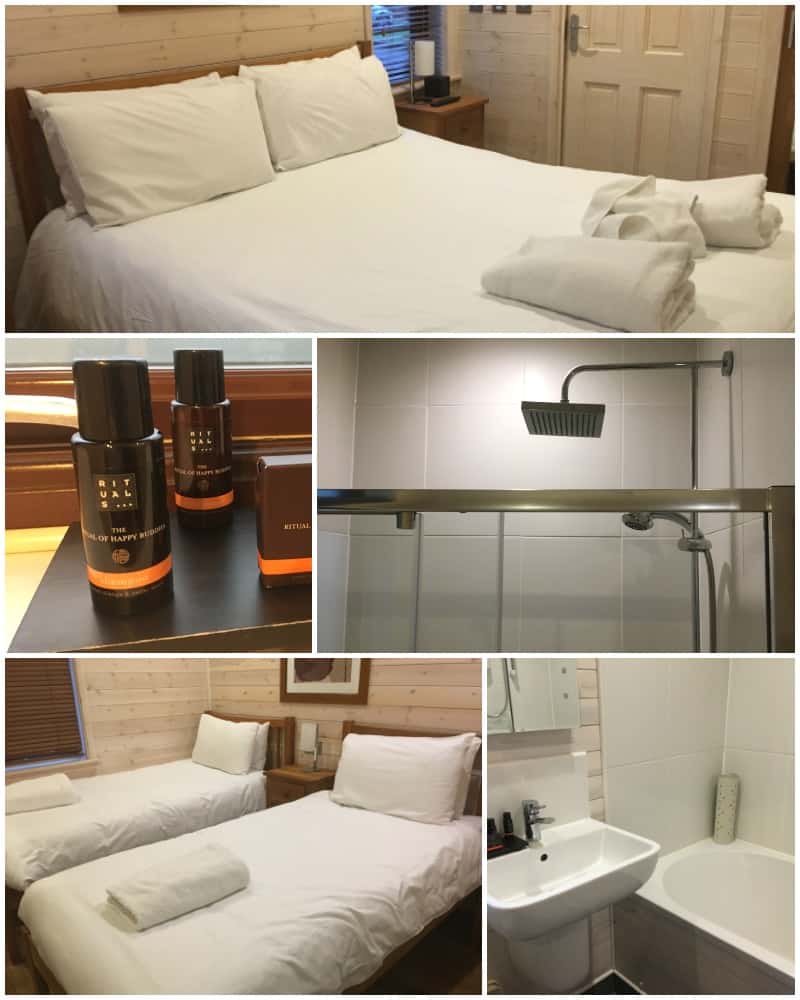 The living space was also perfect for us with two large sofas, a wall mounted flat screen TV and lots of space for the girls to play with their new toys.  If you are searching for lodges in Derbyshire I think you will be very impressed with the features provided by Darwin Forest.  Their self catering holiday accommodation in Derbyshire is both modern and stylish, whilst also providing a cosy child friendly holiday feel.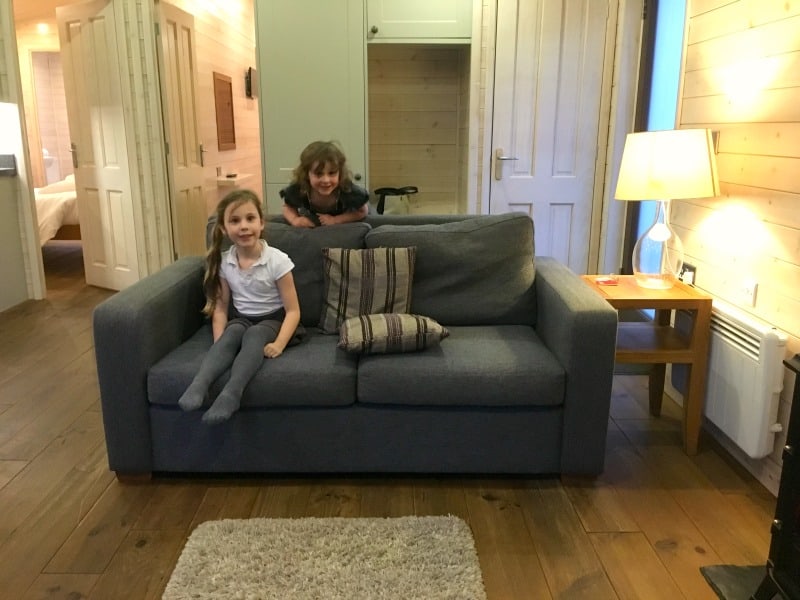 Self Catering Accommodation with a Hot Tub in Derbyshire
Our patio area was at the rear of the holiday cabin, and this is where the large hot tub and outdoor seating lived.  I, for one was very excited about being able to use the hot tub that evening, but it seemed that my husband was going to take a bit of convincing.  He was sure that we would need to heat up the hot tub first, as he's not very familiar with how a holiday with a hot tub works.  I showed him that the hot tub would be ready to use when we wanted it and the next step was convincing him to get in it.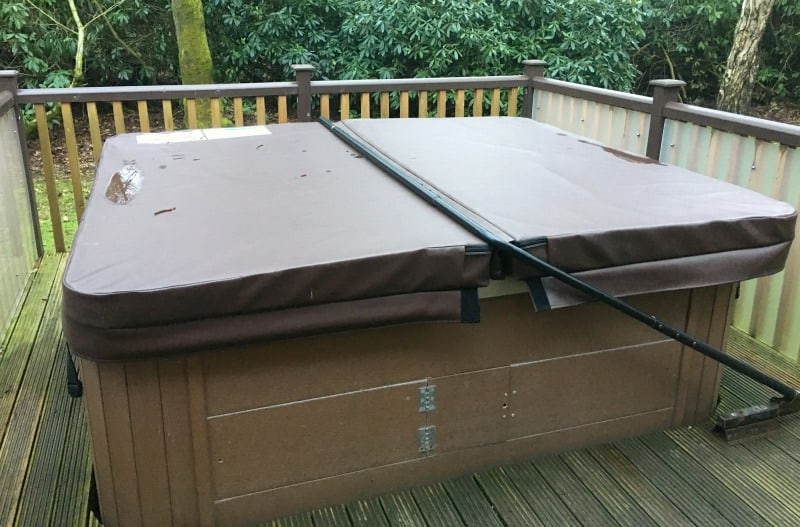 We managed to get two very excited children settled into their bedroom for the night, and I decided to jump straight into the hot tub.  For the first night it looked like I was going to be enjoying the hot tub by myself as Daddy had some work to finish off.  The position of the holiday lodges was perfect as we weren't to close to our neighbours and we didn't over look anyone.  The patio and hot tub felt very private as we were mainly surrounded by shrubs and trees.
Our Weekend Break in the Snow
Bearing in mind we arrived in Derbyshire with blue skies and sunshine, it was quite a shock when we woke up to a good few centimetres of snow the next day.  As weekend breaks in Derbyshire in March go, this isn't quite what we had bargained for but it turned out we were in the right place to still be able to enjoy our holiday.
On Saturday morning Indie stayed at the holiday lodge with Daddy as she wanted to build her new Lego sets.  Sometimes it's nice to be able to enjoy your new toys without your little sister interfering so Brook and I headed to Little Monkeys, which is Darwin Forest's soft play centre.  As we were on holiday at Darwin Forest, we received a reduced entry fee for 2 hours of soft play.  Brook really enjoyed her time in here as there was lots to do and explore.  There is also a cafe here, and I enjoyed a very reasonably priced coffee while watching the snow storm kick up outside.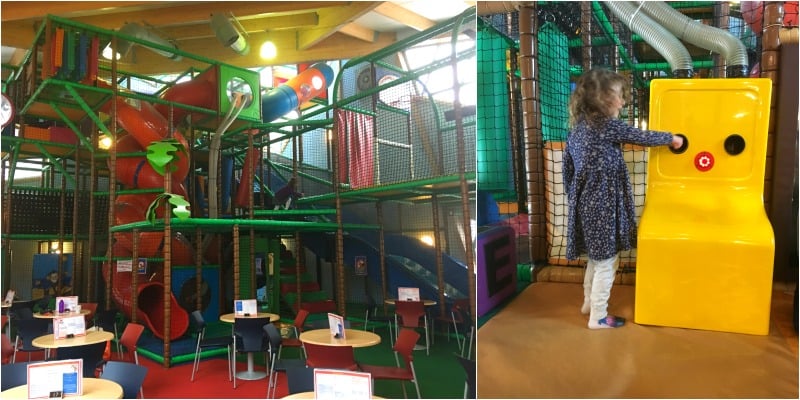 Seeing as we were staying in a self catering lodge, we headed back to our luxury holiday accommodation to prepare lunch for everyone and get ready for an afternoon swim.  Use of the swimming pool at the Evolution Health & Fitness centre was included in our short break package, so this seemed like the obvious plan for the afternoon.
Swimming together as a family on holiday is such a great way to spend quality time together.  We always have so much fun together, and it's a time when we really focus on each other whether it's helping Brook to swim, getting Indie to show off her skills or just messing around in the pool.  It's a very special family focused activity in a world that is constantly full of gadgets and distractions.
Eating Out at Darwin Forest Country Park
I know we were staying in excellent self catering accommodation (with a hot tub) in Derbyshire but it's always nice to have at least one night off from the cooking.  After our swim we headed straight to the Foresters Bar and Restaurant for our evening meal.  If you would like to eat in the restaurant I would recommend booking your table before you arrive at Darwin Forest.  Even though we didn't have a reservation, we were able to find a table in the bar which was fine for us.  They also offer a takeaway service if this suits your needs better and the food is excellent quality with a good children's menu to chose from too.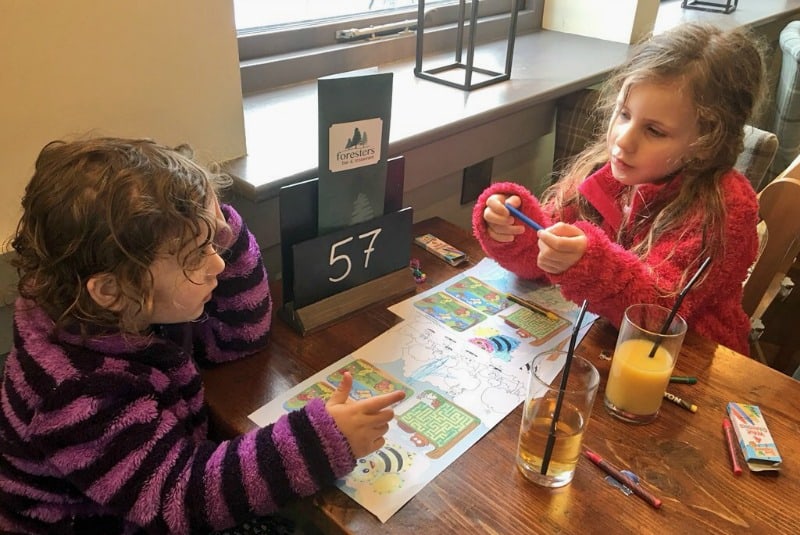 Both the kids slept very well that night and I finally managed to convince Daddy to give the hot tub a go.  It would have been ridiculous to go on a hot tub lodge break and for him not to step foot inside it now wouldn't it! Once he realised how relaxing it was to be sat out under the stars in the warm bubble filled water, well it's safe to say he was converted.  I was delighted that Darwin Forest had introduced Daddy to how relaxing hot tub breaks could be.  Life can't help but get stressful sometimes, and this was just the weekend break in Derbyshire that we all needed.
The next day we woke up to significantly more snow, but we already knew not to let this phase us as Darwin Forest had us covered.  The holiday park looked fantastic in the snow, and we managed to explore the Trim Track despite the wintery weather.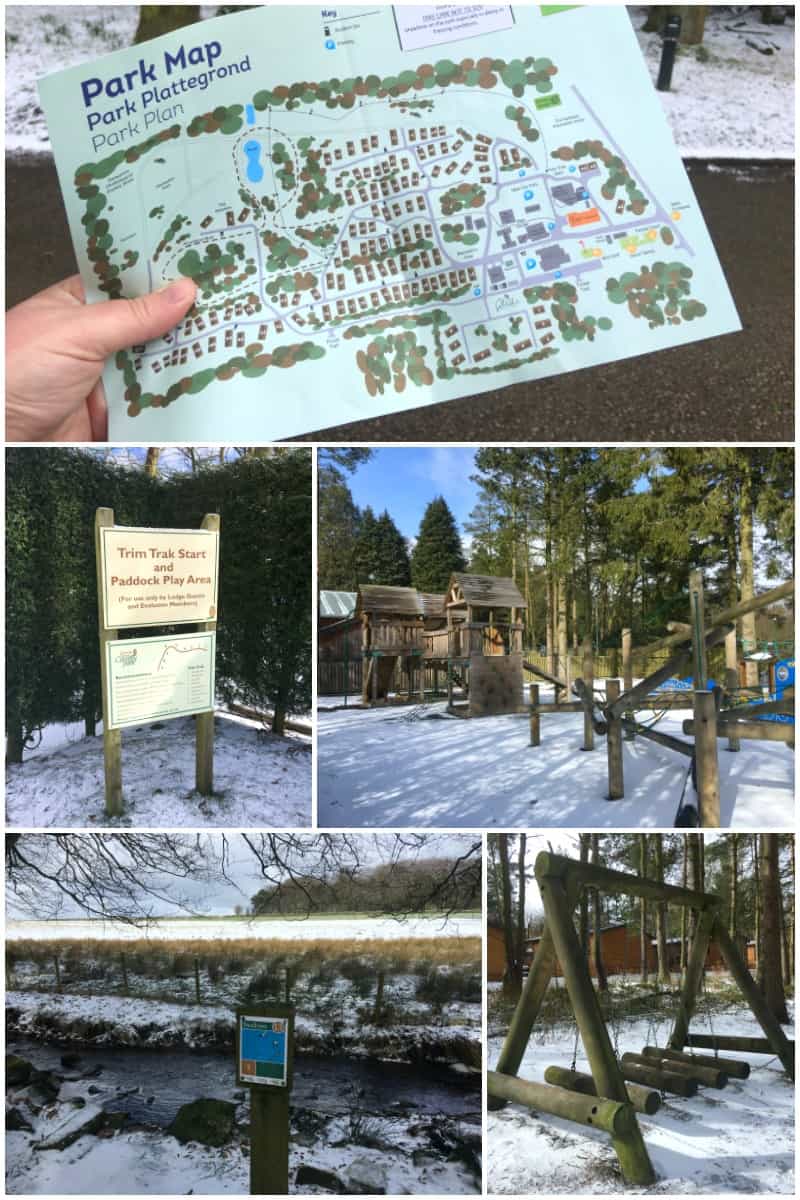 The girls played together at Little Monkeys as well, and Brook really enjoyed being able to show Indie around as she already knew the ropes.  It was lovely to be able to watch them play happily together, as being spirited sisters, this isn't always the case.
Back at our luxury lodge, our newly converted hot tub fan was keen to get back in the water.  He felt it was important that the girls got to try out the hot tub before we went home, and who could possibly argue with that.  Being able to sit in a hot tub surrounded by snow isn't something you get to do in the UK everyday, so everyone got their swimsuits on and jumped in.
As you can see, I think it was the perfect end to our self catering holiday in Derbyshire with Darwin Forest.
Useful Information about our Derbyshire Holiday with Darwin Forest

We stayed in a Chatsworth Elite Vogue Plus Lodge with Hot Tub
Darwin Forest is located near Matlock and is an excellent location for exploring the Peak District and surrounding area.
Darwin Forest Country Park
Darley Moor
Two Dales
Matlock
Derbyshire
DE4 5PL
Tel: 01629 732428
Email: [email protected]
Follow Darwin Forest on Social Media
Click here for things to do near Darwin Forest.
We were provided with a complimentary luxury short break with a hot tub in Derbyshire in exchange for this holiday review but all thoughts and opinions are our own.