October half term meant the chance for the girls and I to enjoy a a short break in Chester with Roomzzz Aparthotel.   None of us have visited Chester before, which is pretty ridiculous for a family that loves city breaks.  We'd also not stayed at Roomzzz Aparthotel either, so we were really looking forward to seeing if they passed the family friendly test during our stay.
I loaded up the car, handed the girls two fully charged tablets and made our way to Chester from Nottingham to begin our mini adventure.  We arrived in Chester about two hours later and headed straight to Roomzzz Aparthotel in the hope we could park the car.  They did have a car park and we got lucky as there was a space left just for us.  The car park isn't huge, but the staff actively manage it, keeping track of who is allowed to park in the car park to ensure that only guests are using the spaces. If you did struggle to park though, there is a car park at the racecourse, which is literally just across the road.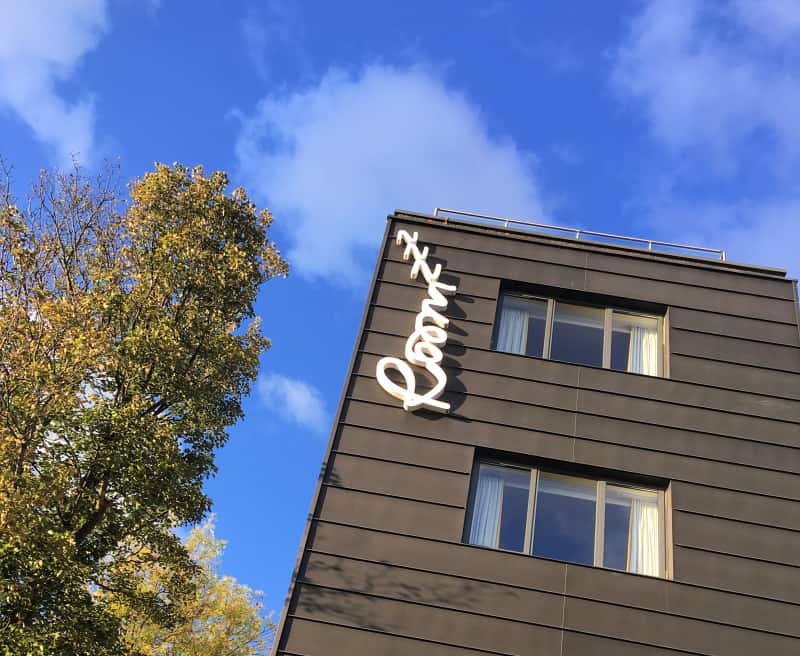 We headed to the hotel reception and were really excited about getting to our room.  The staff at Roomzzz in Chester were so friendly and made us feel really welcome.  There is nothing particularly shy or retiring about my two girls so when we arrived it felt like two small hurricanes had entered the building.  This did not phase the receptionists in the slightest and they got us checked in and told us about all the facilities on offer and what to expect from our stay.  They also gave us lots of tips for family friendly places to visit in Chester with kids, which helped with deciding what to do while we were there.
With all the formalities taken care of, we headed up to the 3rd floor to find the interconnecting family rooms we were going to be staying in for 2 nights.  The girls burst straight in and started exploring and the thing I knew was going to make a huge difference to our experience was the amount of space we had.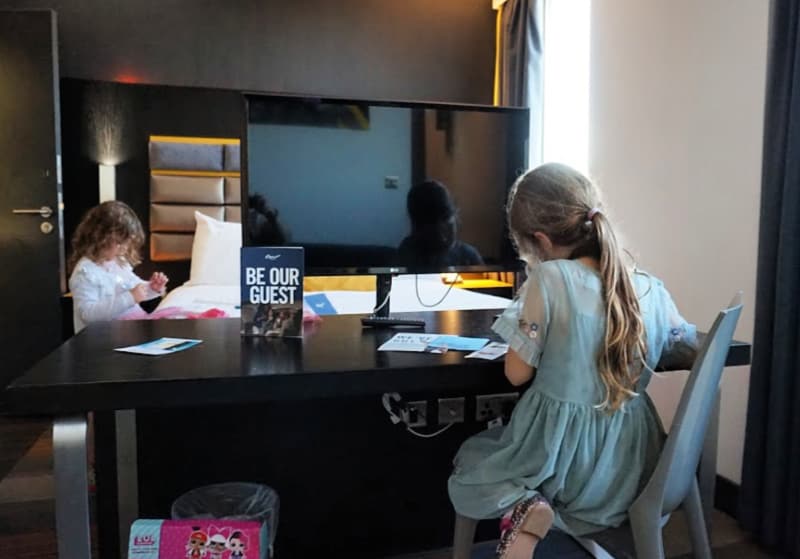 My daughters are 4 and 6 years old and we have found that to enjoy travelling with kids we really have to pace our trips.  It means that the days are pretty busy, but when the girls get tired we need a place they can chill out and recharge their batteries.  We are still at the stage with them where we spend most of the evening in the hotel room. They need to go to bed around 7pm so they have enough energy for all the sight seeing we have planned for the following day.
Roomzzz Aparthotel is literally a perfect place to stay if you have young kids and you are at the same stage as us.  I'm sure you've come across the concept of an aparthotel before, but just incase it's a place that offers all the creature comforts you can expect from a hotel like a daily clean, fresh towels etc but with the facilities you might expect from an apartment.  In each of our rooms we had a luxurious king sized bed, flat screen TV with a good selection of children's TV for the girls, a desk but also a sofa, dining table and chairs and a fully stocked kitchenette.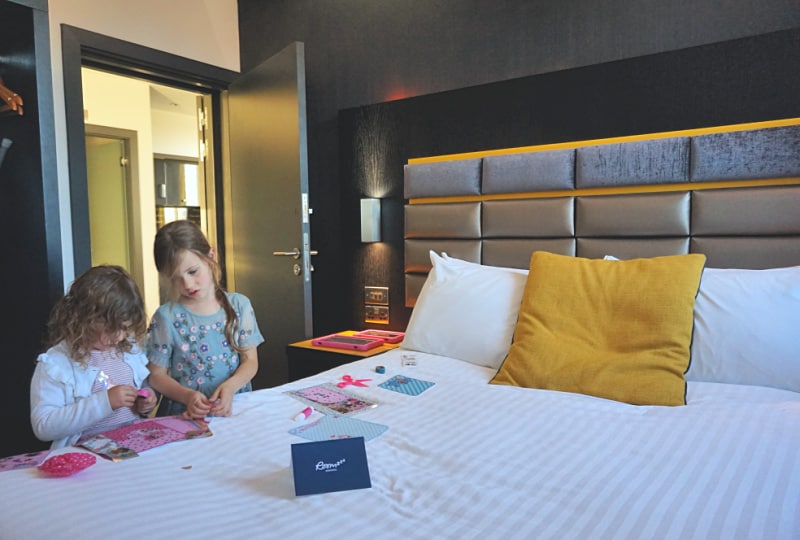 I loved the flexibility the Roomzzz aparthotel gave the girls and I during our stay.  Having the kitchenette, which had a built in dishwasher as well as hob, combi oven, toaster and kettle, meant we could cook and eat in if that's what suited our routine best.  I liked the option of coming back to the hotel and having dinner and starting to wind the girls down for the evening.  There's a drinks machine in the lobby that guests have access to all day that makes a particularly lovely hot chocolate, and after dinner we would pop down to get one, and the girls thought it was such a treat.  It was a real high to end the day on.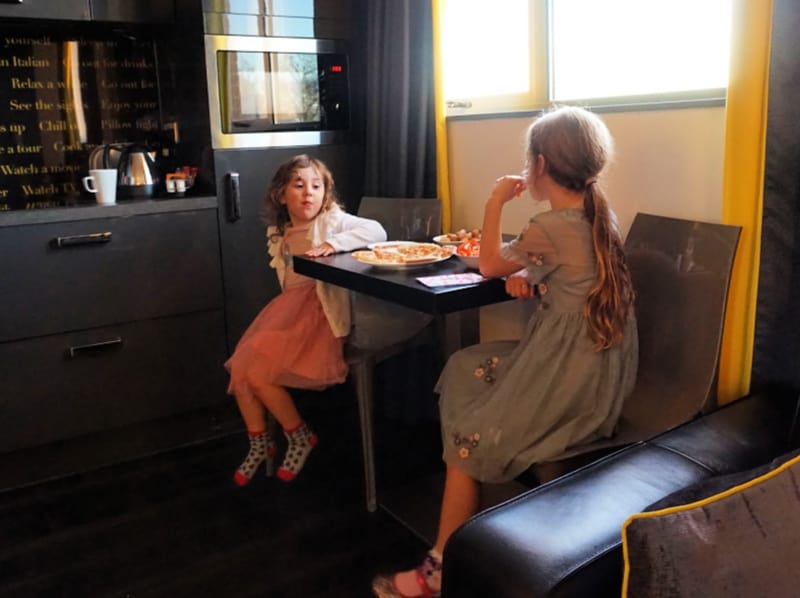 The only downside to the 7pm bedtime that the girls have, is it means that they tend to be awake pretty early in the morning.  Not only are they awake, but they are also hungry.  I don't necessarily feel as bouncy as the girls at this time in the morning, but this is where the Roomzzz 'Grab & Go' breakfast came in really handy.  Every morning between 6.30am and 10.30am there were fresh pastries, fruit, yoghurt and juice in the reception .  Once I had mustered up a degree of consciousness, I could take the girls downstairs and they could fill up a breakfast bag with goodies and head back to the room, with some much needed coffee for Mum too!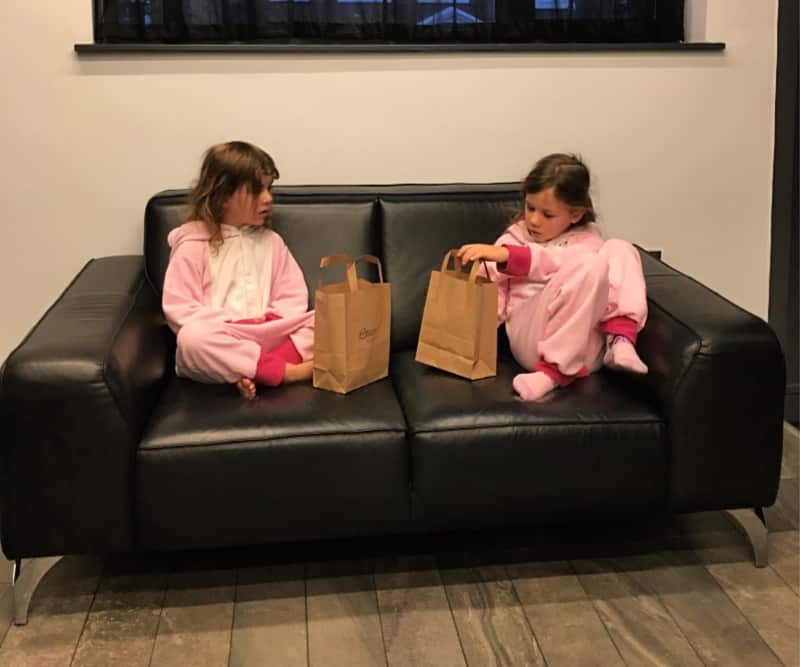 We could then start the day at a much more leisurely pace, which was also very much appreciated during our stay.  We were lucky enough to have a fantastic view over Chester Racecourse, the City Walls and what seemed like miles and miles of beautiful countryside beyond the city.  I wasn't in a rush to tear myself away to be honest.  At the end of the day, we also got to see the most incredible sunsets too.
I bet you are wondering if we ever left the room aren't you?
Well of course we did and Roomzzz Aparthotel in Chester is in a great location if you are planning a visit to the city.  As I'm sure you've already gathered, Chester Racecourse is just across the road which will be really handy for some Roomzzz guests.  I loved that we could see Watergate, which is one of arches you will find around the City Walls, from our room also.  It was also a 5/10 minute walk, depending on how the girls were feeling, to the centre so the local sights were right on our doorstep.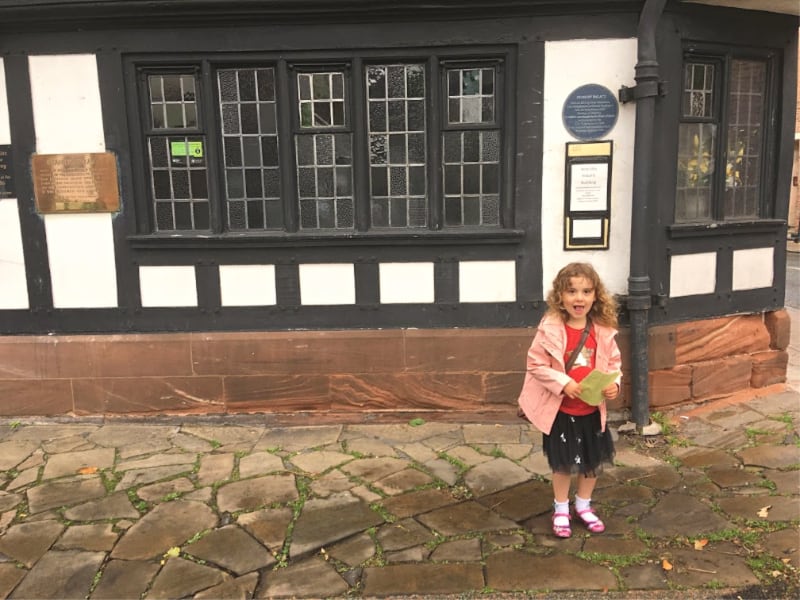 We spent the time we had exploring Chester, just because it really is such a beautiful city that I wanted to make the most of our time there.  Chester Zoo is another famous attraction in the area and if you did want to visit, Roomzzz Aparthotel sell discounted tickets to help you avoid the queues.
We found plenty to see and do in Chester, beginning with a visit to the Grosvenor Museum.  Here we got to explore a period town house and learn about Chester's Roman and natural history.  It was free to enter and the girls found plenty to do here to keep them busy.  The felt forest, shell sorting and colouring activities were all a huge hit as well as looking at some of the ancient Roman remains that live in the museum.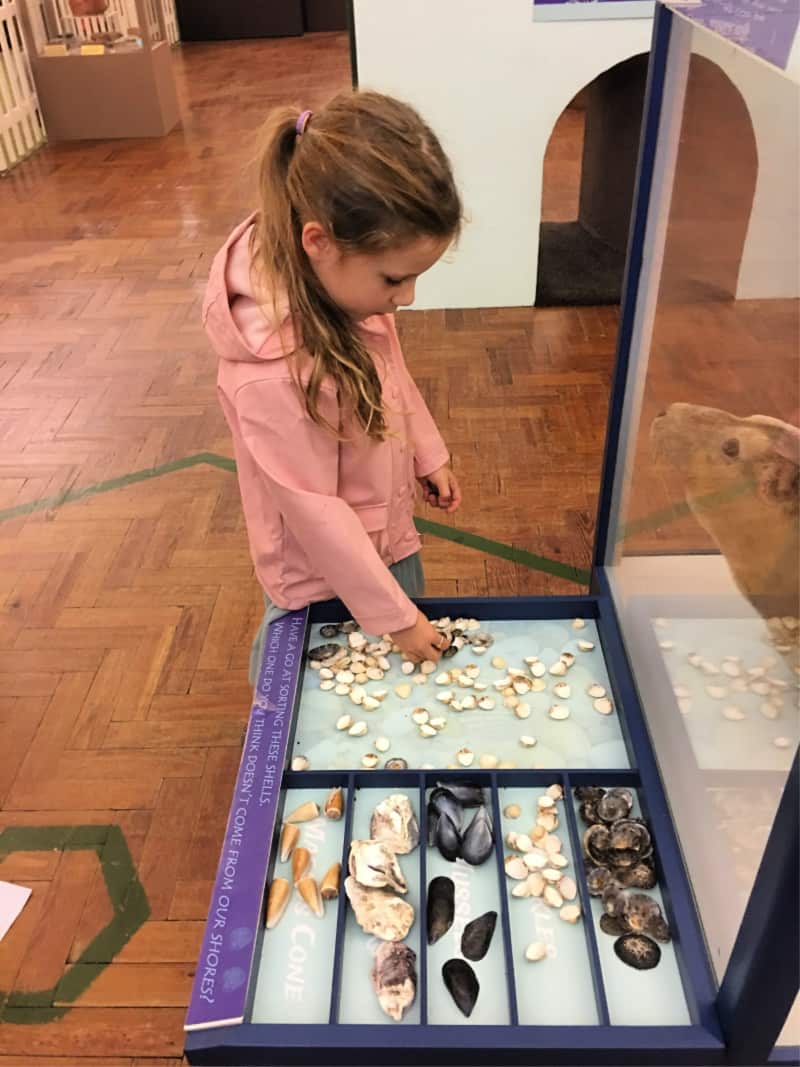 After a stroll into town to enjoy the mediaeval buildings Chester is so famous for, we headed to Grosvenor Park and Miniature Railway on the recommendation of the Roomzzz Aparthotel staff.  It was a beautiful blue sky day and the girls loved the play area and squirrel spotting as we walked through the gardens.  We took in views of the river and suspension bridge before heading to the ruins of St John's Church and finally the Roman Amphitheatre.  Brook and Indie made full use of the sticks they found in the park here and enjoyed being able to climb the ruins, even though I'm not quite sure that is what they are meant for!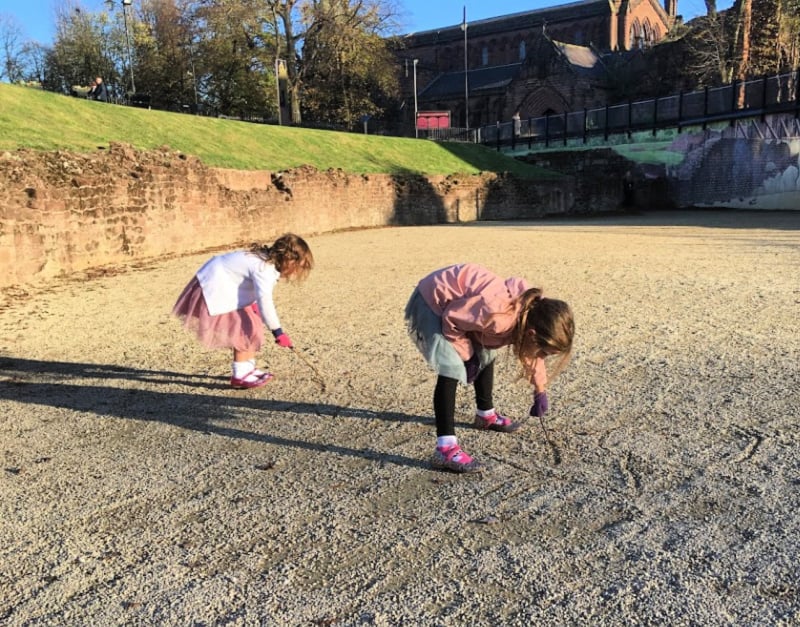 I was keen for us to walk at least some of the City Walls.  I would have loved to have got us around the whole 2 miles but unfortunately 4 and 6 year olds aren't necessarily on the same page as their parents when it comes to travel goals.  We walked though the beautiful Roman Gardens and talked about the mosaics we saw before joining the City Walls near Bridgegate and walking a quarter of the route back round to the hotel. This was a nice end to our first day in Chester, and the perfect time to stop exploring and head back to our room for dinner.
After a fantastic nights sleep in the Roomzzz Aparthotel, and a particularly early start as the girls were keen to get there hands on their 'Grab & Go' breakfast, we decided to head back into Chester for day 2 of our visit.  There was a Halloween scavenger hunt where we could visit local shops and the kids would get a sweet if they found the hidden clue.  It was like it fell into my lap wasn't it! What better way to get the girls to walk around the city, explore 'The Rows' and get to know Chester a little bit more.  If you read my post about tips for enjoying city breaks with kids you'll know that I love treasure trails and things like this.  The girls had a pocket full of sweets and we got to see so much more of Chester than  we would have done otherwise.  So many travel wins here for us!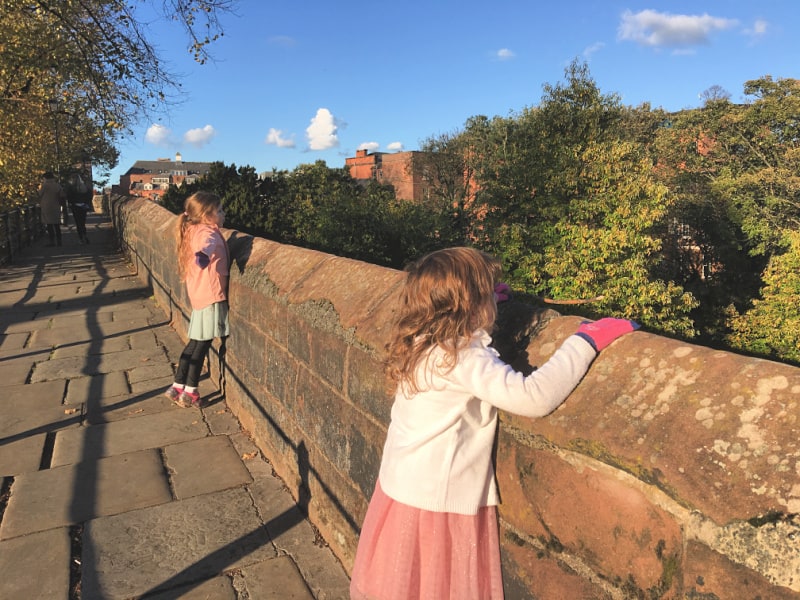 So, all in all, we had such a lovely experience with Roomzzz Aparthotel visiting Chester as a family.  I was travelling solo with the kids for this trip, and to be honest I had a pretty horrid head cold while we were there.  When you aren't firing on all cylinders family travel can be more tiring than normal, but staying with Roomzzz Aparthotel meant we had comfortable and relaxing surroundings to stay in right when we needed it.  We also had access to great facilities and wonderful helpful staff during our stay.  We genuinely loved the flexibility and quality of accommodation we had available to us for this trip and would not hesitate at staying with Roomzzz Aparthotel again after this experience.
Want to know more? Take a peek at our Roomzzz Aparthotel vlog
Fancy a visit to Roomzzz in London Stratford? Read all about Lisa's visit from Travel Loving Family blog now.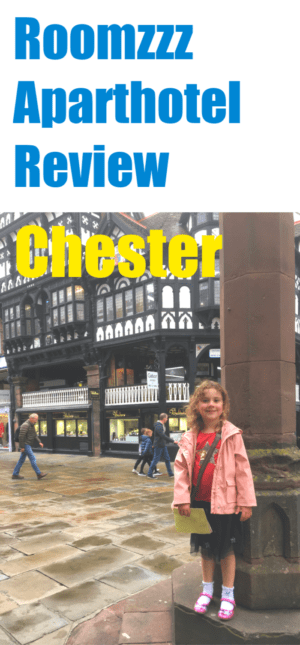 Know someone who would love this post? Please do share it with your friends and followers.  More of a Pinterest fan? Make sure you are following us and save this to your boards for later.
We were provided with a complimentary 2 night stay at Roomzzz Aparthotel in Chester for the purpose of this review and I have been compensated for my time, but as always thoughts are completely my own.