Right readers! Perhaps you can help me out here.  How on earth did I not know about the huge savings that can be made on train travel and days out with the Family & Friends Railcard from National Rail?  I'm flabbergasted that I've been in the dark this long to be honest but fortunately this has changed and we now have a Railcard and I think we will busing it for many years to come.
If you already have a Family & Friends Railcard you will know exactly what I'm talking about, but if you don't then I'm hoping this post will enlighten you.  During October half term we decided to take a day trip to London.  Brook and Indie decided it would be lovely to invite their Auntie too, which was lovely.  They don't get to spend huge amounts of time together so a family trip to London was the perfect way to put this right.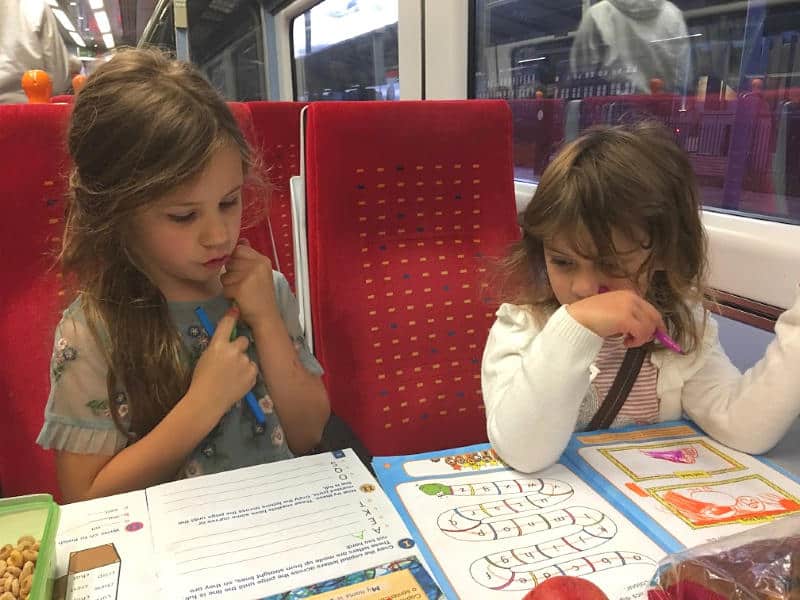 Seeing as we had extended the invite to my sister, it seemed only fair for us to buy her train ticket for the trip to London.  For 2 adults and 2 children to travel to London for the day from Nottingham could be deemed a little expensive and I was keen for us to find away to bring the cost down.
This is where the Family & Friends Railcard comes in.  It only costs £30 and you can save 1/3 off adult train tickets and 60% of childrens fares.  It covers 4 adults and 4 kids so it's literally perfect for family travel.  We got our money back and then some on our trip to London by saving nearly £100 on our Super Off-Peak Day Travelcard.  When it comes to saving money, that's a pretty good deal in my book.
With our cheap train tickets to London booked, we were super excited for our family day out together.  We met my sister at Nottingham station and caught the 7.45am to St Pancras.  She agreed to bring the coffee and I had a rucksack full of snacks.  When it comes to visiting a city with kids, you will already know that I consider snacks and drinks pretty essential travel accessories when it comes to a successful trip.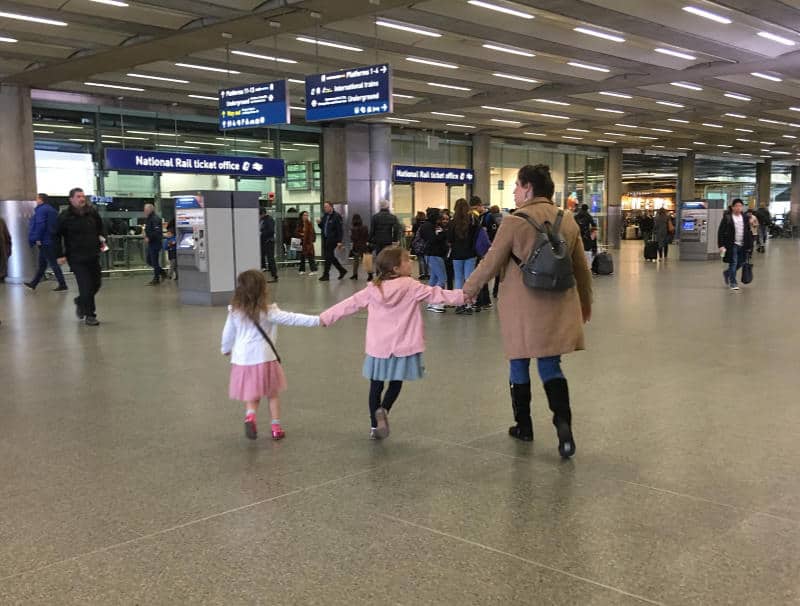 We also took lots of activities for the kids to do on the train, and they soon got stuck into their colouring and work books while my sister and I caught up on life's events.  The train from Nottingham to London is pretty quick these days, so day trips from the Midlands are really feasible.  The fastest train gets to London in 1 hour and 40 minutes which I think is really good to be honest.  It's long enough for the kids to enjoy the journey but not so long that they get bored.
I love arriving in London.  I never get bored of London St Pancras Station, it has the most magnificent architecture.  The hustle and bustle as we arrived filled the girls with excitement too.  We hadn't told them at this point, but we had another treat planned for them.  We discovered that not only are there huge savings to be made on train travel with National Rail, but also you can save money on Merlin attractions in London too.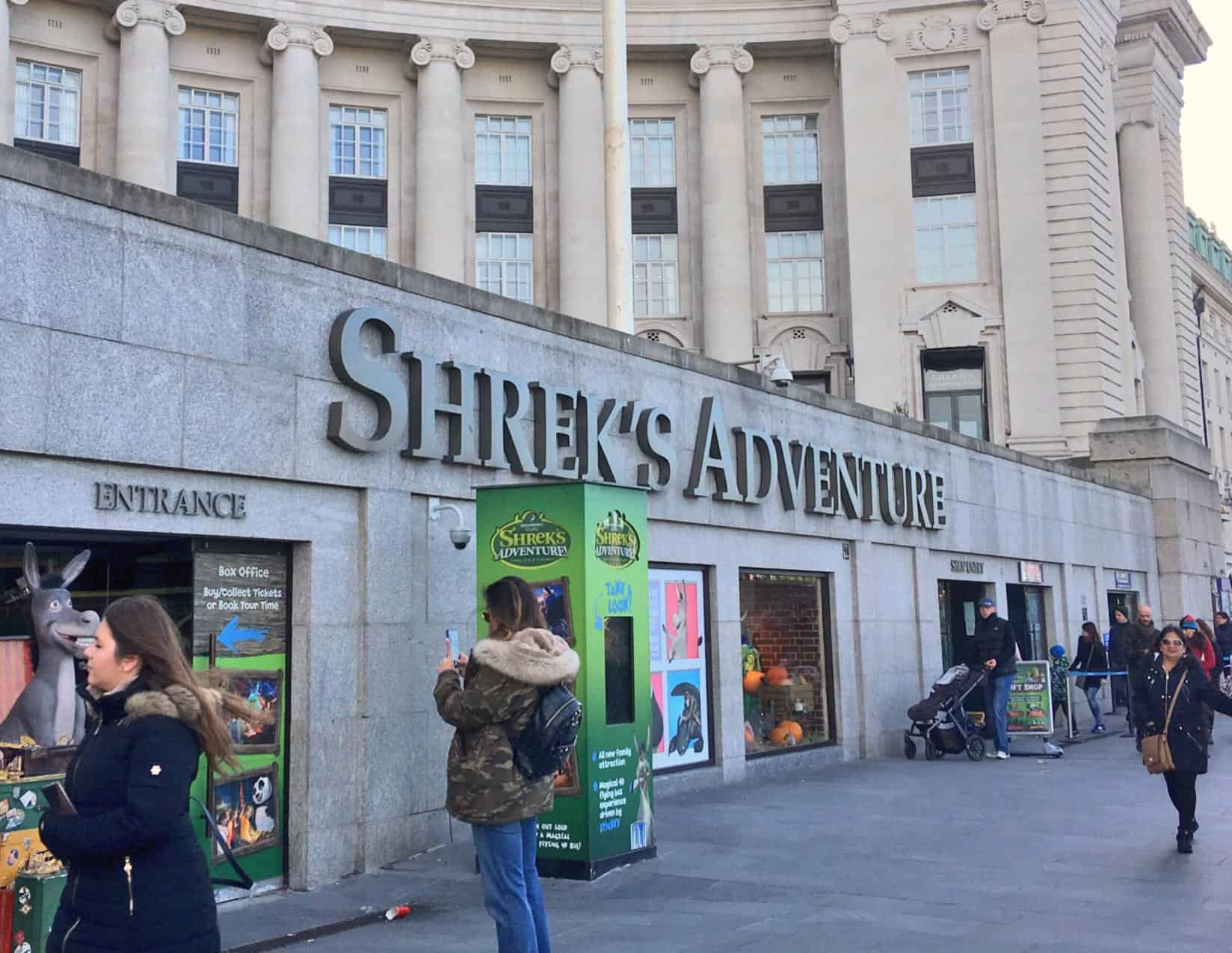 In October, National Rail announced its 'Fun-Tastic' offer which means that families can save a further £46 on days out in the capital.  We were able to visit Shrek's Adventure for just £39.99, but there's savings to be made on tickets for the London Eye, London Dungeon, Sea Life and Madame Tussauds.  Shrek's Adventure was the perfect choice for us as the girls are just 4 and 6 years old.  I'm a bit of a Shrek fan, and my sister has been known to enjoy a Dreamworks movie in her time.
There is nothing more London than a visit to the Thames and the Southbank area of London so I was really pleased to be starting our day here.  When the girls realised they were going to Shrek's Adventure, their excitement bubbled.  It was quite the journey in itself, starting with a little sing a long with Princess Fiona before taking to the magical flying 4D bus trip to the land of Far Far Away.  This was a real highlight for us all to be honest.  The quality of the visual experience was amazing and led to quite a thrilling ride with a bit of a sticky end.
We were then apart of the Shrek's Adventure story and met many magical characters including Cinderella and of course Donkey. It all made for quite a thrilling morning for us all, and it's something I would recommend visiting if you are going to London with young kids.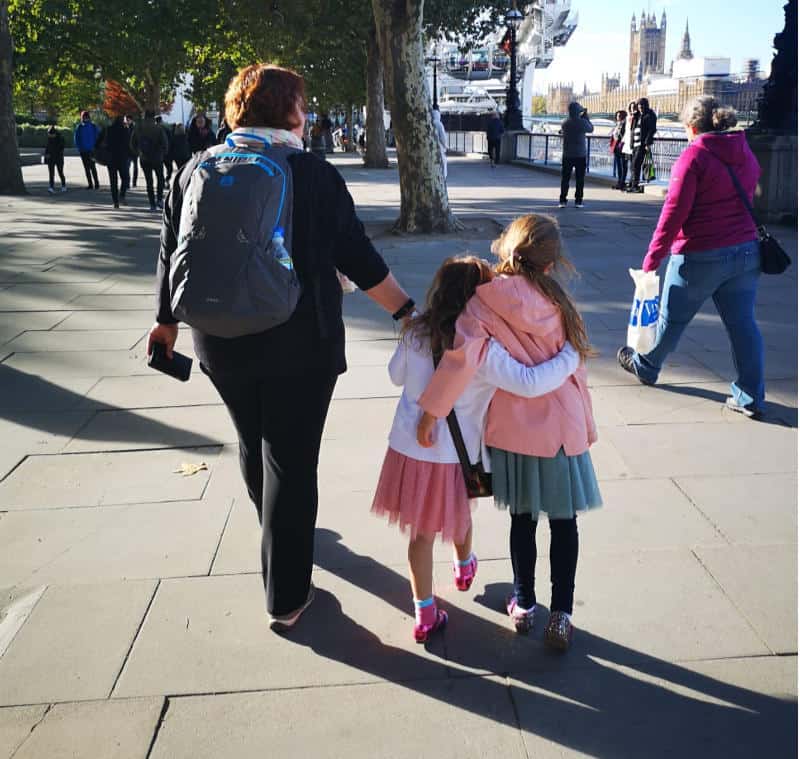 When we landed safely back in London after our Shrek's Adventures we decided to take a stroll along the River Thames.  There is always something to see here and the kids loved spotting street entertainers and skateboarders doing their tricks at the Undercroft.
We arrived at the Tate, which turned out to be the perfect place to spend the afternoon.  Indie and Brook both love being creative and that's exactly what the Tate is all about.  The orange wall really played with their senses as they explored the shapes they could make in the material and the feel of the different textures.
We wondered around the exhibits and enjoyed London's skyline from the 10th floor, before finishing off at the tablet bar.  The girls were able to make their own creations and have them featured on the wall above.  What a great achievement to be 6 years old and have your art displayed in the Tate Modern! I have to say that's pretty incredible by anybody's standards.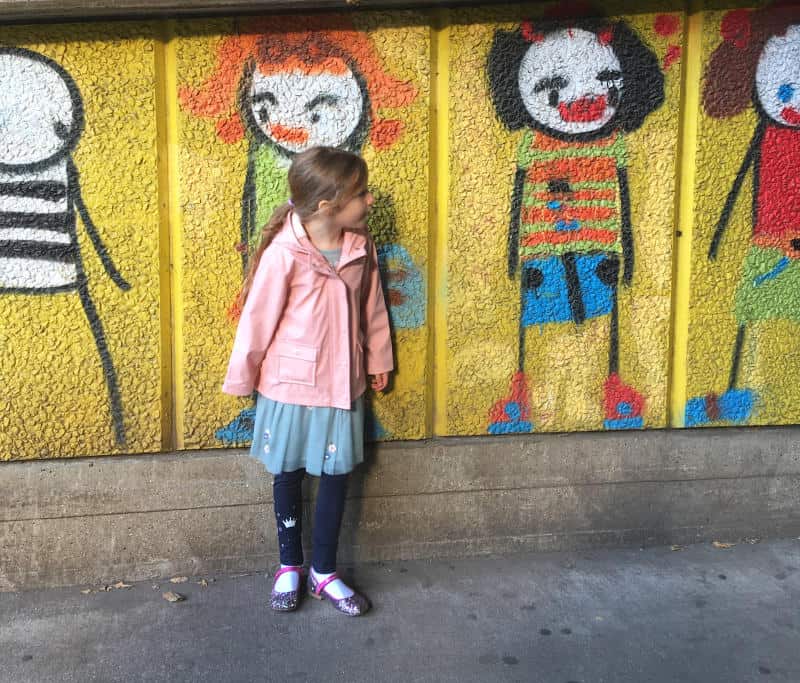 Before we left, we had one last play on the heat responsive floor in the Tate Modern before tearing the girls away to start making the journey back home to Nottingham.  It's safe to say we all had a lovely day out together and it was all made possible by the savings we made with Family & Friends Railcard and their Fun-Tastic Offers.  If you are planning a trip to London soon, it's well worth checking these both out before your visit.
We caught the train back to Nottingham, and made it home just in time for the girls bedtime.  They were definitely happy but tired, and going to bed that night was a little bit easier than normal.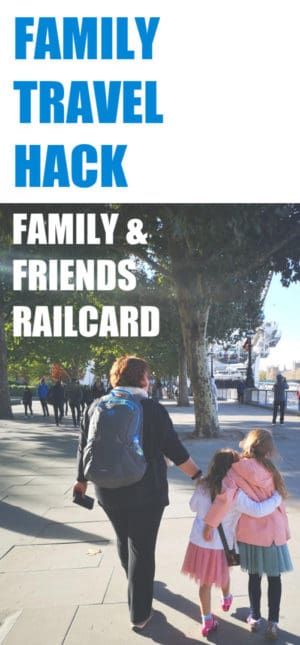 If you know someone who would enjoy reading this post, please do share it with your friends and followers.   More of a Pinterest fan? Make sure you are following us and pin this to your boards for later 🙂
We were provided with a Family & Friends Railcard, a Super Off-Peak Day Travelcard for 4, entrance to Shrek's Adventure and I've been compensated for my time to write this post, however all thoughts and opinions are our own and we would happily recommend the Family & Friends Railcard to readers of Zena's Suitcase.