9 Coastal decor ideas for your home is a paid feature with Wayfair
Coastal decor is the perfect choice if you want to create an airy and bright look in your home.  I've stayed in both coastal cottages and seaside inspired holiday accommodation now and I always find myself falling in love with the nautical features and dreamy beach decor.
If like me, you love being by the sea, but it's a few hours drive at least to the nearest coastal view, then a beach themed room is the perfect way recreate those holiday vibes at home.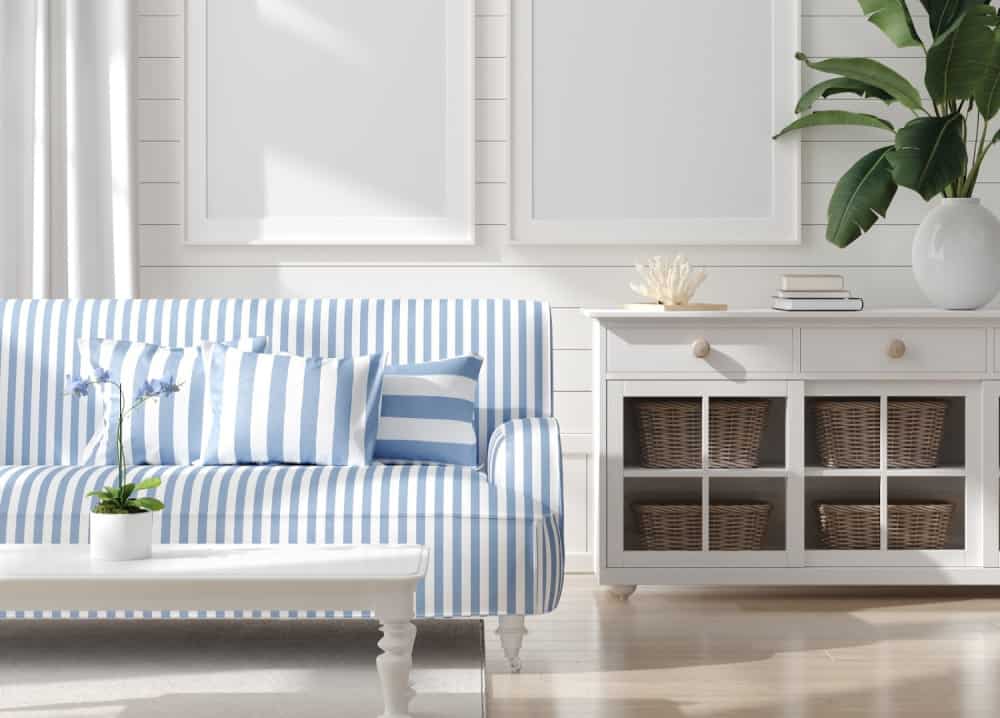 Coastal interiors bring a natural feeling of calm and relaxation to the home, which is the perfect contrast to our often busy and hectic lives.  If beach views and walking along the sea collecting driftwood and picking up seashells are your idea of getting away from it all, then these coastal decor ideas will turn your home into your perfect seaside inspired retreat.
Coastal Decor Ideas
The Porch
Regardless of how big or small your porch is, you can still use it to set the mood for the rest of your home.  A coat of crisp white paint can brighten up even the smallest space, while a few carefully placed wicker baskets are the perfect storage to use with the coastal theme.  A nautical outdoor light can really finish your coastal themed entrance and set the scene for your entire home.
Conservatory
A conservatory is often used as a place to relax and is the perfect place to create more coastal vibes in your home.  Wicker furniture is perfect for a natural look, and are easily bought to life with some colourful striped cushions and a sea inspired Weston Hand Tufted blue rug from Wayfair.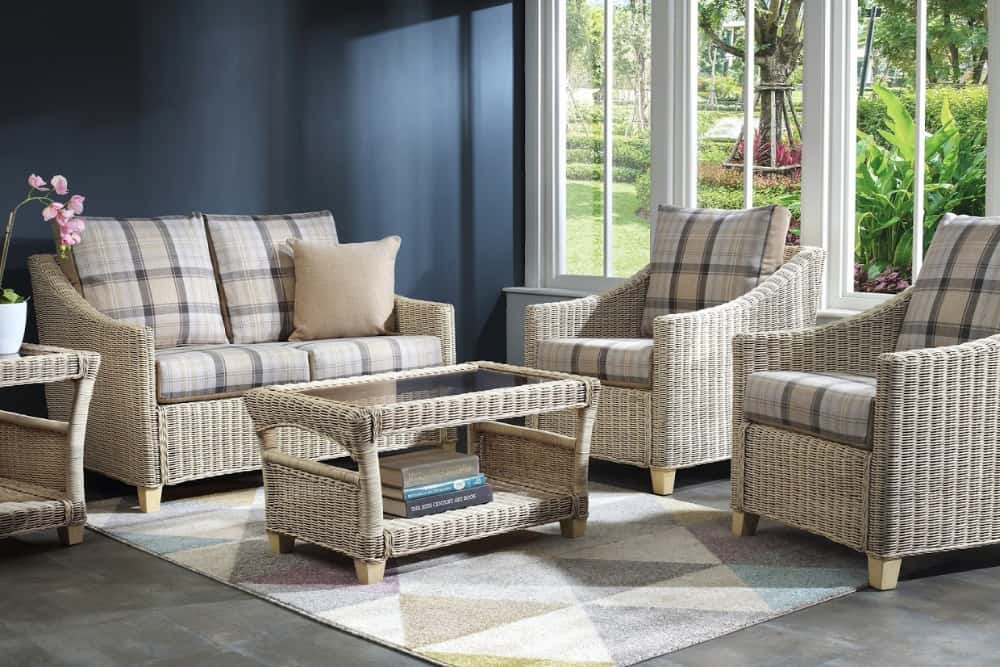 Nautical Inspired Bathroom
If you only want to add coastal decor to one room in your house, then the place to really make a statement in the bathroom.  A family bathroom, for example, can be a pretty busy place, but every now and again the opportunity may arise to enjoy a long relaxing bath and a spot of pampering.
With the coastal theme being all about peace, calm and tranquility you can create the perfect  relaxing bathroom for your home with these few simple tips.  If you are wondering how to decorate the your bathroom walls in the coastal style, then think wooden panels and pastel blues.  Dark wooden floors provide an excellent contrast to the natural hues and an elegant geometric brass lampshades can create the perfect nautical finish.
Coastal Inspired Bedroom
Nothing creates more happiness in a home than a bright airy bedroom.  It should be a haven for lazy Sunday mornings and the perfect place to enjoy your latest novel.  It's simple to create a coastal bedroom look, which means it's perfect for people are working to a tight budget.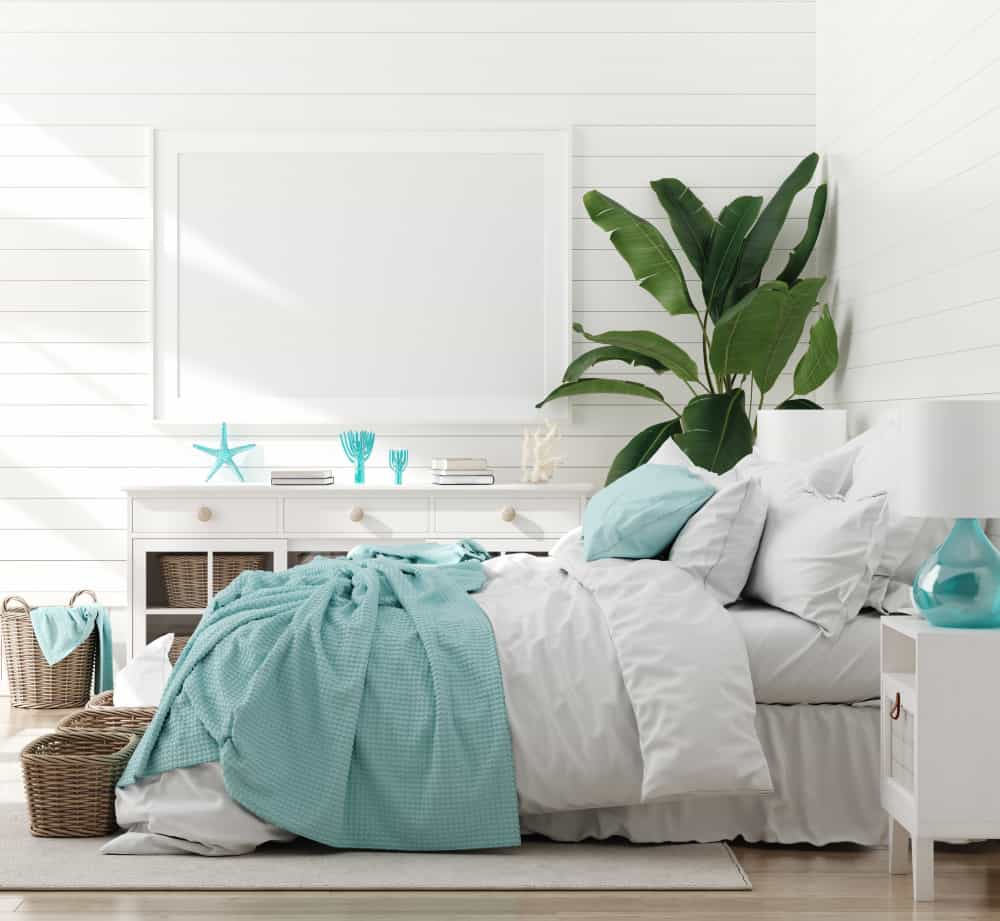 Bright white walls and a crisp white duvet set create the perfect base for your beach decor look.  Lift the look with a Mina Buffet lamp with a turquoise base from Wayfair or for a more modern style check out this Maryalice Table Lamp. It would make a fun addition to any bedside table.  A Condon throw is the perfect accessory to continue the sea coloured theme, and for storage, lined wicker baskets bring the whole look together beautifully.
Coastal Decor Accessories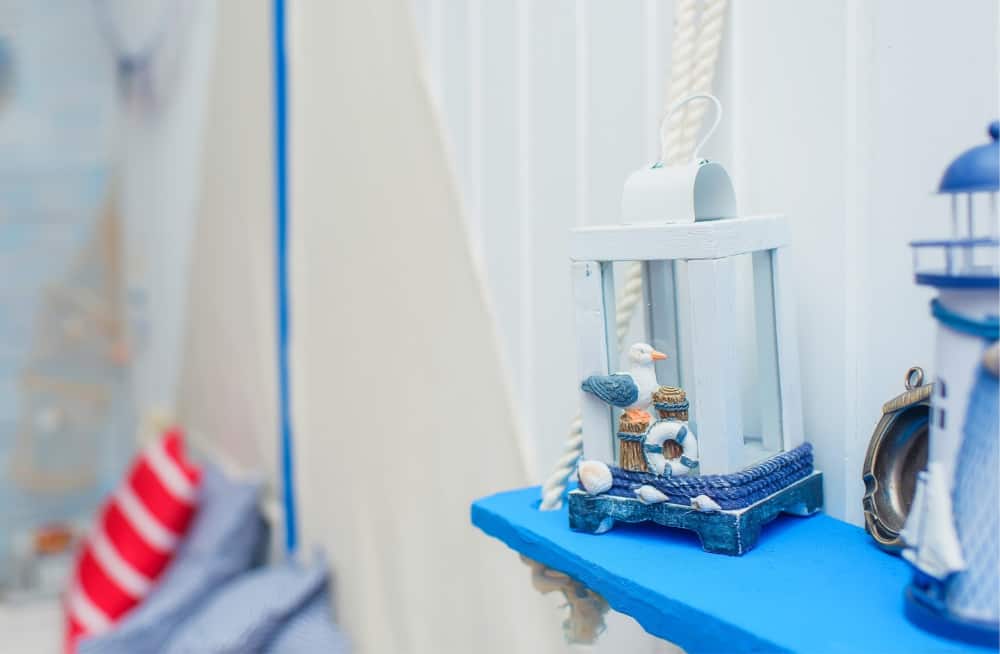 Once you have decided on your colour scheme, whether it's pastel blue tones, statement white or the on-trend grey palette, you can have so much fun creating your look with all the beach themed home accessories that are available at the minute.
We've already touched on a few ideas for your new coastal decor, but seeing as there is such a lot of scope we are going to look at some more ideas for your beach look home decor now.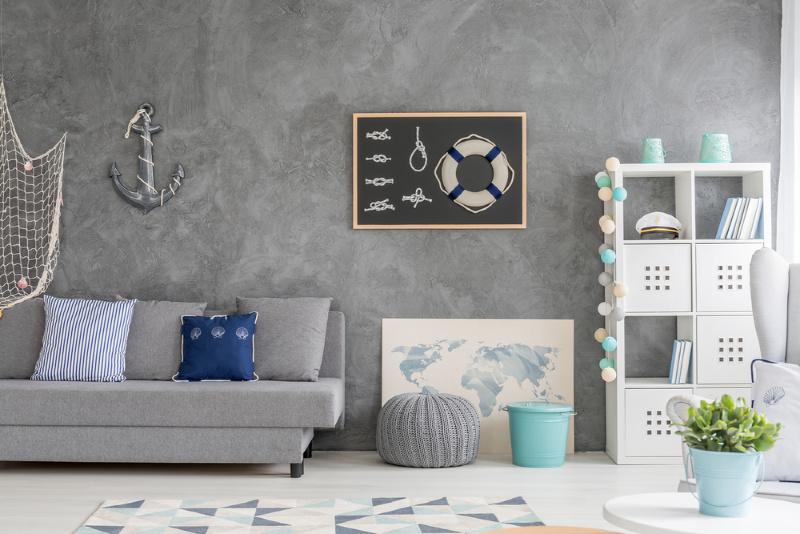 Coastal Decor Art and Photography
You can have a lot of fun decorating your walls, whether you turn your holiday photos into canvases or framed photographs or look for beach inspired prints.  Creating a wall just for your travel memories is a great way to add a personal touch to your home, and help everyone in the family can relive those happy holiday memories.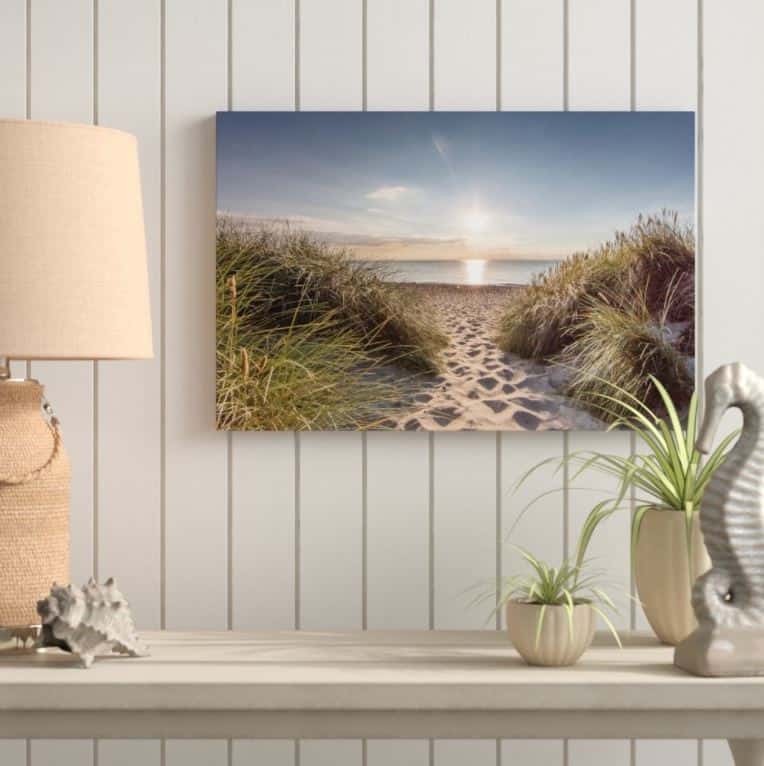 If you aren't quite ready to add your own photography to a wall in your home, then a beautiful beach print like this Path to the Sea wall art on canvas from Wayfair could be just what you are looking for. For those who enjoy the fun vintage look, I think you will love this postcard from Miami canvas.
Accessories from the Beach
Shelves are the perfect place to display beach inspired knick knacks and your beloved shell collection.  If you have children who enjoy bring pebbles home from the sea, then display them in a simple glass vase on the bathroom shelf.
Feature Walls
There is no reason why a sea view can't be apart of your coastal bedroom, regardless of how landlocked you are.  With plenty of feature wallpaper and wall murals available, you could be enjoying scenes like this one of the Amalfi coast without even stepping on a plane.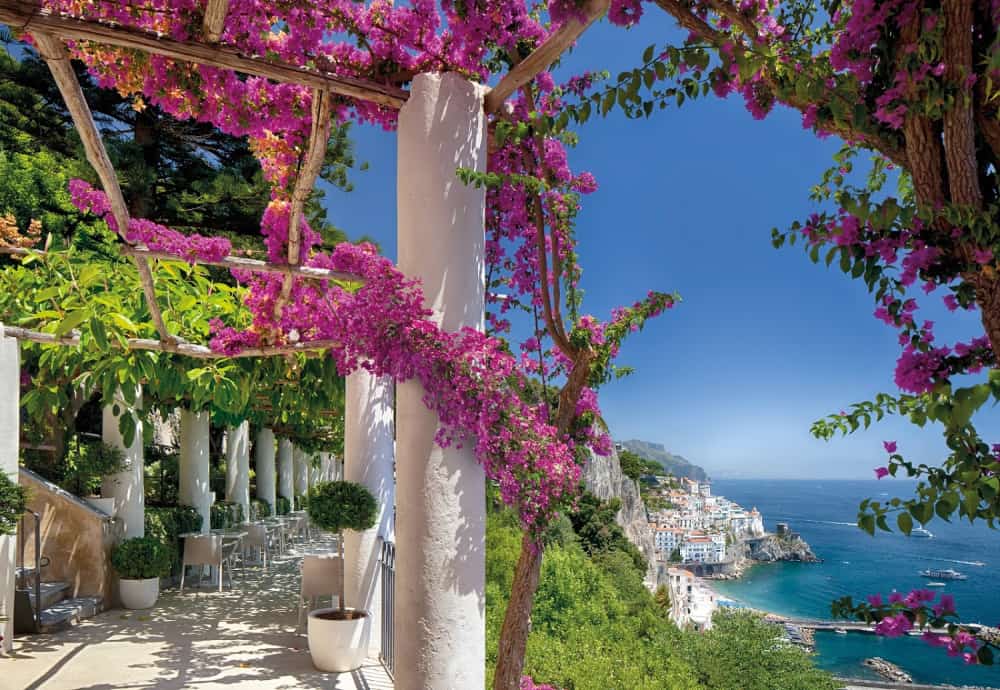 Upcycling Coastal Decor Ideas
There is also room for plenty of upcycling in your coastal decor project, by giving wooden chairs a new lease of life with a bright coat of paint or updating a tired chest of drawers.  you can keep things white or pastel or make a bolder statement with a mixture of reds, yellows and greens.  Beach huts provide excellent inspiration for a whole host of coastal furniture projects both inside the home and outdoors, so you can let your creativity run wild.
Have you got any plans to create a beach vibe in your home?  Let me know which of these coastal decor ideas you plan to use in your next project.
Pin these coastal home decor ideas for later