When you join Slimming World or start following the Food Optimising eating plan you soon realise that you need some 'go to recipes' to help you stay on track.  One of the danger points for any weight loss plan can be when you haven't got a lot of time and this beef & vegetable stir fry with hoisin sauce is one of my favourite quick slimming world recipes when that happens.
It can literally be ready to eat in around 15 minutes if you use all the cheats I'm going to show you.  It's really tasty and the hoisin sauce is completely free and can be used for other meals.  I use it to make Slimming World Hunters Chicken as well as this spicy stir fry dish and it works a treat.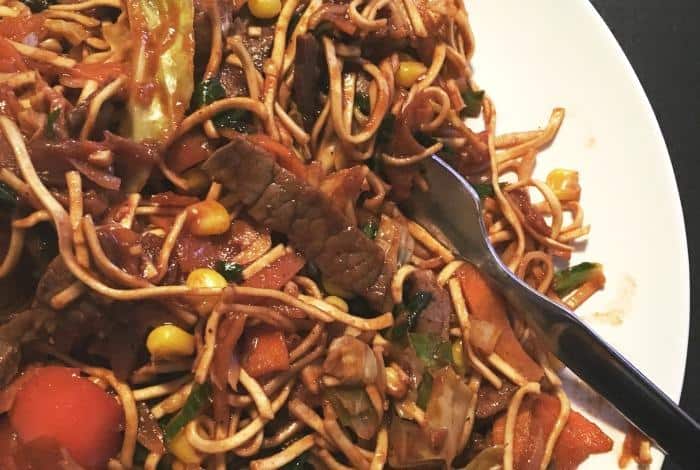 What's even better about this recipe is that I believe it is completely free on the Slimming World Extra Easy plan, but you might want to check that with your consultant just to make sure.
Ingredients
1 packet of cooked sliced beef per person
1 sheet of dried egg noodles per person
I packet of vegetables for stir fry
For Slimming World Hoisin Sauce for 2 people
100ml of light soy sauce
Dash of balsamic vinegar
6 tablespoons of tomato puree
1/4 teaspoon of black pepper
1 teaspoon of Chinese five spice
1/4 teaspoon of chilli powder
1 teaspoon of artificial sweetener
2 cloves of crushed/chopped garlic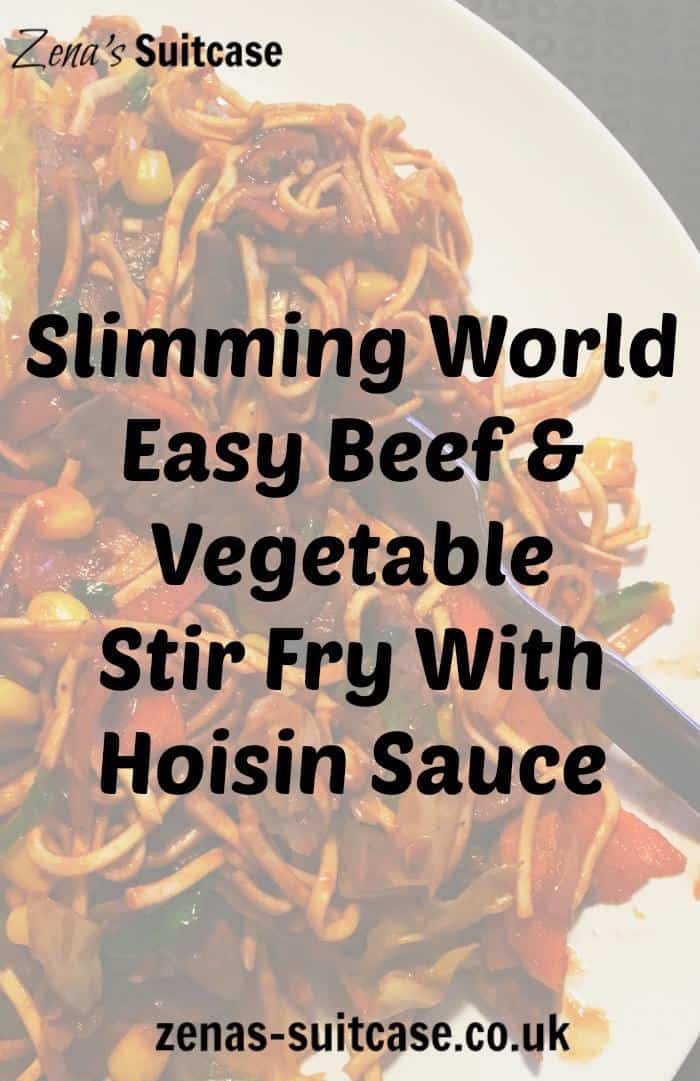 How To Make Slimming World Easy Beef & Vegetable Stir Fry With Hoisin Sauce
First of all, put the dried noodles into a bowl.  Break them up into pieces.  Pour boiling water over them until they are completely covered then cover the bowl and leave to stand.
In a small bowl, add all the ingredients for the Slimming World hoisin sauce and mix throughly.
Cut any visible fat of the sliced beef then cut into thin strips.  Heat a pan or wok and spray with Fry light.  Add the vegetables and strips of beef and cook for a few minutes.
Check if the noodles are soft, then strain off the water.  Add the noodles to the pan, followed by the hoisin sauce you prepared earlier.
Stir all the ingredients together until your meat, vegetables and noodles are completely covered in the sauce and serve immediately.
Do let me know if you try it!  You might also like my Slimming World Chocolate Mug Cake.  Have you seen it?