Staying at Hampton by Hilton at London Gatwick Airport is a great way to get your holiday off to a good start.  For me, a holiday begins the moment you leave the house so I like to make every aspect of the trip as enjoyable as possible.  I think this is so important when you have children too.  Arriving at you dream holiday destination fraught from travelling with kids is no way to kick things off is it?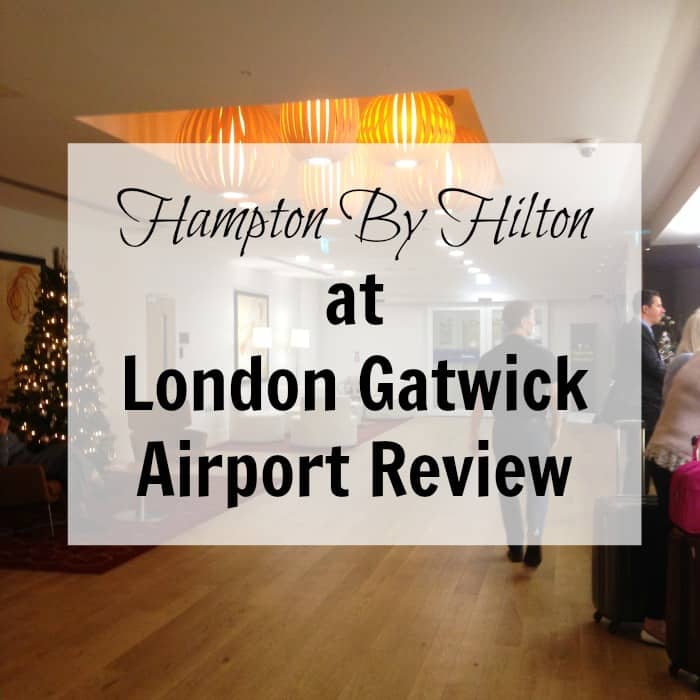 Hampton By Hilton Hotel
We were recently invited to stay at Hampton by Hilton at London Gatwick Airport, and I was keen to find out if this is somewhere that would make going on holiday a whole lot easier.  Myself and the girls went to test it out, to get a real family perspective on things.
After a long drive, we were all relieved to arrive at the hotel, and quickly got ourselves unloaded from the car to go and get ourselves settled in.  The first thing I noticed was the smoking shelter was nowhere near the from door to the hotel.  As a Mother, I hate it when people just stand outside the door and all the smoke just blows inside anyway.  Because the carpark is adjoined to the hotel by an enclosed footbridge, any one who wanted to smoke had to go a reasonable distance from the hotel entrance.
Hotel Welcome
As we walked into the hotel I noticed the lovely warm atmosphere.  Holiday makers and travellers were enjoying the hotel restaurant and bar, and the ambiance was pleasant and inviting.  We felt comfortable straight away.
Check in was very straight forward and the receptionist was very helpful and offered us help with our bags.  She explained where we could get breakfast and offered us any help if we needed it.  It was quite late so I was keen to get the children to bed without too much fuss, so we headed straight to our room.
Family Room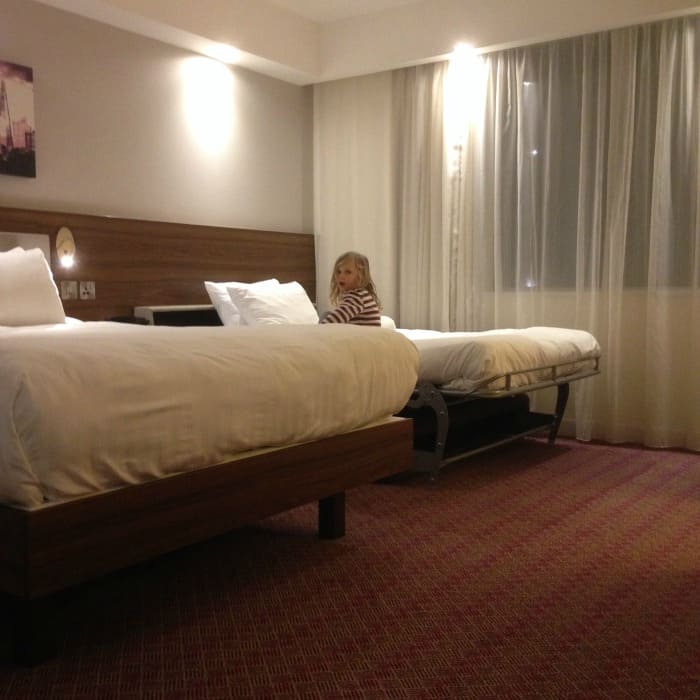 The first thing that hit us about the room was the size.  I believe we were staying in the largest family room the hotel had to offer.  It came with a double bed and a fold out double bed that had another life as a sofa when not in use.  These were both very comfortable.  I can say that with certainty as I ended up sleeping on both of them at points during the night.  The joys of travelling with small children, hey?
The size of the room was a big hit with the girls, especially at 5am when the toddler woke up and decided she wanted to run up and down it.  She did this for about half an hour before I finally persuaded her sleep was a better option.  Little monkey!
We all got ready for bed, and cosied up to watch 'I'm A Celebrity Get Me Out Of Here', in an attempt to wind down and get some sleep.  The TV was situated at the end of the bed, so we were able to snuggle down for the night comfortably.  Well as comfortably as you can  when there's 1 adult and 2 wiggly children in the bed.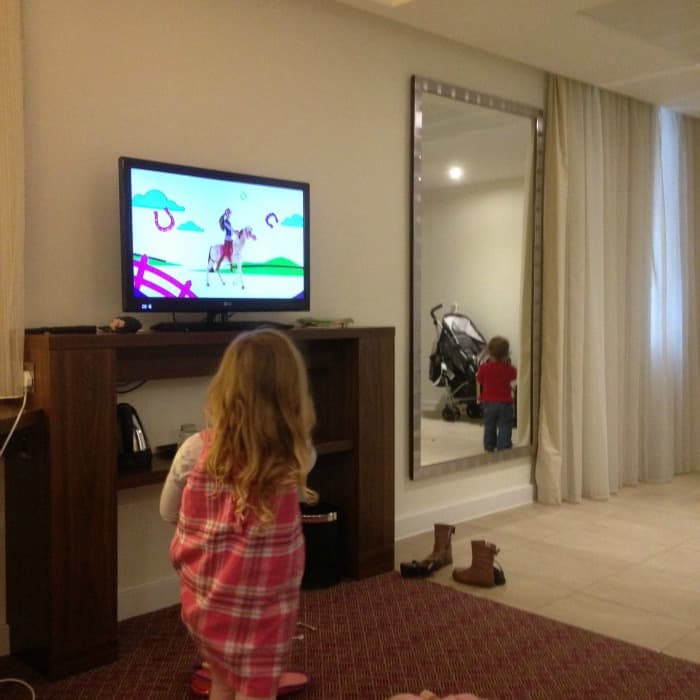 The room was spotlessly clean and well presented with desk, TV, plenty of wardrobe space and a lovely shower room.  My only slight niggle was having the tea and coffee facilities at toddler height on a shelf under the TV.  My 18 month old found this a great source of entertainment and teabags and milk cartons soon became the latest toy.  Guess who didn't get a hot drink as a result.  I personally would have preferred a bath to use also, but that is because I have small children.  The walk in shower was excellent, but I couldn't convince the girls to use it.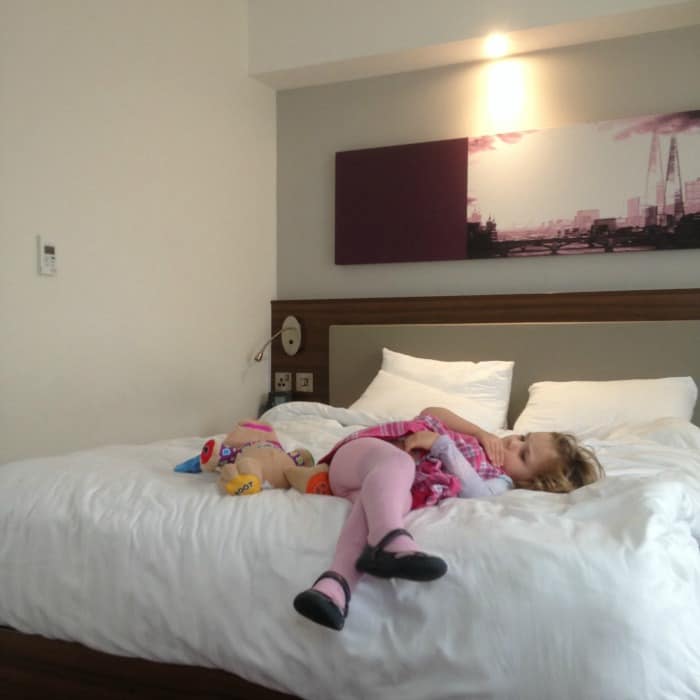 Hampton By Hilton Breakfast
After a comfortable, yet slightly broken sleep due to the toddler sprinting that took place at 5am, we headed down to breakfast together.  I think this is where staying in a hotel before your holiday can really come into it's own.  It's the perfect chance to fill the kids up and make a mess on someone else's watch.  I apologise to the waitress for the scene of devastation the girls left in their wake, but it was a sign that they loved what they were eating.
There was a cooked breakfast with all the usual ingredients to make a full english .  This was excellent quality and enjoyed by all of us.
The buffet really appealed to the girls as they love going and helping themselves to things.  I was up and down to the yoghurt fridge more times than I care to mention.  I got chatting to a family who had stayed at the hotel to see of their daughter off who was going to work in France for 6 months.  They were lovely and helped me out with the girls so I could eat and at least drink some coffee before it got cold.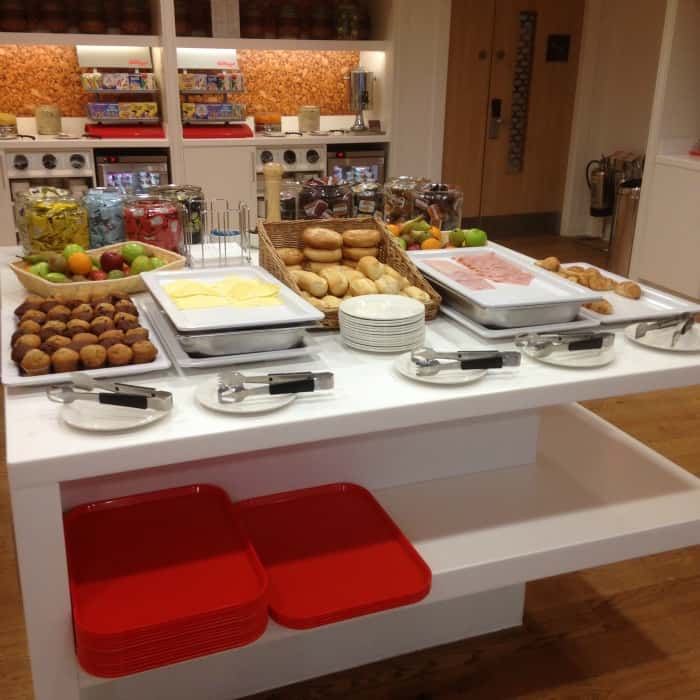 Once we had refuelled, it was time to gather our things and check out of the hotel.  This visit we were travelling on to somewhere very exciting indeed.  We were headed to LaplandUK to visit Santa and help the elves get ready for Christmas.  I was really glad of the over night stay at Hilton By Hampton with the girls, as going on this particular adventure required us to be well rested and relaxed for the day ahead.  It would have also been the perfect stay for going on holiday to the real Lapland or in search of some winter sun.
Park & Fly At Hampton By Hilton
The hotel is connected to the North Terminal of London Gatwick Airport via footbridge, making it a really convenient place to stay before going on holiday.  You can also park your car in the secure carpark which we used during our stay.  Meet and greet packages are also available from the hotel to make going home just as convenient too.
If you are interested in booking a stay at Hampton By Hilton at London Gatwick Airport, prices start from £89 per night.  They have offers and discounts for booking in advance online and there is also a loyalty scheme which offers 20% discount.
We enjoyed our stay at Hampton By Hilton, and would have no problem recommending it to families or other travellers visiting the area or planning a holiday from London Gatwick Airport.
We we provided with a complimentary stay at Hampton By Hilton at London Gatwick Airport in return for this review but all thoughts and opinions are our own.