Kiddyum got in touch a few weeks ago to see if we would be interested in testing their frozen meal range for children.  As a busy parent I do use ready prepared meals from time to time.  Sometimes the day doesn't quite go to plan, or the grown ups are going to be eating separately, so I like to have a go to kids meal that my children will love.  With that in mind, we were definitely up for testing Kiddyum meals out at home, and here's how we got on.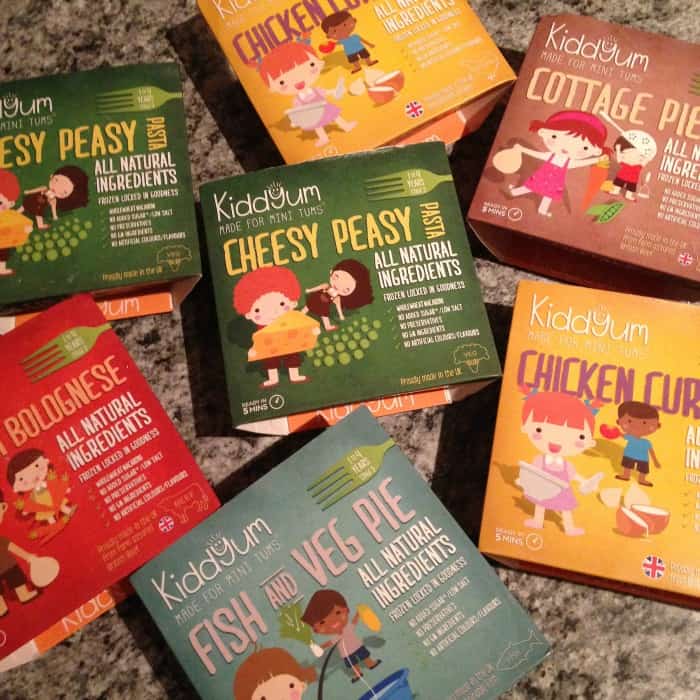 What's In Kiddyum Meals?
Kiddyum children's ready meals are the first to tell you that they have no added sugar, low salt, no preservatives, no GM ingredients and no artificial colours or preservatives.  That's a really good start, but I always find what is more interesting is what it does have in them.
When I read a list of ingredients on a children's ready meal I want to recognise everything that has been added.  If I can't say all the ingredients, then I won't be giving it to my kids. When I turned over the Kiddyum box, the list of ingredients were perfect.  I was happy I knew what all the ingredients were and knew I'd be happy feeding them to my children.
The Cheesy Peasy Pasta for example is packed with milk, cheese, wholewheat pasta and of course peas.  There are a few other flavours in there too to make the meal interesting.  It sounded pretty easy to be honest.
Do We Like Kiddyum Meals?
The girls have been tucking into the meals over the last week.  Our toddler, who loves her food, seems to enjoy them the most.  When you put one in front of her, she tucks in straight away.  Our threenager has been a little harder to please, but then she is a bit like that generally.  She ate the cheesy peasy pasta when I agreed to feed it to her, but her favourite seems to be the Macaroni Bolognese.
Overall Kiddyum meals have been a big hit with the kids and me too.  I love that they are frozen and you can just keep a few in the freezer when you are 'having one of those days'.  The packaging is mostly recyclable, apart from the film lid and they are ready in 5 minutes or so when cooked in the microwave.  So for speed, convenience, and tastiness I'd be quite happy to recommend this product to other busy Mum's to try.
We were provided with a voucher to sample Kiddyum Meals for the purpose of this review, but all thoughts and opinions are our own.  Kiddyum Children's Ready Meals are available from Sainsbury's priced £2.20 each.