After arriving in London for the weekend, we headed straight towards the Tower of London on the underground.  It was a great place to start our weekend itinerary and it was actually a first for the whole family.  As we came out of Tower Hill Tube Station we were greeted with a view of the historic Royal building and it really made us feel excited about what was in store.  We arrived at lunch time, so we had to stop to feed the kids first.  There are plenty of restaurants near to the Tower of London, and we decided to visit Wagamama's as the food is great and it always comes out quickly.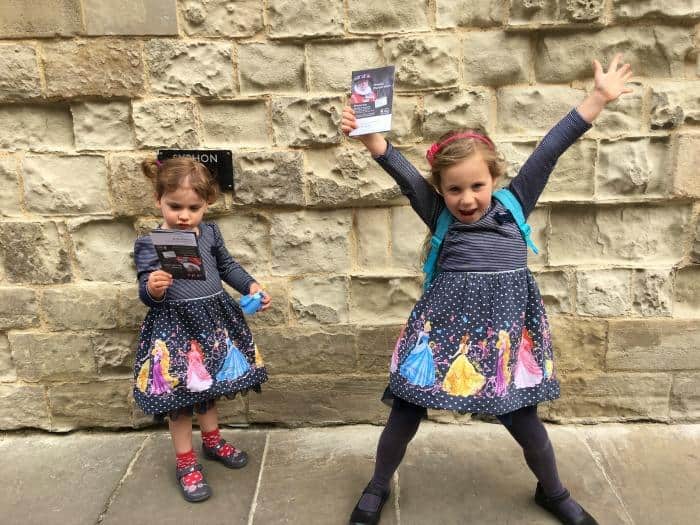 Once we had refuelled we joined the queues at the entrance to the Tower of London to start our visit.  We were only waiting a few minutes before we were inside the walls, which was perfect for the girls who couldn't wait to get started.  Because of the contained nature of the Tower of London it was pretty easy to negotiate with our two young ladies in tow.  It was nice for them to enjoy a little freedom without worrying about the busy London traffic or keeping back from the train lines.
Our first stop was the Royal Mint at The Tower exhibition.  We really enjoyed this as it was very hands on and the children learnt a few things about how gold coins were made many hundred's of years ago.  There were puzzles for them to do on interactive screens and they even had a go at reenacting pressing their very own coins.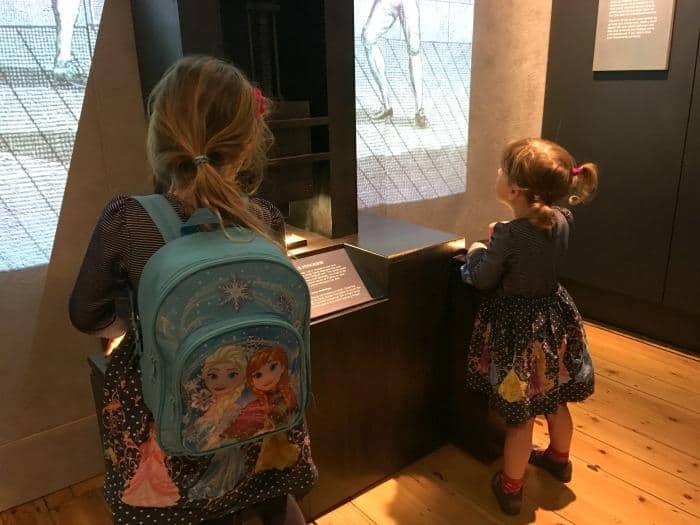 When we left the Royal Mint we headed towards Traitors Gate just as one of the Yeoman Warder guided walking tours were beginning.  We were lucky enough to get to the front and the guide was really engaging. He was full of facts and had a great sense of humour, unless you happened to be an American republican then you might have had a different take on his Donald Trump jokes.
We broke away from the tour group as the girls like to set their own agenda on trips like this.  We headed towards the Crown Jewels exhibit, but soon realised that everyone else had too.  The queues were long, and with all the will in the world, our two young ladies would not stand still for all that time.  We decided to look around some more and went to the Royal Fusilier Museum.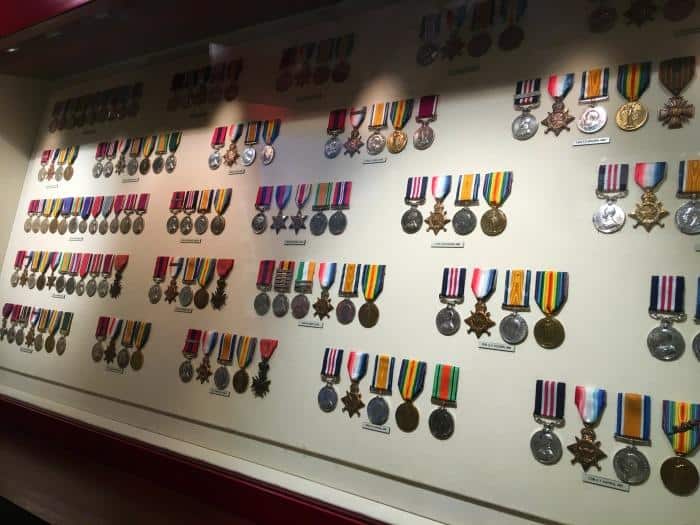 The staff were all incredibly friendly and often would strike up conversation with us as we made our way around the attraction.  One guide asked us if we had already spent the Crown Jewels, and we told him that the queues were just too much for our children.  He said that at around 4.30 they start to dwindle so that might be a good time for us to go.  It was a useful tip as the queues did look more manageable later in the day.
The Royal Fusilier Museum was packed full of medals and the girls were really interested in seeing these and finding out more about what they meant.  It was a great talking point sharing why people had been given medals.  We stayed away from talking about war itself, but thought more about recognising bravery.  They were very curious as well about the different uniforms, and were interested in why some were more flamboyant than some of the more practical soldiers outfits.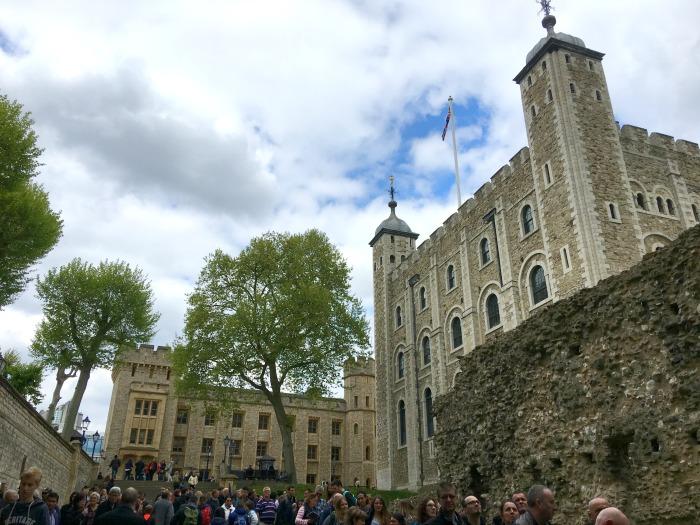 Next stop was the new Armouries cafe for a bite to eat and a coffee.  The children's lunch boxes were really good, and cost £5.50 for a sandwich, drink and another 3 items including things like grapes, cherry tomatoes and cucumbers.  The adult options weren't quite as good value, but we did enjoy a coffee and a chance to sit down with the girls.
There were activities going on during our visit, and the Tower of London put on a range of themed events throughout the year.  We headed to the White Tower to see the Royal Armouries collection and we were all really impressed with the display of armour for both soldiers and horses.  I can't imagine what it must have been like wearing some of those things, as they looked incredibly heavy and very uncomfortable.  I guess in those days it was a question of needs must.  There are quite a few steps up to the White Tower, but the girls managed OK both going up and coming down.  They especially loved seeing the dragon during their visit as well.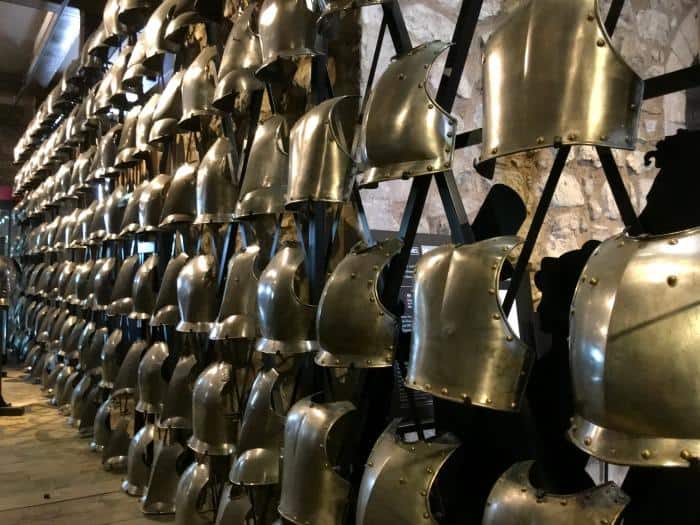 We spent nearly 3 hours in the Tower of London, and we really enjoyed our time there.  The queues to the Crown Jewels had gone down considerably when we came out of the White Tower, but our two young ladies were getting a bit to tired so we decided we needed to head to our hotel and start thinking about bed time.
There are great transport links to Tower Hill as there is Tower Hill Tube Station, Tower Hill DLR and Tower Quay where you can catch the MBNA Thames Clipper all just a stones throw away from the Tower of London.  We took the MBNA Thames Clipper to Canary Wharf and were really impressed with how fast it was and found that it was a lot of fun too.  If you are travelling around London and plan on spending some time at Tower Hill I would recommend using the MBNA Thames Clipper to get there.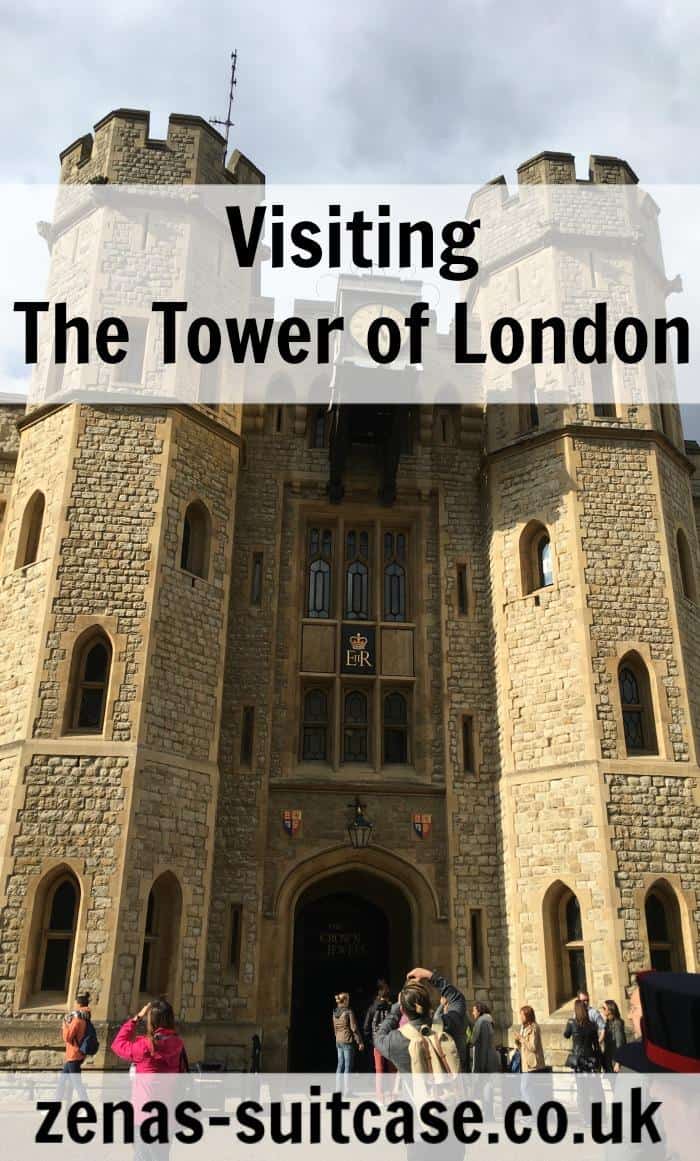 We were disappointed that we didn't get to see the Crown Jewels, as it was something we had been really looking forward too.  When you have young children though, it's about being realistic and enjoying what you can do together instead of regretting what isn't so achievable.  If I was to make any suggestions to the Tower of London it would be to consider offering timed slots to help manage the queues.  I think this could make it more accessible to families or anyone that struggles with long queues.  Apart from this, we really enjoyed our experience and would definitely go back to explore some more and perhaps we will get to see the Crown Jewels exhibition next time.
We were given complimentary tickets to the Tower of London in exchange for this review, but all thoughts and opinions are our own.