We wondered whether we were being led down a rabbit hole when google maps pointed us in the direction of a rather unassuming street in Mayfair in search of Mr Fogg's Residence.  This was to be the last stop for our theatre weekend in London and we certainly wanted to end on a high note.
We waited patiently with the other guests outside Mr Fogg's Residence for the clock to strike 3.01pm.  There was definitely a buzz in the air, as we all waited eagerly to find out what was inside.  Tipsy Tea is Mr Fogg's equivalent to afternoon tea, so if you are looking for a quirky alternative to this quaint British traditional pastime, I think you will very much enjoy Mr Fogg's version.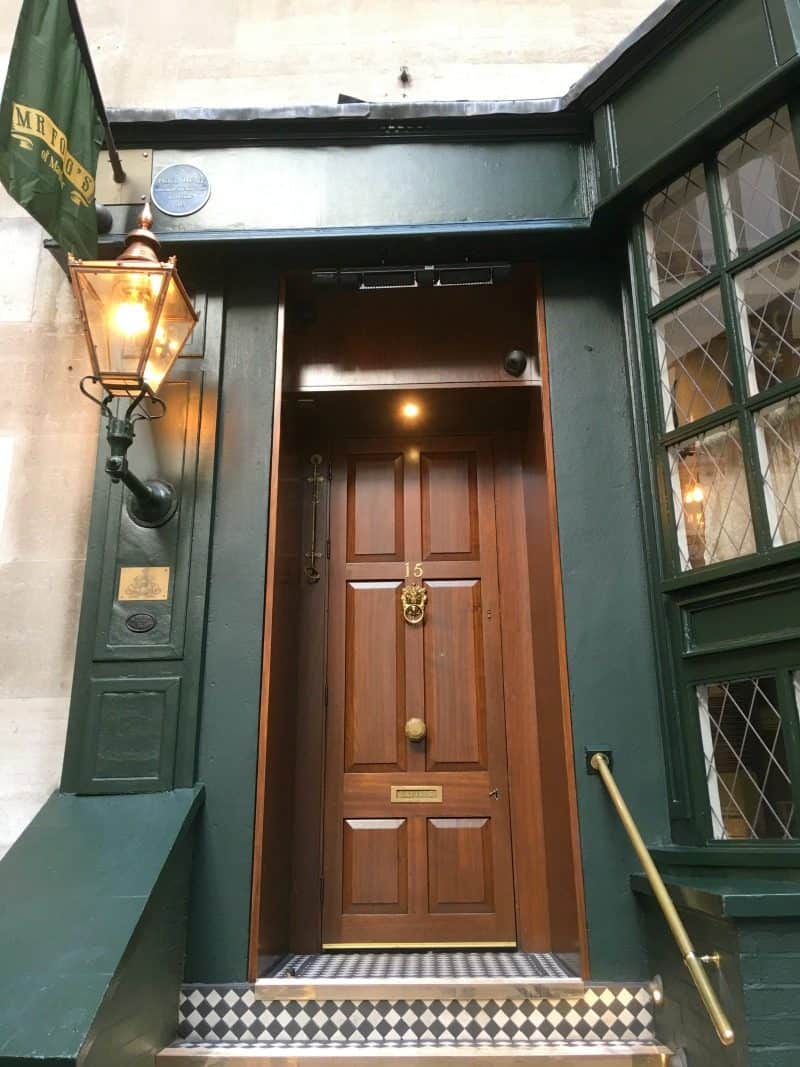 80 Days Around The World
If you are a fan of the Jules Verne classic novel then a visit to Mr Fogg's is going to be literally perfect for you, but don't worry if you aren't, as I still think you will love the Tipsy Tea.
It would definitely help if you were familiar with the story of 80 Days Around The World, just to get a little context, so I'm going to give you a very brief summary of the story before we continue.
80 Days Around The World is about a rich British gentleman, Phileas Fogg and his newly appointed French valet Passepartout.  His social life was largely based around The Reform Club, and one day he entered into a debate with his friends about an article that appeared in The Daily Telegraph.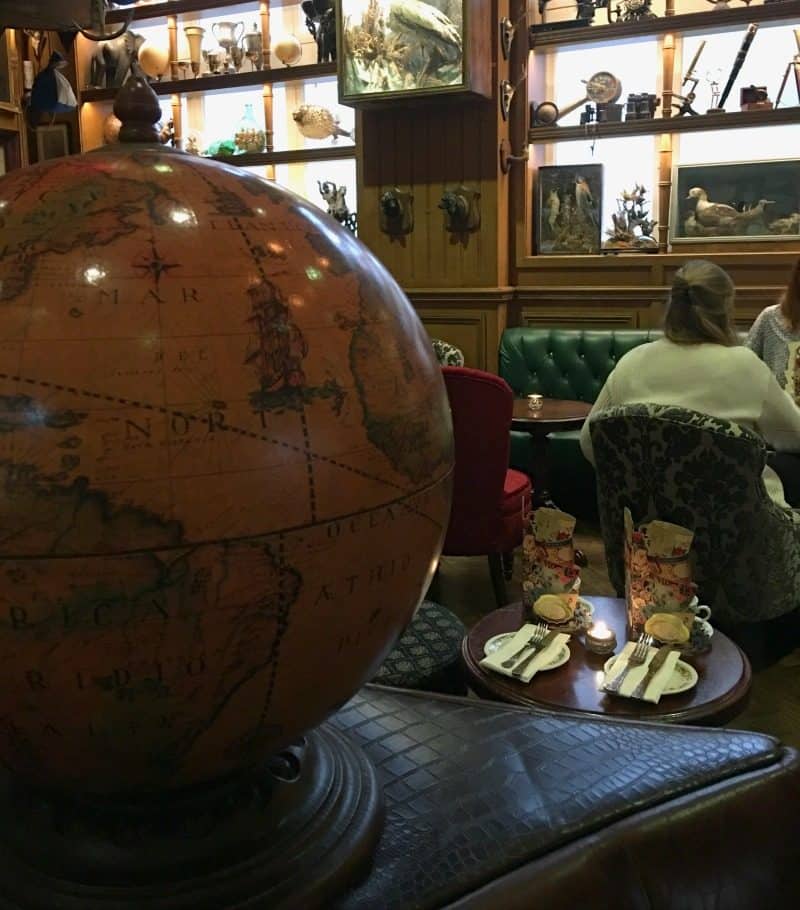 It claimed that, given the opening of a new railway section in India, that it was now possible to travel around the world in 80 days.  Mr Fogg believed it was possible and entered into a £20,000 wager to prove his friends wrong.
The story follows Phileas Fogg and Passepartout around the world on their adventure, which is typically fraught with challenges including being mistaken for a bank robber and rescuing a young Indian girl about to be burnt alive with her dead husband.  With lots of mishaps along the way, will Mr Fogg be able to return to The Reform Club 80 days after the wager was set?  I won't ruin the plot for you just incase you want to read the book before your visit.
Mr Fogg's Residence
When the door opened to Mr Fogg's residence, a gentleman appeared who I imagined to be the french valet, Passepartout.  He greeted each party of guests individually and led them inside the regal looking green door.  I was already loving the sense of ceremony about this curious place we had found in Mayfair.
As we stepped inside, it was like being taken back to Mr Fogg's adventuring days, possibly his drawing room, where he displayed his many artefacts including crocodile skins and safari hats.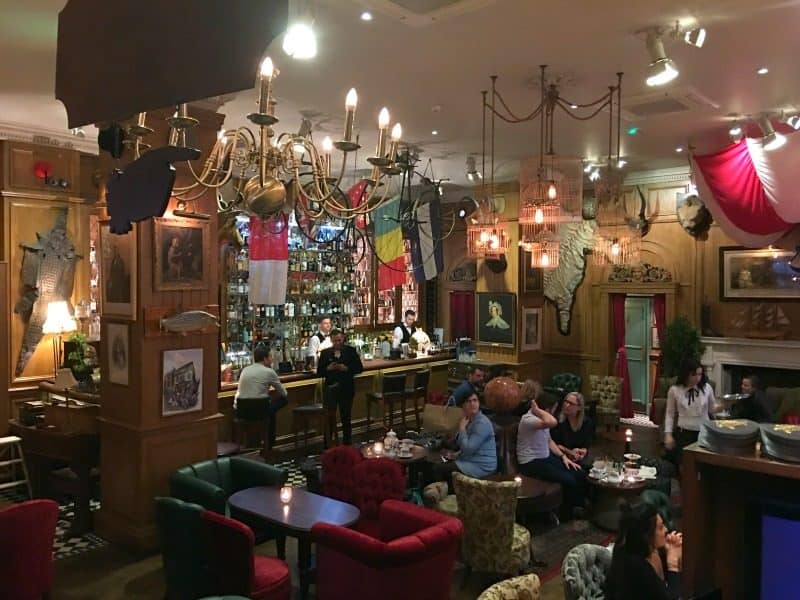 There was so much to see, I didn't know where to look first.  As we sat down, I desperately tried to scour every inch of this quirky London bar, spotting half penny bikes suspended from the ceiling, appropriately placed antique globes and other such interesting curiosities.
Tipsy Tea
Once we had become accustomed to our new surroundings, we enjoyed our welcome cocktails and chose a tipsy tea to accompany our afternoon buffet.  I feel I need to mention that Mr Fogg's Tipsy Tea has very little to do with the famous hot beverage, apart from that its served in a teapot.  There's a choice of spirited teas or champagne teas (aka cocktails), and I can wholeheartedly recommend The Drunken Duchess if you're feeling spoilt for choice.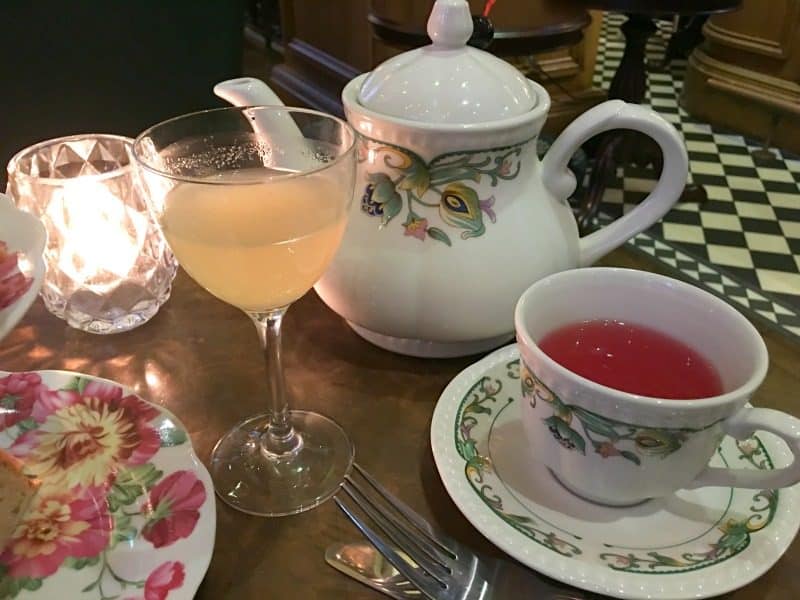 Our afternoon tea arrived shortly afterwards, with an excellent selection of sandwiches, tarts and cakes. It ticked all the right boxes, especially in the cake department, and is most certainly something I would be happy to eat again when visiting London.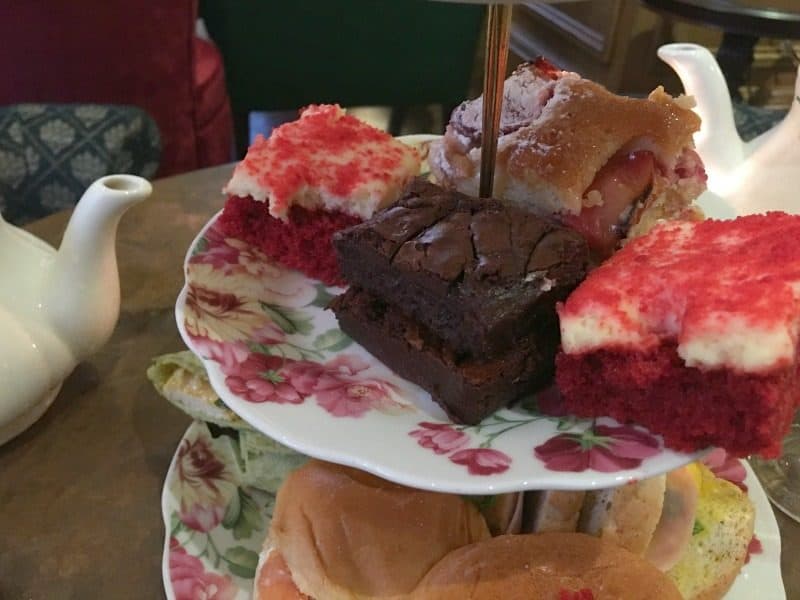 Whilst we enjoyed our salmon and cream cheese sandwiches, we were treated to some wonderful entertainment at Mr Fogg's Residence.  Oliver Wennink was the live pianist for the afternoon and played a selection of Beatles and Oasis hits to name but a few.
He also treated a very special guest to a personal rendition of Happy Birthday, which was a lovely touch.  He had a voice very similar to John Lennon, so I'm sure you can imagine it was perfectly placed is these particularly unique surroundings.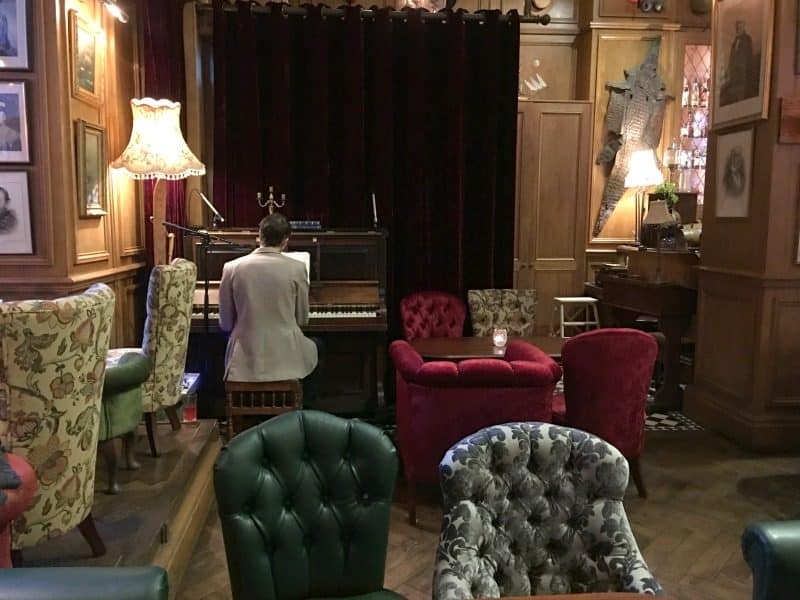 If that wasn't enough, Brendan Rodriguez was on hand to attend our table to share with us some rather stunning close up magic.  He was an exceptional illusionist and it was such an intimate experience being able to enjoy it just inches away from our seats.
Final Thoughts on Mr Fogg's
Even the restrooms are on point at Mr Fogg's, with an audio book of 80 Days Around The World being played into the ladies and I'm going to assume it's the same for the gents too.  Even the wallpaper in the toilets was well executed with a pattern of exotic birds and animals from the jungle being featured on the walls.
Going to Mr Fogg's for Tipsy Tea is an expereince from the moment you step inside to the moment you leave.  The food and service are excellent and the entertainment adds so much to the event.  I would be more than happy to recommend visiting here to friends, family or readers of my blog.
Useful Information
Mr Fogg's Residence
15 Bruton Lane, Mayfair
London, W1J 6JD
5 minutes walk from Green Park station, and 10 minutes from Oxford Circus station.
Pin for later

Know someone who would enjoy this post?  Please do share it with your friends and followers, as it would literally make my day.  
For the latest blog posts, offers and giveaways don't forget to subscribe to Zena's Suitcase.  You can also follow the latest updates on Twitter, Facebook, Instagram and Pinterest.
We were provided with Tipsy Tea at Mr Fogg's Residence, Mayfair London in exchange for this post but all thoughts and opinions are our own.