When the Baby born City Remote Control Scooter arrived in our house I knew the kids would be really excited to play with it.  They have consistently loved playing with Baby born dolls over the years, and you might remember our BABY born Interactive Girl Doll Review or My Little Baby born Bathing Fun Doll Review for example.
We were also super excited to welcome the Baby born Baby Brother to our toy collection at the same time, and I've been surprised with just how much the girls have taken to playing with him.
The girls could not wait to get the Baby born Scooter out of the box so they could start playing.  Our big tip for this remote control scooter is to have the sets of batteries you need ready to go. If you don't do this, you could be faced with at least one frustrated child on your hands who can't wait for you to get the batteries in quick enough.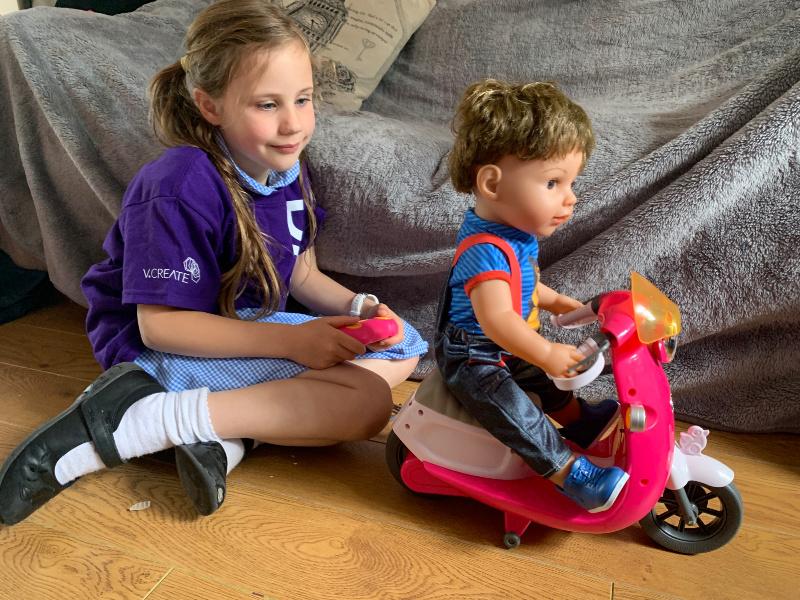 Fortunately the Baby born RC Scooter comes with stickers so your child can be busy customising their new toy while you get the batteries into place.  The first thing we noticed about the Baby born City Scooter was how sturdy it is.  I can honestly testify to this as both my 4 year old and 7 year old daughters sat on it.  I would recommend you carry out this test yourselves, but it took their weight so that should tell you something!
The wheels are really sturdy and give great control when the remote control scooter is in motion.  The remote control is also really easy for kids to use and they can navigate it easily.  The toy scooter looks really life like too, with all the features you would expect from a real scooter.  The kids loved all the details including the headlights, visor, handlebars and scooter rack.
The Baby born City RC Scooter is compatible with the Baby born Soft Touch, Baby born Sister and Baby born Brother dolls, so if you have any of these the Baby born Scooter will make the perfect accessory.  The Baby born Brother sits perfectly on the RC Scooter and throughly enjoys going for a ride.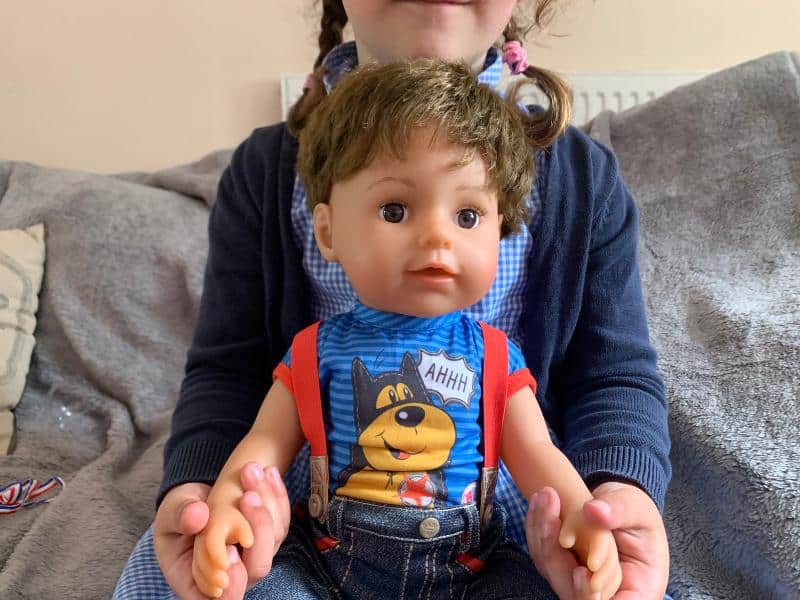 The Baby born Brother is also packed with life like details that make him the perfect doll to buy from the range.  The kids both loved his cute hair and his fun t-shirt and dungarees are both adorable.  We all fell in love with his winged blue boots and of course the doll also comes with a bottle and hair brush to help with playing with him.
As well as all these adorable lovely Baby born accessories, there was also 2 adorable charm bracelets, one for Baby born Brother and one for who ever was lucky enough to play with him.  We may have had to enter into some negotiations between the girls at this point!
The combination of the Baby born City RC Scooter and Baby born Brother where the perfect toys to provide endless fun for the girls.  If you would love to add the Baby born Scooter to your child's toy collection it is available at all good toy stores with an RRP of £42.99.
Baby born Fashion Bundle Giveaway
I know that lots of my readers and followers have children who love playing with Baby born dolls, so I'm super pleased to announce that today I have a Baby born fashion bundle to giveaway to one lucky Zena's Suitcase reader.  Your child's Baby born doll could look like the coolest kid on the block with these fab new clothes for example!

To enter, all you need to do is complete the rafflecopter below to be in with a chance of winning.  Please note that the clothes could differ slightly from those featured here.  Competition ends 19 June 2019.  Other T & C's apply.