We are all aware of the importance of having smoke detectors in our home and testing them regularly, but do you have a carbon monoxide detector installed to help keep your family safe?
Statics released from the NHS show carbon monoxide poisoning is still a serious problem in the UK.  Over 200 people are admitted to hospital every year with suspected carbon monoxide poisoning and around 40 people die.  The majority of these cases could be avoided by being vigilant in the home and using a detector.
At CORGI, home safety comes first and here's what they recommend you look out for around the home.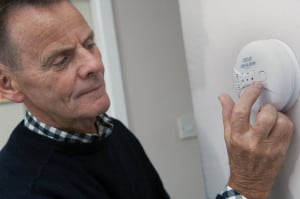 The flame on your cooker should be crisp and blue. Yellow or orange flames mean you need to get your cooker checked
Dark staining around or on appliances
Sooty marks on the walls around boilers, stoves or the cover of gas fires
Pilot lights that frequently go out
Increased condensation inside windows
They also warn about suffering from any of the following symptoms and the importance of seeking immediate medical advice.  If your symptoms seem to only occur at home, and get better when you leave the house, this maybe another indicator of carbon monoxide poisoning.
Headaches
Dizziness
Nausea
Breathlessness
Collapse
Loss of consciousness
You can find plenty of other home safety tips from CORGI on their website, How Safe Is Your Home?
I'm delighted to be able to support CORGI in their 'How Safe Is Your Home' Campaign and they have given me one of their carbon monoxide detectors (worth £30) to give away to my readers.  This is a great opportunity to make your home safer and it will only take you a few minutes to enter.