After feeling like things were going a little awry with the teenager and the husband last week I decided a family day out was called for, the whole family.  We do a lot with the girls and leave the teenager at home quite often.  It often suits him that way but from time to time it's important for us all to do something together.
Having such a big age gap in the family, 14 years to be exact, can be challenging when it comes to finding activities that we can all enjoy.  After a twitter chat with Silly Daddy I decided to have a look into going to Drayton Manor Adventure Park.  Thomas Land was strongly recommended to us and seeing as Princess loves all things trains at the minute it sounded like it could be the place for us.
Tickets
I found some discounted tickets on line via 365 Tickets who were having a 7 day sale.  We saved about £20 on our day out, which cost £65 (including parking) for 2 adults, a teenager, a 2 yo and a baby.  Because there's a few of us this felt like really good value for money.
Arriving
It took us about 3/4 hour from Nottingham to get there.  We were parked up quickly after a short drive through the grounds past the hotel.  It was a short walk to the entrance gates to get our tickets and there was no queuing at all, we were straight into Thomas Land.  We arrived at about 10am and it was the first weekend of the school holiday.
Thomas Land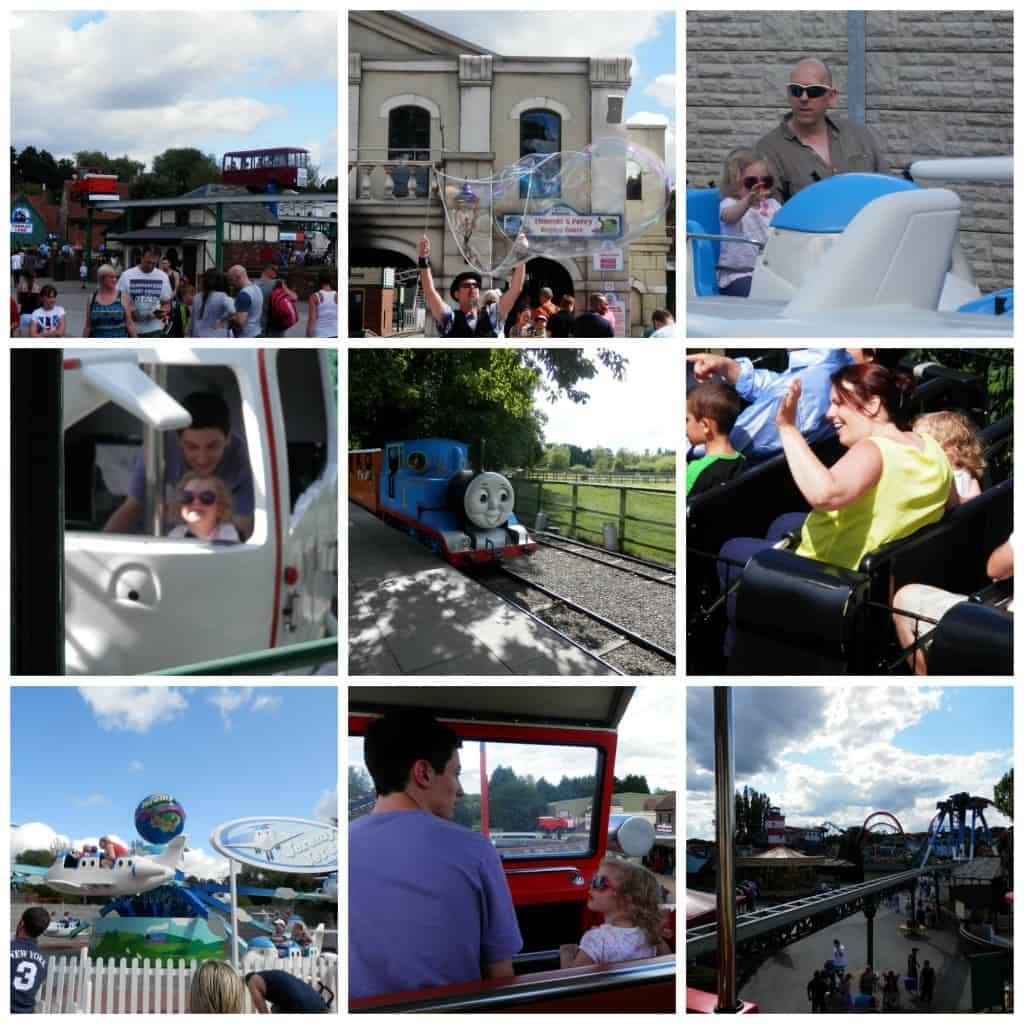 Thomas Land is home to Knapford Station where you can catch Thomas to the Zoo and the Farm.  There are 11 other rides packed in and an indoor play centre.  You can also catch live shows here.
It has been so well thought out, we were all really impressed.  Princess enjoyed all the rides she went on, but we didn't get round them all by any stretch.  They have packed a lot in and any die hard Thomas The Tank Engine fan will love it.  It really feels like your in the Land of Thomas with all the magic of Sodor!
My only criticism is that when you get off Winston's Whistle Stop Tour, the monorail that gives you a great bird's eye view of Thomas Land, you have to get off into the Thomas Land Shop.  To be fair though, it was quite dark and Princess strolled straight through with out demanding anything.  I don't think she even realised it was a shop.  If she'd have been a bit older I think it would have been a different story.
There are height restrictions on most of the rides.  Princess is just over 90cm tall and was able to go on most things as long as she was accompanied by an adult.  I wouldn't recommend taking a child any smaller than that if they are expecting to get on the rides.
Variety
There were other rides outside of Thomas Land suitable for Princess.  She is also a huge fan of pirates too.  This meant the Jolly Buccaneer ride at Pirates Cove was also a hit.
The main reason I picked Drayton Manor was because of the variety.  I felt that everyone would find something to go on.  I even went on Shockwave, a rollercoaster where you stand up.  This was for some bonding time for the Teen and I.  Oh my god, it was fast.  And I said 'Oh My God' a lot, and had my eyes shut the whole time.  I am such a wus!  It was fun though.  I'd do it again.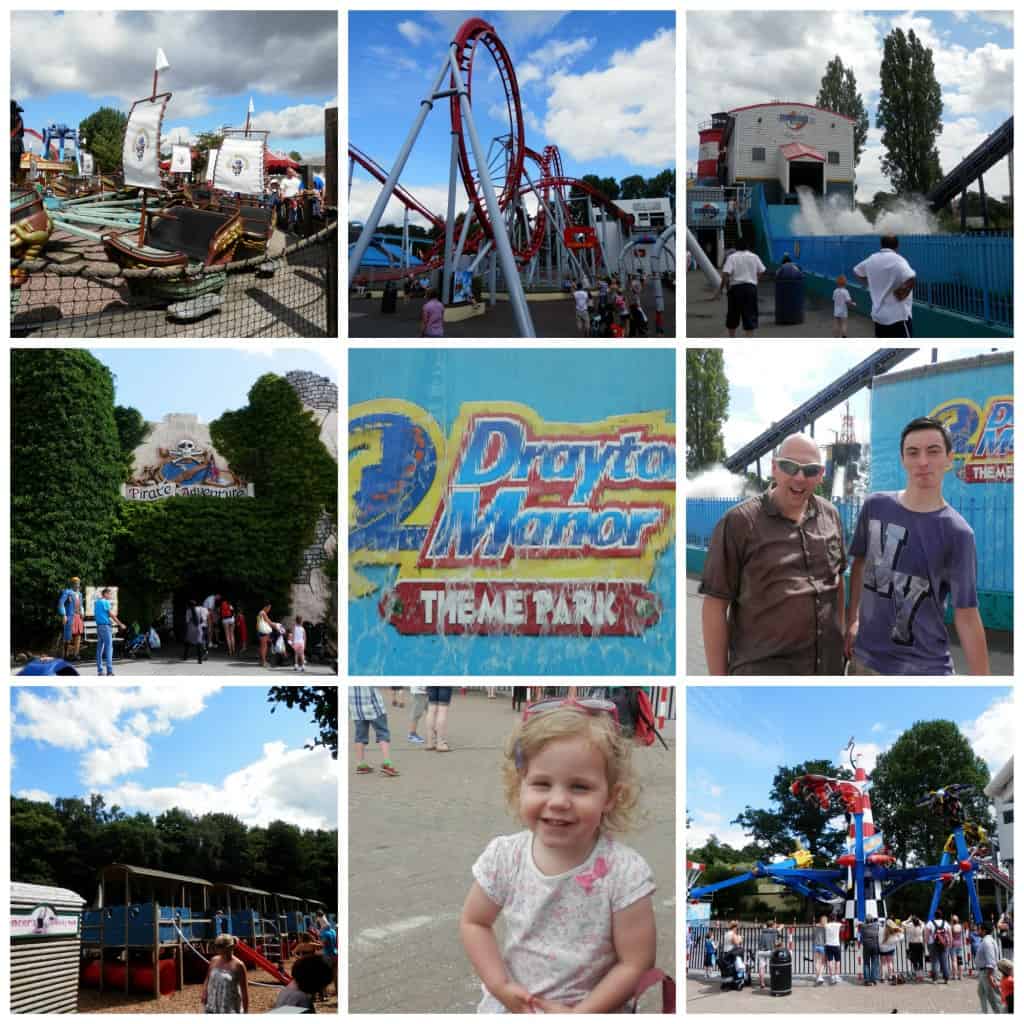 Teen and Geeky husband went on the log flume (because he is even more of a wus then me!).  Needless to say they got a bit wet.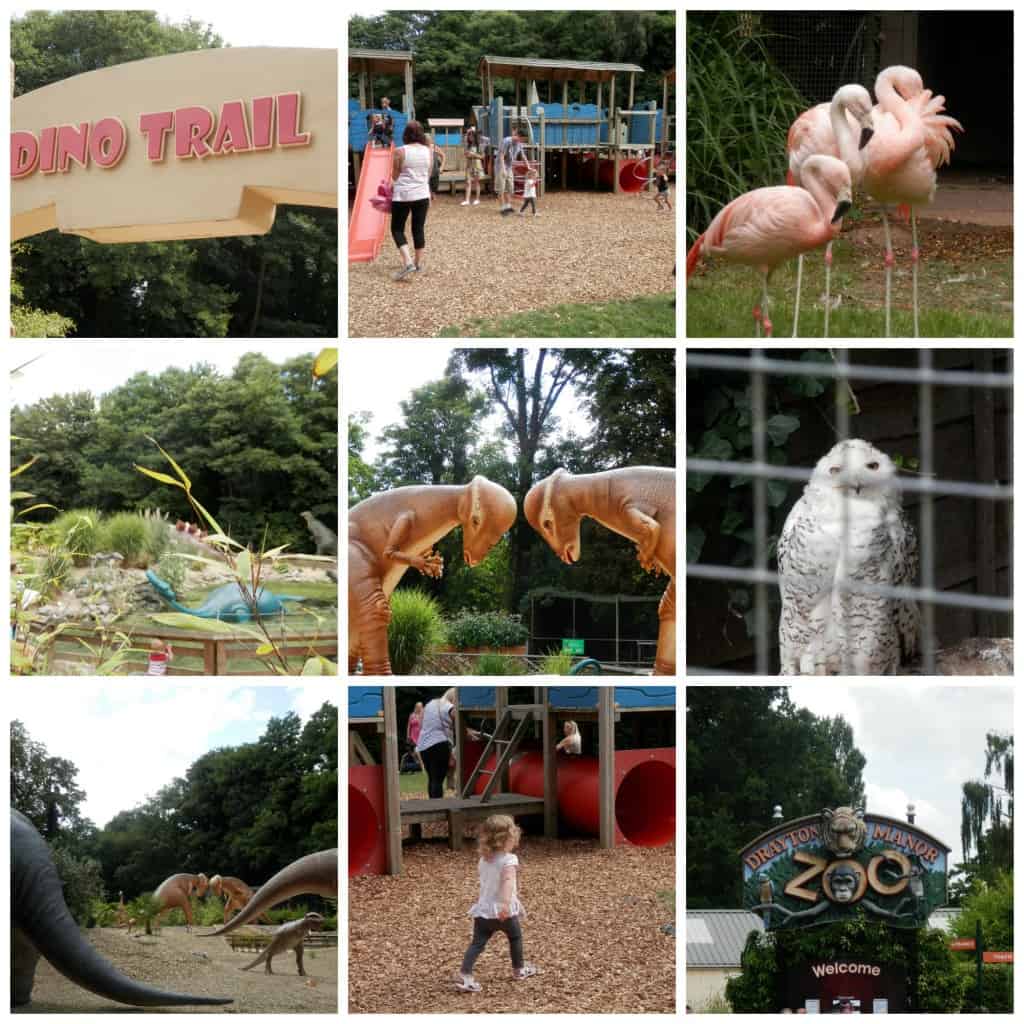 We didn't spend as much time at the Zoo as we would have liked.  We were disappointed not to see any meerkats and it seemed there were a few enclosures empty, but there was enough to be appreciated by a toddler.
It was a whistle stop tour around the Dino Park too, as the baby needed a feed, but we found a cafe near Spencer's Activity Park and Princess was really happy to play here before getting on Thomas for a trip back to Thomas Land for a go or three on Rockin' Bulstrode & Sodor Docks.  We were all really impressed with this ride.
Recommendation
We really loved it.  As a family with a 2.5 year old and a 16 year old in this was absolutely perfect for us as there really was something for everyone.  We are definitely going back and will buy an annual pass for our next visit.
We are also considering a stay in the hotel, perhaps in one of the Thomas themed rooms.
I'm not saying it's the best theme park out there but it ticked all our boxes for a good day out.  We didn't leave until gone 5pm and I bet we didn't go on half the rides.  If you have a family with children in where there is a big age gap, I would definitely recommend it.
I'd recommend taking your own food and plenty of water.  There were plenty of places to get food but we wanted to take a picnic.  With the weather being really hot plenty of water was essential.  We did stop for coffee.  We bought 2 coffee's, a giant cookie and a portion of chips and a drink for Teen.   It cost around £12, which seemed OK for theme park prices.
As a family we enjoyed each other's company and focused on being together instead of worrying about keeping teen busy while looking after little ones.  There was no moaning from anyone all day which is a win in my book!
Cons
Some of the toilet facilities seemed a bit dated and there was also a shortage of recycling bins, but there were a few doted around but it took us a while to realise this.
I'm not sure what it would have been like if it had been any busier.  We only queued at most for about 10-15 mins for most rides.  The only one that was a problem was Pirate Adventure.  My husband queued for over 20 minutes with the toddler and it wasn't easy to tell how long you were going to be queuing so the rest of us were hanging about a bit.  That being said the pro's far outweighed the cons.
This is an independent review and we purchased our own tickets and car parking.