You might remember that last year my bathroom had a mini makeover. I have to say it was a dramatic improvement on what it looked like before, but there is still more to be done.
What I learned from that experience was that if anything is going to improve in this house, it's down to me to sort it out. I love my husband dearly, but he isn't in the slightest bit handy or interested in home improvements. It's so important to take a look at your home from time to time and take in what will need to be improved on or changed, for instance, coming up to winter you may not realise that your heating may need a tune-up so a Heater Repair service might be needed during this time. Take a look at your home's people, if one of you won't the other will need to.
Did I tell you the fiasco we had over having a new window fitted? We had new doors and a window due for installation while my husband was working away in London. I met with the salesman, and the surveyor and had everything sorted. It is really a blessing to have professionals similar to the North Shore Window near you, making your life a whole lot easier!
I told my other half everything was in hand, and that when he came home the installation would be complete. The window that was being removed had an alarm sensor fitted to it. When the chap came to remove the window he asked about silencing the alarm. We have a tag, that you wave at a box that silences the alarm if it goes off.
We know it's the only thing that does it as we had an incident where teen managed to set of the alarm and my husband had to come home from work to silence it. We only have one tag, and my husband keeps it on his keyring, so guess where the tag was when the window was fitted. Yep, London! We live in Nottingham!
Anyway, after much deliberation about whether the alarm would go off, the fitter took some advice from a colleague and decided to risk it. Fortunately the alarm didn't go off, and the new window was fitted without a problem. It could have been a lot worse.
Anyway, enough of that story, now I need to sort the bathroom. I need to present my husband with some perfect, affordable bathroom makeover ideas so he doesn't have to worry about a thing apart from saying yes. You know I've got this covered don't you?
Bathroom Makeover Essentials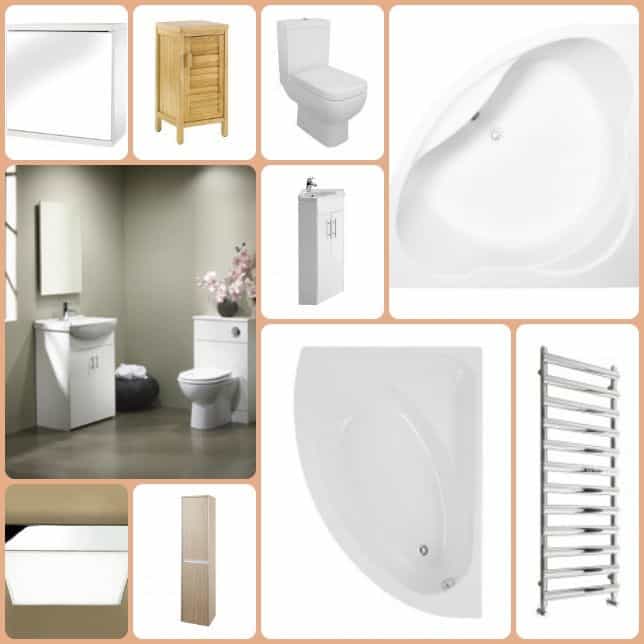 Well, I've been pinning like crazy for a bathroom remodeling. From researching many references like this website to asking around a few colleagues and trusted sources, I have finally put forth my dream wish list to get the bathroom makeover I so deserve!
Bathroom Makeover Ideas
Croydex Wooden Bathroom Cabinet – Somewhere for the husband to put his bits.
Oak Vanity Units – Storage is our main problem.
Rak Toilet – This modern square unit really appeals.
Moods Laguna Luxury Corner Bath – I've always wanted one of these.
Bella Bathrooms Tavistock Opal Suite – Great storage and design.
White Corner Vanity Unit – In case I get that downstair loo as well.
HiB Inertia Ceiling Light – Love this funky modern design.
Hudson Light Oak Tall Cabinet – Somewhere for the towels maybe?
Moods Left Handed Corner Bath – This might score me some brownie points with Daddy too!
Reina Deno Polished Designer Radiator – Just because it's so cool!
So what do you think? Are my bathroom makeover ideas going to pass the Daddy test? I really hope so as a coat of paint only lasts so long.
Is there a room in your house that needs some love? Who makes the home improvement decisions in your house?
This is a collaborative post.