I mentioned to my husband that the decorator is available next month and it would be a good time to begin working on our hallway.  As it's the entrance to the home, it makes a big first impression and our hallway is really falling short of the mark at the moment.  As you might already know from this post, my OH isn't a fan of DIY, so when he agreed to get some work done in the house, I ceased the moment.
A previous owner of our house decided to paint the banisters with emulsion paint.  I have to stress now that you should never decorate a banister with emulsion point because here's what happens.  Because the paint is soft and porous all the grease and dirt gets sucked into it.  No matter how much you clean it, it will never come out and a major feature of the hallway will always look dirty.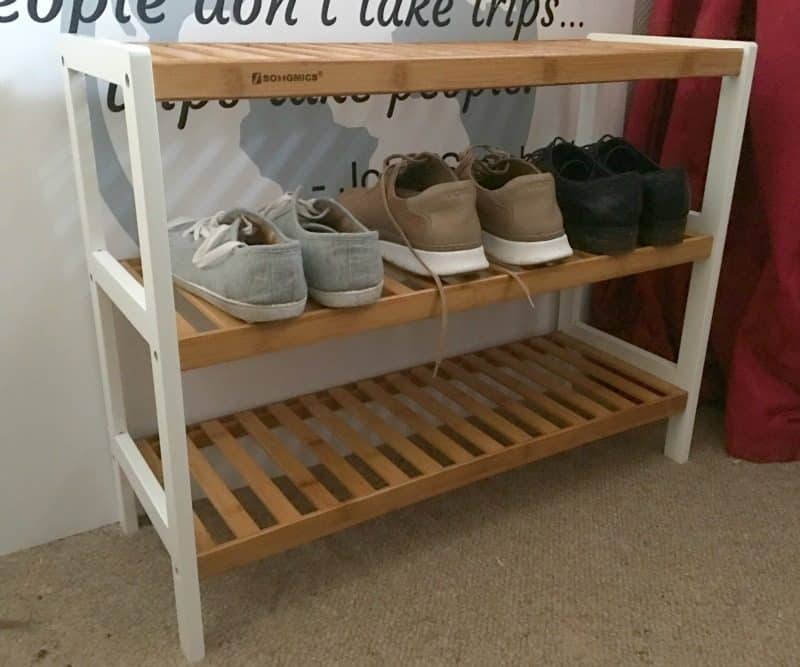 We had thought about having the paint removed entirely and having the wood varnished but after a chat with the decorator, we've decided against it.  The amount of work it would take to remove all the paint from the banister would put the cost of the labour up considerably so we are going to stick with having the banister and skirting boards glossed instead.
The wallpaper is looking tired too, and coming away from the wall in places so I'm in favour of having it replaced and starting again.  I suspect that the walls will not be in a particularly good state once they have been stripped so they will be wallpapered again and painted to freshen up the space.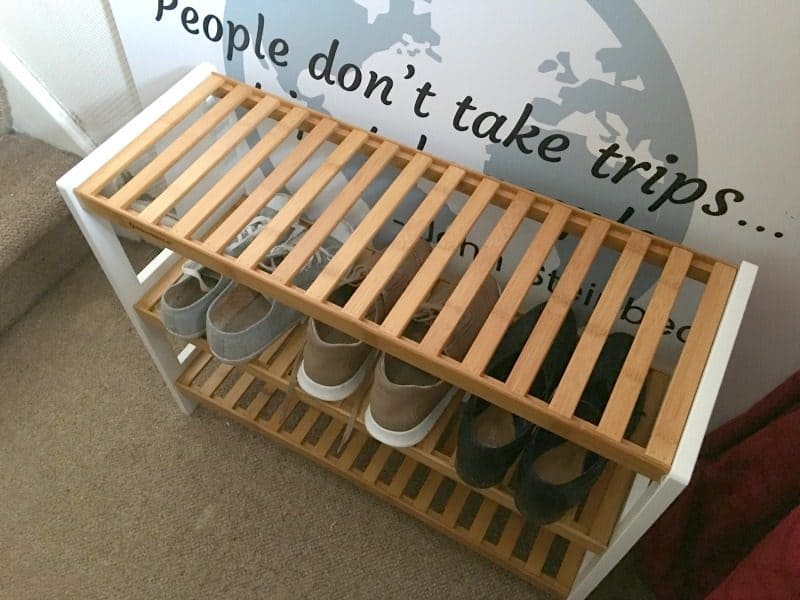 We are also looking to add some features to the hallway that help us keep on top of the clutter that seems to accumulate, and we have kicked things off with a new shoe rack from Songmics. Our current shoe rack is far too large and has completely lost the ability to stand up straight.  It needs to go to the tip sooner rather than later.
We are hoping with a smaller set of shelves to put our shoes on that it will be more sturdy and look tidier.   I think it will help us to keep our shoe collection under control too.  I've recently donated a lot of shoes the girls have grown out of to the Sal's Shoes project as we have a collection bin at school.  I also think it's time to ditch a few old pairs of trainers as this project gets under way.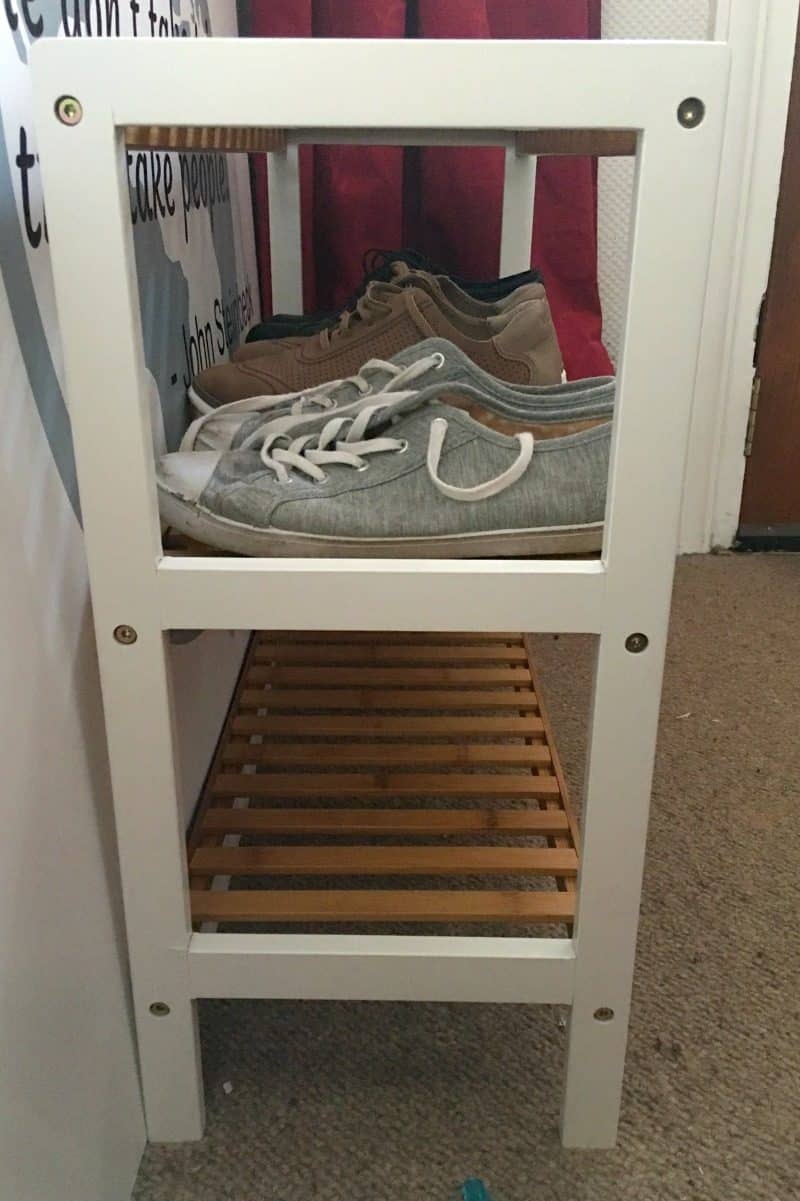 Seeing as our hallway is quite small I'm keen to keep the clutter under control.  The bamboo shoe rack was so easy to put up and already looks at home in the space I've got ear marked for it.  Here's a few of the other reasons I love the new addition to our hallway:
Easy to clean
Made from environmentally friendly materials
Three shelves to hold nine pairs of shoes
Stylish design
As well as keeping the shoes under control, it seems the coats and bags we have in the house have a mind of their own too.  We have already applied the 'one in, one out' rule to most things, but for some reason not to bags.  This means there will be a huge clear out before the decorator arrives to get on top of this.
My husband also has this rather annoying habit of putting his coat on the end of the banister at the bottom of the stairs.  His large winter coat takes up half the hallway and I often have to relocate it to the cupboard under the stairs.  While the decorator is in, he won't be able to do this anymore so hopefully it will help him break the habit. If that doesn't work I can see the next piece of furniture I'll be investing in will be a coat stand.
Songmics Shoe Shelf Rack Giveaway
Have you got any home improvement projects underway this year?  Are you determined to get on top of your household clutter?  If you answered yes to either of these questions, I've got a lovely giveaway for you today.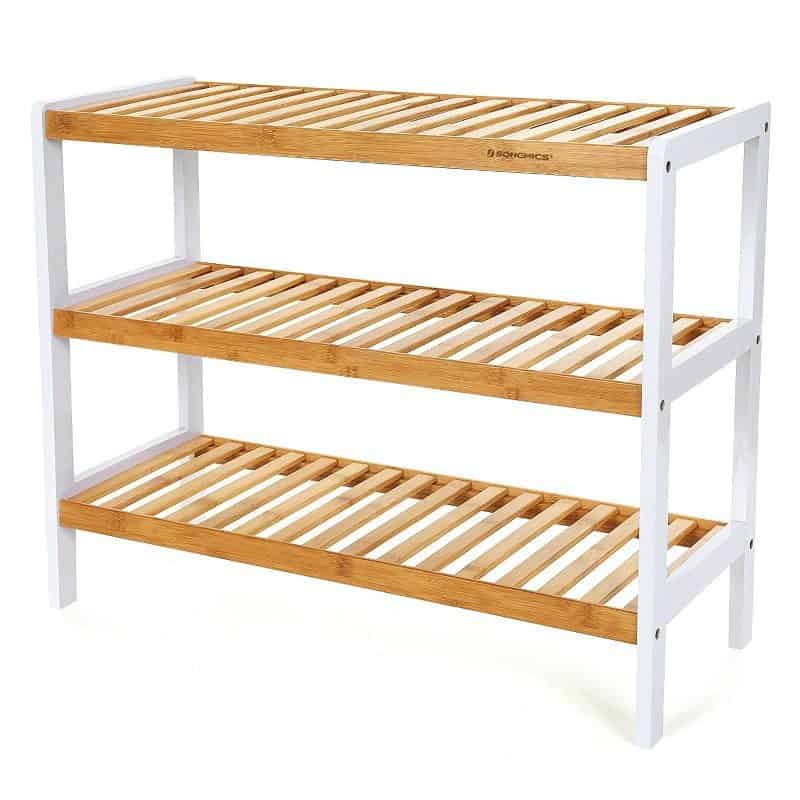 Songmics are offering a Zena's Suitcase reader the chance to win one of their 3 tier shoe shelf racks to help you organise your home.  If you think this would make a fine addition to your home all you need to do is enter via the rafflecopter below.  Competition ends 2.3.18.  Other T&C's apply.
Thanks so much for entering and wishing you all the very best of luck.
Feeling lucky?  Check out my other giveaways here.
Know someone who would enjoy this post?  Please do share it with your friends and followers, as it would literally make my day.  
For the latest blog posts, offers and giveaways don't forget to subscribe to Zena's Suitcase.  You can also follow the latest updates on Twitter, Facebook, Instagram and Pinterest.
We were provided with the bamboo 3 tier shoe shelf rack from Songmics in exchange for this post but all thoughts and opinions are our own.  Visit the Songmics shop on Amazon to see their latest products.