Kids and transport go so well together, so it seemed obvious for us to include a visit to Seaton Tramway on our recent holiday to Devon.  If you are staying at Andrewshayes Holiday Park, it literally is on your doorstep. A really good option for visiting this Devon attraction is to drive to the tram station at Colyton and catch the tram to Seaton for a fantastic fun filled family day out.
Seaton Tramway Review
We left the car at Colyton in the free car park and headed into the station to book our tickets.  Colyton tram station is particularly authentic and has had a fantastic refurb making it a lovely place to begin your Seaton tram journey.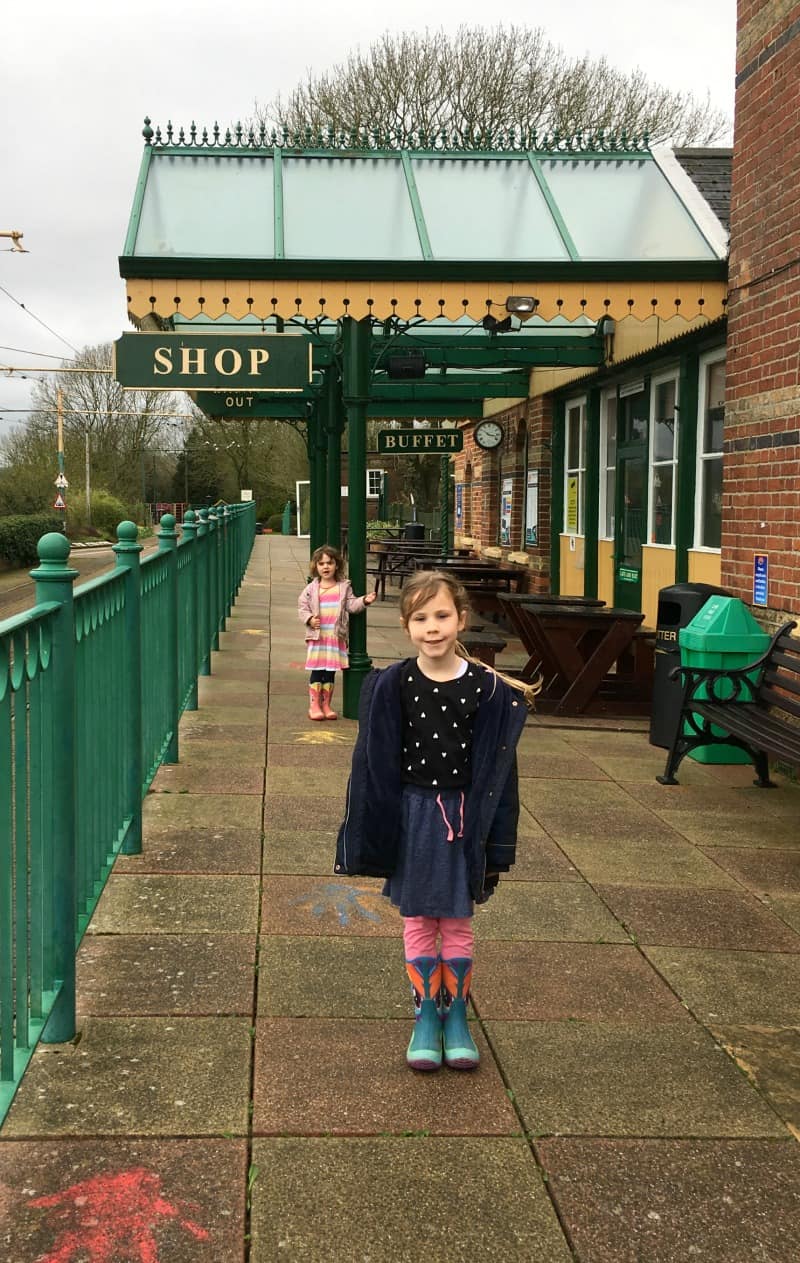 When the tram arrived, the girls began to get really excited about what was to come.  Our single decker tram was decorated along a fun dinosaur theme, which was something we really didn't expect.  Along the tram route, the girls also spotted lots of dinosaurs hiding in the hedgerow.  This really added to the experience for them and set the scene for the whole day ahead. 
We stayed with the tram until the Riverside Depot, where a temporary bus was provided to take us the remainder of the way into Seaton.  A new tram station is being built in Seaton, but when we arrived it hadn't quite been finished, but we were promised a tour of the Riverside Depot on our return which we were looking forward to later that day.   
Our journey along Seaton Tramway took us through the beautiful Devon countryside and Axe Valley, where local wildlife and stunning scenery is in abundance.  The girls really enjoyed looking out for birds and ducks along this stretch of track, especially when faced with breeds they hadn't experienced before.  
Our tram tickets allowed us to ride up and down the tram line all day, as much as we wanted.  The trip from Riverside Depot to Colyton took around 20 mins and with the bus journey, it took around 30 minutes to reach Seaton.  Seaton Tramway is run by a combination of employees and volunteers, but we soon realised that all the staff were very knowledgable about the history and workings of the line. 
After our trip into Seaton we had a really fun packed day exploring this lovely seaside town in Devon.  Our first stop was the beach to search for fossils.  Seaton beach is a pebble beach perfect for fossil hunting with kids. I have to admit, we didn't really know what we were doing but we did manage to find some really interesting rocks.  If you want more information about fossil hunting and other interesting things to do in in the area, the Visit South Devon website is packed with useful information for your family holiday in the area.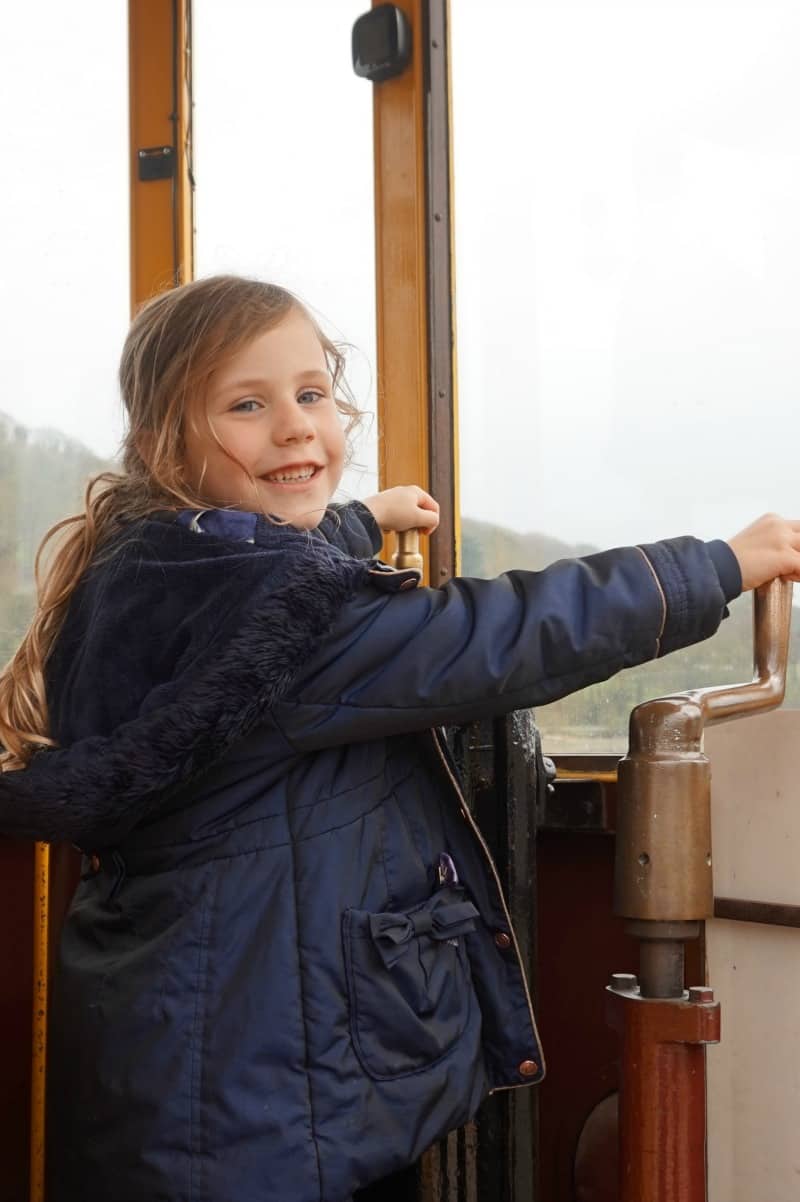 We also enjoyed a visit to Seaton Jurassic, before a walk along the promenade to discover The Hideaway Cafe.  After a fun packed day, we headed back to the bus stop to begin the journey back to Colyton. 
As promised, we were given a tour of the Riverside Depot and the chance to learn more about the history of Seaton Tramway.  Each tram has it's own story to tell and we got a little insight into their past from our guide.  One tram came from London, another Bourenmouth and another from Exeter. 
One of the trams had been abandoned in a field for many years before being discovered and fully restored to join Seaton Tramway and move passengers along the tram line again.   There are also newer trams at Seaton Tramway, and these are the pink and blue double decker trams that are fast becoming the stars of the show.  These trams came into service in 2012 and are fully wheelchair accessible allowing all passengers to enjoy this historic and scenic route.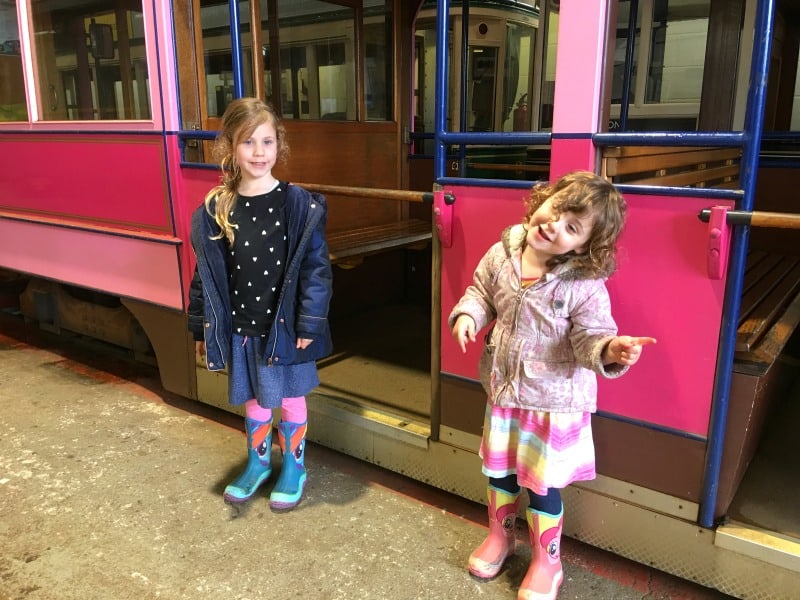 Our return journey to Colyton was on tram number 14.  Indie was thrilled to be given the chance to sit in the drivers seat before we left the station and she also took full advantage of being able to ring the bell.  We had hoped for an open topped double decker tram for the return journey, but tram number 14 didn't disappoint.  This was another themed single decker tram decorated with butterflies and ladybirds.  As well as more wildlife spotting the girls counted all the dinosaurs on the return journey to Colyton, with a little help from our tram driver. 
When we arrived at Colyton station we were all feeling a little sad about saying goodbye to the Seaton Tramway.  The whole experience was so much fun as well as being very nostalgic.  I would strongly recommend taking a visit to Seaton Tramway if you are visiting Devon with kids, and making it a part of your day out especially if you are planning to visit Seaton.  Making it a part of our visit to Seaton worked so well, and added a special dimension that we would have missed out on if we had just have gone to Seaton by car. 
Family Friendly Places to Stay in Devon
Luxury Apartments in Devon: Cofton Holidays
Glamping in Devon: Our Stay at Crealy Meadows – Review
Caravan Holidays Devon: Staying at Andrewshayes Holiday Park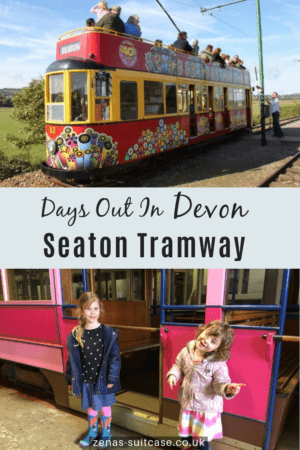 We were provided with complimentary tickets for a day out at  Seaton Tramway in exchange for this post but all thoughts are our own.  For more ideas of things to do in Devon visit Devon's Top Attractions website, lotstodo.co.uk.   
If you enjoyed this post it would make our day if you would share it with your friends and followers! Love Pinterest, pin it to your favourite board now!