I've been making changes to my eating to make it healthier for the last 2 weeks.  Having the vision board is definitely helping me stay on track with being more healthy.  I've only fallen off the wagon once which I'm really pleased with.  I'm a lady who is known to binge, to often to mention!
It was because I wasn't organised to be honest.  The evening meal wasn't as healthy as it could have been, and the packet of biscuits and chocolate that followed was positively dirty!  It turned into a full on sugar binge fest, the very thing I'm trying to get the better of!  The more rubbish I eat, the more rubbish I want to eat seems to be the case.  Sugar is the biggest culprit but more on that in a later post.
Despite this minor set back I have been getting somewhere with it all and have decided to have a set weigh in day.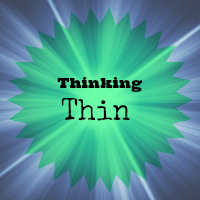 I'm an impatient soul (cue comment from Granny) and crave instant results.  Well here's my first stumbling block! I didn't get to this size overnight, it took time and some effort.  Getting it off again is going to take time also and a considerable amount of effort.  Thinking thin is not an easy fix, but it is about making lasting changes instead of cutting corners with crash dieting.
Ive been hopping on and off the scales like a yo-yo, which I've realised isn't helping me at all!  My weight can fluctuate significantly throughout the day so weighing myself one morning, then the following evening isn't giving me a true picture and is creating a roller coaster of emotion.  Some weighs I've lost pounds and others I'm back to square one.
Weigh in day is going to be Monday morning.  Since starting Thinking Thin I've lost 6lbs in about 2 weeks.  Now the challenge is to stay of the scales until next Monday.  Every time I feel an urge to step on them, the little voice in my head will be saying 'you'll appreciate the progress you've made more on Monday, you'll know your getting somewhere then!'
How often do you weigh yourself?  Does it help you manage your weight?  Are there better ways to manage if your gaining/losing weight?