My Friend Freddy Bear has recently joined my 3 year old's toy collection, and she has spent the last couple of weeks getting to know him.  Freddy Bear already knew her though.  He knew her name, who her best friends were and lots of other things about her before he arrived.  He isn't just any old bear, he really is her new best friend.

When 'My Friend Freddy Bear' arrived I downloaded the app onto my phone straight away.  It was a free app and is available for Android from Google Play and for IOS from the App Store.
There were a set of questions to answer about my daughter, which only took a few minutes to do.  It was simple stuff like her name, how old she was and who her friends were.  As these details change, you can easily go back into the app settings and update things like age and favourite games.  I really like that you can add details for up to six children.  It means we have been able to put her sister's information in so she doesn't feel left out and can play with My Friend Freddy Bear too.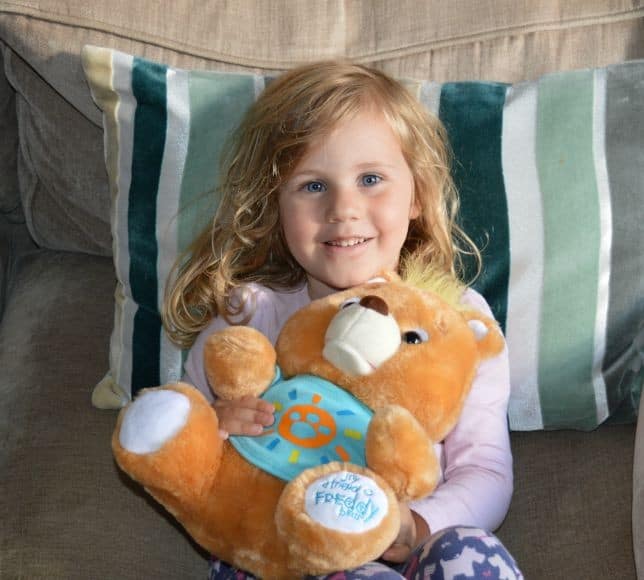 Freddy Bear is a very cute and cuddly bear, even though he's got some hidden gadgets inside to make him talk and hide his batteries.  He's really soft, and great quality with huge big brown eyes.  Not only is he perfect for cuddling up to, but he also sits really nicely too.  This is perfect for when he's reading stories, or for playing games on the app.
My daughter was absolutely bowled over by the fact that My Friend Freddy Bear knew her name.  She kept saying over and over, 'he said my name'.  She told everyone he said her name.  Her reaction was priceless.  When he knew her friends names too, she was really taken aback.  She fell in love with him instantly and she also thinks that other children would love him too.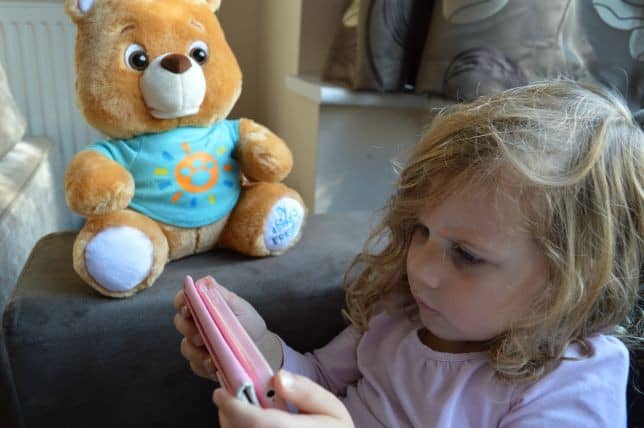 Our daughter is always playing with the iPad or our iPhones so having an app she could use with Freddy Bear was perfect for her.  We started at the most simple setting on My Friend Freddy Bear app, but there are 3 to choose from so that the toy can adapt as she needs more difficult games and puzzles to play.
She loved that her new friend could tell her stories and she could follow along with the app.  The stories were just long enough to hold her attention, and she has enjoyed listening to them many times since.  It's a nice quiet activity for her, after a busy day's activities, instead of watching TV.  It makes a pleasant change to be honest.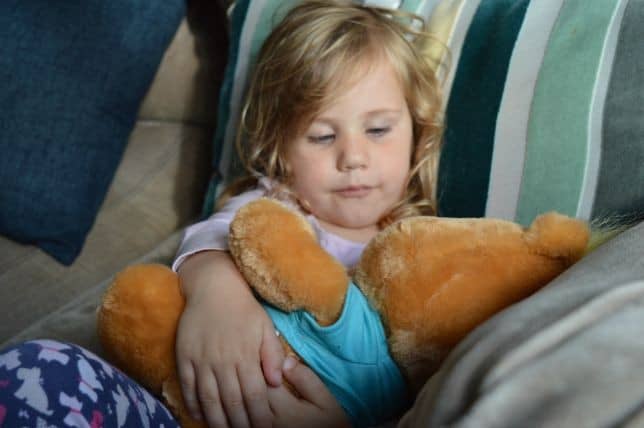 My daughter loves her 'My Friend Freddy Bear', but I think he would make a great present idea for boys or girls.  He would be a huge hit in any house on Christmas morning, imagine you're little ones face as their new friend comes to life and tells them how happy they are to see them.  It will be a camera moment, I promise!
There are a couple of not so great points about My Friend Freddy Bear, that you notice as an adult.  His mouth moves to speak, and the noise of the mechanism can be heard quite clearly.  I'd also say his voice could do with a few tweaks to make it a little more cute and a bit less like a sat nav.  However, for £39.99 My Friend Freddy Bear is really good value and I can forgive him these small negatives.  The point is, my daughter loves him and isn't bothered by the noise his mouth makes, because he knows her name!
I can see My Friend Freddy Bear is going to be a big hit in this house for a long time to come, and I wouldn't have any hesitation in recommending him as a gift for preschoolers like my daughter.
We were provided with a complimentary My Friend Freddy Bear in exchange for this review but all thoughts and opinions are my own.
Want to see our other product reviews?  Take a look here.