London is an amazing city, and I was lucky enough to enjoy a child free break there a few weeks ago.  It was also a husband free break, as someone had to stay home and look after the kids.  I was completely footloose and fancy free, so to speak!
I've spent a lot of time in London since being a child, and even lived there for a short time when I was in my teens, so visiting the capital by myself doesn't phase me in the slightest.  It was actually a refreshing change not having to entertain the children and worry about what someone else wanted to do.  There is something to be said for pleasing one's self every now and again.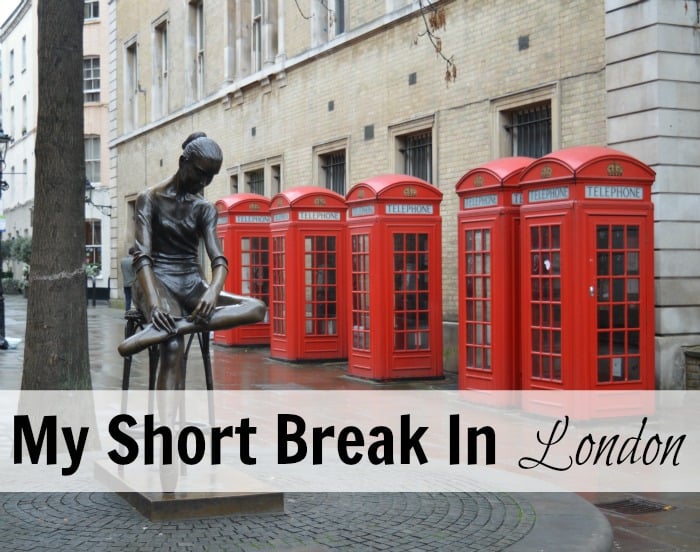 My Short Break In London
I deposited the brood at nursery, school and work respectively and headed off to catch my train and enjoy my new found freedom.  I had a rough itineray in mind, but also had the benefit of being able to be flexible.  I could go with the flow for a change!  I enjoyed the train journey, flicking through magazines and drinking coffee.  It all felt very grown up, for me that is!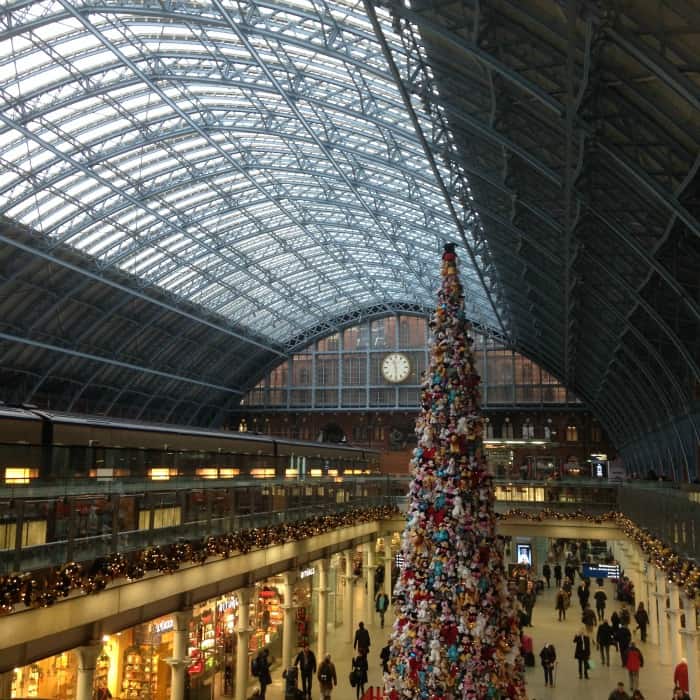 I'm becoming quite familiar with St Pancras Station these days, and I do love this grand entrance to the capital.  Of course, being Christmas time, there were a few decorations too.  This giant tree with more than a slight nod to Disney takes pride of place in the main mall and has flooded Instagram with its presence.  I think I may have shared one of two snaps of it, after all it would be rude not too wouldn't it?
First Stop, Covent Garden
Covent Garden is one of my favourite places to visit.  I love the market and the street entertainers, but this time I was determined to see something different.  Something I hadn't seen before.  I wanted to see Covent Garden from a different angle.
I couldn't help but notice the giant silver reindeer someone had left outside the market, and of course this was something I hadn't seen before.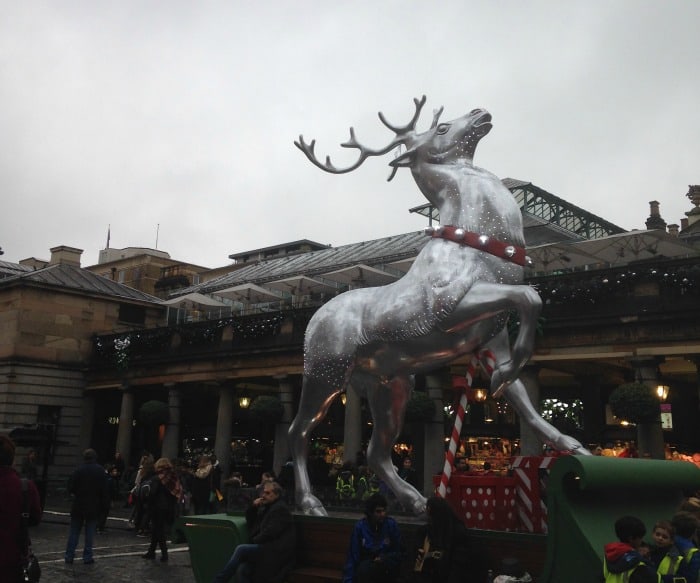 I couldn't resist a quick peak at the Christmas decorations either, I wanted to see what was hanging from the ceilings in the market.  I should have guessed really, giant mistletoe was the order of the day.  Charming, isn't it?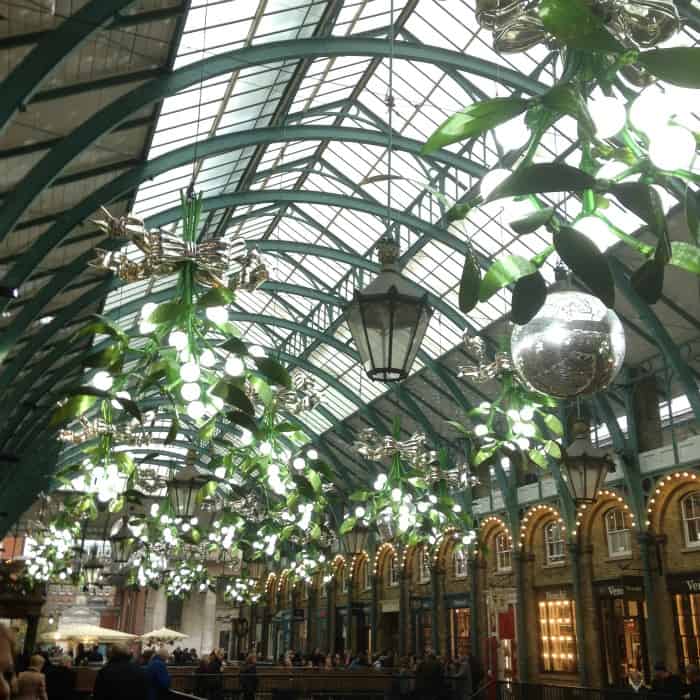 I wasn't hanging around though, I had some where I wanted to visit.  I fired up google maps, and headed off in search of Great Queen Street, which was only a few minutes away.  I knew what I was looking for, and I was pretty sure I wouldn't miss it!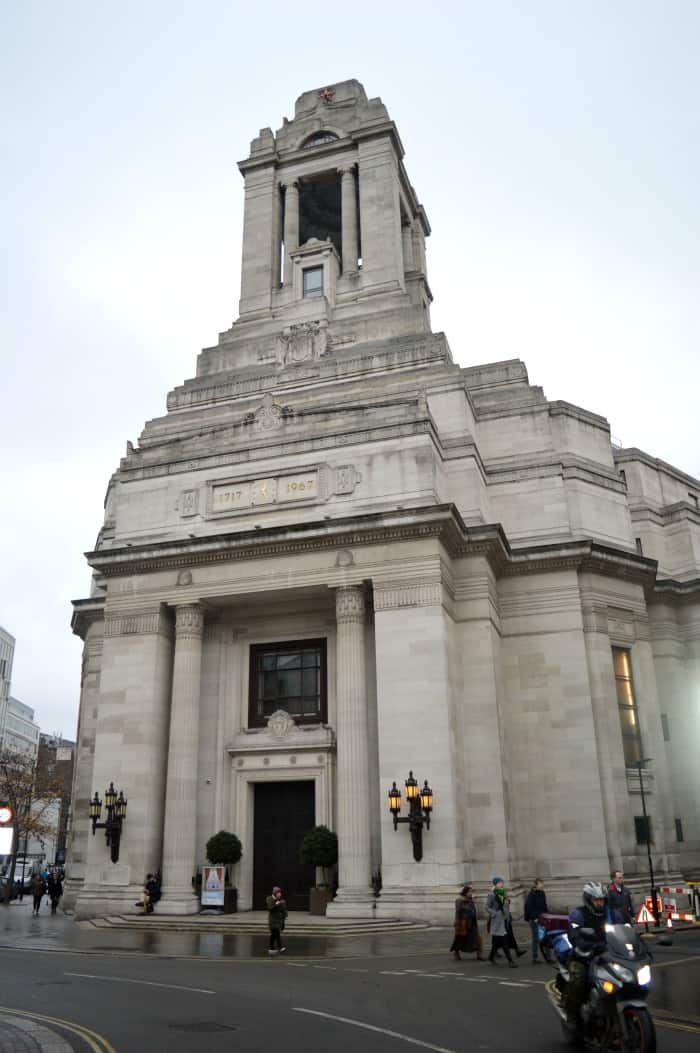 And I was right!  Freemason's Hall dominates the view as you walk towards it on Great Queen Street, it's fairly unmissable.  I can't believe I've never stumbled across it before.  It turns out you can visit the Museum and the Library during opening hours, and there are regular tours throughout the day.  Sadly, I wasn't in time for a tour, but I did enjoy having a look around this grand building at my leisure.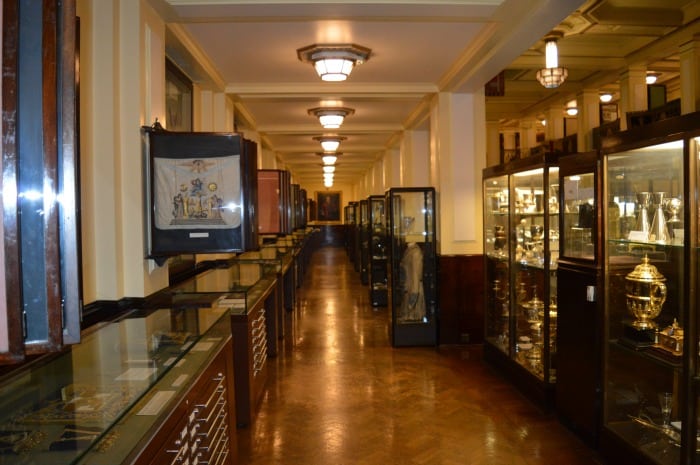 Sadly, I didn't unearth any secrets from the Grand Lodges but I did leave a little the wiser about Freemasonry history.  There really is a stunning collection of artefacts here, and I would recommend a visit if you are interested in or have a healthy curiosity in Freemasons after reading Dan Brown's books.
The Royal Opera House
I headed back in the direction of Covent Garden, and happened to walk past the main entrance to the Royal Opera House.  I have fond memories of visiting here as a child during a school trip.  We were studying opera and went to see a production of Eugene Onegin, which included a tour of the stage, costume department and the Royal box.  Quite by coincidence the same opera was showing during my visit too.
I noticed the Royal Opera House was open to the public, so decided I would pop my head in for old times sake.  There are tours through out the day, but again my timing was completely out.  This didn't stop me showing myself around though.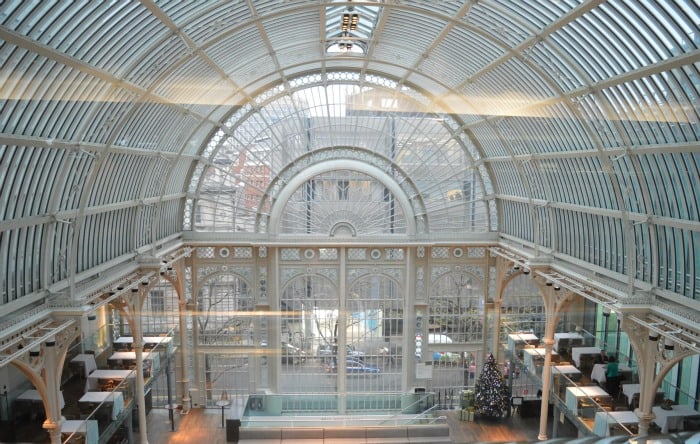 The Royal Opera House is stunning on the inside, and the glass vaulted roof will definitely take your breath away.  I was shocked at how empty it was, as I thought tourists would love to pop in and have a look around, whether there was a performance or not.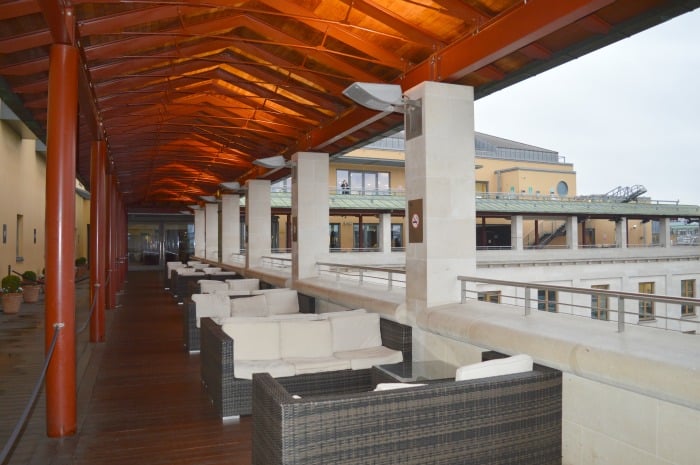 The roof top terrace enjoys the most beautiful views over Covent Garden Market and you can also get a peak at the costume department from these seats, but there was no-one to be seen.
There were three ladies inside enjoying the peace and quiet in the cafe bar, but I couldn't believe everyone else was missing out on this hidden gem.  Of course it comes to life during the performances and other events, but it seems people don't realise you can go and enjoy this beautiful building during the day also.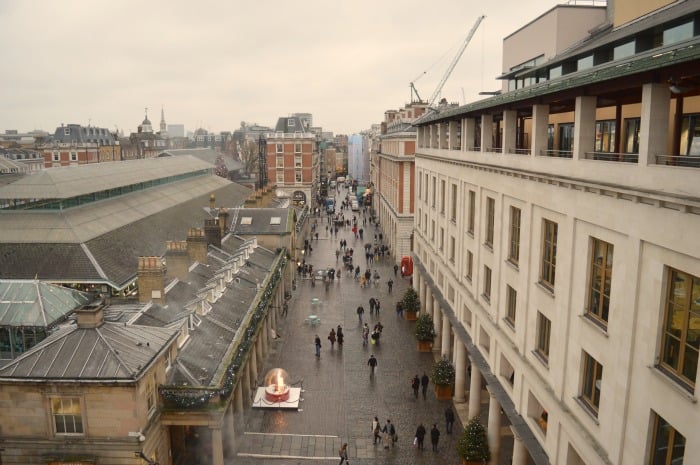 After lots of pictures, I was happy I had seen my favourite part of London from a different angle so it was time to go and check into the Amba Hotel Marble Arch.  I was convinced I was going to be dropping off my bags and heading out to explore Oxford Street, but the hotel was so delightful that I decided to stay and relax before my evening out.
The London Eye
Sadly the weather had taken a turn for the worst and I headed out onto Oxford Street later that night armed with my umbrella.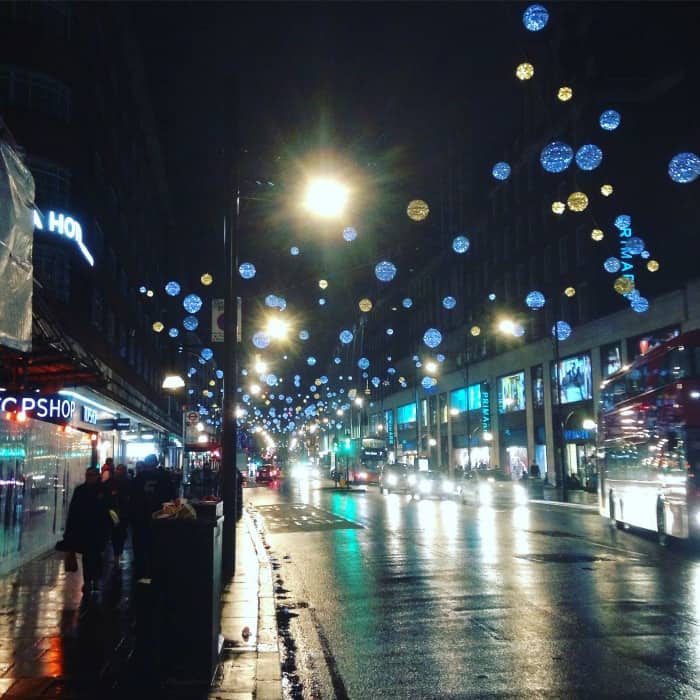 London is still beautiful whatever the weather, and I was looking forward to heading to the Southbank to meet an old friend.
I was unfashionably early, but it gave me chance to take in the lights and Christmas market.  I might not get another chance before dinner.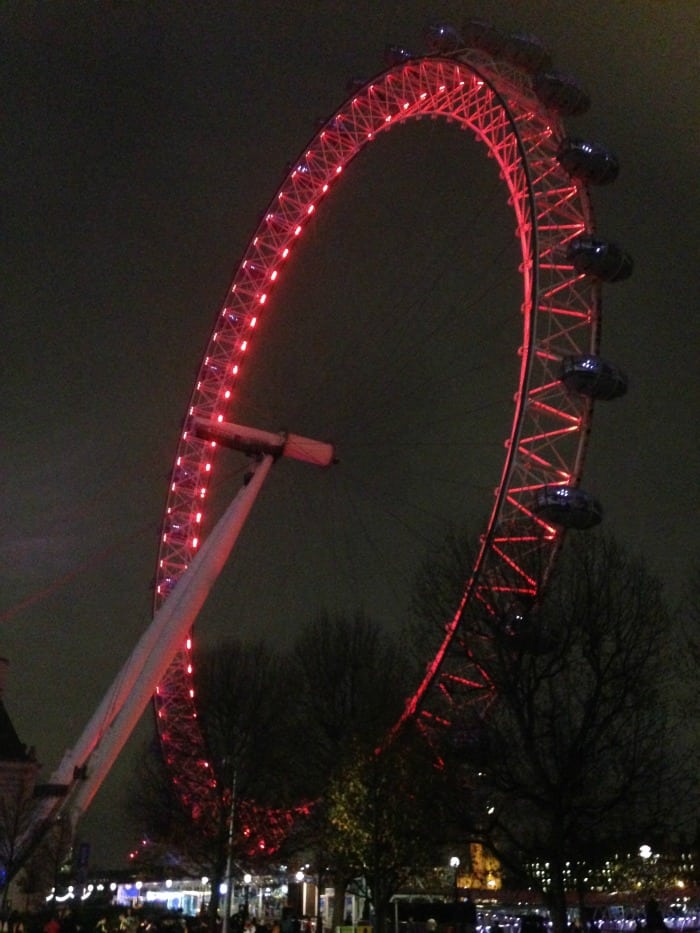 The London Eye is lit up at night and dominates the skyline along the Thames.  I was looking forward to taking in the view and lights of the city from the capsule, and of course getting out of the rain!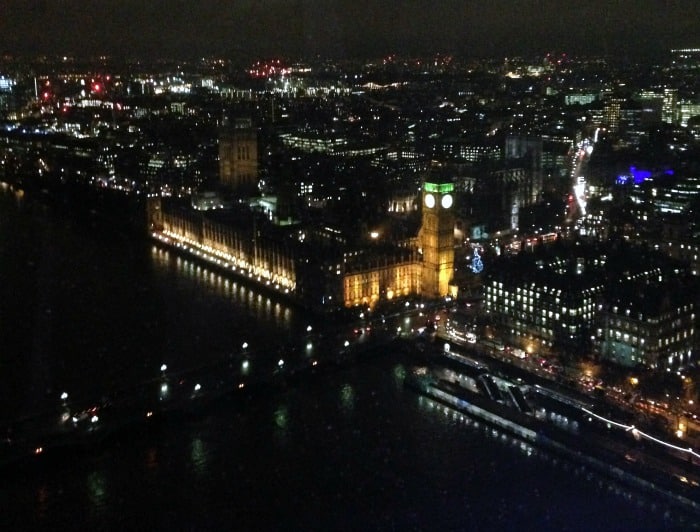 I have to say, I was not in the slightest bit disappointed with my visit to the London Eye.  The views are spectacular and it's a lovely way to enjoy the city.  If you are visiting London, I would recommend adding this to your itinerary either by day or night.
Fortunately when we stepped off the London Eye, the rain had subsided quite a bit, and we walked towards the West End where we enjoyed dinner at Jamie's Italian in Piccadilly Circus.  As a girls night out in London goes, it was pretty good all round.
Hyde Park And Oxford Street
Day two of my short break in London involved a visit to Winter Wonderland in Hyde Park.  I had read so many blog posts about it, that I was curious about whether it would live up to my expectations.  We have a lovely Christmas Market in Nottingham, so it needed to be pretty good if I'm honest.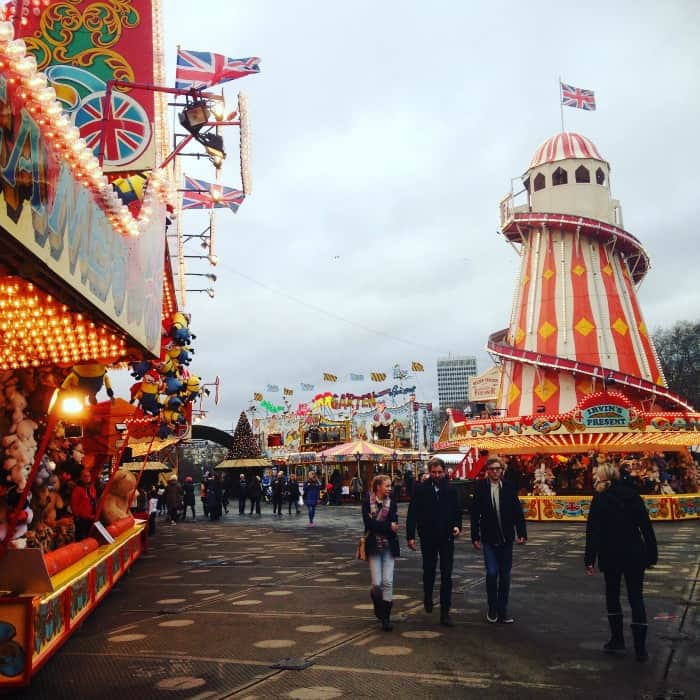 I walked around for about an hour, and if I'm honest, I wasn't that impressed.  I think it was perhaps too big, and so lacked some atmosphere.  I'm glad I saw it, but I don't think I would go out of my way to visit again.  I prefer my Christmas Markets on the smaller side with a bit more charm and character.
I headed off down Oxford Street in the hope of some present inspiration, and decided I needed to visit the famous Liberty's Of London.  Again, it was somewhere I hadn't been before, so I was quite excited.
En route, I bumped into a steel band lifting everyone's spirits with Christmas music.  You couldn't help but stop and smile listening to them play Jingle Bells on their steel drums.  They definitely deserved a donation for cheering up all the weary shoppers and tourists.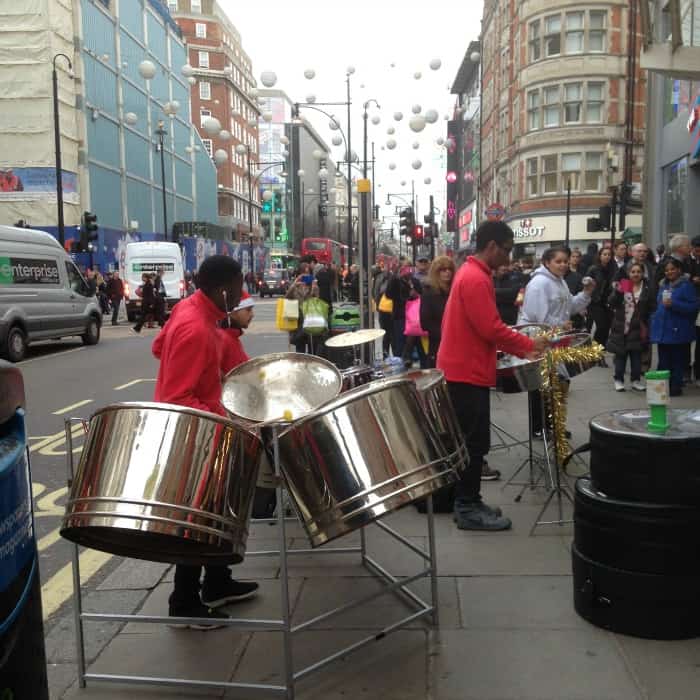 With a spring in my step after hearing some festive tunes I carried on to find Liberty's.  As soon as you turn onto the street, the store greets you from the other end with it's timber frame and iconic frontage.  It certainly is unique and most quintessentially British.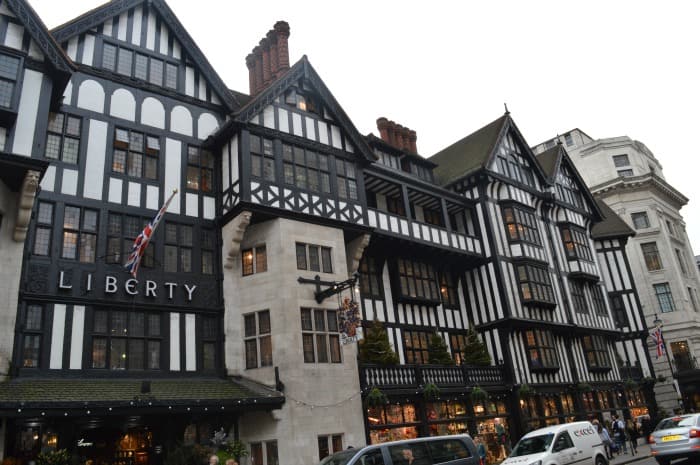 Inside the store doesn't disappoint either, and I loved going through it's different departments and gleamed lots of inspiration for presents that I went home and ordered online.  From what I can tell, they have been a bit of a hit too, so thank you Liberty's for helping me out this year.
After my window shopping, it was time to head back to St Pancras Station to catch the train back to Nottingham.  I had a great visit to London, and I loved setting myself the task of visiting places I had not seen before.  I hope this gives you some inspiration if you are planning to visit the capital anytime soon.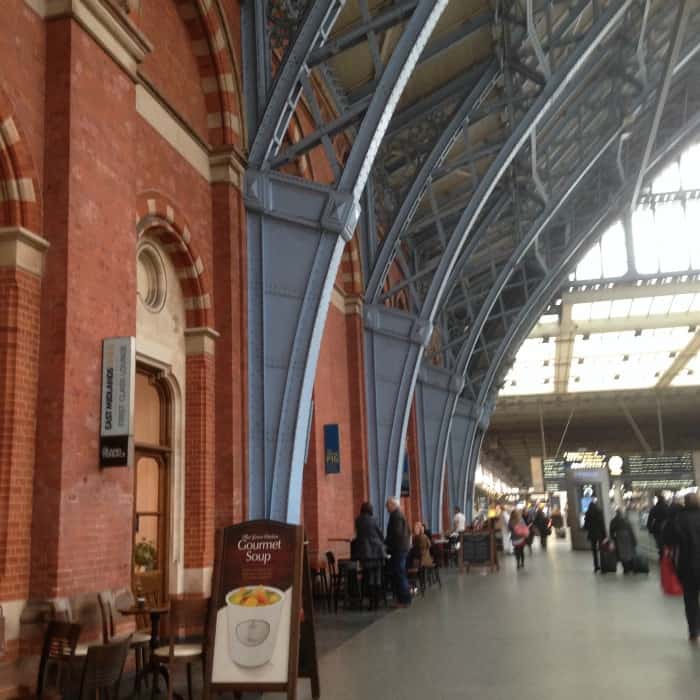 This post contains references to complimentary visits to Amba Hotel Marble Arch, The London Eye and Jamie's Italian.