Halloween is a time of year that lends itself very well to doing craft activities with kids.  I'm a firm believer in that you don't have to be particularly artistic to enjoy craft with kids.  For these 4 easy halloween crafts for kids it really doesn't matter if you have no talent at all.  It's juts about being creative and most importantly helping kids with developing important skills. Halloween crafts can keep kids busy for hours while you get a few jobs done around the house (or is that wishful thinking on my part!).
Here's 4 super easy Halloween craft ideas that take just a few minutes to set up and will be a lot of fun for your children to enjoy.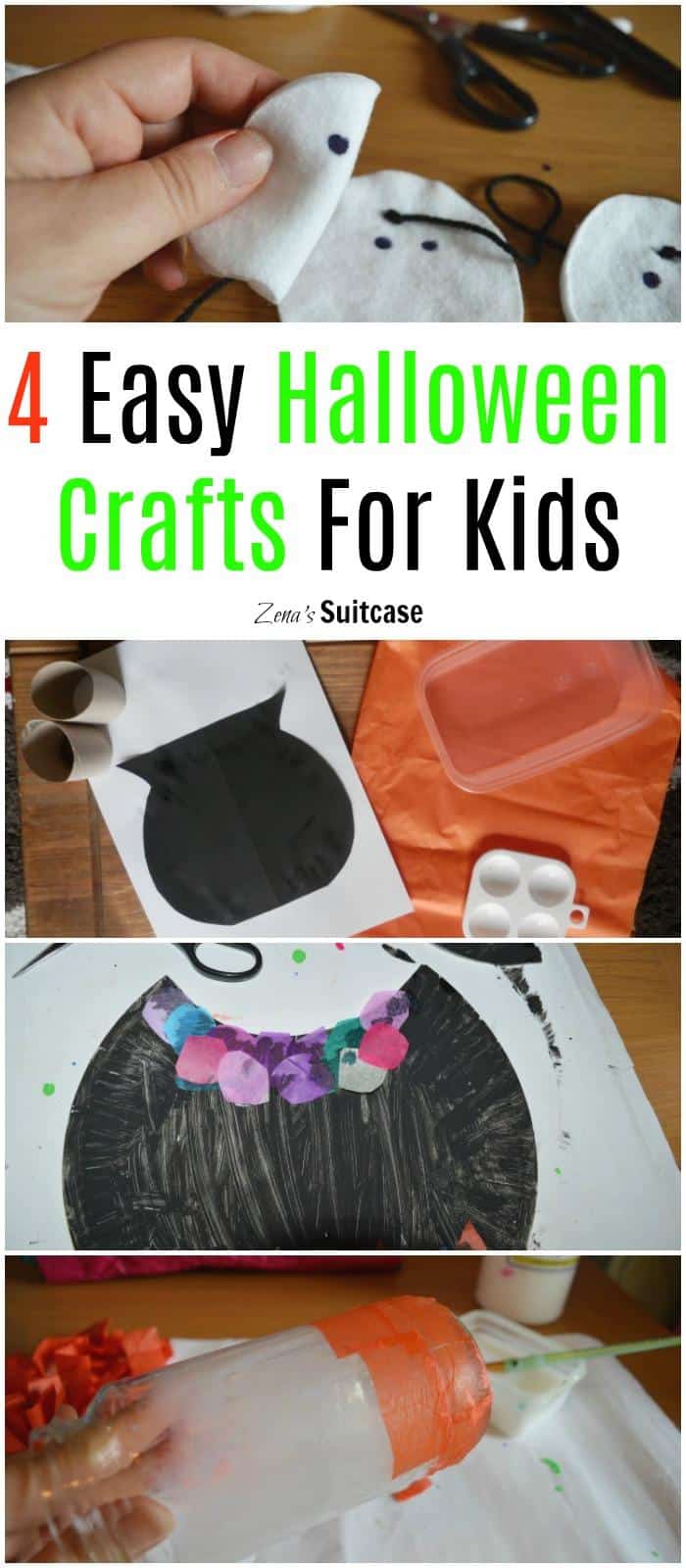 4 Halloween Crafts for Kids
Halloween Pumpkin Lantern
Glass jars and tissue paper make great lanterns, and can work so well at as a homemade halloween decorations.  Just dig out some green and orange tissue paper from your craft draw, some glue and a paint brush.  For this halloween activity just cover the glass jar in glue and decorate with pieces of tissue paper.  Once your pumpkin lantern has dried, you can decorate it with a jack o lantern style face.
This is a lovely halloween craft for preschoolers, but a little adult supervision may be required.  Here's how to make the easy Halloween pumpkin lantern craft with your kids at home.
Easy Ghost Bunting
This easy halloween ghost bunting is a great way to get the children involved in decorating the house. What's even better is it's a mess free easy Halloween craft for kids.
I'm pretty sure you will have the supplies in the house as all you need is a black felt pen, some cotton wool pads and black wool or string.  If you are having a last minute party this is top of the list of easy Halloween ideas to add a little spooky fun to your decorations.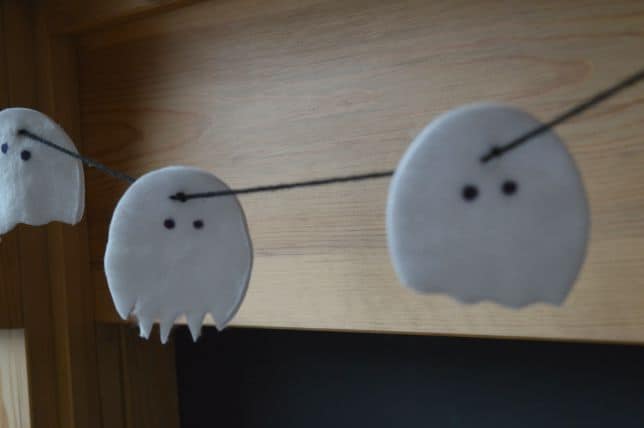 Witch Cauldron Painting Craft for Toddlers
Children love making pictures, and this easy to make witch cauldron picture will look adorable hung up during Halloween.  All you need to do if cut out a cauldron shape from black paper and some flame shapes from orange tissue paper.
It's such an easy halloween craft for toddlers to do, but uses a few skills which is great.  They just need to stick their cauldron to the paper and decorate it with the orange tissue paper flames.  They then use some cardboard tubes or toilet rolls to decorate the top of the cauldron with a spooky mixture bubbling out of the top. Such an easy halloween craft for little ones.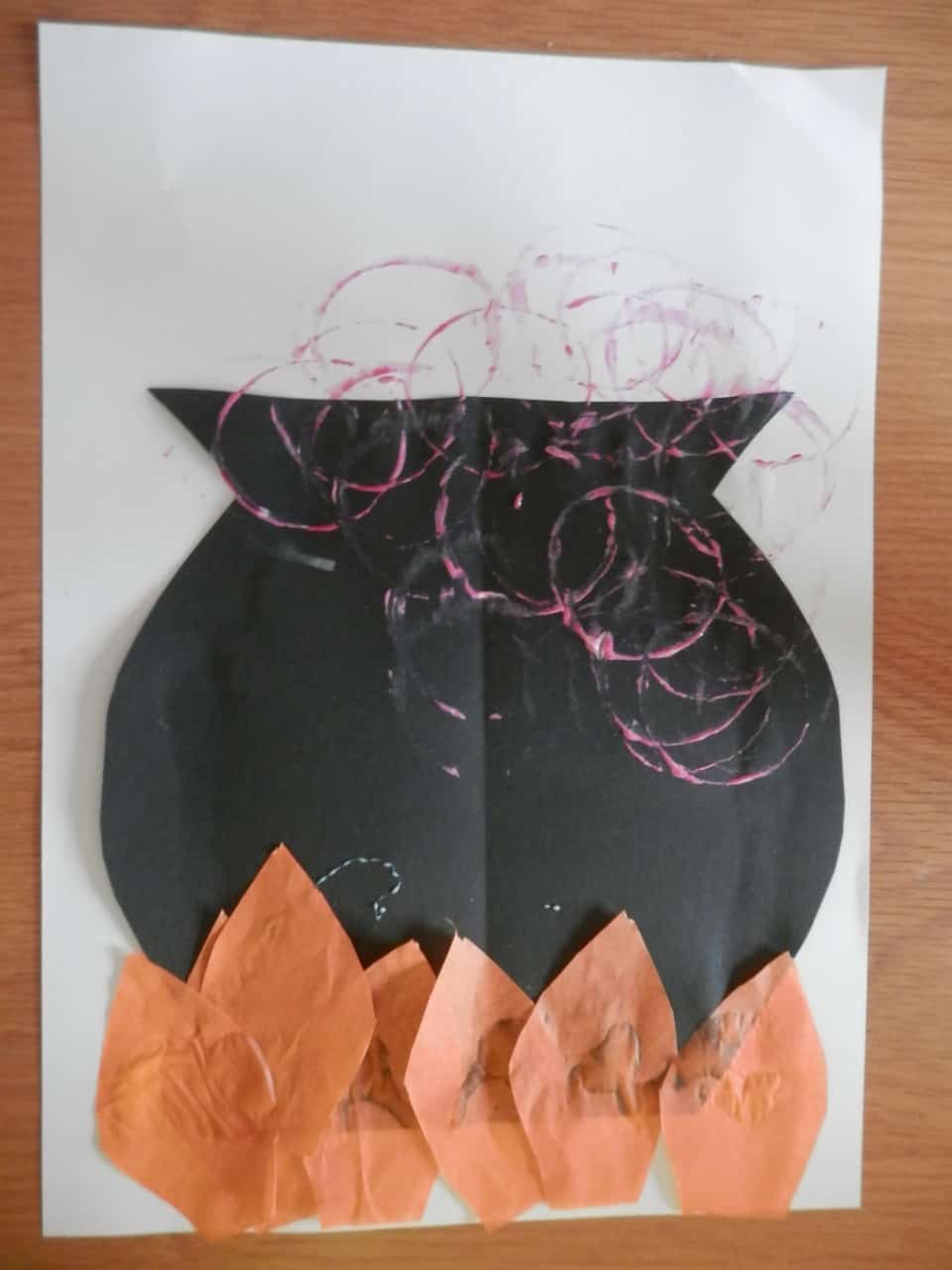 Paper Plate Witches Cauldron Halloween Craft
Paper plates can easily be transformed into witches cauldrons for Halloween  decorations for this spooky night.  If your children are starting to use scissors this Halloween craft is an excellent way for them to start practising their skills.
There is some painting, cutting and sticking involved in this Halloween craft idea, but it's still easy enough for preschoolers and toddlers to make.  The paper plate just needs cutting into a cauldron shape and painting black.  You then just need coloured paper or tissue paper to cut flames for the bottom and some decorations for the top.
Add a lollipop stick and you even have a stick to stir your witches brew.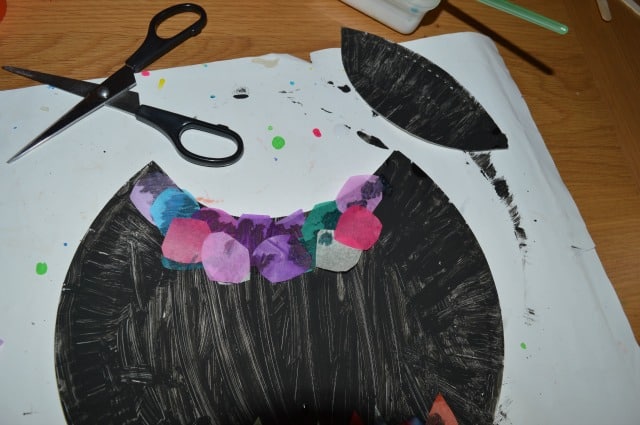 Do your children enjoy halloween crafts?  Will you be giving any of these easy Halloween crafts a go with your preschooler or toddler?
You might also enjoy reading how to make an easy Halloween outfit for kids.