Best Cruise Tips For First Timers contains affiliate links 
I remember my 'cruise first' being a complete revelation. It was such a new and exciting experience that I made it my business to figure out the very best first time cruise tips so we could have a completely awesome experience during our first holiday at sea.
How had I gone all these years without experiencing a cruise holiday?  Why had I let all my misconceptions about cruise vacations hold me back and prevent me from having one of the best holidays I've ever had?  I'm so glad I decided I was ready to give cruising a go and honestly, I've never looked back.
Since that first time cruise I've experienced a holiday at sea in all its guises.  We went as a couple on a Mediterranean cruise, as a family we sailed around the Middle East and I've also seen the benefits of taking a solo cruise trip on board the Norwegian Epic.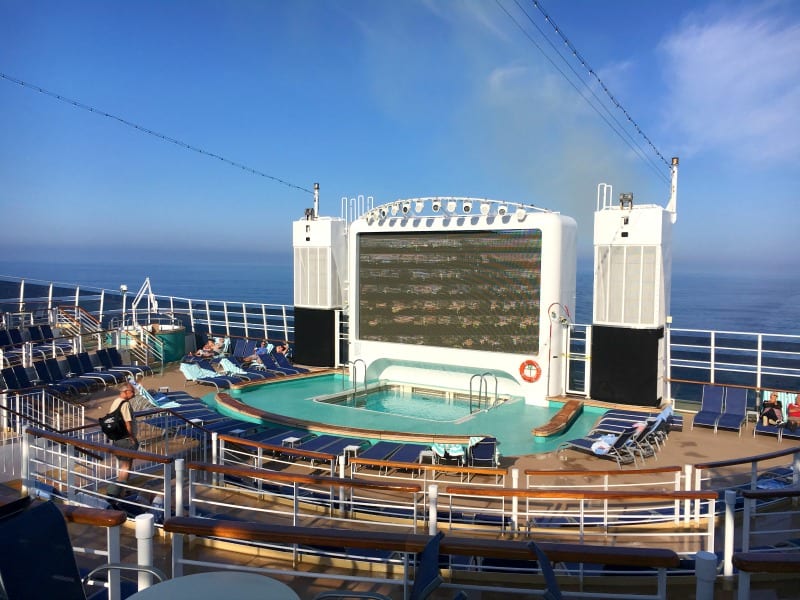 Given all my cruise holiday experience, I'm going to share the best tips and tricks for going on a cruise for the first time.  Even if you have been cruising before, you might pick up a nugget of information here that could be a game changer on your next cruise.
Cruise Advice for First Timers
Big or Small Cruise Ship?
If you haven't booked your cruise yet, one of my first cruise tips is to decide whether you want to sail on a big cruise ship like Independence of the Seas or something smaller like a Marella Cruise ship.  Smaller cruise ships mean less passengers but they also mean less facilities on board too.
If you want to experience a quieter cruise and are not going to miss the climbing wall at sea then a Marella cruise will suit you just fine.  If you want ice skating rinks, race tracks and water parks then you will be looking at a Royal Caribbean cruise for your holiday.
Formal or Informal Cruise
You will also want to think about whether you want to experience a formal or informal cruise for your first cruise.  The dress code can be strict on a formal cruise, so if you like being more relaxed about what you wear then it's worth looking at the Norwegian Cruise Line.
With NCL you can dress up or dress down in most areas of the ship.  It's not uncommon to see someone dressed in shorts sat next to someone in an evening gown on a Norwegian ship.
Look for an Interesting Itinerary
When you are booking your cruise for the first time, the next thing you will want to consider is which itinerary to pick.  Where your ship docks every day and the number of days you will spend at sea will make a huge difference to the experience you have.  Pick a cruise itinerary that has at least a few ports of call that really interest you with places nearby you want to visit.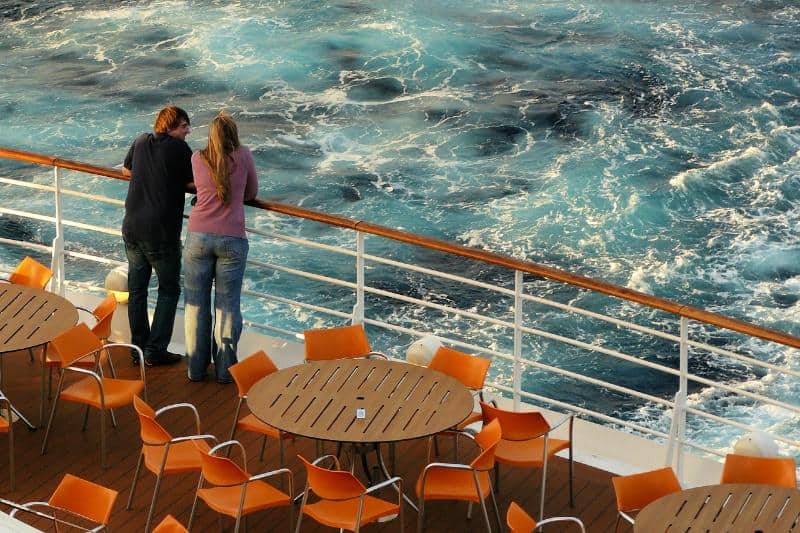 Balcony or Inside Cabin
Ive stayed in an inside cabin and a balcony cabin on different cruises and the biggest difference between the two options for first time cruisers is the price.  I can't deny that sitting on a balcony enjoying the view out to sea is lovely, but when I think about the amount of time I spent doing this it probably didn't warrant the price tag.
There are great reasons to choose an inside cabin including the fact that you will actually spend very little time in there.  When you consider that you will be out most of the day exploring the port, enjoying the activities on the cruise ship and taking in the fantastic shows, your cruise cabin starts to become less significant and you can literally save yourself hundreds, if not thousands of pounds on your first cruise.
Check the Tipping Policy
If you are wondering how much to tip on a cruise the first thing you should check is the gratuity policy of your cruise line.  As most cruise ships are cashless these days, they will add gratuities to your bill so there is no need to tip the staff directly.
That being said, people do often want to tip their waiter or steward directly but that is completely at your discretion.  You may want to take some small notes on board just incase you receive an exceptional service during your cruise.
Download Your Apps and Know Your Booking Systems
As soon as you've booked your cruise head to the app store and see if your cruise line has an app.  You will find cruise planners for Royal Caribbean and Disney Cruise Line to name but a few.  They often have features like online check in, advanced bookings for shows, restaurants and activities, messenger services and daily updates.  They are an essential tool for organising your first time cruise.
Your cruise ship my also have digital displays around the ship to book restaurants and events.  If you have a last minute enquiry, then a visit to guest services will also get most questions answered.
Don't Forget Your Travel Adaptor
It's worth checking the types of plugs that are onboard your cruise ship and packing the correct travel adaptor.  I would recommend a universal travel adaptor with multiple USB ports as plug sockets are sometimes in limited supply.  A good travel adaptor for a cruise can mean you can charge several devices at once.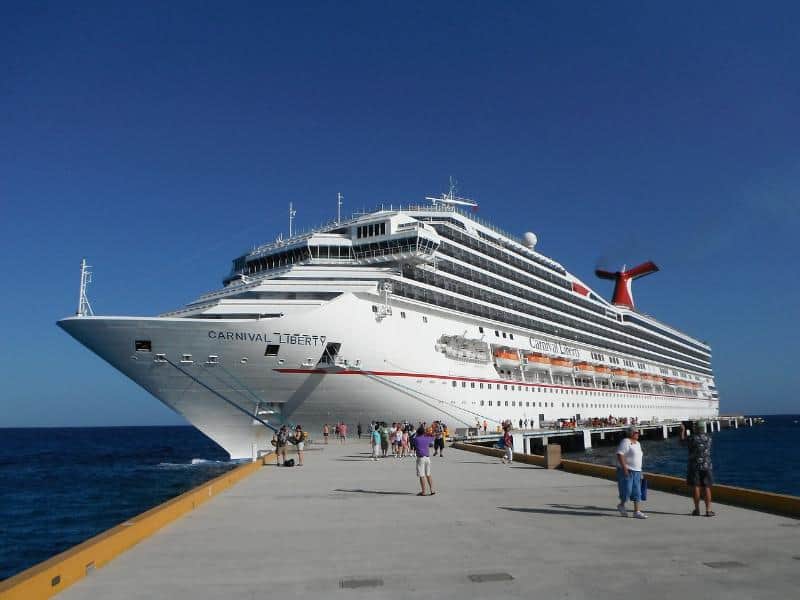 Do You Need Travel Insurance For a Cruise?
The short answer is absolutely yes, even if you're leaving and returning to a port within your own country. Most cruise lines make having travel insurance a condition of going on their cruise.
Don't Lose Your Cruise Card
When you have embarked the cruise ship you will be issued with a named cruise card.  It will act as your room key, your security pass for getting on an off the ship and it will also be used for your onboard spending.
It's best not to lose it and some first time cruisers swear by having a lanyard to keep it safe.  It takes the thinking out of it as you always know your cruise card is safe around your neck and it's great for the kids too, who maybe old enough to explore the ship by themselves.
Get Your Bearings
The best cruise hack I can give you for getting your bearings on your ship is get to know the top deck first.  It's the best place to start as it will have lots of points of reference. Take the lifts nearest your cabin and go straight to the top deck and see what they are close to.
This is a far better way of working out where your cabin is in relation to the rest of the ship than walking up and down corridors with cabin doors that all look the same. Apply this cruise tip to the rest of the ship and you will know the ship like the back of your hand in no time.
Make a point of exploring the whole ship as there are lots of spots that don't draw the crowds if you are looking for a little peace and quiet.  The library for example is often very underused these days.
Check Your Cruise Newsletter
Your cruise newsletter can be a wealth of information for what's happening onboard ship that day.  It often includes things like the time of sunset and sunrise, tips for exploring the port and deals and offers that maybe available. If you don't want to carry your newsletter around all day, take a photo of it and keep it on your phone so you can access the information as you need it throughout the day.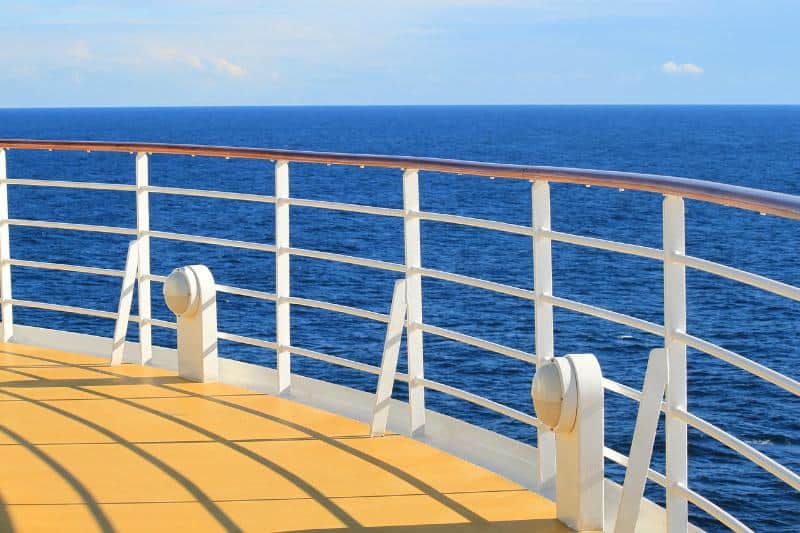 Check WiFi Your Allowance & Mobile Data
It's almost guaranteed that your cruise ship will offer you a WiFi allowance with your cruise package these days.  Don't waste your minutes trying to access the internet in areas where the signal is poor.  Head to the public areas where it is more likely to work and make the most of the time you have available if you need to get online.
Don't get caught out by expensive phone charges and set your phone to airplane mode when you embark your cruise ship.
Book Excursions in Advance
Cruise ships offer a range of excursions in every port and the popular ones get booked very quickly.  I've talked about why cruise ship shore excursions are a good idea before but they aren't for everyone. Budget and personal preference is a huge factor in choosing shore excursions.
If you  are interested in arranging your own excursions a number of tour operators will collect you from your port.  Have a look on websites like TripAdvisor where you can compare prices and read reviews before you book your trip.
Use Room Service
Fancy breakfast in bed during your cruise because you had a late night in the cocktail lounge or need a quick snack before you leave the ship, then don't be afraid to use room service.  Often it's free, or if there is a charge it will be incredibly small compared to hotel prices.
Cruise Food: Be Prepared To Gain a Few Pounds
One thing you will not go short on on your first cruise is food. From breakfast, to afternoon tea to dinner there is no shortage of options.  At the buffet you will be spoilt for choice, but even if you are struggling to make a choice at the restaurant you will be able to order as many things off the menu as you wish at no extra cost.  That's great news if you don't know which starter to pick.
What to Pack For a Cruise
One of the most searched topics for first time cruisers is what to pack  and when it comes to a vacation at sea, layers is definitely the best way to go.
It all really depends on what type of activities you plan to do, but a good pair of walking shoes, something non slip for walking around the pool and some evening shoes will stand you in good stead.  It can get chilly and breezy at sea, so pack something warm to wear, especially at night.
When it comes to being prepared, it's also worth having everything you think you might need for the first few hours on board in your hand luggage as you might not get your suitcase straightaway.  The things you want to have handy are your camera, some toiletries and even your suncream if you think you might want to lounge by the pool until you can unpack.
Your Cruise Itinerary Could Change
First time cruisers might not be aware that their itinerary could change, even after they have joined the ship.  There maybe safety reasons or weather disruption that means the ship has to change it's ports of call.  Cruise ships are particularly good at having a plan B, so there is no need to panic if this happens to you on your first cruise.
There are Adult Only Areas and Even Cruises
If you are not cruising with children, there are plenty of reasons why you might not want to spend time with other people's kids.  Cruise ships often have adult only areas where you can relax but access to these zones may cost extra.  Many cruise lines also offer adult only cruise holidays which may be your preferred option.
Join The Cruise Ship Kids Club
For those people cruising with kids for the first time, I would highly recommend getting them registered in the kids club as soon as possible.
Even if you are hoping to spend some quality time together as a family, there can still come a time when everyone needs a little break from each other.  Cruises have well equipped kids clubs for a variety of ages which can be useful for sea days or even at night if you want a child free evening.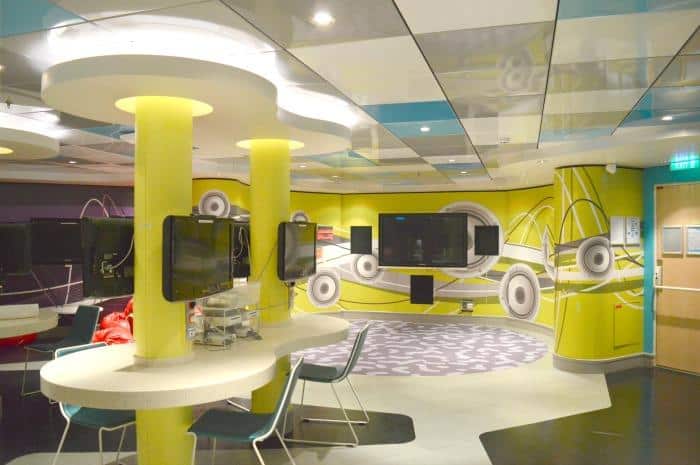 Dress Up at Least Once
If you really want to have a great first time on a cruise, my advice would be to dress up for at least one night.  Even on the most informal cruise it's nice to have a special night of formal dining followed by a show and a few drinks at the bar.
If You Need Help, Just Ask
One of the things that I was really impressed with on my first cruise was the level of service I received from all the staff I came into contact with.  They really couldn't do enough to help us throughout the cruise.
If you are ever not sure about anything either in your cabin, at a restaurant or anywhere else on the cruise ship just ask and they will be more than happy to help.  Speaking to your steward about your cabin is always helpful as they know where all the light switches are hidden and where to find the hairdryer.
Visiting the Cruise Spa
If you are keen to add a visit to the spa to your list of first cruise experiences then I have some great tips for you.  If the spa holds an event talking about it's treatments and offers go along.  You may just receive a sample treatment as apart of the demonstration.  They may also hand out discounts vouchers during an event like this.  Discounts are also usually offered on embarkation and disembarkation days. If you want to visit the spa at a popular time, book early as it is a popular activity with regular cruisers.
What to do if you get Sea Sick on a Cruise
If you do start to experience sea sickness while you are on your cruise head for the most central part of the ship and go to the lowest deck you have access to.  You will experience less motion there.
If you visit guest services they usually have a supply of sea sickness tablets, but I would suggest only taking them if you really need to.  They can make you very drowsy and you might end up missing out on something you really wanted to do or see on your cruise because you were asleep.
Walkie Talkies for Keeping in Touch
If there is a group of you going on a cruise or it's your first cruise with kids, then you should consider investing in a set of walkie talkies for staying in touch on the cruise ship.  They can work out a lot cheaper than using your mobile data or wifi allowance and could be a great investment for future cruise trips.
Don't Spread Germs
Some of the best information I can give first time cruisers is don't spread germs.  Bugs can spread through cruise ships quickly, especially things like Norovirus.
If you follow good hygiene practices like using the hand sanitisers provided and regular hand washing you will be doing your bit.  Investing in some hand sanitizing wipes and a first aid kit for your first cruise will help you be prepared for any eventuality.
Some Handy First Time Cruise Packing Essentials
There are a few items that are going to come in really handy for your first cruise that you may not have thought of yet. Here's your cruise checklist so you don't forget them:
Drinks Packages & Alcohol
You might be tempted to buy a drinks package on your first cruise but you really need to look into whether it is worth it or not.  I was pregnant on our first cruise, so I wasn't drinking alcohol at all.  It made no sense at all to buy a drinks package for me for that cruise.
For some drinks packages to be worth buying you would need to know you were going to drink around 8 drinks every day.  If you know that you are not going to hit that, then a drinks package might end up costing your more than paying as you go.
Most cruise ships will let you take a bottle of wine on board either per cabin or per person.  If you don't drink a lot, this could be a much cheaper option too.
Cruise Walls Are Thin
If you are a first time cruiser you might not be aware of this, but cruise walls are pretty thin so being mindful of the noise you make inside your cabin will be appreciated by other passengers.
You Don't Need To Pack…
There will be a hairdryer in your room and plenty of towels for the bathroom and pool, so you don't have to squeeze these into your suitcase.
If You Need a Fridge…
You might want to use your fridge to keep your own drinks cool or for storing certain medicines.  If that's the case ask your steward to empty your mini bar so you can make use of it.
My final cruise hack is that if you are celebrating a special occasion like a birthday or anniversary let some one know.  Cruise ships like to make a fuss of their guests and you will probably receive a little surprise.
So that's my list of first time cruise tips.  If I missed anything let me know in the comments below.
If you found this post helpful, please do share it with your friends and followers.  I bet they might enjoy it too!
Pin for later