As you all know by now I'm very supportive of breastfeeding where it is the right choice for Mum and Baby.  This blog is strewn with breastfeeding advice and support, where myself and other bloggers have shared their honest experiences of nursing.  I hope it raises awareness of the importance of breastfeeding and helps Mums to understand that it can take a while to fall into place sometimes.
Getting off to a good start with feeding can really help with a successful breastfeeding relationship.  Those early days can be overwhelming, sleep deprived and emotional and if you can have a few things that will make nursing more comfortable, it could really help Mum and Baby to stick with it.
This week I have been lucky enough to join up with two great brands to give you the opportunity to win this amazing bundle of prizes worth around £100.
The prize includes the Original Theraline Maternity and Nursing Pillow.  Theraline make a range of products to make Mum and Baby more comfortable during pregnancy, nursing and beyond.  I was lucky enough to review the Wynnie pillow earlier in the year which is still being used as a support for little Pudding as she starts learning to sit up.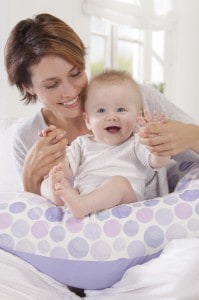 If that wasn't enough, the lovely people at Cantaloop have also provided some essentials just for Mum.  You can also win the Cantaloop Nursing Bra and Nursing Tank which will both make your feeding journey more comfortable and discreet.
Cantaloop make some great products for Nursing Mums.  I swear by my Cantaloop bra for comfort, support and that all important one handed unclipping action!
To be in with a chance to win the Original Theraline Maternity and Nursing Pillow, the Cantaloop Nursing Tank and Cantaloop Nursing Bra all you need to do is complete ALL the actions in the Rafflecopter below.  The winning entry will be verified to ensure the Rafflecopter actions were completed. GOOD LUCK!
Win competitions at ThePrizeFinder.com – See more at: http://www.theprizefinder.com/content/win-breastfeeding-bundle-worth-%C2%A3100#sthash.ctQxG0zu.dpuf