The summer has played havoc with my Slimming World progress.  I really believe that routine plays an important part in any weight loss journey, and the school holidays can really put a spanner in the works.  It got me thinking about easy meals I could make and I came up with this super tasty Slimming World Spaghetti Bolognese recipe and I thought you'd like to try it.
Being on holiday is a real problem for me.  We have been lucky enough to stay at some amazing hotels this summer, and the food has been amazing.  You can take a peek at what I'm talking about here, here and here if you like and see what I was up against 😉
As well as the highs, there have also been a few lows, and the challenges that I face with my children and their intense sibling rivalry have led to some emotional eating on my part.  This has been my biggest problem when it comes to managing my weight if I'm honest.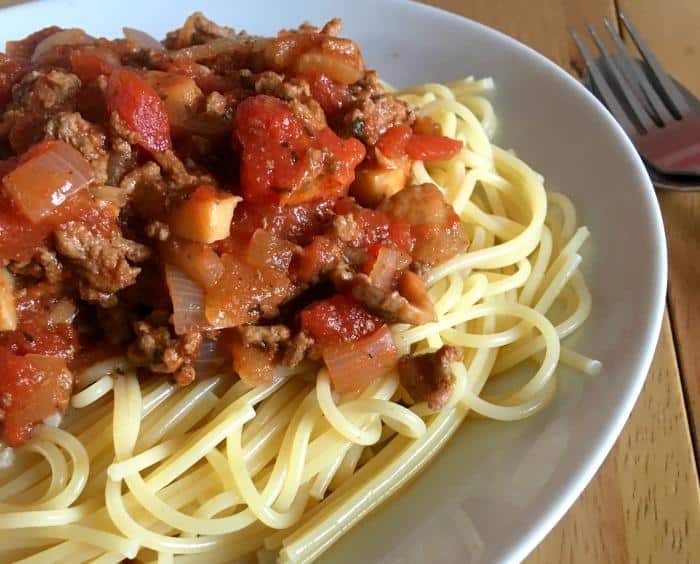 Despite these issues, I also believe it's important to not give up trying to live a healthier lifestyle.  I'm loving getting regular exercise after falling off that particular band wagon over 5 years ago and I'm trying to get back into a routine with my Slimming World diet too.
I've been going back to basics and putting some meal plans together to help me refocus.  As well as adding some new recipes to the list, I've been resurrecting some old ones.  Spaghetti Bolognese is a family favourite and it's super easy to make it Slimming World friendly and syn free. Everyone in our house loves it, and I probably cook it at least once a week.
Here's my recipe and tips for making a super tasty Slimming World spaghetti bolognese that everyone in the family will love.
Slimming World Friendly Spaghetti Bolognese
Serves 4 
Ingredients
500g Lean beef mince (5% fat)
2 Medium onions chopped
2 Cloves of garlic chopped
250g Mushrooms sliced
2 Tins of chopped tomatoes
1 Beef stock cube
2 Tbsp tomato purée
Seasoning
1 Tsp Oregano
1 Tsp Basil
Packet of dried spaghetti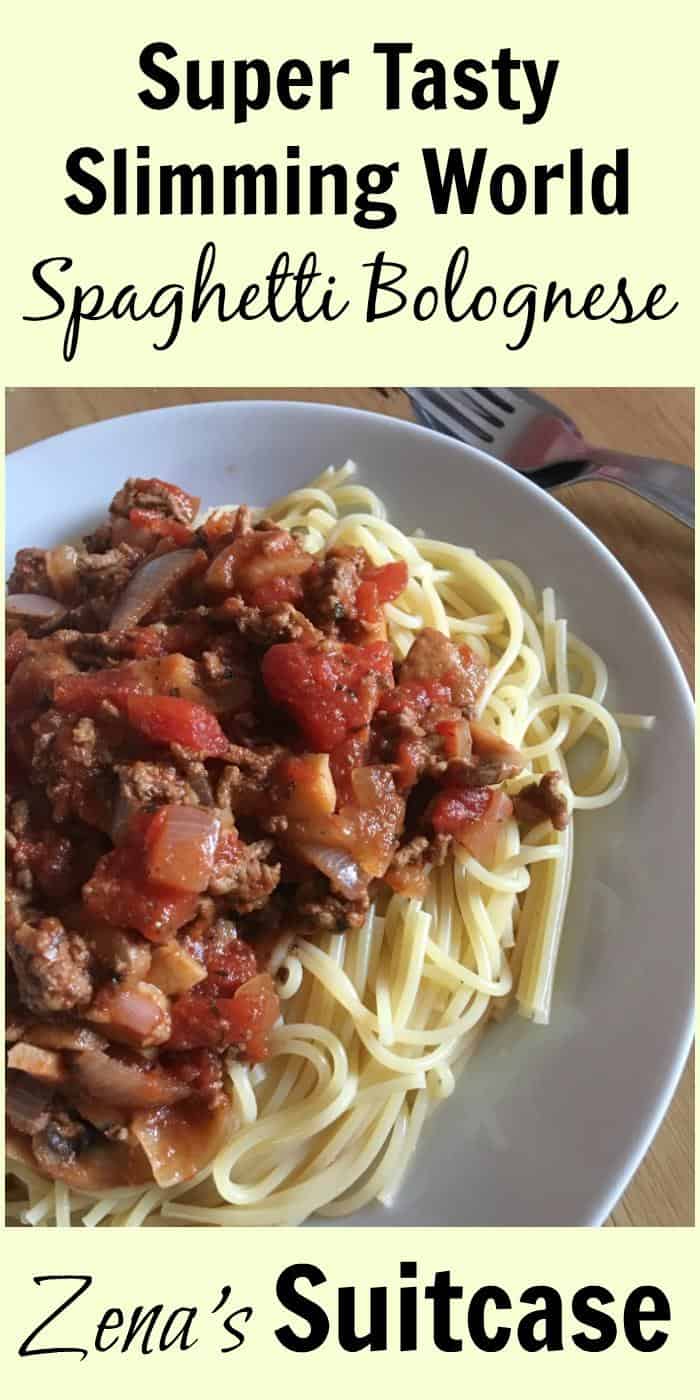 Method
Heat a saucepan and add the lean beef mince. Cook the mince thoroughly until it's brown.  Even though it's lean I always drain any fluid and fat from the cooked mince incase there are any extra syns lurking in there.
Chop the onions, mushrooms and garlic and add to the mince.  Stir all the ingredients together well and place the lid on the pan.  Cook on a low heat for 5 minutes or until the onions are soft.
Then add the tins of chopped tomatoes, tomato purèe, herbs, stock cube and seasoning and stir well.  Be sure to season the dish well as it's all about getting the flavour into the dish.
Bring the pan to a slight boil then reduce the heat and simmer for around 15 minutes.
While the bolognese is simmering cook the dried spaghetti as per the packet instructions.
Once everything is ready, serve and see if the family realise they are eating a healthy version of their favourite family meal.
I will happily eat this Slimming World version of spaghetti bolognese without any cheese, and if you leave it off then the dish is totally syn free.  You could use your healthy extra A allowance of cheese to add to the dish and it would still be syn free. If you added 30g of standard cheddar cheese in addition to your HEXA this would be 6 syns.
Would you make a Slimming World spaghetti bolognese for your family meal?
You might also like: