Hello readers and welcome back to my weekly photo.  I have another double episode for you this week as I didn't share a post last week.  You might remember we were going on holiday and I had had a bit of a nasty accident the week before. It made for a very busy week trying to get on top of my work load and hobbling around trying to get us packed to go on holiday.
Fortunately, it all came together and we were only 5 KG over our baggage allowance when we came to check in.  The lovely air hostess took pity on us and didn't charge us as we were clearly looking a little frazzled trying to keep the girls in check, and we weren't even on the plane yet.
Bless their little cotton socks we love them both dearly, but they can be a handful.  I think it comes down to the fact that they are both very spirited young ladies.  They are very close in age but quite far apart developmentally so this causes them quite a lot of frustration.
We spend a lot of time telling them not to snatch, push, pull, hit or shout at each other but then sometimes they can get along brilliantly.  It just takes a bit of getting them on the same wavelength.
Seeing as I don't dive for the camera when they are falling out, I'm sharing two photo's of them enjoying a sisterly moment together on holiday.  If I took photo's of them fighting, I'd have no room left on my SD card!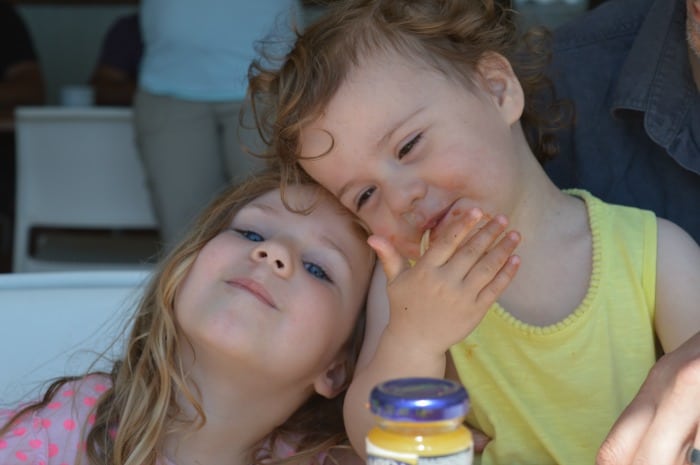 Please forgive Little Pudding's grubby face.  She's at that age where she is always mucky.  She spent most of the holiday either covered in pasta sauce or sand that her sister had tipped over her head.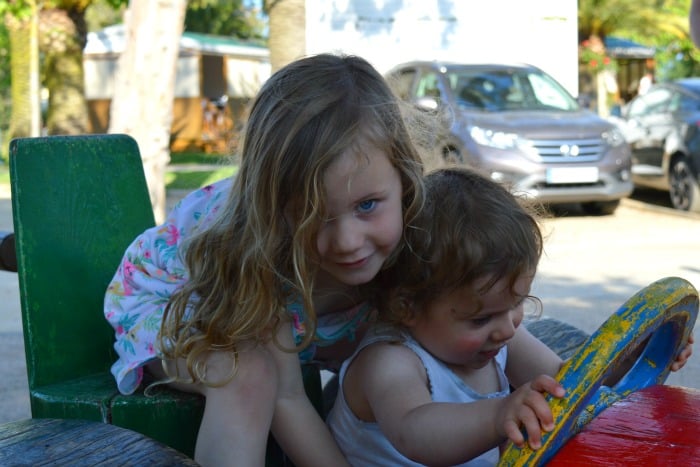 There other favourite thing to do on holiday was go to the children's park.  It was another neutral zone for them and they enjoyed playing together there, mostly!  Here's a rare photo of them riding the tractor together instead of pushing each other of it!
Stay tuned to the blog to find out about our holiday to Tamarit Park Resort with Al Fresco Holidays.
Catch up with the last post here.
contains affiliate links